"You think I'll find gold?" Mitch asked as he eyeballed the massive bag of dirt on the counter.
"Maybe fool's gold kiddo," I told him, not wanting to spoil his game of make-believe "panning for gold."
"Well duh. It's called Pyrite, mom." 
That's my boy: dreamer,  scientist,  sarcastic middle schooler.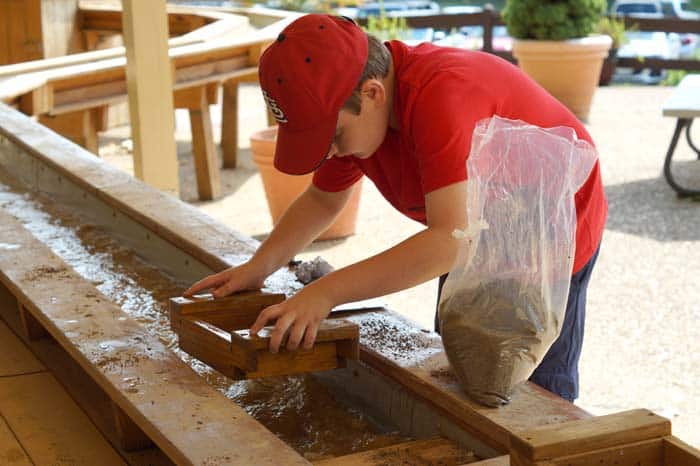 Psst: this post is sponsored by Meramec Caverns, who hosted us for a fantastic weekend in the woods….and underground!
We spent one absolutely perfect July weekend camping and exploring Meramec Caverns. You know, the place famous for advertising on painted barns all over the Midwest. Meramec Caverns is just an hour from downtown St. Louis, but it feels so much further from the hustle and bustle of everyday life.
Meramec Caverns 85 Anniversary 
The caverns are obviously millions of years old, but this year marks the 85th anniversary of them being open to the public as a show cave. Back in 1933, Lester Dill–a cave explorer with a flair for showmanship–purchased Saltpeter Cave, a place where 19th century locals gathered for parties and big dances. Lester spiffed up the cave for Route 66 tourists by adding lighting, walkways and handrails. He discovered and opened up a few passages, and thus Meramec Caverns was born!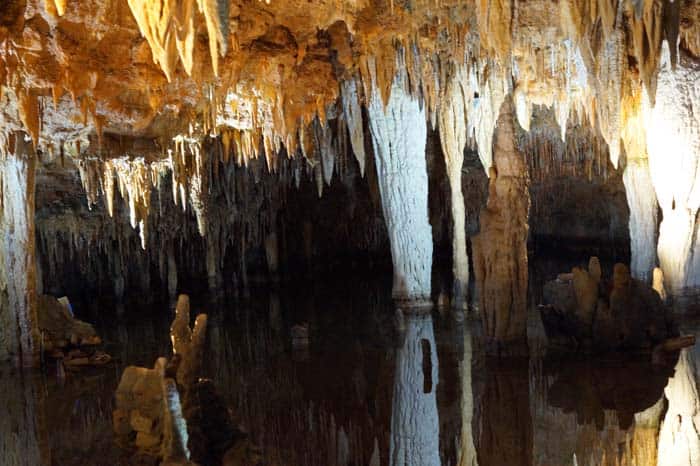 Touring Meramec Caverns
Meramec Caverns is full of beautiful rock formations and an underground river. It's fully lit to showcase all it's best features, so you don't need a flashlight. It will take you about an hour and 20 minutes to walk through the cave system, covering a mile and a quarter. The tour guides are entertaining and can tell you about the geological formations, the cave's history and it's legends.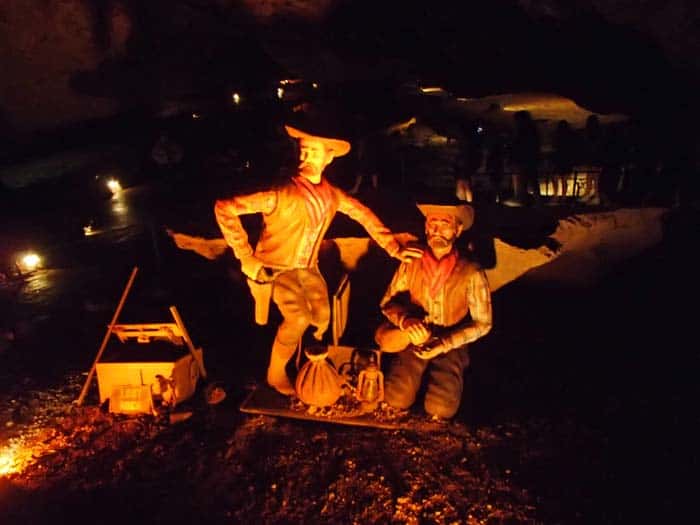 Rumor has it that Jessie James once holed up in the cave for three days–and escaped the local sheriff by wading through the underground river to the Meramec. In the 1940's staff at Meramec Caverns discovered a new section of cave and a few artifacts–including an empty strong box–suggesting that the legend could be true.
Can I take a stroller on the cave tour?
The tour is not handicap accessible and strollers are not allowed on the path. There are a few areas with steps–and a rather steep staircase. (You can bypass the biggest stair case if you want, but you'll miss the really cool, one-of-a-kind wine table formation.) You'll want to wear good walking shoes because the cave is naturally damp and the path is wet in places.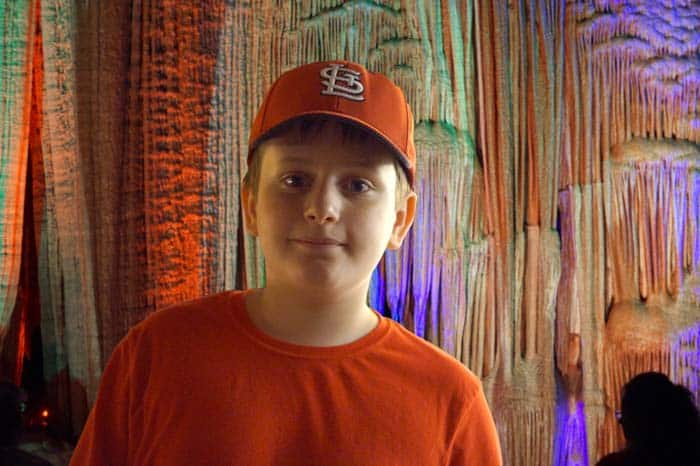 I'll have to hand it to Mr. Dill, the caves are gorgeous! They are strategically lit to show off the stalagmites and stalagmites. The grand finale is the Theater Room where a dramatic formation of 70 foot high calcium stalactites and stalagmites looks like curtains. Here the tour takes a break (there's seating) and watches a patriotic video digitally projected on to the rock. 
What else can we do at Meramec Caverns?
The cave system is the main feature of Meramec Caverns, but it's not the only thing you can do here! 
Back to that bag of dirt…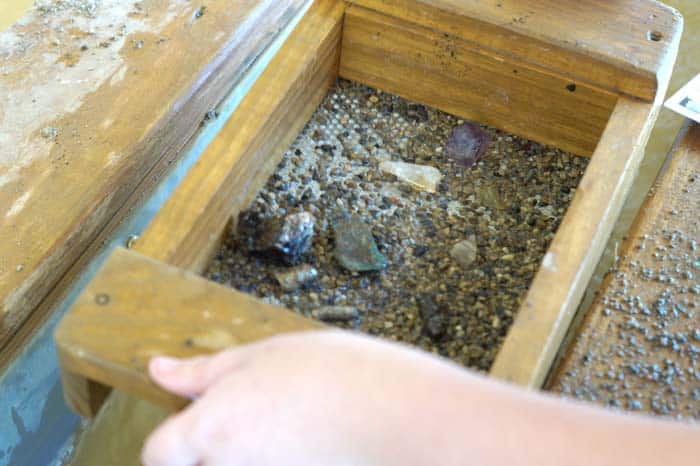 Pan for "Gold"…and pretty rocks 
Meramec Caverns added an old-time panning for (ahem, pretend) gold play area for the kids which is pretty cute. You buy your dirt, which is thankfully just clean river sand from the Meramec Mining Company Store, then grab a spot at the sluice. Each kid gets a wooden tray with a screen in the bottom to sift out the treasures randomly placed in the grit. 
Mitch has been pretty excited about rock collecting, so he was thrilled to get his hands on the biggest bag of "mine rough" he could get. The sack is $24.99, but once you see what he pulled out of it, you'll have to agree it's a pretty cool souvenir.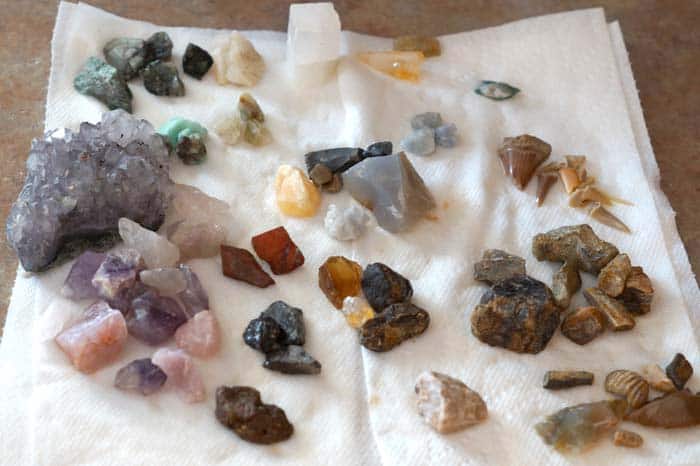 There's plenty of crystals, minerals, amber and fossils in the bag he got. There were even two arrow heads! And yes, he found pyrite.
Cave Man Zip Line
If you're up for adventure, you can ride the Caveman Zipline!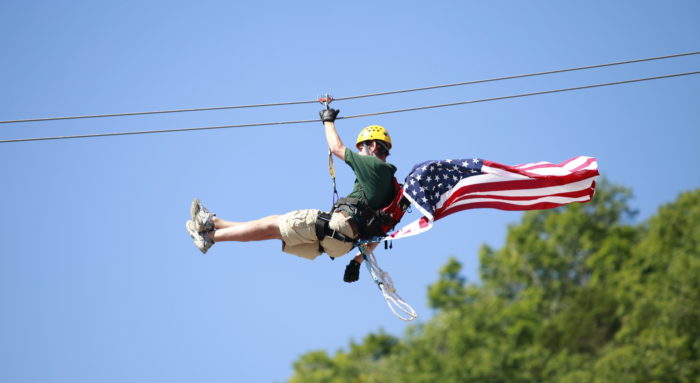 The zipline consists of four ziplines and three rope bridges that criss cross the Meramec River and surrounding forest. Oh, and the parking lot! (I know, it's not scenic, but it means that mom can stay firmly on the ground and take photos of her family sailing through the sky.)
The zipline isn't for everyone–you have to be over 10 years old to ride, and you need to be between 80 lbs. and 270 lbs.
You can get more details on the Caveman Zipline here.
Float the Meramec
There's two ways to see the Meramec: you can rent a craft from Cavern Canoe Rental or buy a ticket for the Cavern Queen. If you don't want to get wet and sweaty, the Cavern Queen is a canopy boat that does a simple half-hour tour of the river.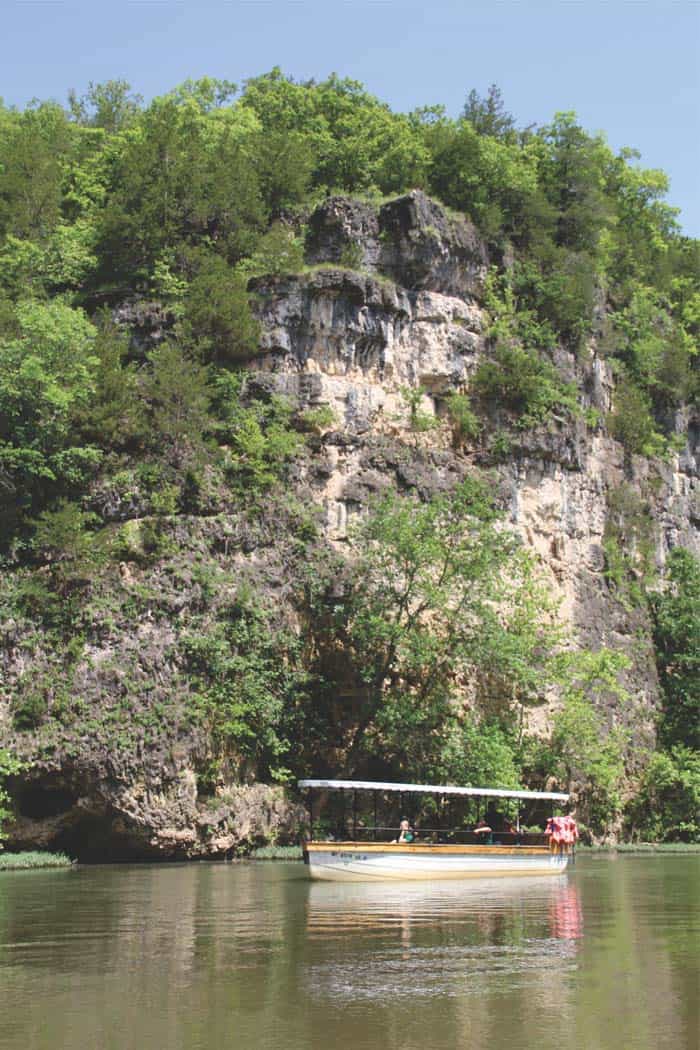 If you want to take a dip in the river, go for the full float! We did a six-mile float in a raft, but you can also get a canoe or kayak. The Meramec is wide and generally shallow–though we did see a few swimming holes deep enough that people were diving into them from the rocks.
Food, Ice Cream and Gifts
Meramec Caverns has a big gift shop featuring the usual tourist trinkets and Route 66 souvenirs. Now that Mitch is older I'm able to steer him toward more practical souvenirs, so we got him a pocket knife Meramec Caverns on one side and his name carved into the other.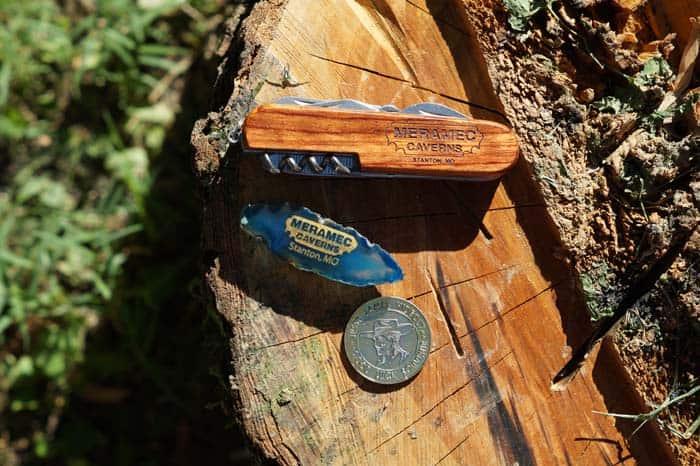 When you go, keep your eyes open for the coolest–and cheapest–souvenir ever! Right by the ticket counter for the cave tours are a collection of classic slot machines that have been converted into souvenir coin dispensers.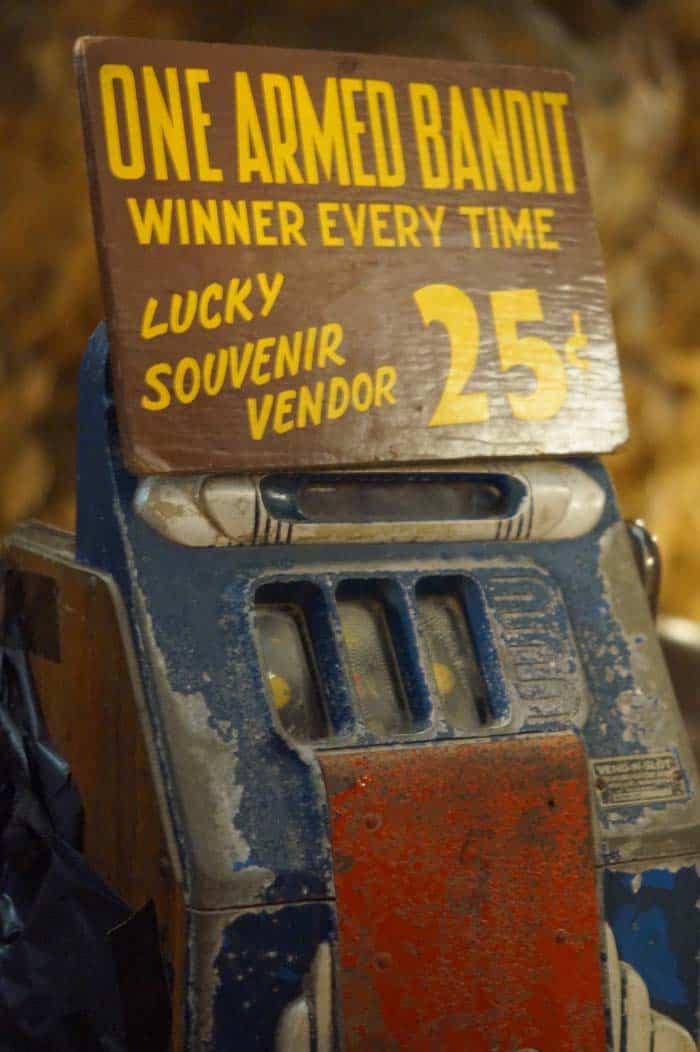 Next to the gift shop you'll find a fudge counter, ice cream shop and restaurant. The food is tasty and ice cream is awesome. Just remember that if you're camping at the park the grill closes at 7pm. We stopped for ice cream here after our float trip and then had lunch at the grill after we broke camp.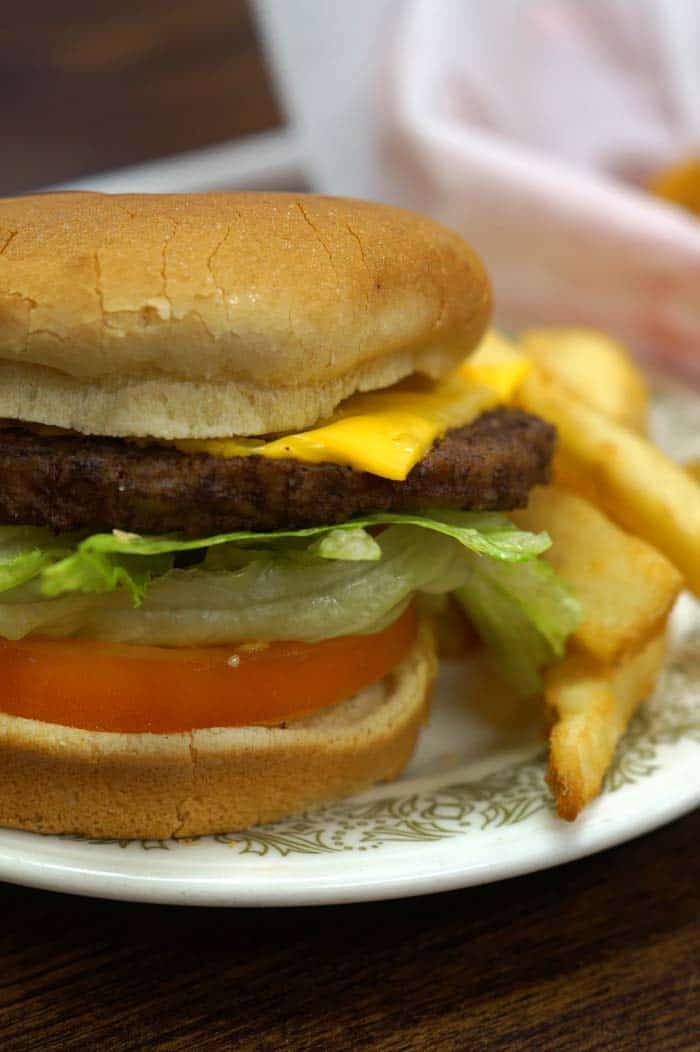 Stay the Night at Meramec Caverns
Though they don't offer any rooms INSIDE the caverns–wouldn't that be awesome??–Meramec Caverns does have two options for overnight visitors. You can stay at their motel, or do what we did: camp!
The camp ground is a short hop from the Caverns, boat ramp and zip line. It's a nice flat stretch of park land along the Meramec River with HUGE trees, pavilions on concrete pads, picnic tables and cooking grills.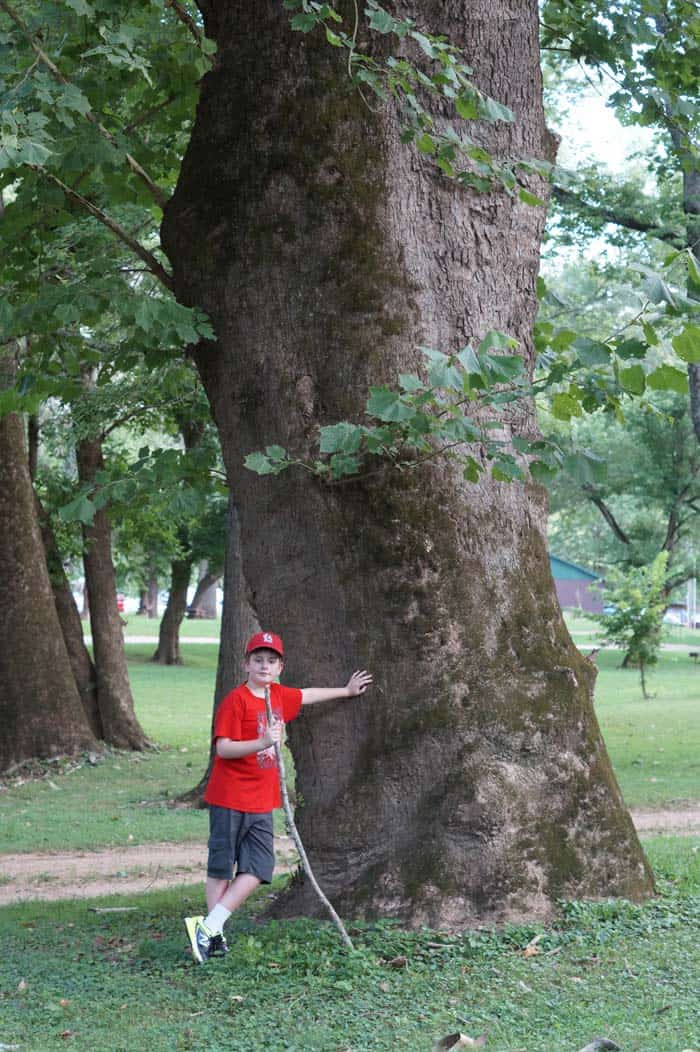 They have all the usual amenities: full electric hookups, a nice shower house, restrooms and a camp store. The store has your basic supplies, ice and firewood. It's also where you check in for your float trip.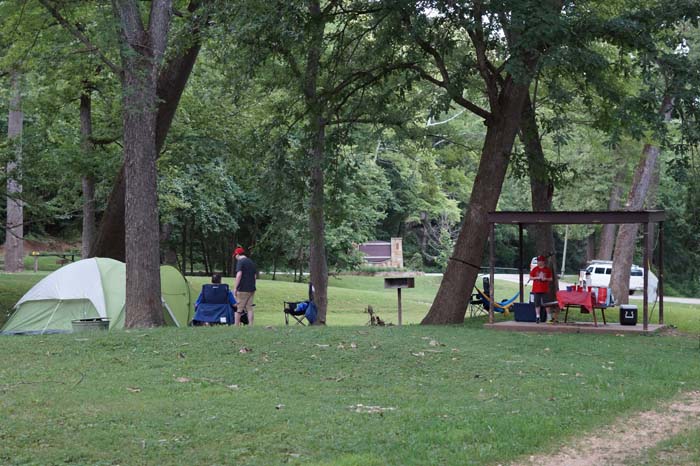 My family loves to camp old school: tents, Coleman lanterns and a cozy chair by the fire! I highly recommend getting back to basics if you camp at Meramec Caverns because the primitive sites are spacious and located in the back of the campground where it's more peaceful. Sure, you have to walk a little further to the shower house, but getting exercise and fresh air is what camping is all about.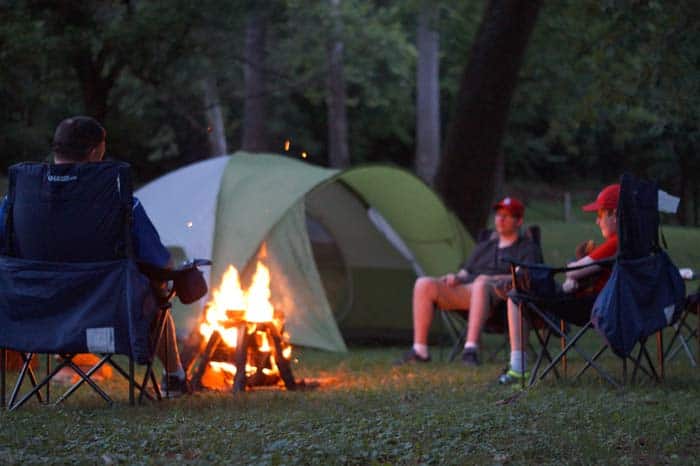 You only need to make a reservation for the electric sites–they have spots for tent campers and paved area for RVs. Primitive sites are plentiful and you can just pick one out when you arrive. We camped on the most beautiful weekend in July and had no problem finding a huge site.
Not all the sites have pavilions (it's like every third site or so) so if you have a camping fly you might want to pack it, just in case. 
What we did have problems with was setting up our hammocks–did I mention the trees are HUGE? Next time I'm bringing some extra rope!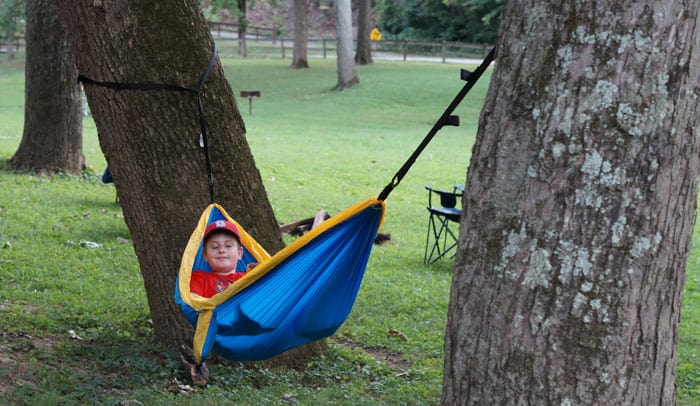 If you want to get the best site on your weekend camping trip to Meramec Caverns I suggest arriving on Friday, then chat with camp security on your arrival. They're in charge of check in and can recommend a good place for your set up.