Grab your costumes kids, we're heading to Union Station for the return of Union Station's Halloween festival! Come see our beloved historic train station all decked out for spooky fall fun — made especially for kids under 12.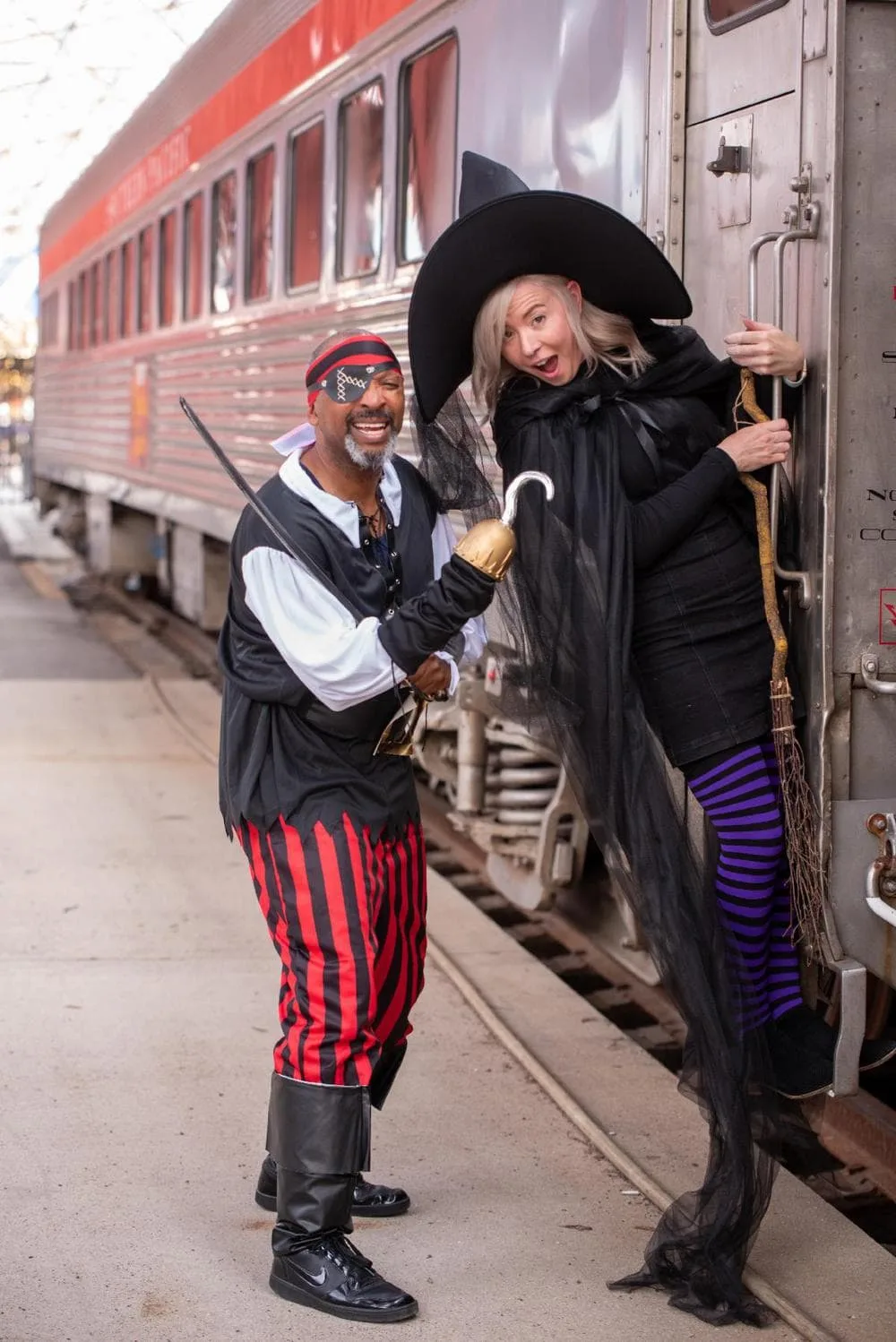 Halloween Spooky Time for Kids
The Train or Treat is located under the historic train shed — aka the parking lot. Look for the big tent to start your spooky tour of decorated rooms and friendly skeletons, then grab a pumpkin from the barnyard to take home.
Next you'll get to walk through a whole train full of Halloween fun, spooky surprises and interactive elements. Kids get a special treat at the end of the their tour.
A note on handicap accessibility: The first part of the experience (the maze rooms and barn) are on one level in a giant tent with wide halls.
However, the rest of the tour is held inside historic train cars. You'll need to be able to climb stairs and fit down narrow halls. Strollers are not allowed (they won't fit) but you can park them outside the train and retrieve them later.
Union Station's FAQ page for the event says that one of the train cars is handicap accessible (I believe that would be the last one) but you would be missing a huge part of the fun if you can't navigate stairs.
But is it SCARY?
This event is made specially for kids under 12, so it's not-too-scary Halloween fun! You'll get to walk through four stationary railcars decked out in Halloween themes like pirates and witches.
Kids over 12 will find it pretty cheesy — but this is perfect for younger school kids. When we visited last year, Mitch was just over the line at 13…he was feeling a bit too old for the antics, but went along so we could blog about it for my readers. He was happy to get out of the house for a bit, and tickled to get a bag of candy.
Kids start the journey wandering through a maze (kept dry in a big tent in the station's parking area). They'll see BOO-rific rooms decorated for the season (lots of skeletons, no blood) and be greeted by some clever skeleton actors who like to hide around corners.
Full disclosure: the skeletons kept jumping out of dark spots at me, probably because I'm easily startled and squealed like a little girl. I think they enjoyed scaring a mom, but they didn't bother my kid or my friend's kindergartener.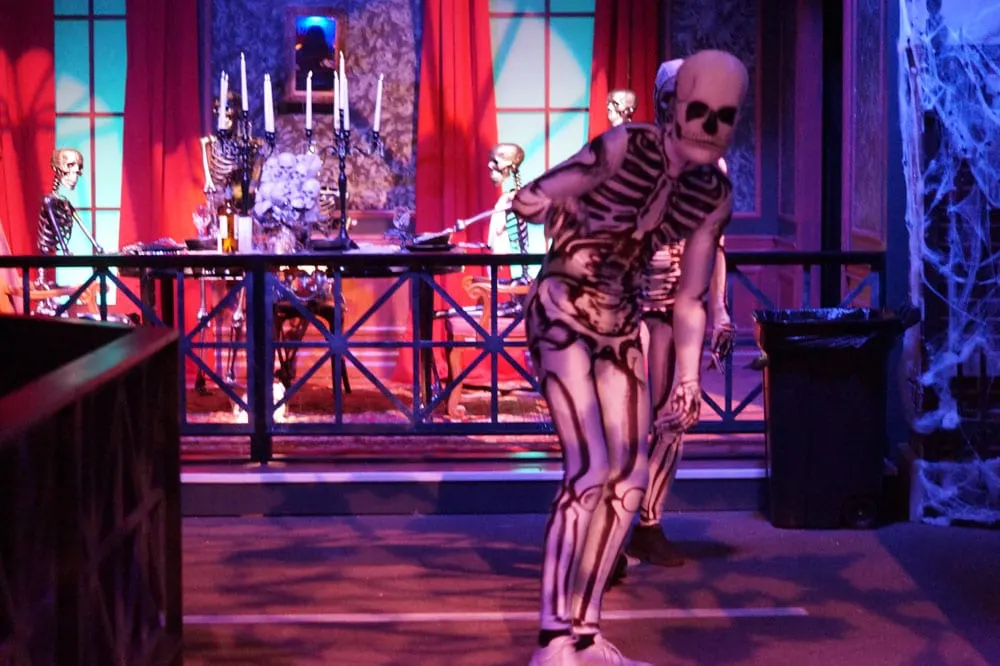 After the skeleton rooms you'll find yourself in a barn where a very friendly skeleton will give every child a pumpkin to take home. Here you'll also find entertainers (we watched a juggler for a bit) and get a balloon animal.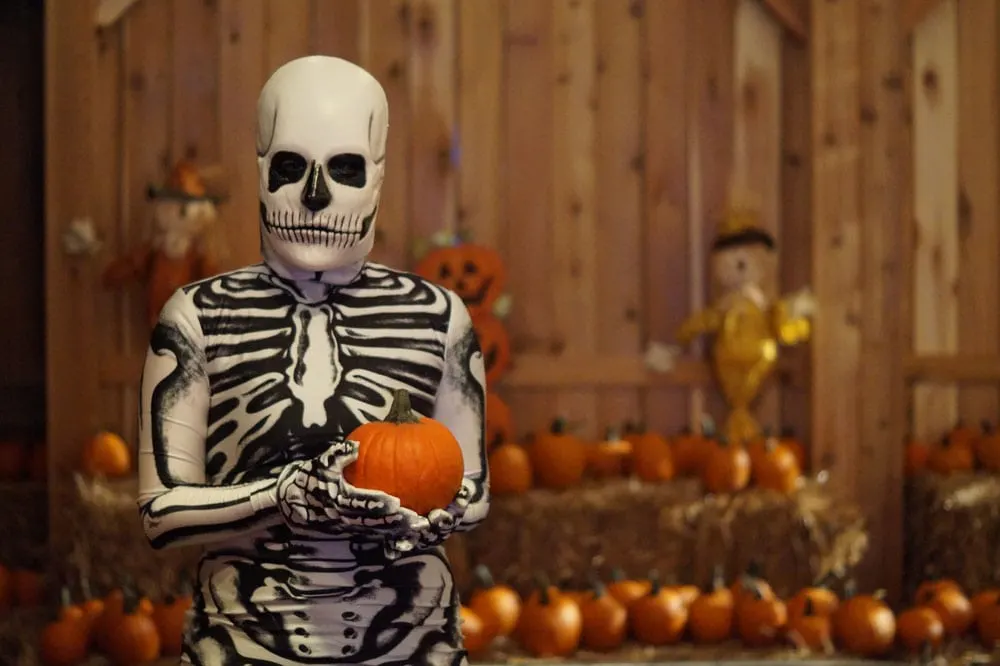 Next you head for the train cars!
Each car is decorated to match a theme: pirates, witches, ghosts and candyland. They really outdid themselves on decorating with scenes inside the private cabins!
The witch's car was my favorite — she had the dining car, with her cauldron set up on the bar and Frankenstein's lab in the kitchen.
To keep everyone from bunching up, the actors will direct your family to a dot on the floor, then launch into their part of the story. The story is actually pre-recorded, so the actors don't have to yell through their masks.
Each story has a clue to the Riddle of the Werewolf. After solving the mystery in the last car, kids will get a treat bag to take home.
When is the St. Louis Union Station Train or Treat?
Train Or Treat is open daily, October 8 – 31 from 4 to 8 p.m., Sundays through Thursdays and 4 to 9 p.m. on Fridays and Saturdays.
Ticket Prices
Timed tickets for the Union Station Halloween Experience are $14.99 per person and may be purchased on site or online at: stlouisunionstation.com/halloween-train-ticketing
Save money by adding a ride on the St. Louis Wheel for just $33.84
Kids under 2 are free.
Can I wear a Costume?
YES! We're all excited about Halloween and would LOVE to see the kiddos in their super awesome costumes! Adults are welcome to join in the fun, but please don't cover your whole face — just your mouth & nose!
—>Yes, face masks are still required INDOORS. But full Halloween masks on adults are not allowed.
But wait, there's more!
A fall festival market tent will house shopping and activities on the Purina Performance Plaza. Halloween items will be for sale, including decorating kits for pumpkins distributed during the event.
Fun festival-style food and drinks will be available on the Plaza and Soda Fountain, Union Station's popular retro diner, is adding Halloween Freak Shakes to the menu.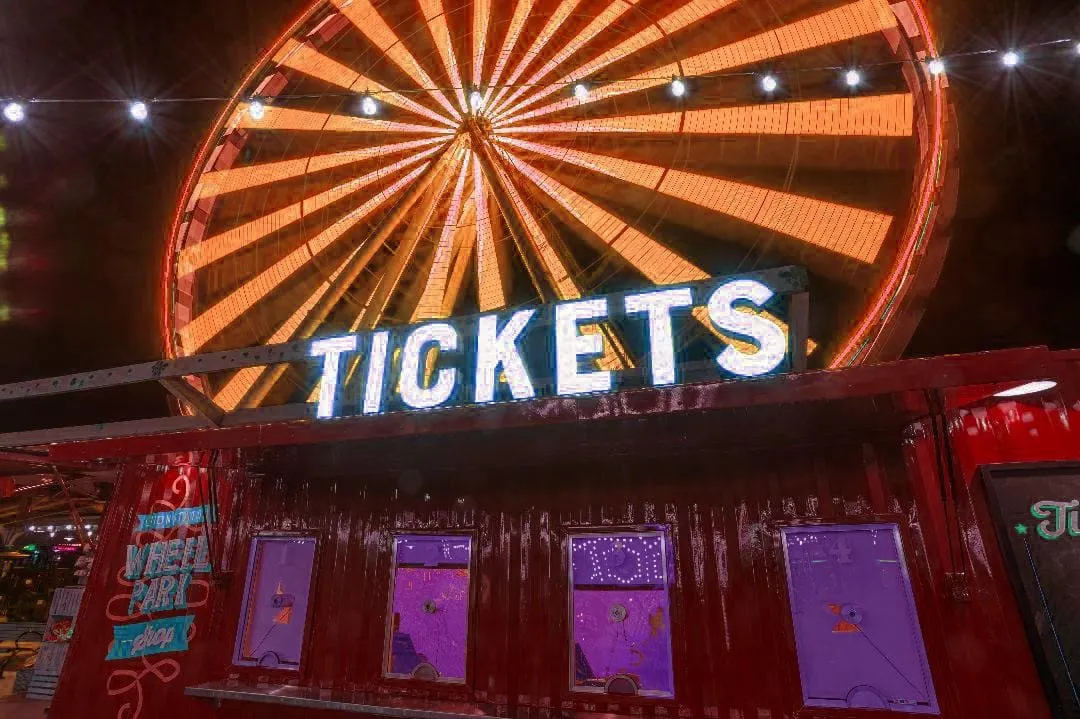 Halloween on the Wheel
Scan the skies for witches and ghosts from the top of the St. Louis Wheel! The 200-foot-tall observation wheel at Union Station will be lighted in Halloween colors during the event and a scary soundtrack will play on the Plaza.
Be sure to check out the hourly "fright light" shows will on the Union Station lake.
Underwater Pumpkin Carving
That's right, the St. Louis Aquarium will get into Halloween too, with underwater pumpkin carving. The Aquarium's dive team will create Jack o' Lantern as treats for the fishy residents of Shark Canyon.
Carving demonstrations will take place on Saturdays and Sundays during dive shows at 11 a.m. and 1:30 and 4 p.m.