The St. Louis Aquarium is Open!
The St. Louis Aquarium got the green light to reopen to visitors on June 8th, 2020.
Visitor capacity has been limited during this time due to temporary safety regulations.
You will need to RSVP for your tickets (including members) to get a timed ticket.
All visitors over nine should wear a mask (unless they have a health exception) by St. Louis City code. You can of course lower your mask for eating, drinking and when you can keep a safe distance from other visitors.
They will also be conducting touch free temperature checks, if you have a fever you will be asked to visit another day.
The Aquarium has introduced new safety measures, like one way paths and closing off some high touch exhibits. The train "experience" has also been closed at this time, so visitors can just walk into the exhibit unrestricted.
The touch pools are open and Animal Ambassadors are still making the rounds (just no petting).
St. Louis Wheel: you can get your tickets online, but it's not required. Gondolas are sanitized between each group.
The Carousel: riders are limited to allow for spacing. Each animal is sanitized between guests.
Mini Golf: Visitors will be spaced out on the course to allow for distancing. Equipment is sanitized between guests.
Ropes Course: Timed tickets are Required. Equipment is sanitized between guests and gloves are available if you like.
Mirror Maze: The mirrors are being cleaned regularly and gloves are offered to guests. Guests will be spaced out for social distancing. The final obstacle — the compression hallway — has been turned off.
To read more about new safety measures click here.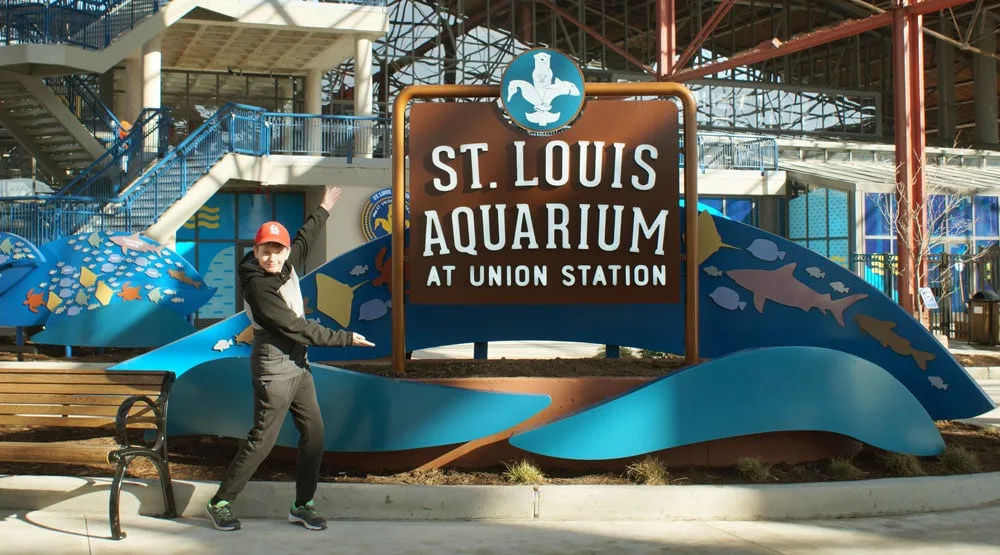 I dreamed one day St. Louis would build us an aquarium. We've already got a fantastic Zoo, tons of children's museums and of course a jaw dropping National Monument. All this river town needed was a nice place for some fish.
Our new aquarium has ONE MILLION gallons of fresh and saltwater tanks and is the home of around 13,000 aquatic animals. We're talking everything from sharks to river otters, with two-story tall tanks that you can walk around, under and through!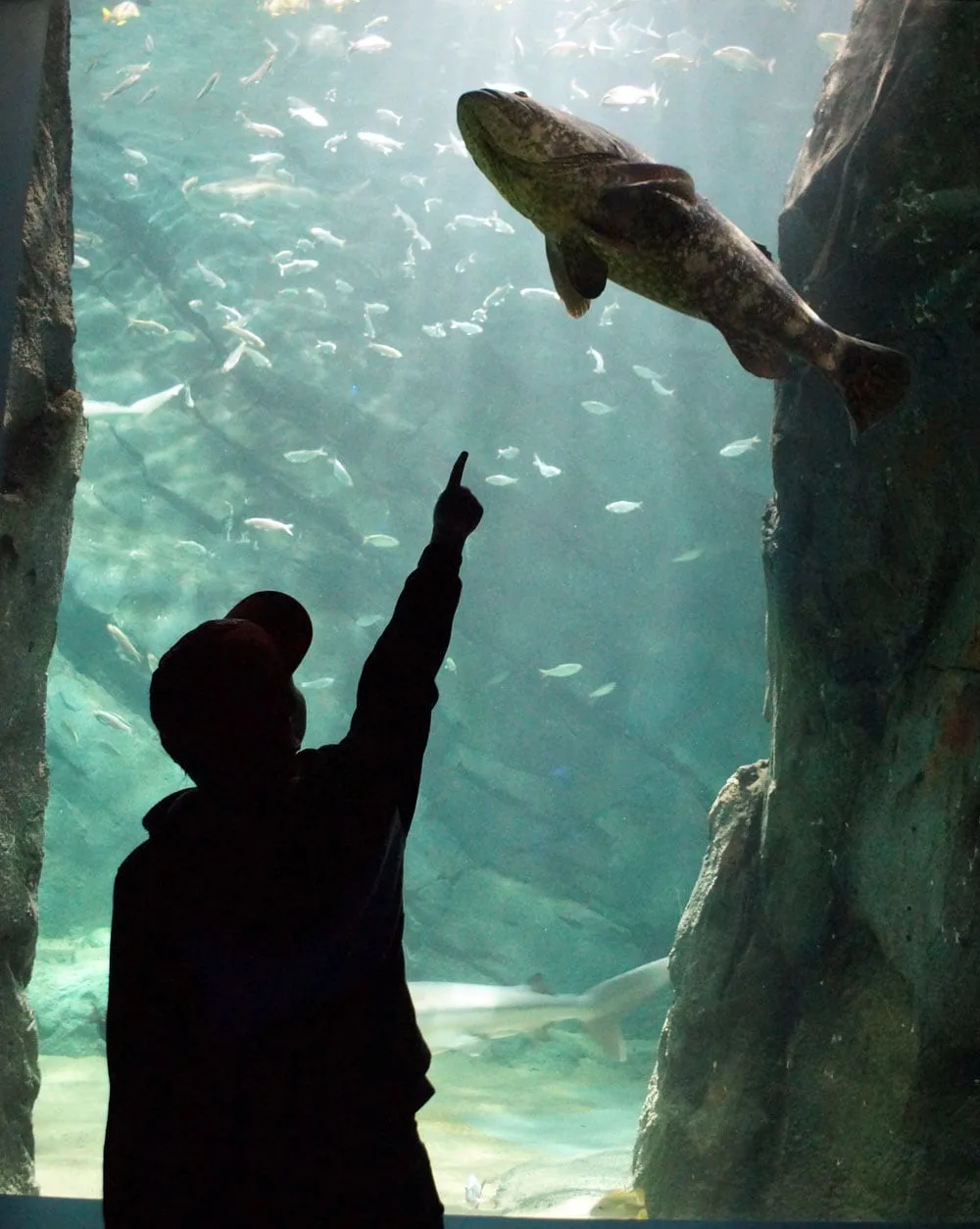 A National Historic Landmark
The St. Louis Aquarium is housed inside St. Louis Union Station, a 19th century National Landmark. Once an bustling railroad hub ushering thousands of travelers through it's doors, the station is now home to thousands of fish!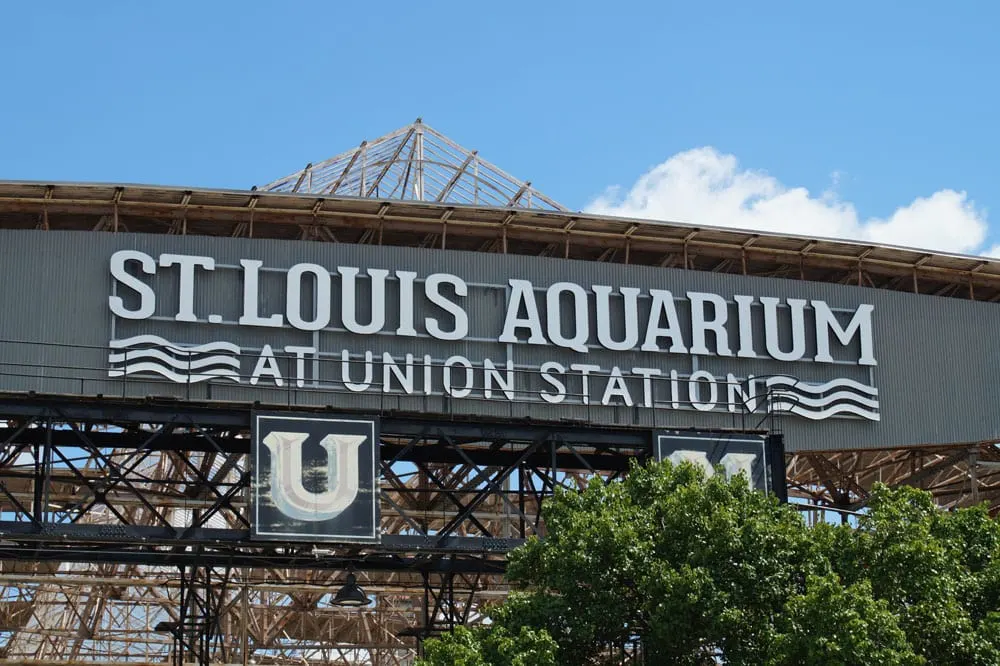 Where to Park at Union Station
You can park under the historic train shed, where 22 railroad tracks once crisscrossed, or at several nearby parking lots. The station was a mall back in the 80's, so there's quite a lot of parking.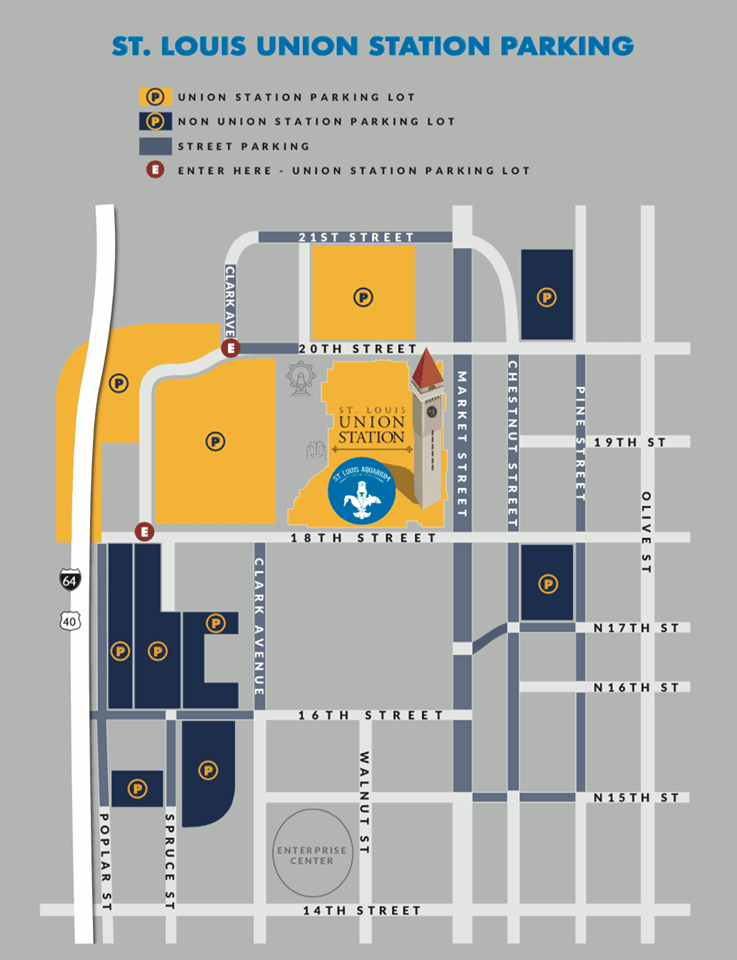 You can save on parking by purchasing a $5 parking pass with your Aquarium tickets — good at the South and West parking lots behind Union Station. (The Map is shown with West being up, I know it's disorienting.) If you didn't buy your parking pass with your tickets, you can still pick one up at the gift shop.
We visited during opening week when the Aquarium was completely sold out and there was still plenty of parking located towards the back of the lot. If you're in a hurry to find a parking spot just head to the back. Got an electric car? They have a charging station just for you, near the train tracks in the middle of the lot.
Enter the Aquarium: What You'll See First
After you purchase your tickets (or show off your membership card) you'll enter the Aquarium through a mini version of old time Union Station, including a full sized replica of the station's clock tower–filled with round Discus Fish.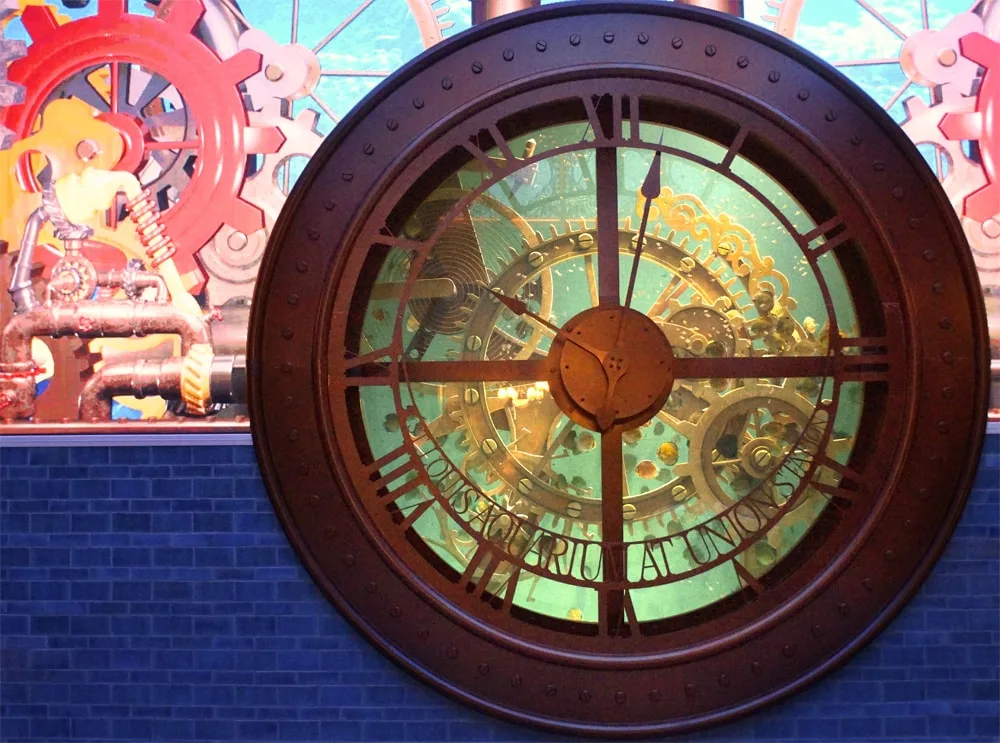 The roof of the lobby mimics the station's Grand Hall (now a bar and restaurant for the Union Station hotel) and displays a digital ocean complete with fish swimming overhead.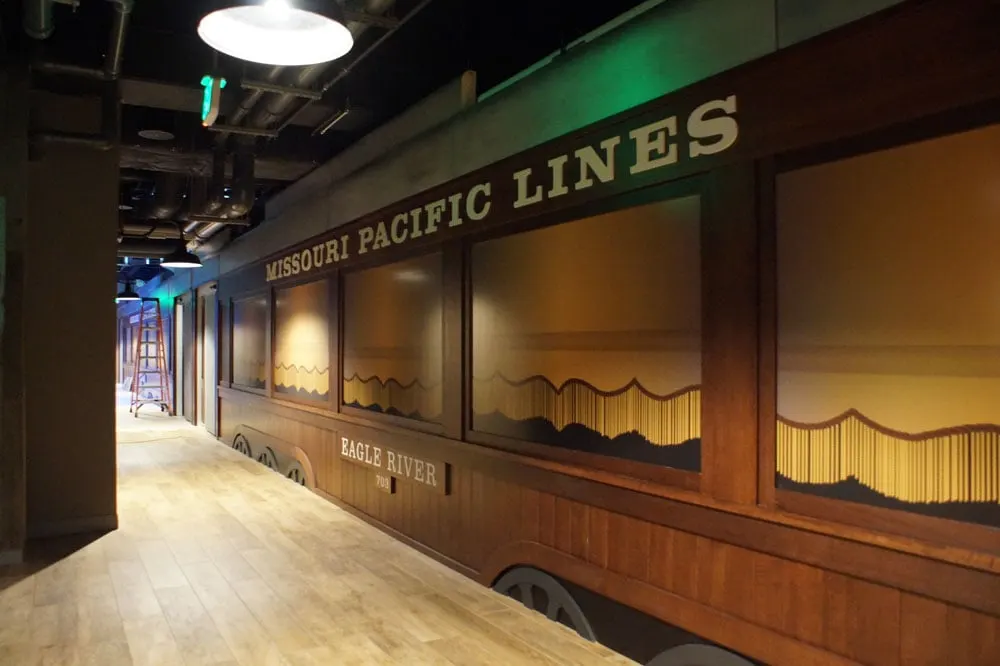 Next you'll board a virtual reality "train ride" honoring Union Station's history as a busy transportation hub. Fun fact: local celeb John Goodman lends his voice as the train conductor! Your ride starts with a few fun facts about 19th century St. Louis and Union Station, then Goodman pulls a few levers to make the train travel through time…and surfs it across the modern day Mississippi down to the ocean.
You'll watch the show through the length of the train's windows and through the skylight. Make sure your kids look up and out both sides of the train!
You'll exit the train ride at the first of six aquatic galleries and start your tour.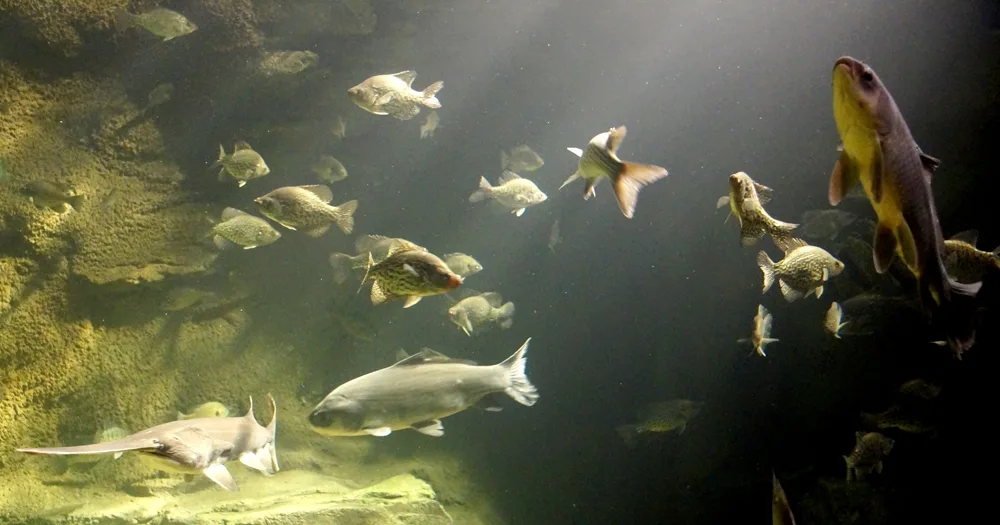 Six Global Aquatic Environments
The St. Louis Aquarium has six different environments to explore! You'll start with local river fish at the Confluence Gallery, then meet "river monsters" from Asia, Africa and South America at the Global River exhibit. Be sure to check out the Doctor Fish and let them nibble at your fingers!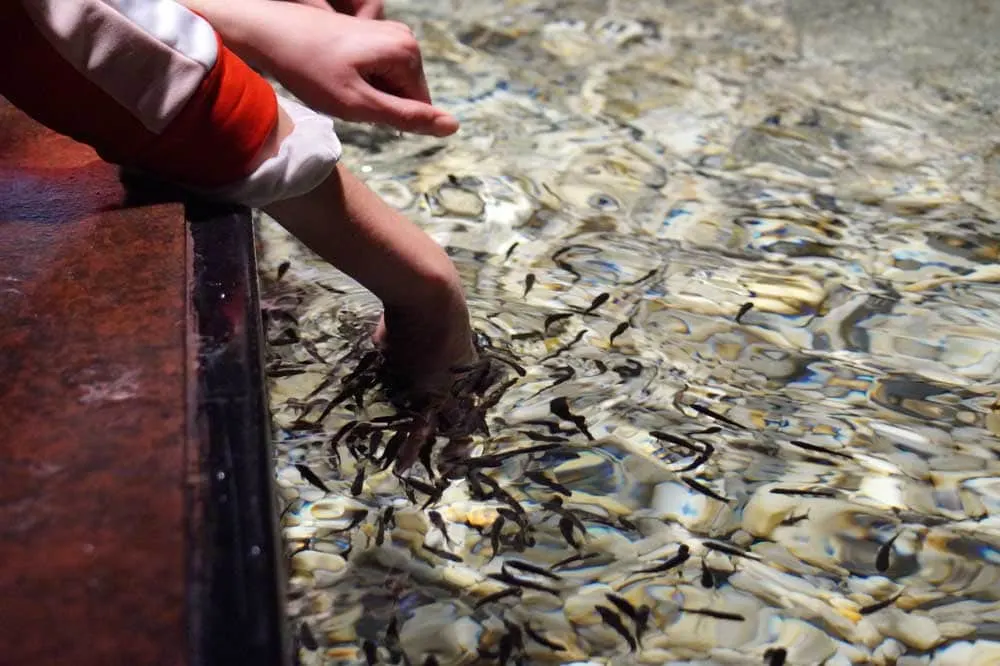 Next visit the otters triplets (Thatcher, Sawyer and Finn) who live on the shores of Changing Rivers. They have a two story habitat–you can watch them swim in their tank from the first floor or walk around the surface on the second floor. Next to the otter's tank is a really cool "otter chat" show with an electronic otter who answers all your questions about otters. The otter is like a puppet, with a behind the scenes voice actor who interacts with the audience from a hidden camera. Go ahead and ask her anything!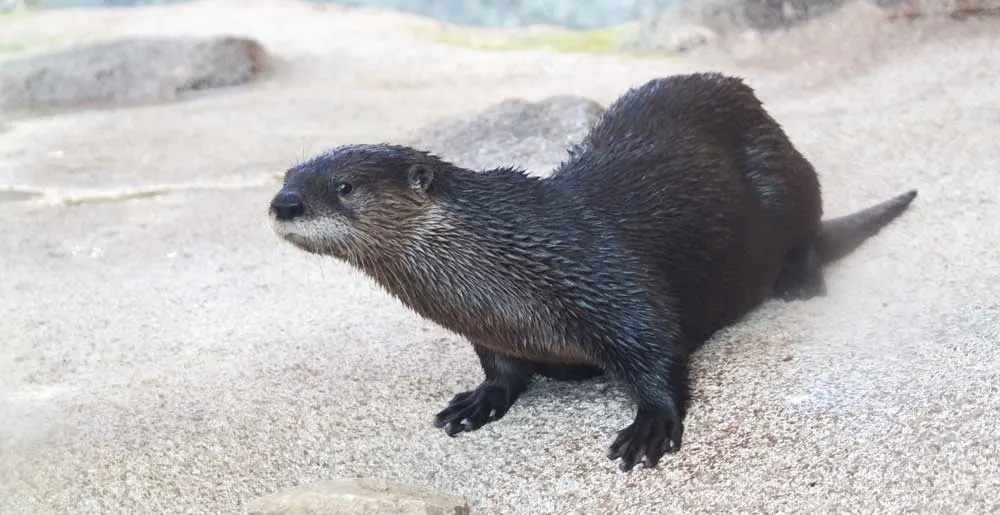 Head up stairs to Ocean Shores where with plenty of hands-on areas with touch pools that kids will love to explore. You can get up close with sting rays, shrimp, star fish and more. This is also where Lord Stanley the Blue Lobster resides, so take your time to explore the area.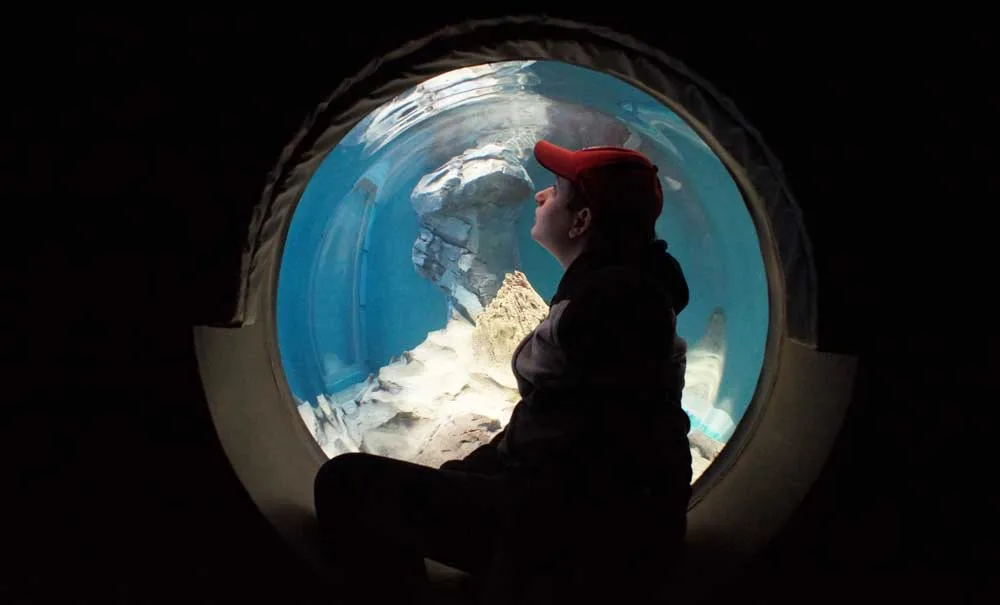 Next you'll cross into Shark Canyon with the biggest tank — 250,000 gallons– home to 80 sharks and rays, plus thousands of schooling sardines. (The keep the sharks from snacking on their new friends by feeding them very well and quite often!) You'll get to peak into several windows as you walk to the bottom level of the tank, then cross under under it.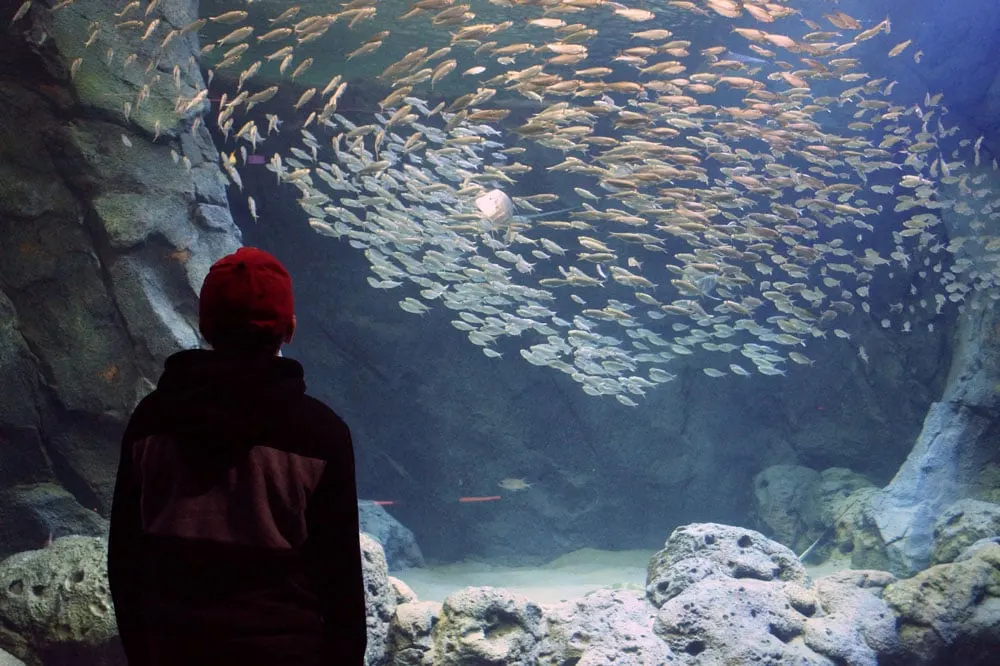 Finally, the Deep will take you to the depths of the world's oceans to see a coral reef, jellyfish, octopus and more.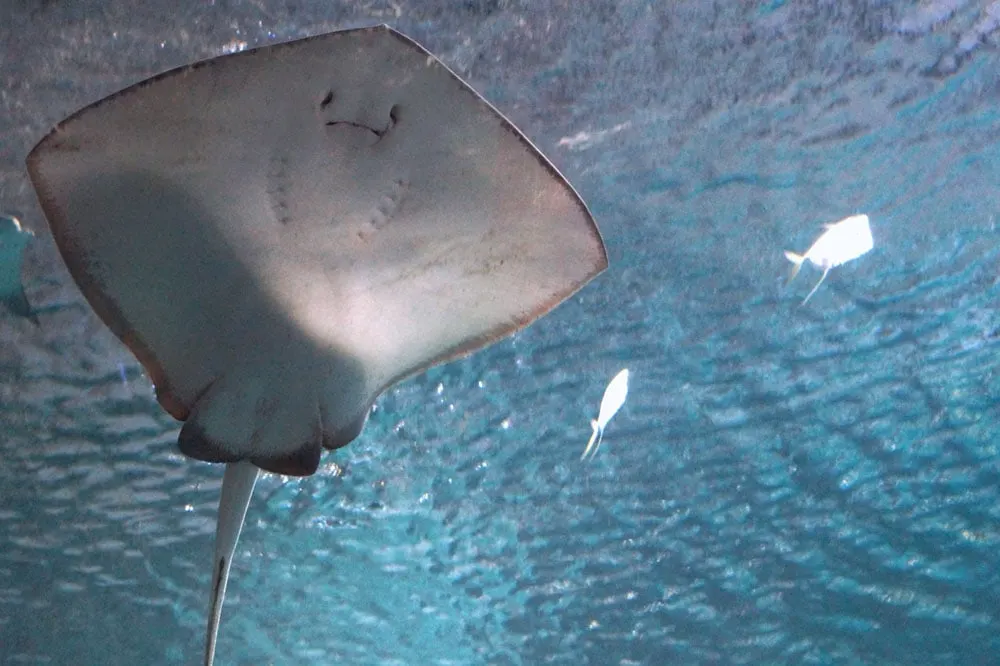 Ticket Prices
General Admission is $25 for Adults, $18 for kids 3-12.
Annual Passes start at $55 for One. You'll get a discount as you add members to your group: $100 for Two, $135 for Three, $160 for Four. Need more than four? Additional passes are $35 each.
Passes are issued to specific pass holders and include their name and photo.
Combo Tickets will save some cash:
Aquarium + The Wheel are $35/$25; All Six Attractions are $50/$40.
Tips to get the most from your Visit
The St. Louis Aquarium isn't as big as other's you may have visited, but it's jammed packed with interactive fun. Look for spots where your kids can get up close with the fish–there's a couple bubble windows that let you sit inside the tanks!
Take your time as you walk through the galleries — the aquarium's route is designed to be ONE WAY, and there are area's where it will be impossible to back track, especially if there's a crowd.
Get a card for the kid's electronic scavenger hunt when you enter the aquarium — it's free! And it will make sure your kids get the most from their visit.
Make sure you check out the computer touch screens located by each tank to explore the nearby fish in more detail. Kids can poke and spin the computer fish to see them up close and learn about all the species.
Where can we Eat at Union Station?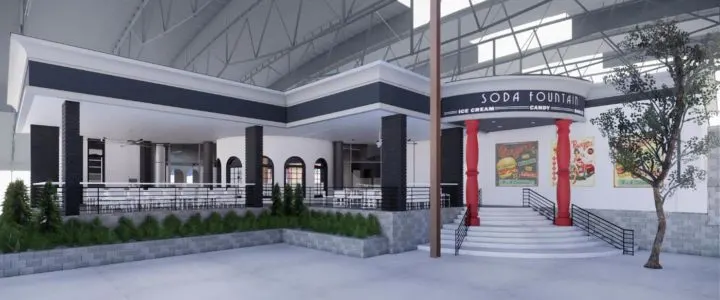 You won't have to worry about leaving the complex to grab a bite to eat!
Union Station now has four restaurants: three operated by the station's management plus Landry's Seafood–who thankfully decided to weather the construction phase. There's also plans for food vendors to operate around the park area. I'll keep an eye out for picnic areas as the grounds are developed!
Landry's Seafood House
Landry's is located under the train shed and just behind the lake. They serve fresh Gulf seafood, fish and steaks. You can see their menu here.
The St. Louis Station Soda Fountain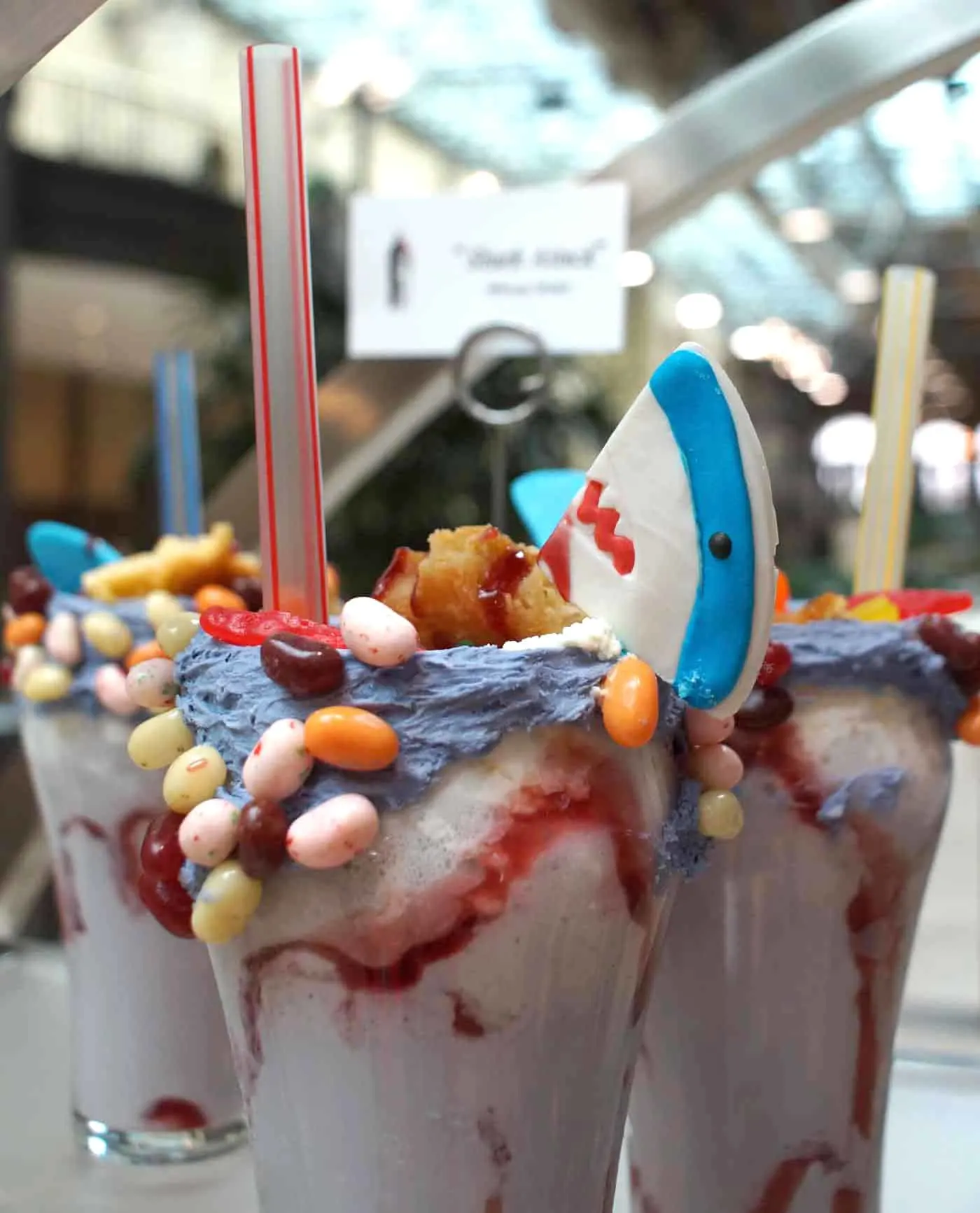 Taking over the Hard Rock Cafe is a classic soda fountain…called what else? The Soda Fountain! They serve kid-friendly ice cream, over-the-top milk shakes and grown-up boozy shakes sourced from local favorites Clementine's Ices Plain & Fancy. I'm happy to report that I tried a Shark Bite Shake during a recent media tour of the construction. It was AWESOME.
The Soda Fountain mainly serves fancy sodas and excellent milk shakes and a few grilled items like burgers and toasted cheese. There's also a complete candy shop inside the restaurant.
The Train Shed
If you visited Union Station Mall back in the 80's and 90's, you might remember Houlihan's at the front of the building. That restaurant space has been revived into The Train Shed, an upscale dining experience with a contemporary American menu, high-end spirits and 20 beers on tap.
1894 Cafe
Don't worry about being priced out of lunch! The 1894 Cafe is a casual place to grab a quick burger, sandwich or pizza for families and school groups. The cafe is named after Union Station's original opening date and will be open during the Aquarium operating hours. You'll find it on inside Union Station on the second floor.
Refreshment Cars
Next to the St. Louis Wheel in the Train Park are two renovated train cars serving up snacks, burgers, soda and beer.
What Else Can You Do at Union Station?
It's way more than just a fish tank! Union Station is turning into a true family entertainment complex with the addition of a Ferris Wheel, mini golf, a Carousel, concert park, themed restaurants and more!
The St. Louis Wheel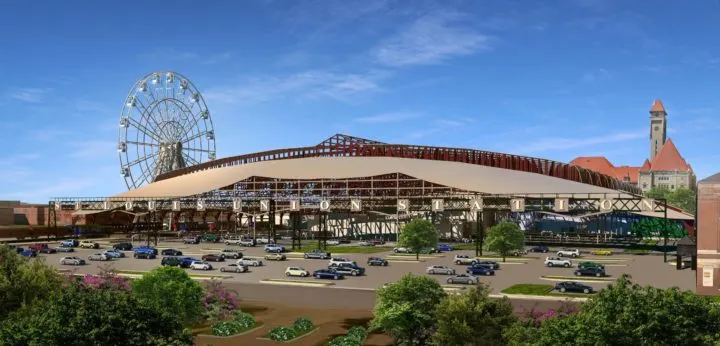 The highly anticipated St. Louis Wheel is a 200-foot-tall observation wheel with 42 climate-controlled gondolas. It offers an excellent view of the city and lights up the night with amazing LED lights.
Tickets are $15 for adults, $10 for kids 3 to 12 and free for little ones under 2. The Wheel is open from 10am to 10pm, and from 10am to 11pm in the summer.
The Carousel at St. Louis Union Station
Take a spin on a classic merry-go-round featuring 30 whimsical animals and themed chariots. Tickets are $5.
Mini Golf
An 18-hole course is located near the Ferris Wheel. Tickets are $10 per person.
Mirror Maze
Located inside the station on the 2nd floor, the maze is a tribute to the Temple of Mirth fun house from the 1904 World's Fair. Tickets are $8.
Ropes Course
Dangling above the Aquarium's lobby on the 2nd level is a ropes course and zip line. Thrill seekers wear a harness attached to a safety track above the course then balance their way across rope bridges and tricky balance beams. All ages are welcome, anyone under 48 inches or 13 years old must be accompanied by an adult. (Max weight is 300 for safety reasons.)
A smaller version a few feet off the ground is offered for kids under 48 inches. Parents can walk along side while their little ones test their skills.
Tickets are $15 for the main course, $5 for the kid's mini course.
River Park
And outdoor, two-acre park by the Aquarium entrance will have a play area and splash pad. Best of all, it's free!
Union Station Lake
The popular Fire & Light show set to music operates daily on the lake. A boardwalk with fire pits and chairs provides a relaxing setting to watch the show. Bring some quarters so you can feed the goldfish!

But what about the Polar Express?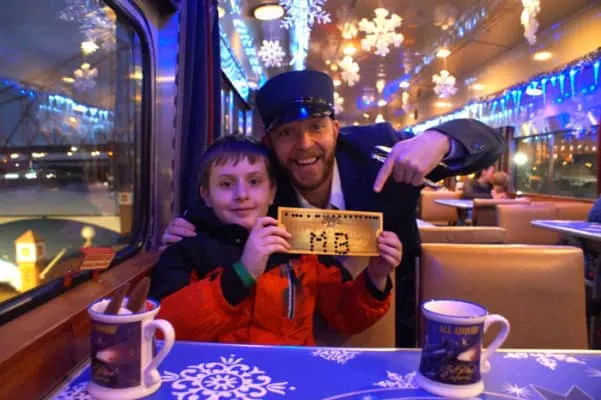 First, congrats on making it to the end of this monster post! If you're curious about the Polar Express, you don't need to worry. The LHM folks are the ones who invited the Polar Express to Union Station in the first place, so you can bet me a donut it will keep showing up year after year.