Take your family to the Anheuser-Busch Brewery Lights display! (Yes, this is totally family friendly.) It has everything: holiday cheer, Clydesdales, s'mores, a Soup Bar, games for the kids, beer tasting for the grown ups and tons of fun. Believe it or not, it's even better than last year! And did I mention it's free?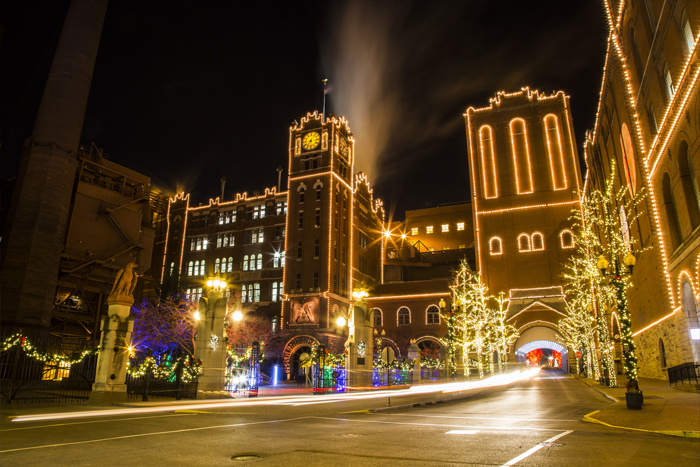 When Are the Brewery Lights On?
Brewery Lights starts on Nov. 15 with a special lighting ceremony and continues every Thursday to Sunday from 5 to 10 p.m. through Jan. 1, 2018. You can also drive through the display Monday through Wednesday if you just want to see the lights and not leave your car. But then you'd miss all the fun!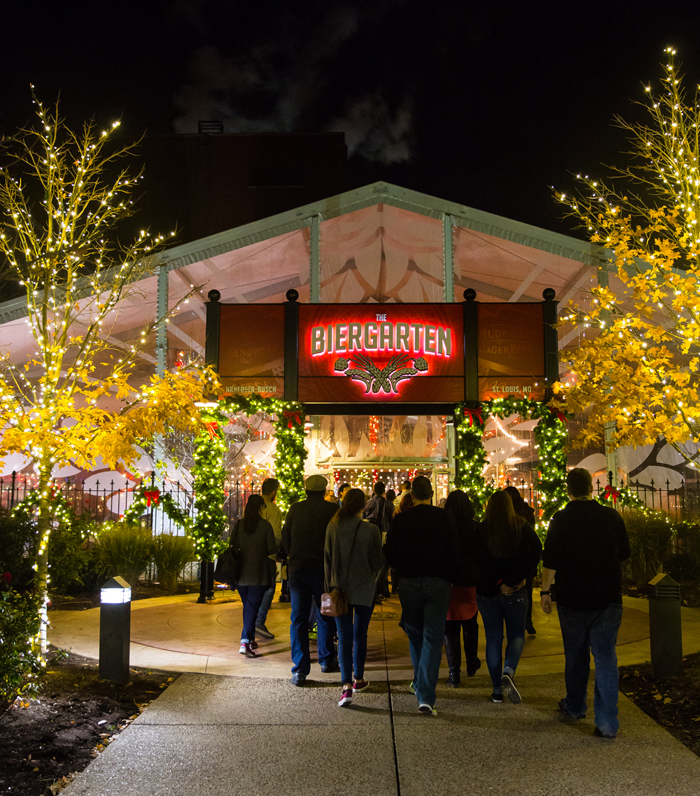 Price: The tour and the beer sampling are free.
For a little extra you can buy s'more kits, and this year there's a Soup Bar. If you want the VIP package ($50) you'll get to graze the buffet in the Old Schoolhouse and they'll save you a parking spot. You can also buy the food a la carte. 
Wait, what about Parking?
Parking hasn't been a problem for us, there's plenty of space to park on the brewery tour lot. AB security is also highly visible. But if you go with that VIP package they'll hold a spot for you.
So what's this Tour like?
It's a self-guided tour, unlike a daytime visit to the brewery. Check in at the lobby and get your sampling wrist bands for adults–it's part of the free tour. Then head outside and explore!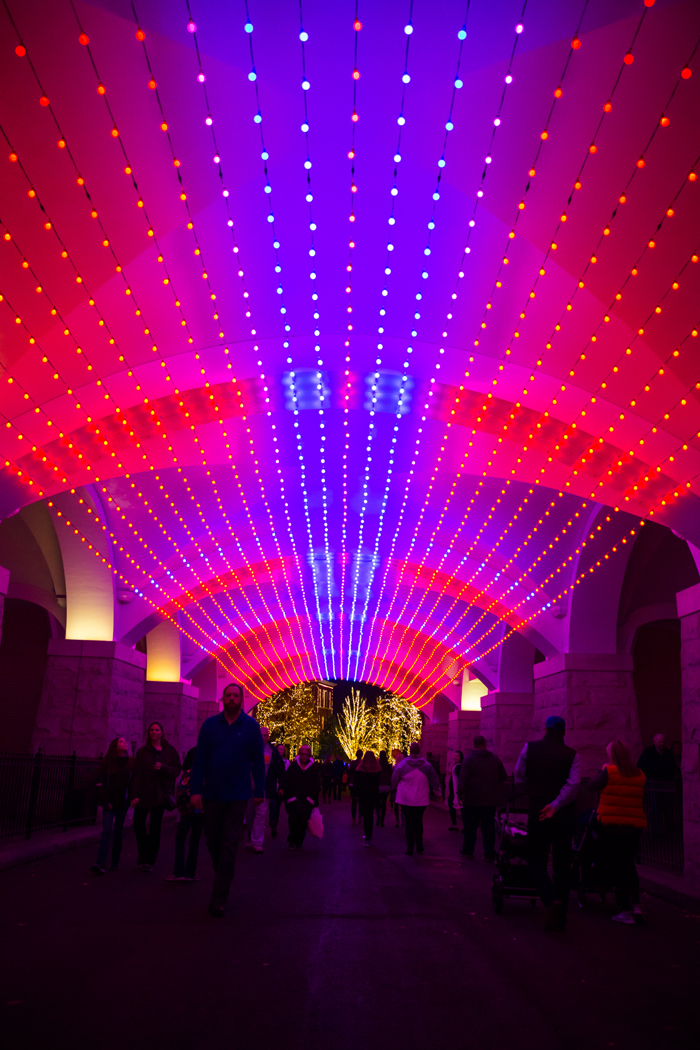 They've rearranged things slightly from previous years. 
This year you'll get one full sized sample of beer, rather than 4 small samples. Naturally, you're free to purchase more beer if you like. There's also a few kiosks set up to sell snacks, s'more kits (the fire pits are scattered around the trail this year) and bowls of warming soup or chili. If you have a kid along, pick up a hot cocoa for just a dollar.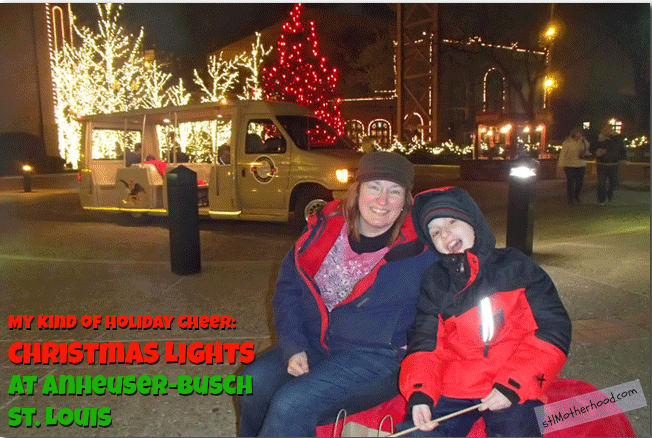 If you're hungry for more, there's a buffet set up inside the tour center where you can purchase food items a la carte. Don't worry–there's plenty of seating inside the hospitality bar!
Tram and Trains
They no longer run the Grant's Farm tram, so you'll have to hoof it along Pestalozzi Street. New this year is a kiddie train down by the bottling building. The cars are big enough to accommodate grown ups if you want to ride along too.
Clydesdale Photos
The historic Clydesdale stable is open for a meet and greet with one of the horses. You can buy a photo, but they don't mind if you bring your own camera!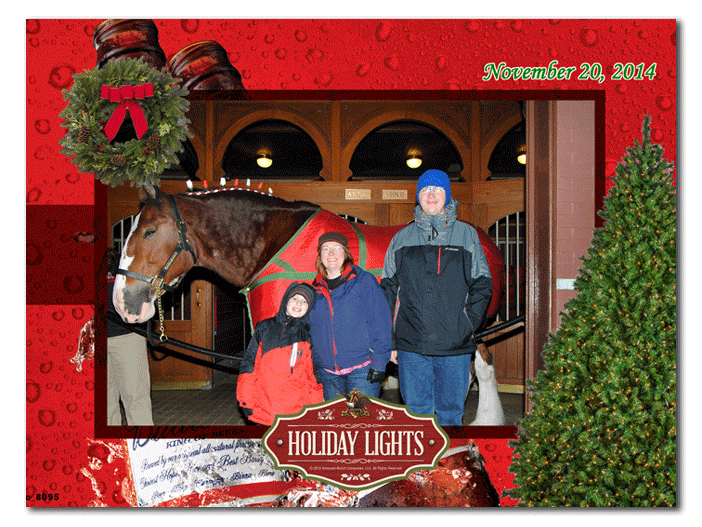 Be a VIP
Like I said, there's no admission to the event and you could totally do it for free. BUT you can make it more fun if you pre-purchase a "Holiday Cheer" package which gives you a commemorative glass, a photo OR a train ride for up to 4 people, and a food item for $20, which is a discount. Youth tickets are $6 and include a food item and a s'more kit.
VIP packages are $50 for adults and $20 for the under 21 crowd. This gives you a reserved parking spot, access to a private bathroom, entry to the Old Schoolhouse Museum and it's full buffet of Sliders, Brats, Mac n Cheese, Hot Dogs & T-Ravs, plus 2 beers (or sodas).
There's also a Clydesdale package. It's a little pricey at $250, but it gives you a private session with a Clydesdale, a pro photographer, a print & digital copy of your best photo, your choice of ornaments or a holiday stein, and four beers in the The Biergarten. This package is good for up to 4 people–but if you want more people in your photo you can add them for $10 a piece up to 10 people. (Christmas card, anyone??)
But wait! THERE'S MORE! You can book a private fire pit for a group of up to 8 people. (If you have more than 8, you can book additional fire pits.) They're not cheap: $375, but you get WAY more than just a cozy haybale of your own. The Fire Pit package comes with access to the Old School House Museum, the buffet in the museum, complimentary beer and soft drinks, private restrooms, Eight S'more Kits, and two reserved parking spots. Oh yeah, and a fire pit of your very own.
Ice Skating
They've installed a portable ice rink. Bring your own skates an it's free, or rent some for a donation to a good cause.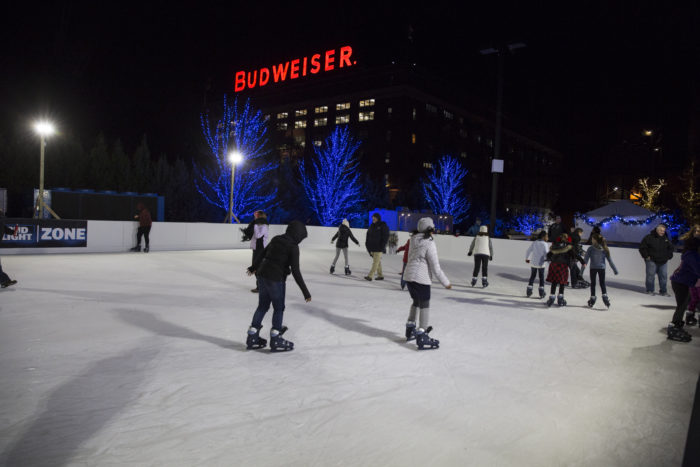 So how was it? FUN! They keep improving this event each year! Obviously, you can spend a lot on a family if you buy tons of food, but you can also do it for free. This is seriously the most fun you can have while checking out Christmas lights! Also, I'd like to add that the entire Anheuser-Busch staff at the event were super friendly. Anytime I had a question they were happy to help and find the answer.