We've got FANTASTIC NEWS! Our favorite holiday light event in St. Louis is back in action! Make plans to go see a million twinkle lights sparkling on the historic brick buildings of the Anheuser-Busch Brewery.
This is a family friendly, outdoor event on the home campus of Anheuser-Busch in Soulard. It has everything you need to kick off a St. Louis Christmas: holiday cheer, Clydesdales, s'mores, games for the kids, beer for the grown ups and tons of fun.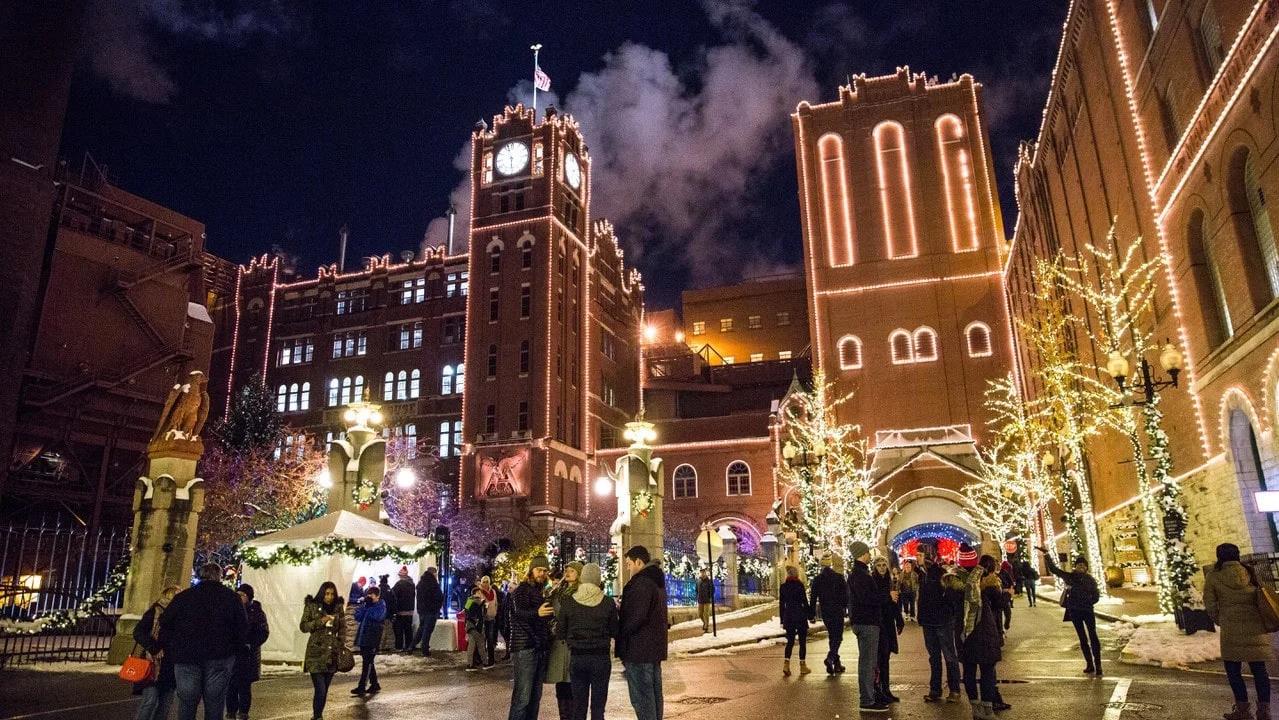 The bad news? There's a price for admission in 2021 and tickets are limited to keep crowds reasonable, so you really need to make an RSVP online now.
Psst: Want to know where the other good drive through shows are this year?
I've got a list of a dozen other places to see lights in St. Louis!
When Are the Brewery Lights Open?
Anheuser-Busch will open the gates every weekend from Thanksgiving to the end of December 2021.
Dates:
Nov. 17-20
Nov. 25-27
Dec. 1-4
Dec. 8-11
Dec. 15-18
Dec. 20-23
Dec. 28-30
They will NOT be open on Christmas Eve, Christmas or New Years Eve.
You can buy timed tickets for Brewery Lights, with slots being offered at 5pm, 6pm and 7pm.
You can stay as long as you like, the event closes at 10pm.
Free Driving Tour in 2022
If you just want to see the lights, you can drive through the campus Mon-Tues-Wed. Guests will enter off of Arsenal Street, and will drive their vehicles up and down Pestalozzi Street. You can drive through from 5 to 10pm.
It's not as fun as the walk through light display, but if you're in the neighborhood you ought to stop.
The website doesn't mention this is an option, but I've asked the Brewery about it and it's back on!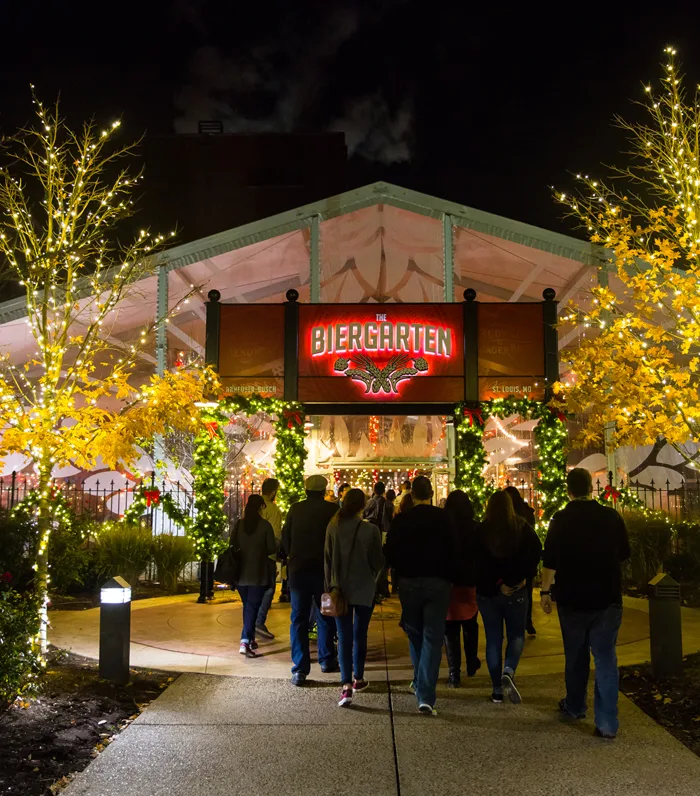 Price: $10 for adults, $5 for minors, Free for kids under 5
For a little extra you can buy s'more kits, craft beer, and dine at the Biergarten. For a lot more you can rent your own private Igloo like a real live snow princess.
Wait, what about Parking?
Parking hasn't been a problem for us, there's plenty of space to park on the brewery lots. AB security is also highly visible. Parking is still free, and there's NO reserved spots for VIP packages. Its all first come, first served.
So what's this Tour like?
The brewery had to take a couple years off due to you know what (thanks for nothing 2020) so they've had time to re-imagine the whole thing. I'll update photos after we've seen it for ourselves.
They've added a huge 50 foot digital holiday tree and an all new light show that lasts 10 minutes! The show is really cool with speakers hidden inside the tree and street decorations. The nearby trees and some of the buildings blink along with the music. Plus, there's a parade each night at 7:30 (which includes the Clydesdales).
The kid zone has been expanded and now features a live DJ playing family friendly tunes for the little ones.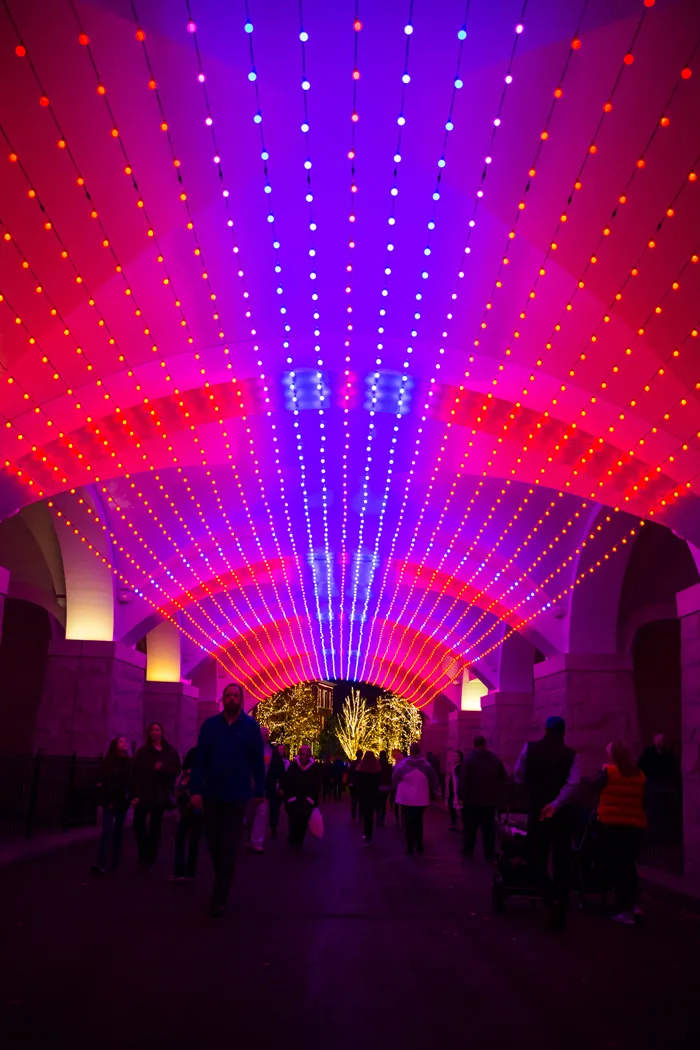 It's a self-guided tour, unlike a daytime visit to the brewery.
This is no long a beer 'sampling' event, but everyone over 21 will be treated to a full size (16oz!) beer. To avoid lines inside the event, they are checking IDs and handing out complementary beer in the visitor center parking lot, BEFORE entering the lobby and checking your ticket.
Check out Lager Landing for photo ops, picnic tables and a nice bathroom. Public fire pits are located by the big digital tree for warming up and roasting s'mores.
And yes, the gift shop is open.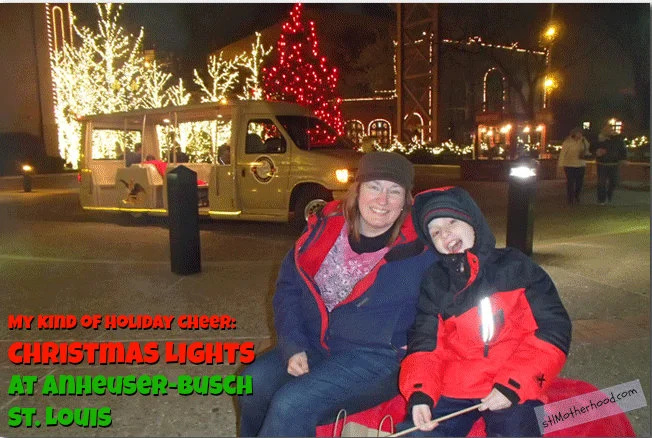 Naturally, you're free to purchase more beer if you like. The indoor bar is open and the beer garden is tented (and heated!) with another bar and plenty of seating. You could also purchase s'more kits at the bar if you forgot to add one when you made your reservation.
If you're hungry for more, the Biergarten is selling chili, toasted rav, brats and so forth.
Tram and Trains
The tram is still not running this year, but honestly, we haven't seen it since 2018. It's a short walk, so this really isn't a big deal.
The kiddie train ride down by the bottling building is getting a new route and this year goes through a 40 foot tall snowman. The cars are big enough to accommodate grown ups if you want to ride along too.
Clydesdale Photos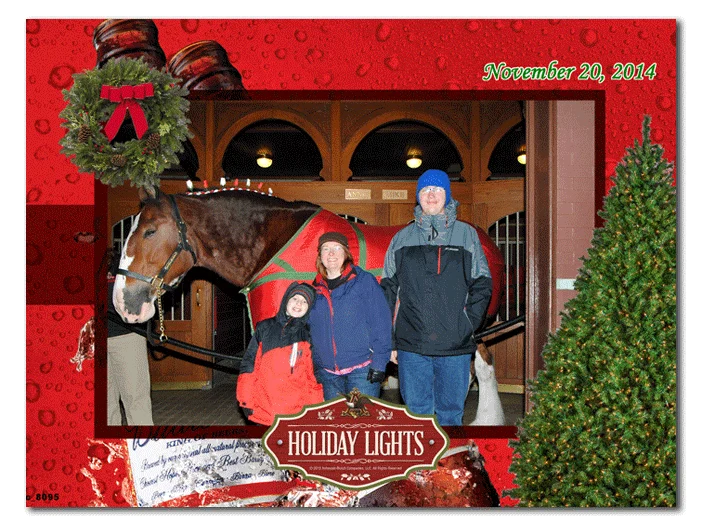 The historic Clydesdale stable is open for a meet and greet with one of the horses. Bring your own camera, or add a professional pic for $10.
No Ice Skating this Year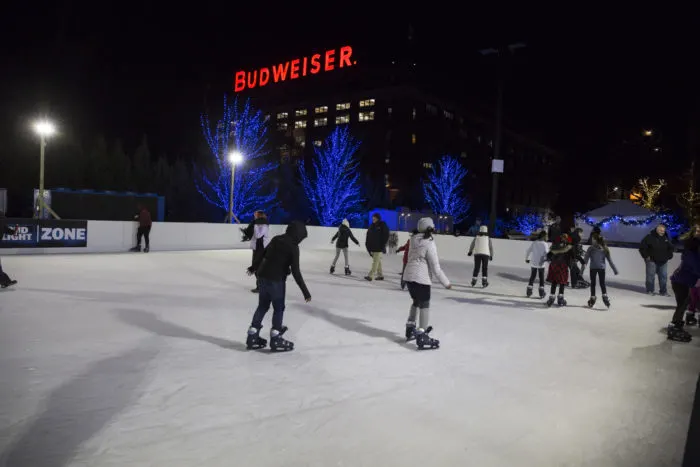 Brewery Lights Ticket Package $10
RSVP your winter wonderland tour and you'll get entry, free parking and one 16oz beer for those over 21. There are public fire pits available to warm up or roast that s'more kit

Minors under 21 are $5 and kids under 6 are free.

Extras: Souvenir Photo with a Clydesdale is $10, S'more kits are $5 each.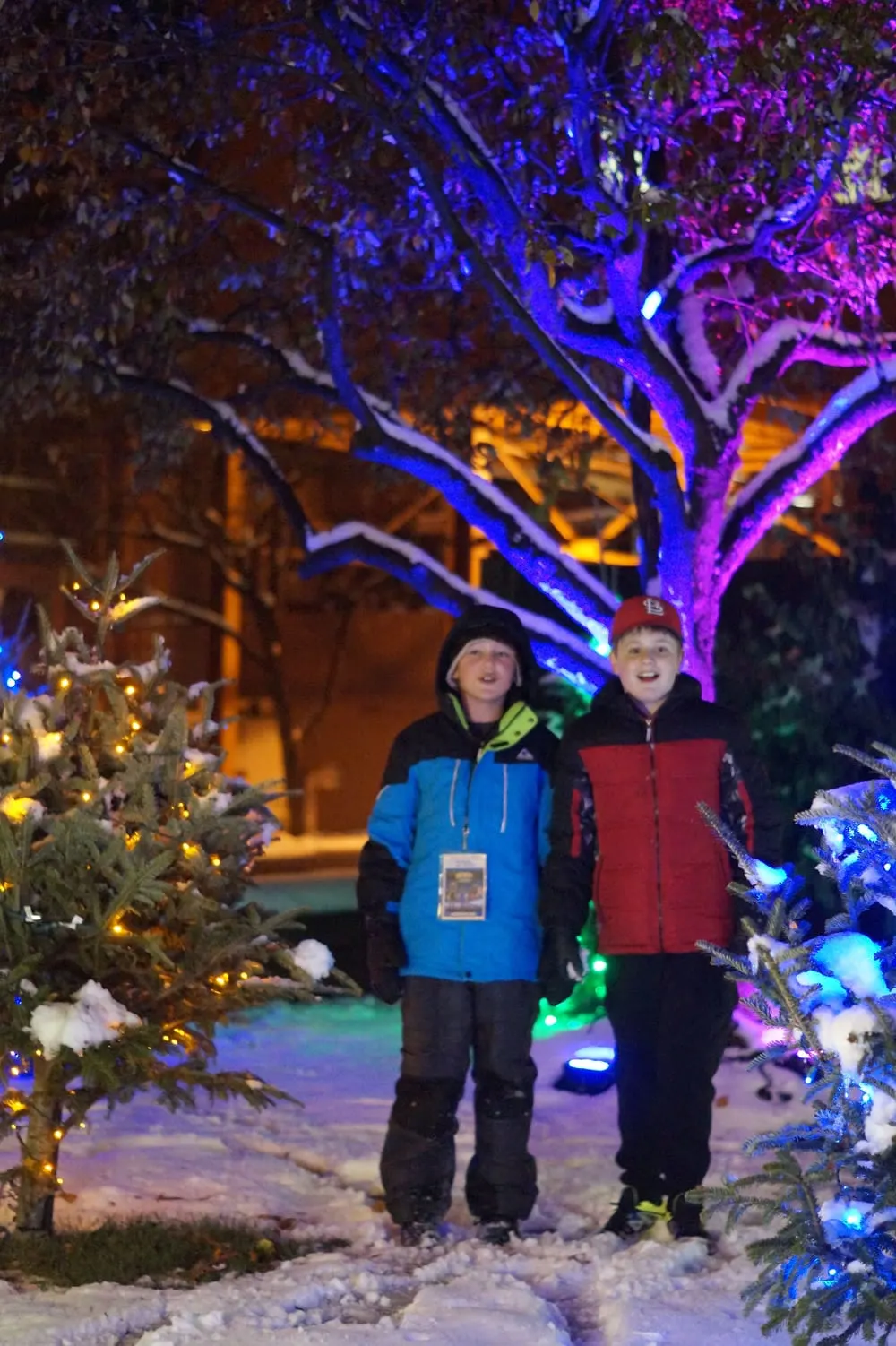 Fire Pit Fun Package
But wait! THERE'S MORE! You can book a private fire pit for a group of up to 8 people. (If you have more than 8, you can book additional fire pits.) They're not cheap at $400 so you'll want to grab some friends, but you get WAY more than just a cozy haybale of your own.
This year the Fire Pit package comes with access to the Old School House Museum (warm up & find a nice bathroom), complimentary beer and soft drinks for the whole night, a buffet, s'more kits and souvenir cups. Oh and you'll also get a blanket that yours to keep.
These reservable fire pits are located by the Old School House museum and fenced off for your privacy.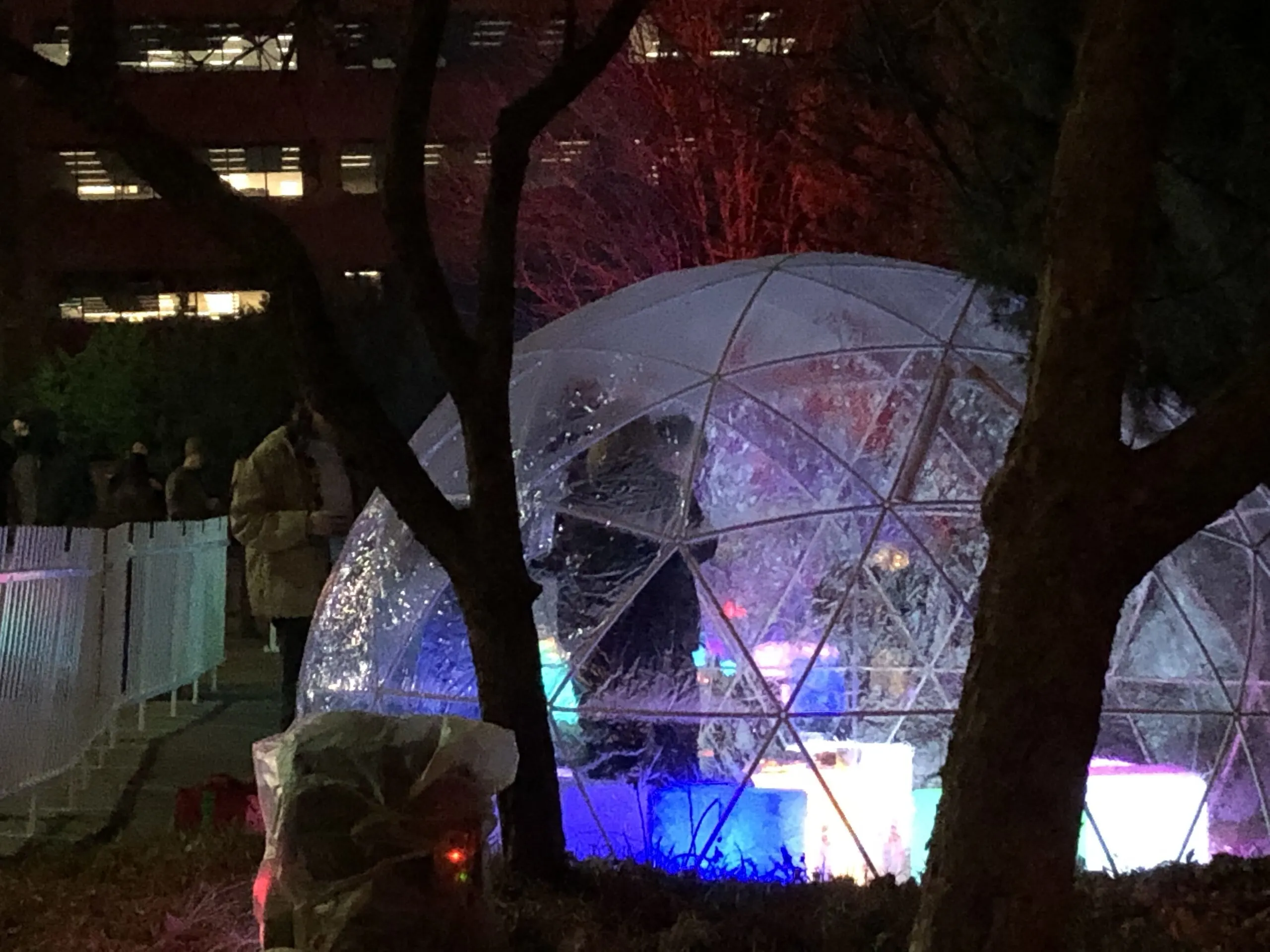 Igloo Package
Fire pit not cozy enough? Then reserve an IGLOO! These start at $300 for up to 6 guests, and can fit 8 people for a little extra.
This is also a premium experience with 2 buckets of beer, free soft drinks and a wrist band for more samples at the Love Beer Plaza.
You'll also get access to the Old School House Museum and it's lovely private restrooms, s'mores and a buffet served in the school house.