Get your twinkle on, it's Christmas light time! Pour some hot cocoa in a travel mug, download your favorite holiday tunes and put your kids in the car–because I've got a list of St. Louis' best Christmas light displays!
Some things have changed because, ugh, 2020. I've updated everything so you know where you can still have a safe (socially distanced) Christmas time fun.
But there's some GOOD news! None of the light shows have been canceled for 2020! In fact…there's MORE.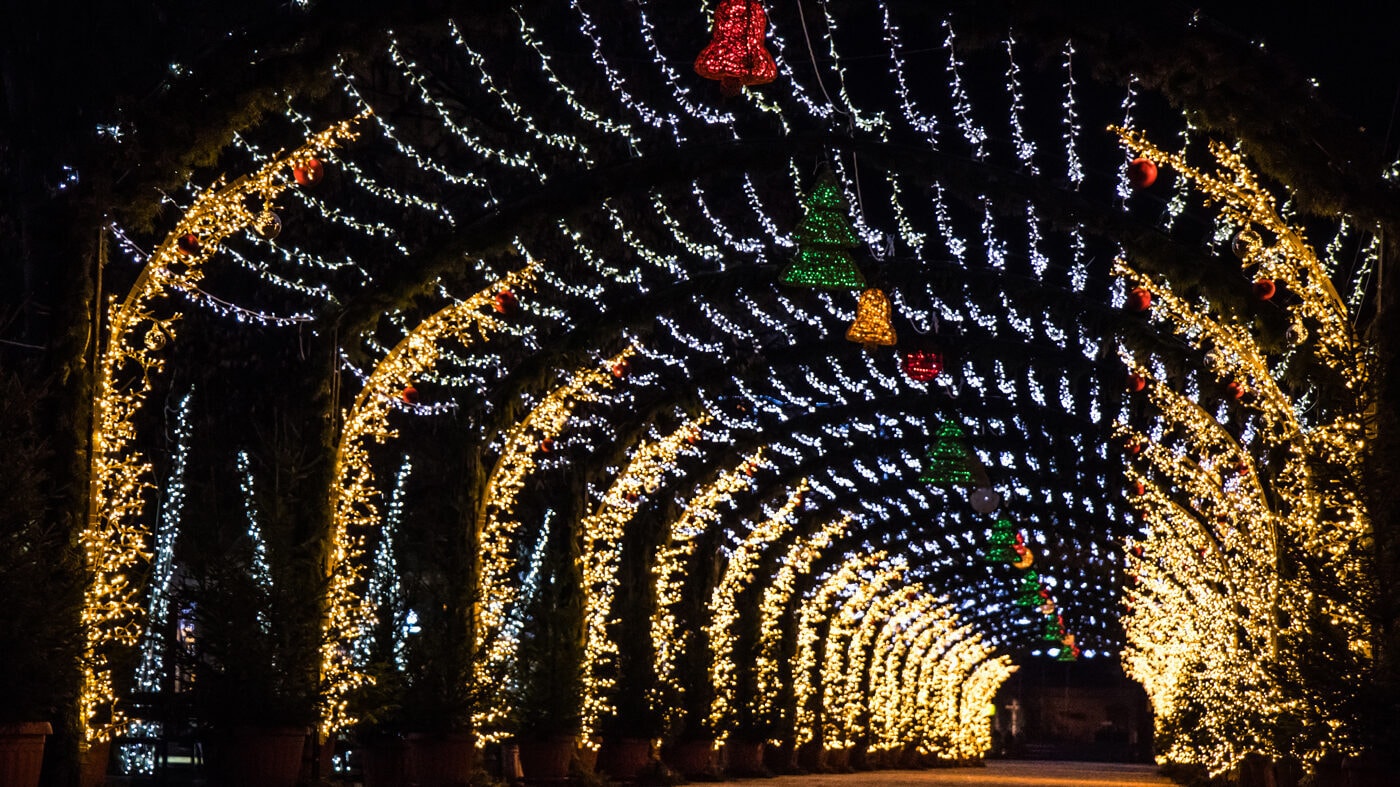 Every year we celebrate the beginning of the holiday season with trip to a couple of these festive light shows. There's something for everyone!
Some shows are completely free and other will cost you by the carload.
Check the details on your favorite display, because most of these offer special nights with walking tours, carriage rides, hay wagons and trains! If you start now, you might just see them all!
Nov. 27 – Jan. 2, 2021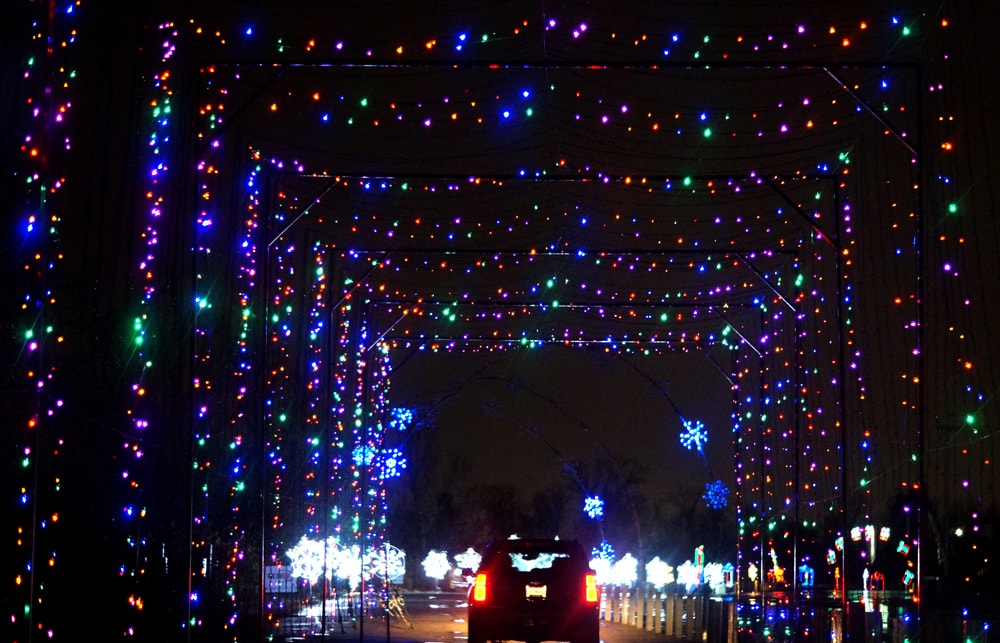 New for 2020 is a modern laser and video spectacular show. With twinkle lights. From Vegas.
Lot of Lights is held on the Family Arena parking lot in St. Charles and runs a one mile course. A dedicated radio station will play a mix of holiday music.
The show is open EVERY NIGHT including Christmas, and runs from 5:30 to 11pm.
The display winds back and forth through the arena's parking lot. Though it doesn't have the hills and trees of displays set in parks, it does have "depth". Plus there's lots of tunnels and a couple snow machines to drive through.
Tickets are $25 PER CAR and sold through Ticketmaster or at the arena box office. (Ignore the bit where Ticketmaster tries to offer you 2 tickets, the system still thinks it's a concert.🤦‍♀️)
Nov. 20-Jan 3, 2021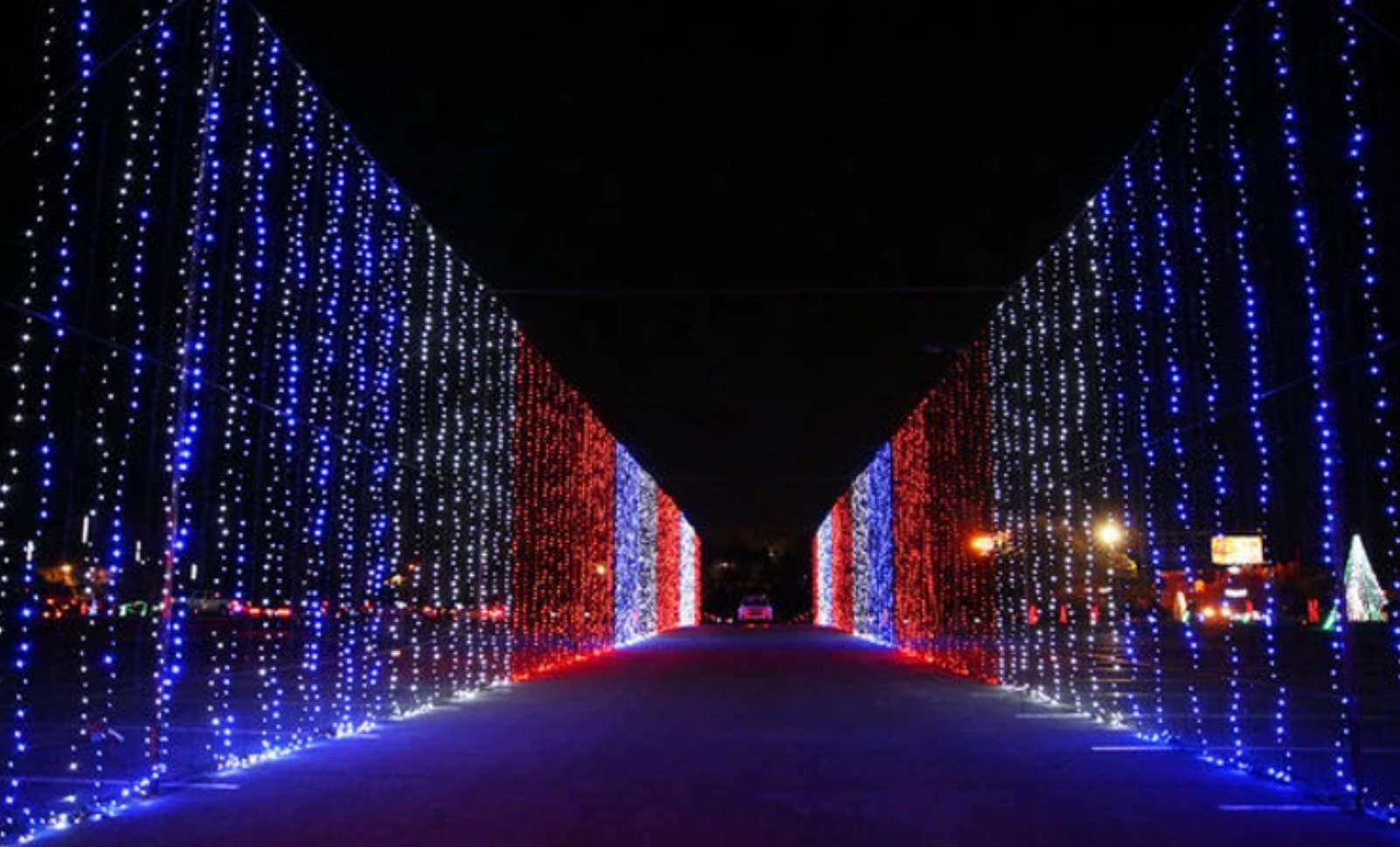 Drive your car through a one mile "track" at World Wide Technology Raceway in Madison, IL.
The show is $7 per person and runs 5 to 10pm EVERY night, including Christmas. (Kids under 3 are free.)
I should note that the racetrack hosted a similar light show a few years ago. We're not sure if this is the same set up or not.
Nov. 20 to December 31, 2020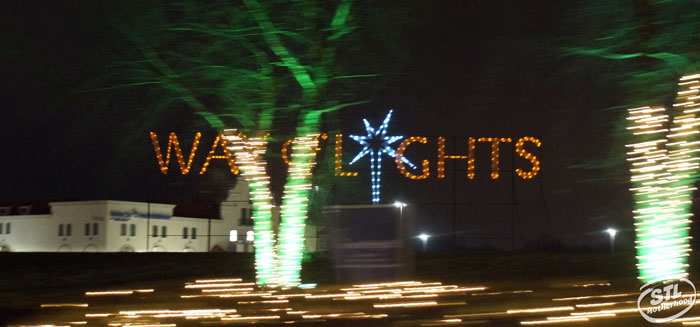 It's huge, it's awesome, it's all about the real Christmas story…and it's free!
Most of the good stuff has survived for 2020, but there's no play area or LEGO display this year.
Definately give them a donation on the way out! If you donate $15 you can take home a Build-A-Bear plushy critter for your kid's nativity scene collection.
The Way of Lights also has camel rides, a petting zoo and indoor activities. Camel & Pony rides are $8, food for the petting zoo critters is a buck.
Nov. 27-Jan. 3 2020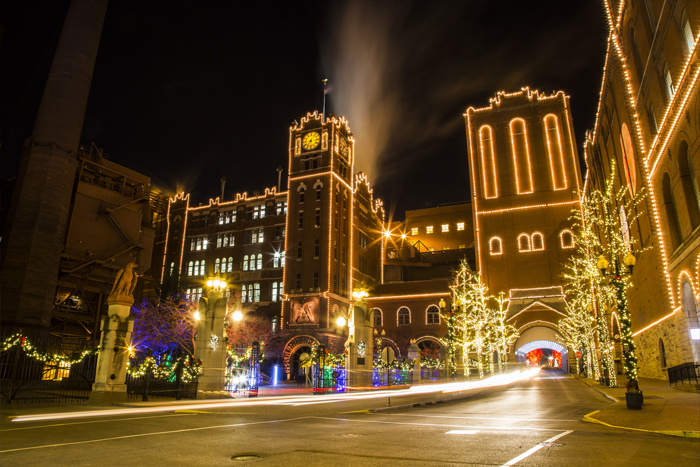 This freebie is one of my favorites, but the glorified beer fest has been put on ice for 2020. This year the light show is a drive through only, no hospitality event.
If you've never done the week day drive through, now's your chance to drive down Pestalozzi Street.
Nov. 11-Jan 2, 2021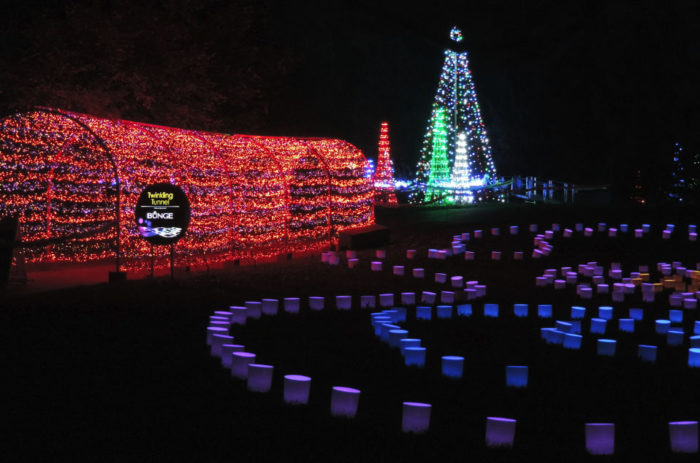 They're lighting up the whole garden again, and boy, is it's something to see! Changes for 2020 include an extremely limited number of tickets being sold (down to 25%) to reduce crowds.
Lucky for us, they added a Family Nights with $3 tickets for kids, and reduced prices on select Bargain Nights. Regular admission for non-members is still $18 for adults and $10 for kids, and of course members get a discount.
Nov. 27-Jan 2, 2020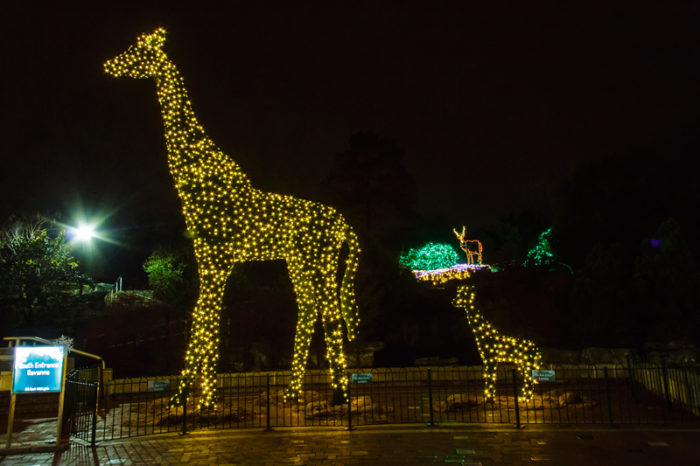 Bundle up the kiddos for a stroll through the St. Louis Zoo after dark! They're open from 5:30 p.m. to 8:30 p.m. on select nights (check the calendar for details).
Changes for 2020 is mainly the need for TIMED TICKETS IN ADVANCE. They have reduced the number of visitors allowed at the zoo…so tickets will be harder to get, but crowds will be nonexistent.
Tickets are $9.95 for Zoo members and $10.95 for non-members on weekdays and $2 more on weekends. Children under two get in free. There is also free parking at both of the Zoo's lots.
You HAVE to get your tickets online or by phone! The Penguins and Carousel will be open during Wild Lights!
The Carousel is included with admission.
Nov 20-Jan. 2, 2021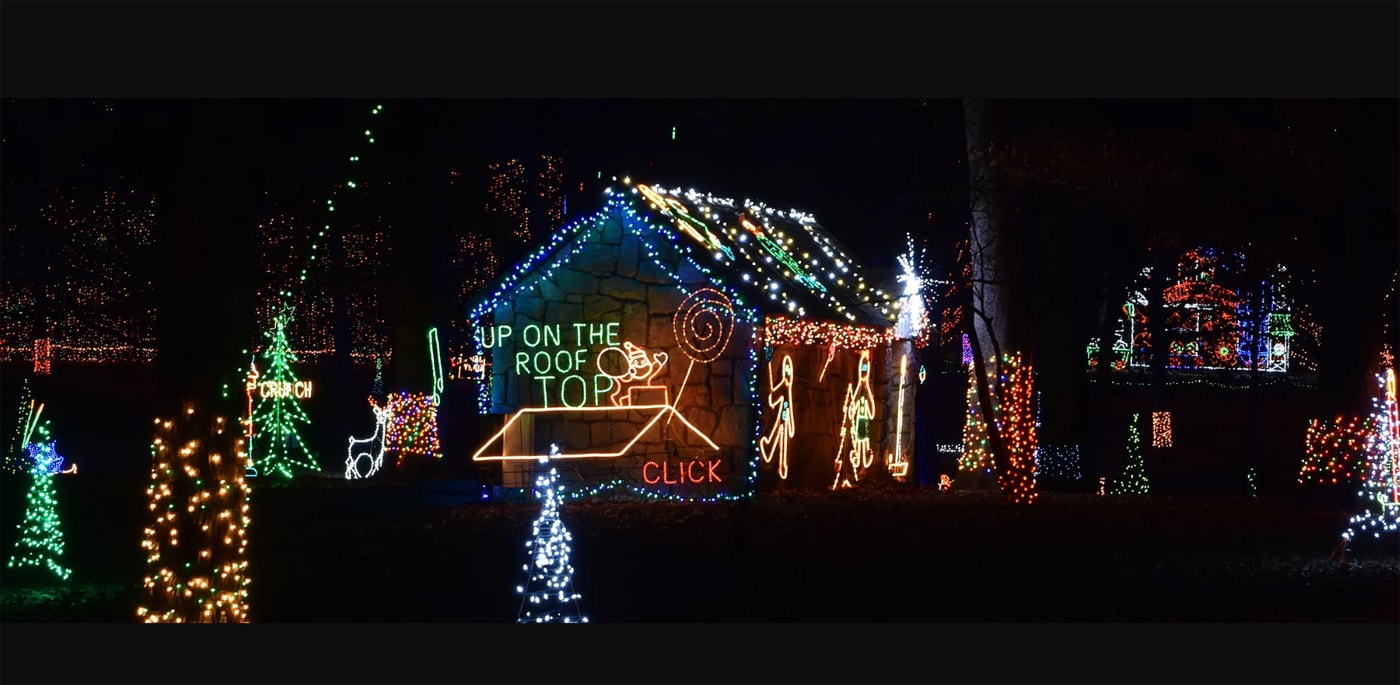 This gem is run by the St. Louis County parks department. You can drive through or ride in a horse drawn carriage!
The Winter Wonderland is open daily from 5:30 p.m. to 9:30 p.m., except for Christmas Eve (they'll be closed then). Check the calendar for dates — some nights are carriage only.
There's no walking nights this year, and if you want to purchase your tickets in advance you can do so at MetroTix. You can still pay at the door, though they ask you bring $10 exact change.
Nov. 27-Dec. 27, 2020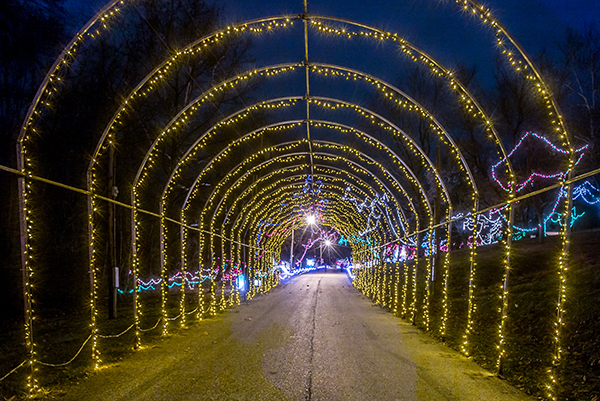 More than FOUR million lights have been strung through Rock Spring Park for their annual Christmas Wonderland lights display. There's cascading waterfalls, lighted trees and hundreds of light displays!
$7 per car. Open 7 days a week, from 6 to 9pm on weekdays and 5 to 9pm on the weekends.
Nov. 27-Dec. 30, 2020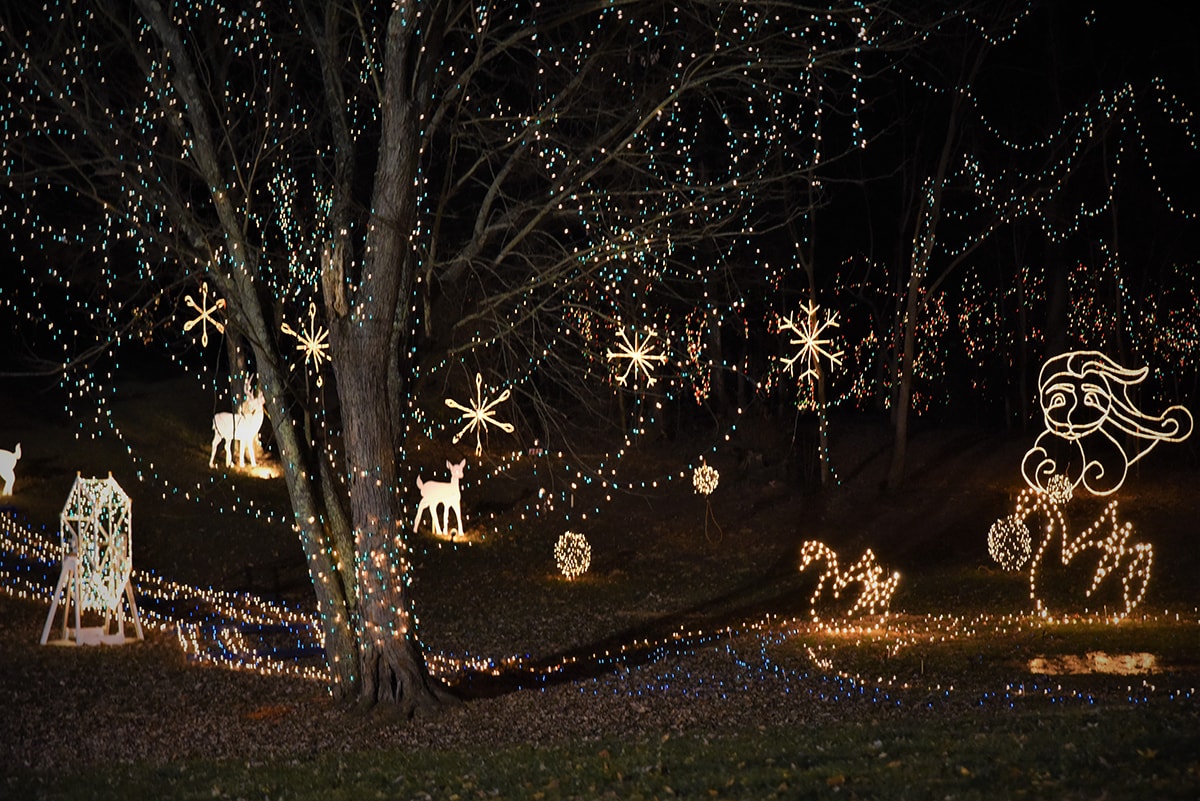 Drive through lights and holiday scenes set up in Fort Zumwalt Park. The display is open through Dec. 30, but closed on Christmas.
You'll need to get you tickets IN ADVANCE either online or at the Renaud Center.
Visit Sunday and Tuesday through Thursday from 6 to 9 pm, and Friday and Saturday from 6 to 10 pm. $12 per family vehicle.
Check their website for details on train night. an old fashioned walk through or hiring a horse drawn carriage.
Nov. 27-Dec. 30, 2020
This one mile light display in Rotary Park features large commercial scenes and tunnels with twinkling, flashing features that offer a thrill for everyone!
Open to cars daily through Dec. 30 (except Christmas Day) from 5:30 to 9:30 p.m. $10 per car, up to 6 people. (If you've wedged more than 6 in your car, it's a dollar extra per person.)
Dec. 14 is walk through only.
Carriages are offered on Tuesday, Thursday and Friday. It's recommended to pay in advance, but drop in are welcome if they're not full. $50 for two.
Tractor pulled "sleigh hayrides" are also available for groups to rsvp.
Nov. 20- Jan. 10, 2021
Due to 2020 being a "year to remember", photos with Santa have been canceled. You can still drop a letter for him at the "North Pole" gift shop. Santa will be waving from the sidelines this year.
They're up to FOUR million lights now! Santa's Magical Kingdom is actually Jellystone Park campground and offers 35 acres of decorated park land.
Ride a wagon or take your car. Runs 7 days a week (yes, even on Christmas), admission is $25 per car or $14 per person if you take their wagon. CASH ONLY. Kids under 2 are free if they ride on an adult lap.
Candy Cane Lane is not an "official" light show, but a very festive neighborhood tradition in South St. Louis on the 6500 block of Murdoch.
Nearly every house is lit up with twinkle lights and decorations, plus lights around the trees and streets. The block is located in the St. Louis Hills neighborhood between Ted Drewes and Francis Park–check out this slide show from the Riverfront Times!
Nov. 27-Dec 30, 2020.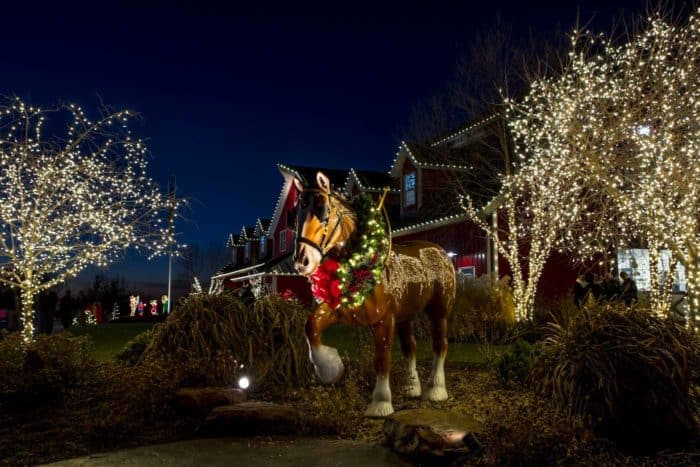 If you're heading out to Boonville–maybe to visit a winery or Mizzou–then you'll want to book a date for Warm Springs Ranch, home of the (baby) Clydesdales!
You'll need to RSVP for this event, which has switched to a car tour for 2020.
The ranch is decorated with thousands of lights which you'll see as you drive around their pastures and paddocks.