Get your twinkle on, it's Christmas light time! Pour some hot cocoa in a travel mug, download your favorite holiday tunes and put your kids in the car–because I've got a list of St. Louis' best Christmas light displays!
Updated for 2022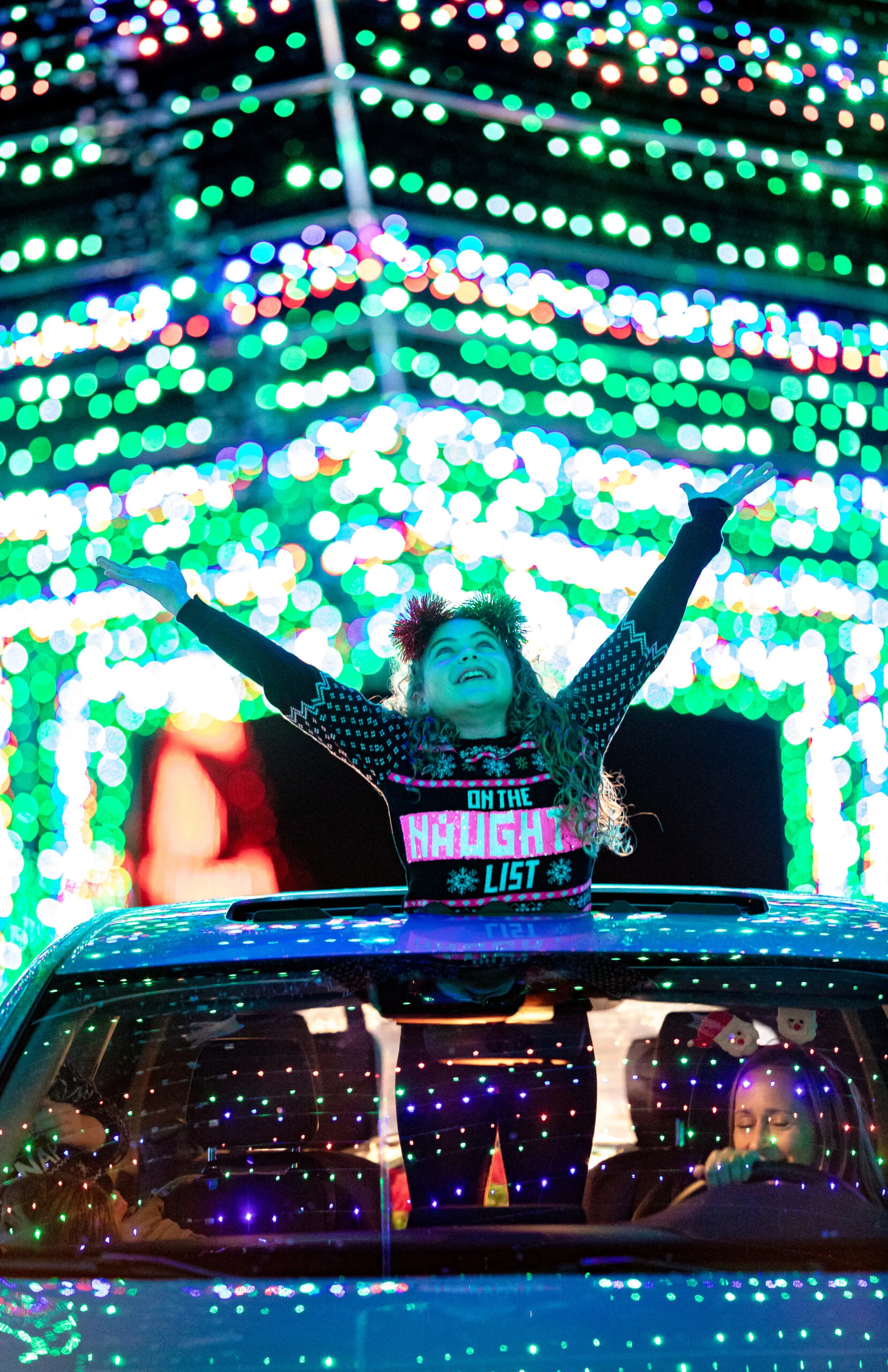 Every year we celebrate the beginning of the holiday season with trip to a couple of these festive light shows. There's something for everyone!
Some shows are completely free and other will cost you by the carload.
Check the details on your favorite display, because most of these offer special nights with walking tours, carriage rides, hay wagons and trains! If you start now, you might just see them all!
Nov. 18 – Jan 1, 2021
Six Flags, Eureka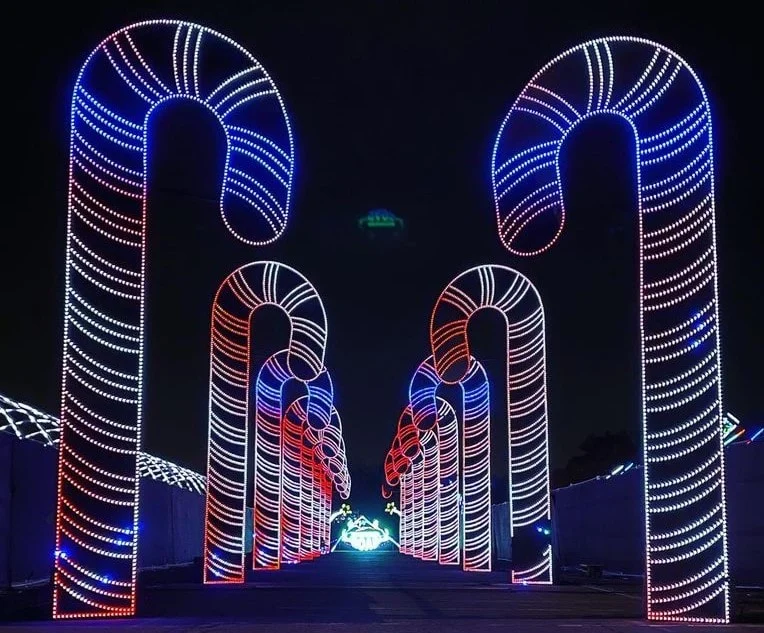 This is a drive through a parking lot-o-lights, claiming to be the "worlds biggest". They have 2 million lights, synchronized music and a Santa in space theme. Tickets start at $39.99 per car and go up for more popular nights. Reservations are strictly on line. When you buy your tickets you can add on a 4-pack of 3D glasses to make the lights pop and Sonic Wands for the kids to play with.
Nov. 25- Dec. 30 2022
Grants's Farm, St. Louis County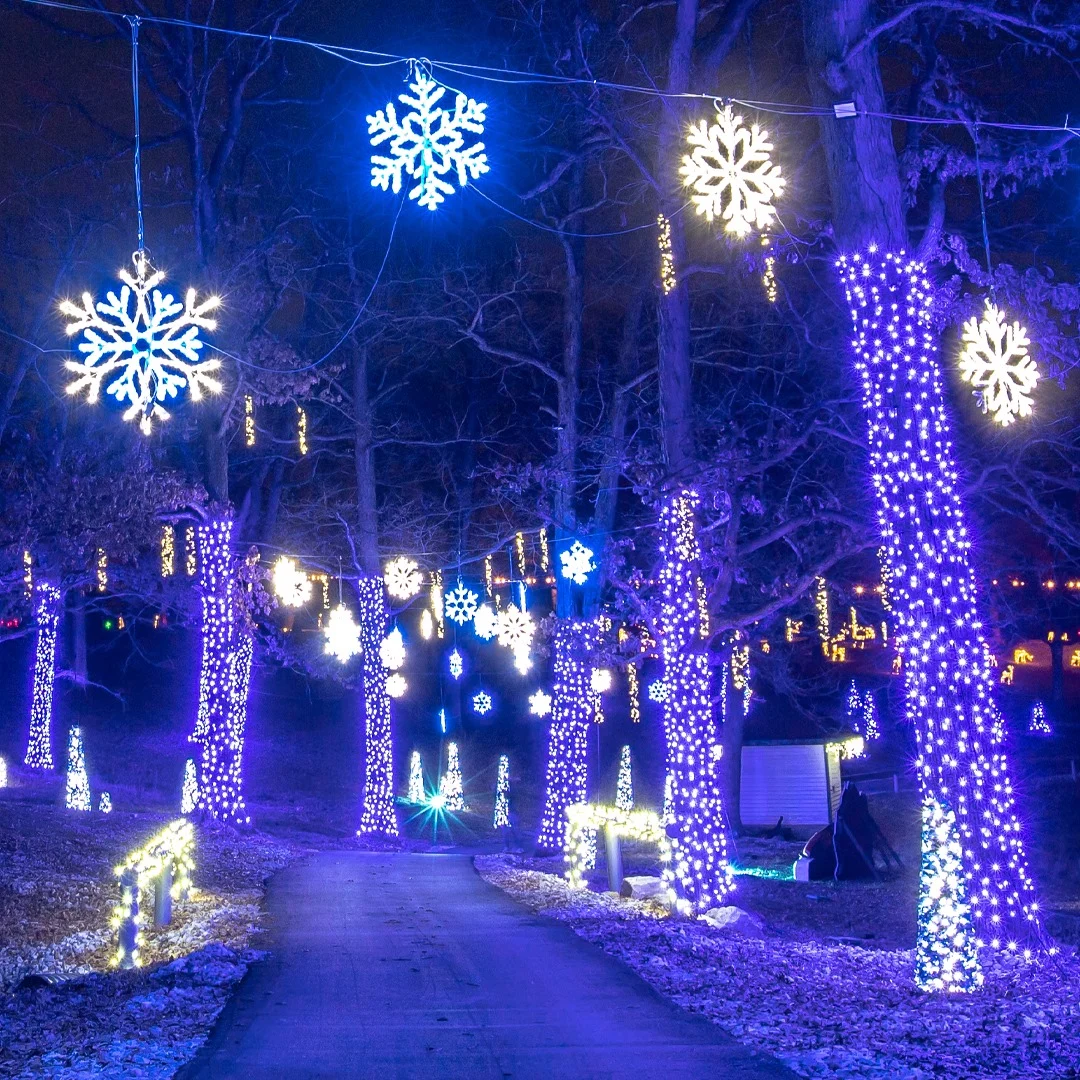 Grant's Farm had so much fun inviting everyone to drive through their property for Halloween that they started a new tradition–drive through holiday lights! This event is extra special because traditionally the farm is closed to the public in the winter.
For 2022 they've brought back the traditional Walk Through event. You'll park your car, ride the tram through the lighted grounds, then stroll through the Tier Garden. Santa and Mrs. Claus will be visiting and you can get a photo with a Clydesdale. They're also allowing visitors to walk around the history Busch mansion — something you can only catch a glimpse of through the trees during the summer.
They're also doing the Drive Through event that we started loving. This year you'll get to drive by the Busch Family Estate all lit up for Christmas! The tour also includes a drive through the Tiergarden (now dressed up as the North Pole) and past the grand gates.
Walking tours are on Monday, Tuesday & Wednesday. Driving tours are on Thursday, Friday, Saturday & Sunday.
If you have the cash, Grant's Farm has added a REALLY COOL way to enjoy the lights — with a VIP Fire Pit. The fire pits are located next to Mirror Lake (the first lake you see on the tram tour) and includes beer, water and s'more kits (and chairs). Hot chocolate & other drinks are extra. Up to 12 people can attend, so you can share the cost with friends or grandparents. Cause this little soirée will cost your $400. The good news is the fire pit is yours for the whole night, includes parking and you get to see the rest of the lights on your way out.
Tickets for Grant's Farm holiday lights have gone up, but seeing how crazy popular they've been I can't blame them much. The driving tour is $39 per car, while the walking tour is $10 per person (kids under 3 are free) PLUS $15 to park.
BONUS: Toys for Tots! Bring a new, unwrapped toy to any of the holiday lights and you'll get a free parking coupon for next year!
Nov. 19-Dec. 25, 2022
Lost Hills Lake, St. Clair, MO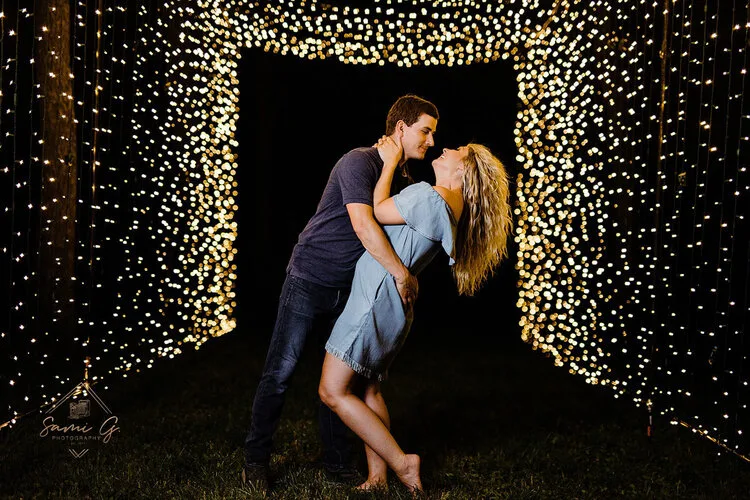 Stroll through a four acre walnut grove decorated with twinkle lights and scenic photo-opps. You can take pictures next to a giant wreath, a vintage truck and so much more! This year they've added heated igloos that you can reserve!
Santa will be visiting every night, too!
Lost Hills Lake is an outdoor event venue that hosts weddings and weekend glamping trips, so they know how to entertain. There will be food and drink, hot cocoa, bonfires, s'mores plus crafts and games for kids.
Shop local at their holiday pop-up market on Nov. 25 & 26.
Lost Hills Lake is dog friendly.
Weekends only, open Fridays, Saturdays and Sundays. $15 for adults, $7 for children, kids 3 and under are FREE. Please RSVP!
Dec. 9-11, Dec. 16-18, 2022
Pathfinder Church, Ellisville, MO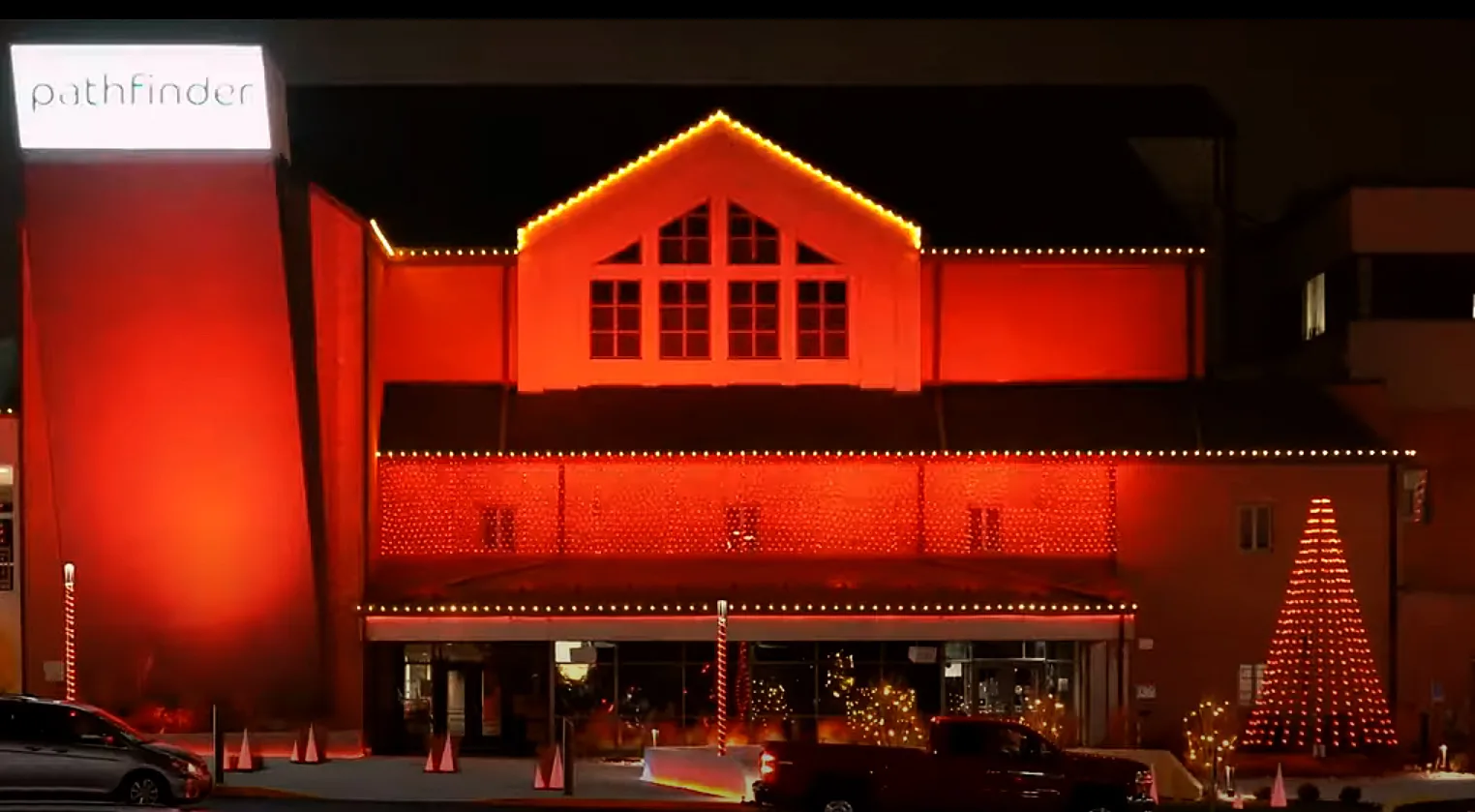 Experience the reason for the Season at this wonderful drive through light show. There's live music, spectacular twinkle lights sync'd up to music, Christmas-themed inflatables, a twinkle light tunnel and live nativity scene. The show is provided for free by Pathfinder Church and wraps around their campus.
Limited time run! Open December 9-11 and 16-18 from 6:30 to 8:30pm. Free.
15800 Manchester Rd, Ellisville MO
Nov. 11-Jan 1, 2022
World Wide Technology Raceway, Fairmont City, IL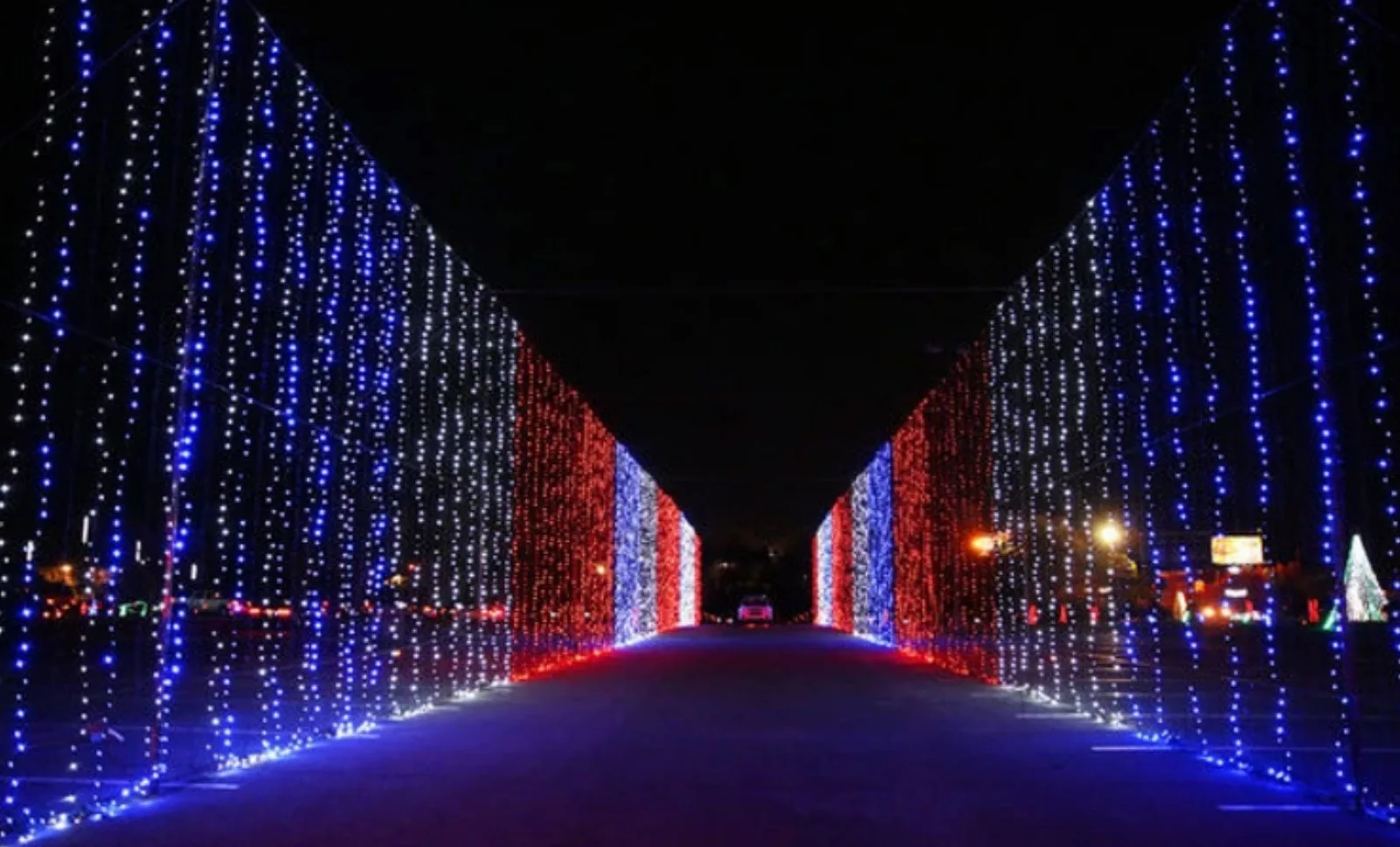 Drive your car through a one mile "track" at World Wide Technology Raceway in Fairmont City, IL.
The show is $30 per car and runs 5 to 10pm EVERY night, including Christmas. (Kids under 3 are free.)
This is a returning event.
Nov. 18 to December 31, 2022
Belleville, IL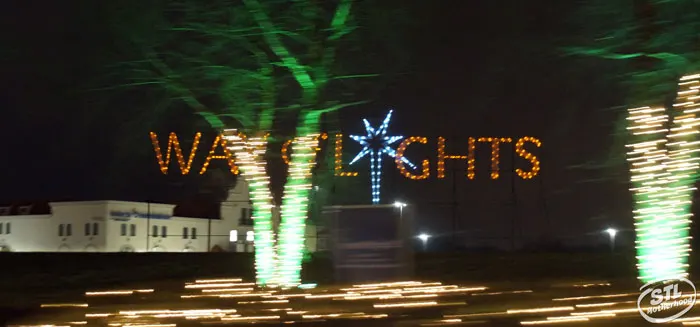 It's huge, it's awesome, it's all about the real Christmas story…and it's free!
Indoor activities have returned for 2022, including a Lego display in the visitors center and 12 professionally decorated Christmas Trees. Not sure if the play area came back.
Definitely give them a donation on the way out! If you donate $17 you can take home a Build-A-Bear plushy critter for your kid's collection–2022 will be a cute teddy bear dressed as a lion!
The Way of Lights also has camel rides, a petting zoo and indoor activities. Camel & Pony rides are $8, food for the petting zoo critters is very cheap.
Nov. 17-Dec. 30 2022.
St. Louis, MO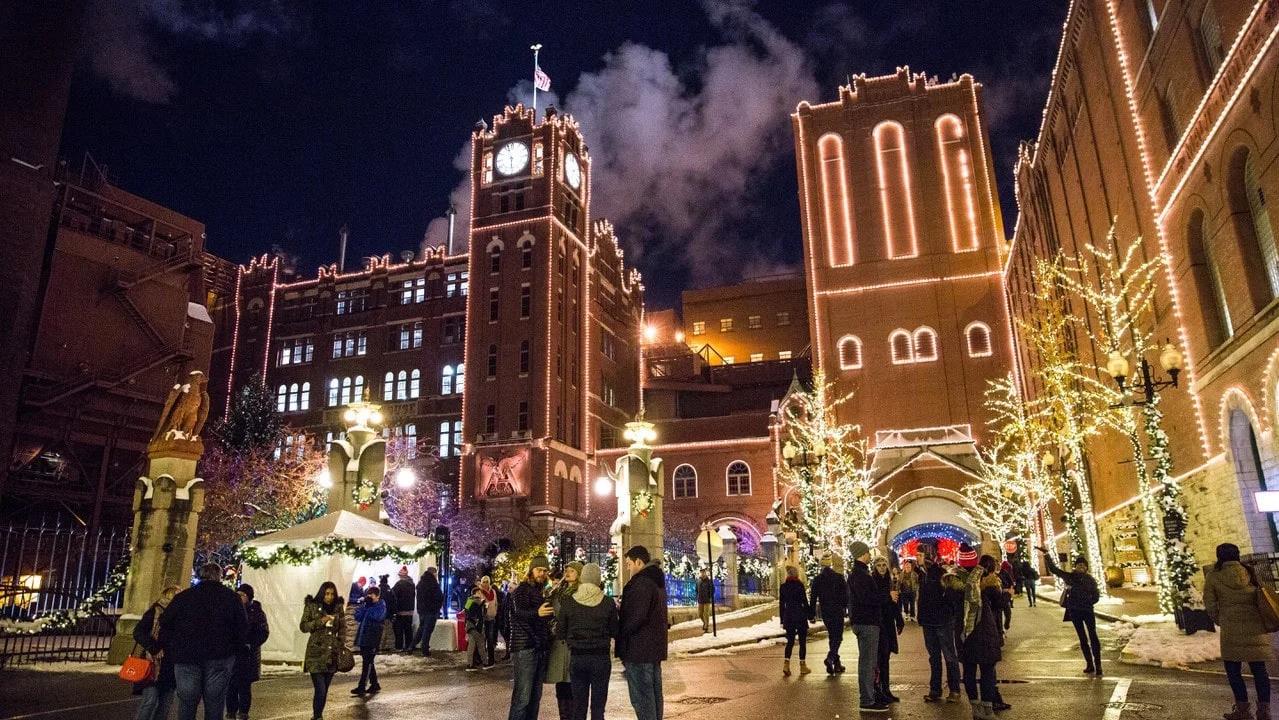 No longer a freebie, the tour of brewery campus is still one of my favorites. The full walking tour with beer, s'mores, hot cocoa, fire pits and kid activities has returned! New this year are igloos to rent, a 50 foot digital tree and a 10 minute light show. New this year is a parade at 7:30 featuring the Clydesdales.
$10 for adults (includes a free 16oz beer), $5 for minors, kids under 6 are free. Free parking.
Nov. 19-Jan 7, 2023
Missouri Botanical Garden, St. Louis, MO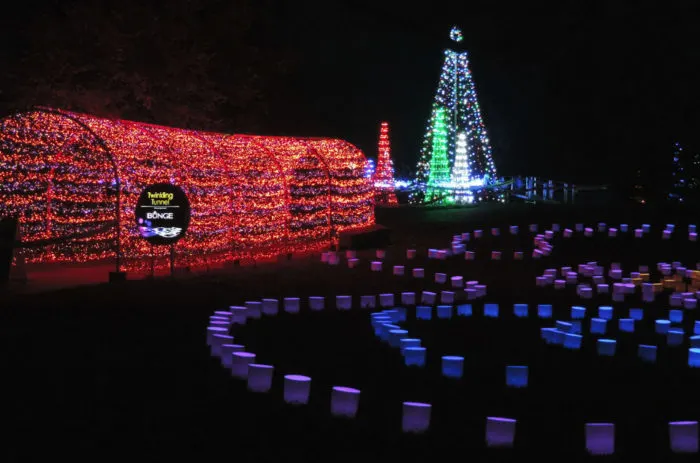 They're lighting up the whole garden again, and boy, is it's something to see! We're talking two million lights!
Lucky for us, they kept the discount Family Nights with $3 tickets for kids, and reduced prices on select Bargain Nights. Regular admission for non-members is up to $22 for adults and $10 for kids over 2, and of course members get a discount.
Nov. 25-Dec. 30, 2022
Saint Louis Zoo, St. Louis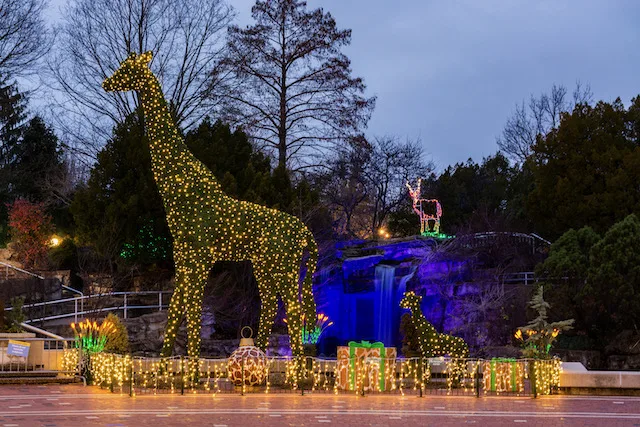 Bundle up the kiddos for a stroll through the St. Louis Zoo after dark! They're open from 5 p.m. to 8:30 p.m. on select nights (check the calendar for details).
We're still using TIMED TICKETS IN ADVANCE for 2022. Tickets are going to be limited to keep the crowds reasonable.
Tickets have gotten complex. We're now doing "tiered" ticket pricing, with more popular dates going at a premium. Tickets start at 13 for non-members and go up to $16. Members get a discount, of course. Children under two get in free. There is also free parking at both of the Zoo's lots.
You HAVE to get your tickets online or by phone! The Penguins will be open during Wild Lights!
The Carousel is sadly down for repairs and not expected to return in time for Wild Lights.
Nov 18-Dec. 30, 2023
Ladue, MO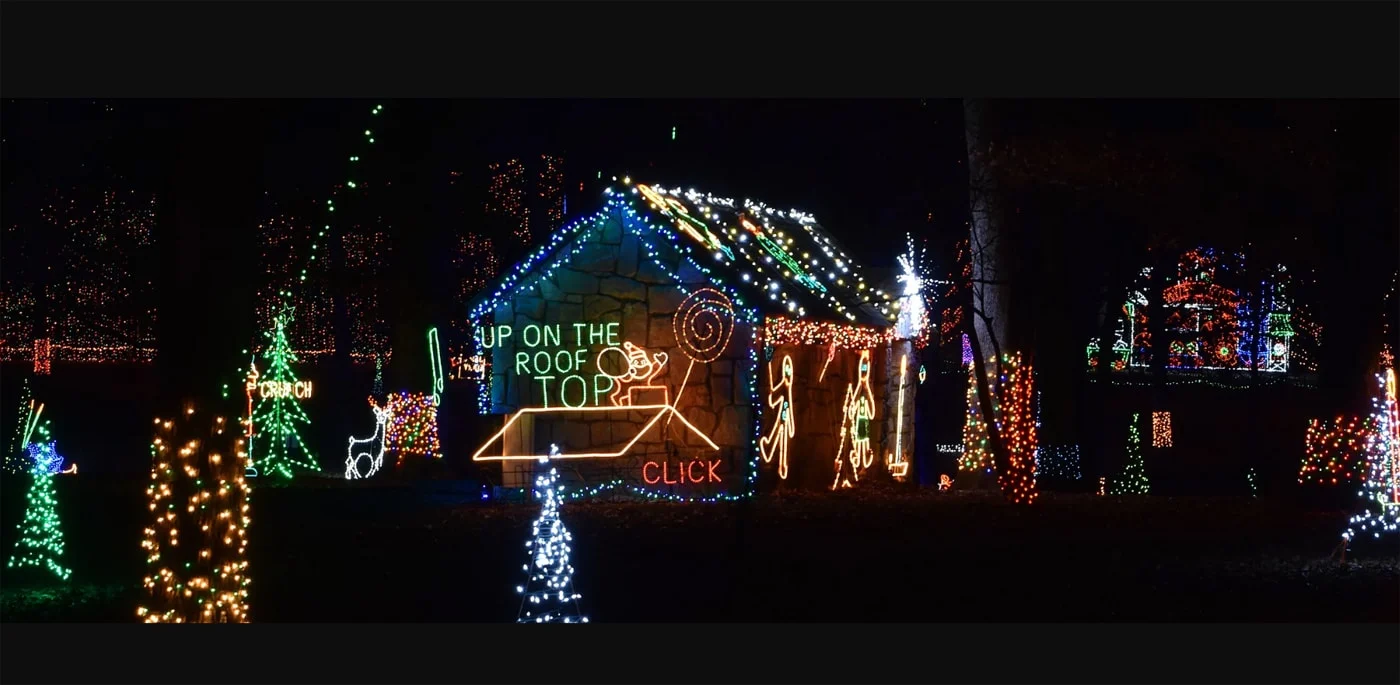 This ONE MILE gem is run by the St. Louis County parks department and sells out every year! Great news for 2021: walking tours are back! You can also drive through or rent a horse drawn carriage.
Car Tours are $15 at the door (cash only) and $18 through MetroTix. Limos & Commercial vehicles are more. Cars enter from south bound McKnight Road. There are NO CAR TOURS ON SATURDAYS.
Walking tours are $10 from MetroTix (that's 8 bucks and the MetroTix fee) and must be bought in advance to save your spot. Dogs are welcome to the walking tour and so are your cameras, strollers and wagons. Hot chocolate and desserts will be available for sale.
Carriage Rides start at $17 per person (plus RSVP fees), or you can rent a whole carriage starting at $110. Tickets must be bought online at Metrotix. You should also bring a tip for the driver. No dogs are allowed on the carriage ride. You are welcome to bring your own beverage & snacks. Saturdays are reserved for only carriages if you want
Please note that you MUST RSVP ONLINE for the walking tour, as this event sells out every year.The Winter Wonderland is open daily from 5:30 p.m. to 9:30 p.m., except for Christmas Eve (they'll be closed then). Check the calendar for dates — Saturdays are carriage ride only, and some early dates are walking only.
Nov. 25-Dec. 27, 2022
Alton, IL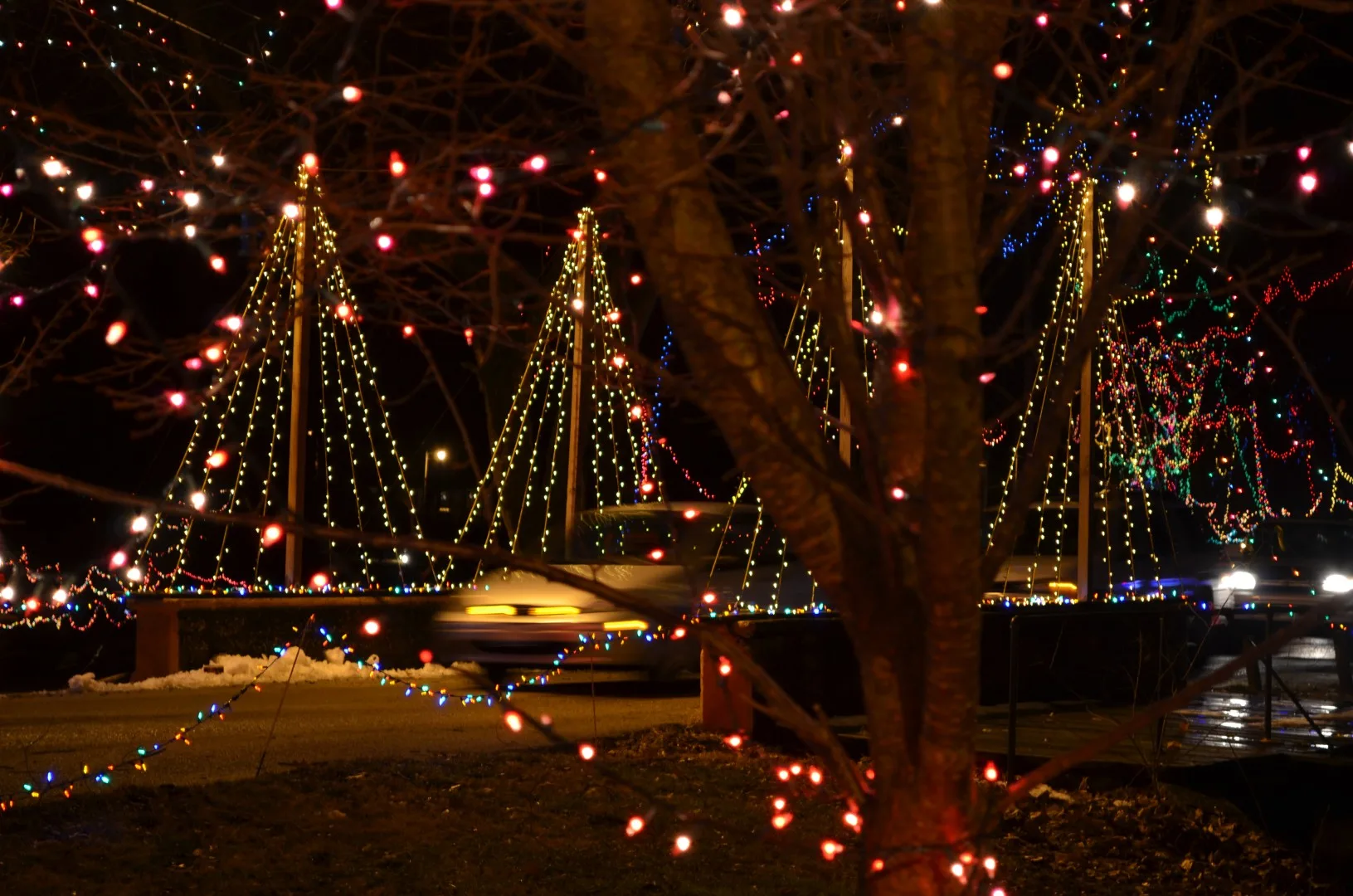 More than FOUR million lights have been strung through Rock Spring Park for their annual Christmas Wonderland lights display. There's cascading waterfalls, lighted trees and hundreds of light displays! The Enchanted Forest is back with decorated trees (vote for your favorite!) and Santa will be around for FREE photos.
Walk through night is Nov 28.
$7 per car. Open 7 days a week, from 6 to 9pm on weekdays and 5 to 9pm on the weekends. NO RSVP required.
Nov. 25-Dec. 30, 2022
Fort Zumwalt Park, O'Fallon, MO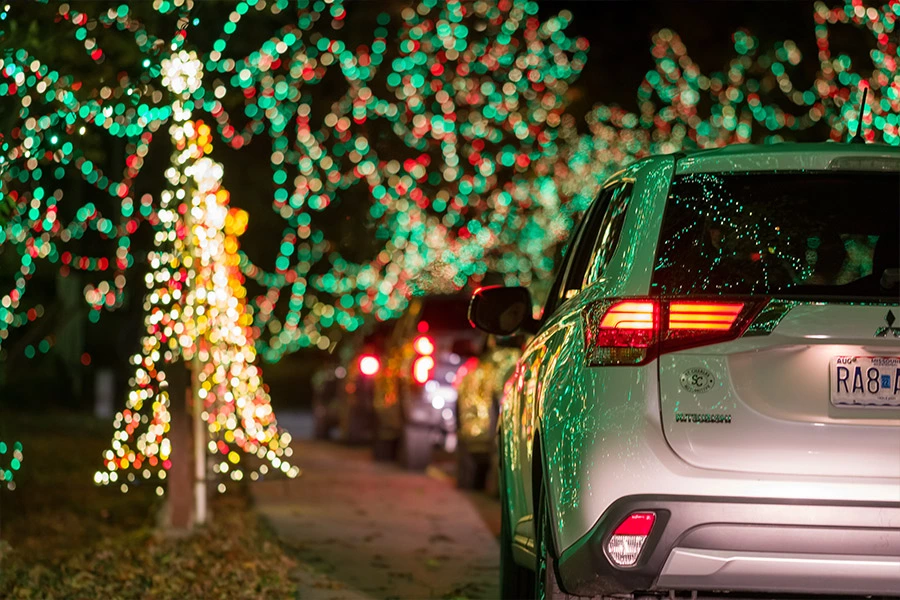 Drive through lights and holiday scenes set up in Fort Zumwalt Park. The display is open through Dec. 30, but closed on Christmas.
You'll need to get you tickets IN ADVANCE either online or at the Renaud Center. Tickets are good for any date.
The Holiday Stroll will be Nove. 28, Dec. 5, 6 & 12 for walking tours only. There's free parking at a nearby church with a free shuttle to the park. There's a short fireworks display at 7 and 7:45pm both nights. No pets, bikes, skateboards or motorized anything. Tickets are $5 a person, 2 and under are free.
All other nights are open to cars only. Tickets are $12 for family vehicles, more for vans, limos or buses.
Carriage Rides from Brookdale Farms start at $65 per carriage.
Tractor Rides are $150 per wagon and are offered Tues-Wed-Thursday.
Train Rides are $75 per car and are offered Nov. 29 & Dec. 13.
Open Sunday – Thursday from 6 to 9 pm, and Friday and Saturday from 6 to 10 pm.
Nov. 25-Dec. 30, 2022
Rotary Park, Wentzville, MO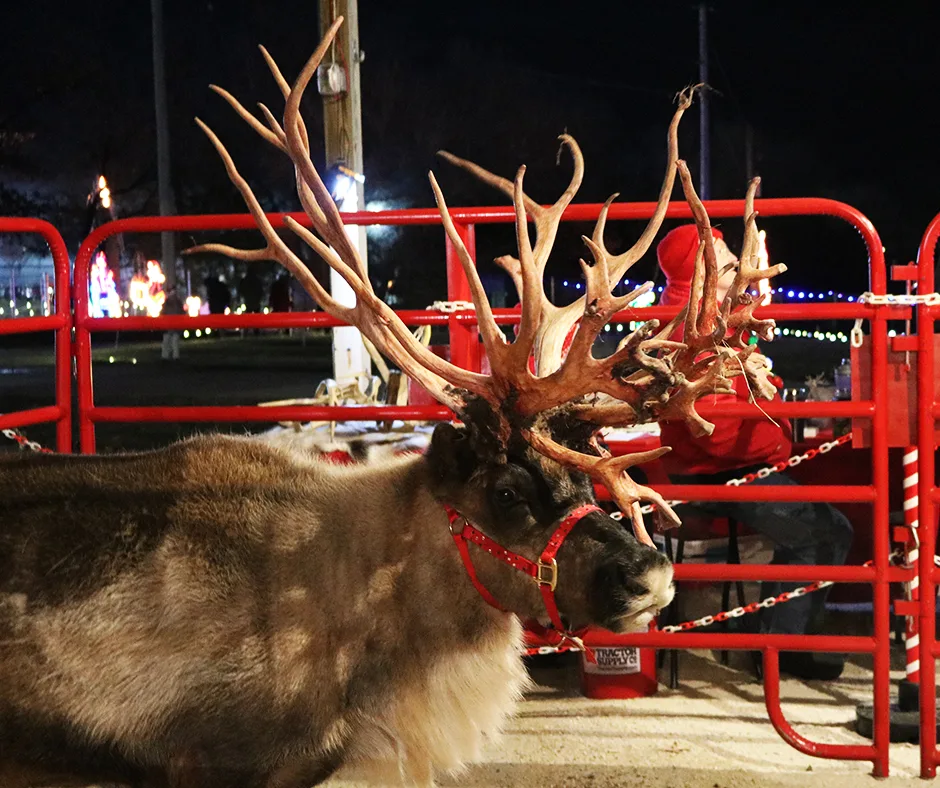 This one mile light display in Rotary Park features large commercial scenes and tunnels with twinkling, flashing features that offer a thrill for everyone!
Open to cars daily through Dec. 30 (closed Christmas Day) from 5:30 to 9:30 p.m. $10 per car, up to 6 people. (If you've wedged more than 6 in your car, it's a dollar extra per person.)
Dec. 13 is walk through only, $3 a person ($5 at the door). Stop by the Kolb Building to visit with Santa and his real live reindeer.
Carriages are offered on Tuesday, Thursday and Friday. It's recommended to pay in advance, but drop in are welcome if they're not full. $50 for two.
Tractor pulled "sleigh hayrides" are also available for groups to rsvp.
Santa Saturdays: Stop by the Kolb Building to visit with Santa and drop off a letter.
Nov. 18- Jan. 8, 2023
Jelly Stone Park, Eureka, MO
Santa will be around to wave at the kids and you can drop a letter for him at the "North Pole" gift shop.
They're up to FOUR million lights now! Santa's Magical Kingdom is actually Jellystone Park campground and offers 35 acres of decorated park land.
Ride a wagon or take your car. The event runs 7 days a week –including Christmas! Admission is $30 per car Monday through Thursday and $35 Friday to Sunday. Wagons are $16 per person. Kids under 2 are free if they ride on an adult lap.
Your ticket fee is tallied up at the end of the event so the entry line is smoother. There's an ATM in the gift store, but the ticket booth is CASH ONLY.
Candy Cane Lane is not an "official" light show, but a very festive neighborhood tradition in South St. Louis on the 6500 block of Murdoch.
Nearly every house is lit up with twinkle lights and decorations, plus lights around the trees and streets. The block is located in the St. Louis Hills neighborhood between Ted Drewes and Francis Park–check out this slide show from the Riverfront Times!
Nov. 25-Dec 30, 2021.
Boonville, MO.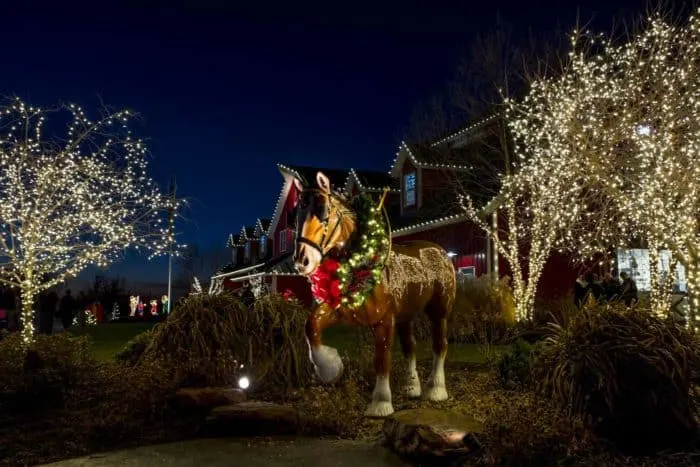 If you're heading out to Boonville–maybe to visit a winery or Mizzou–then you'll want to book a date for Warm Springs Ranch, home of the (baby) Clydesdales!
You'll need to get your tickets in advance — and spots are limited, so sign up soon! The barn is back open for visitors, you'll get to walk around to see the lights, take pictures with the horses and shop at the gift shop.
Food and Anheuser-Busch products will be available too.
Tickets are $20 per person over 13, $10 for kids 3 to 12 and free for little ones under 2.
The visit is not guided, so you'll be free to explore at your own pace.