Nothing says Merry Christmas like a sparkly Minecraft creeper ornament nestled in your Christmas tree. What? It's doesn't? Shhhhh, don't tell my six year old.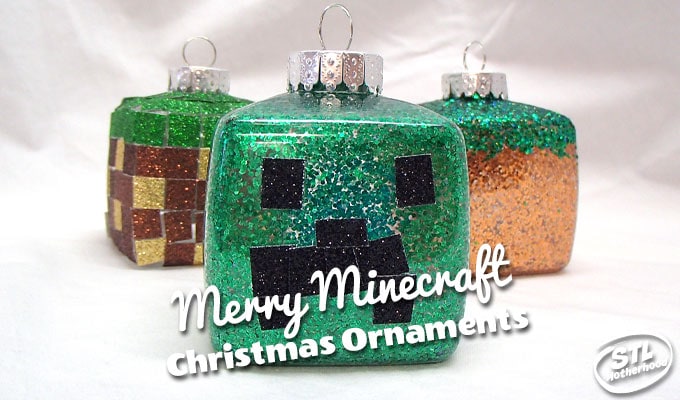 Real Life Minecraft Crafts
Mitch is seriously into Minecraft right now. Maybe you saw his Halloween costume? He also likes to craft with me–and I like to craft for the blog–so we decided to whack a whole bunch of birds with one stone: Minecraft Christmas Ornaments!
I brainstormed a few ideas while wandering around my local craft store. I needed something blocky, something simple enough for a kid to do, and something that you could copy at home should you desire.
More Minecraft Craftiness!
Make a Plush Slime & Magma Cube
Make a REAL Redstone Lamp
Make a rolling Minecart for your action figures
Be a Creeper with this great Costume
Make Paper Minecraft Action Figures
Real growing Grass Blocks for your window sill
Minecraft Spawn Eggs to Decorate and Play
Minecraft Ornaments
I found the perfect square plastic ornaments over at Michaels–but how to decorate them?
My first idea was a total failure. I thought we could make a printable, roll it up, stuff it in the ornament and unfurl. That didn't work at all, unless you like making a ship in a bottle in your spare time. (Strike one.)
I found really cute squares of mosaic tile at the store, but I didn't want readers to slice their kid's fingers up. And nothing involving grout is easy. (Strike two.)
Then I found glitter tape! This stuff is like washi tape, but, you know, glittery. It's in the scrapbook section. Here's a link at Amazon if you want to see what I'm talking about. I'm pretty sure it was cheaper at Michaels, plus I had a 40% off coupon.
Minecraft Grass Block Ornament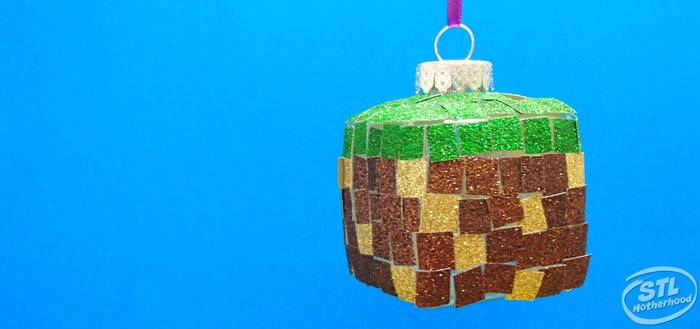 We decided to make a Minecraft grass block, since it's the most iconic block in the game. A snow block would be fun too, but kinda boring.
Here's a few tips to make your own Minecraft block out of glitter tape:
We found the backing on the tape is difficult to peel off, so I cut off longer strips of tape, peeled them first and THEN snipped the tape into squares. I'd hand off the square to Mitch and he'd place them. Our ornament took about six squares to a row.
We used green on the top, brown on the bottom and tossed in a few gold for variation.
We didn't bother decorating the bottom of the ornament, which wasn't flat. If the clear bottom bothers you, you can pour a little brown paint into the ornament.
The top layer of tape isn't exactly perfect, but it covers it well. It looks good at arms length.
If your kid can't get squares perfectly straight, don't worry–it's his/her ornament. If you want it perfect, make one of your own.
Next we did a Minecraft Creeper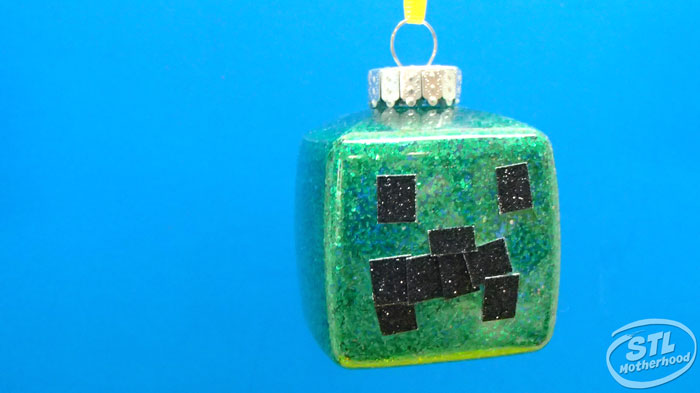 You could go ahead and make one completely out of tape squares, but honestly, we were tired of sticking bits of tape to the ornament by this time. Besides, I had to try something with GLITTER!
First we poured a little watered down Mod Podge into the ornament and shook it up. We poured out the excess (ok, shook the crap out of it until the excess came out) and poured in a bunch of green glitter. We shook that up and ta da–a green glitter cube!!
Then Mitch stuck squares of black glitter tape to make the creeper face.
If you can't find glitter tape, but you have glitter…you could draw the face on with a permanent marker or use squares of black paper.
Glitter Grass Block Ornament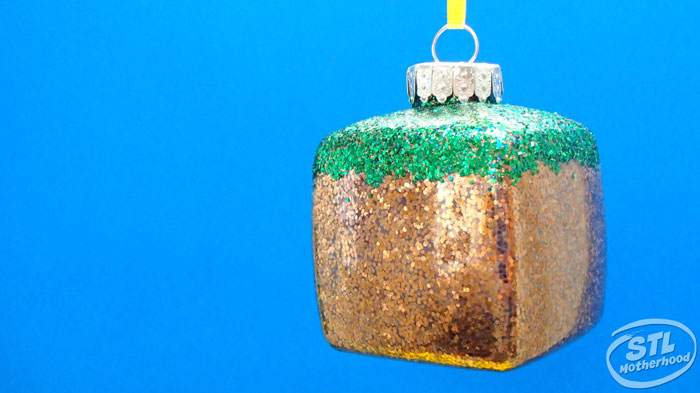 This last one is for people who don't want to mess with gluing a bunch of little pieces of paper or tape to the ornament. It just uses glitter and glue!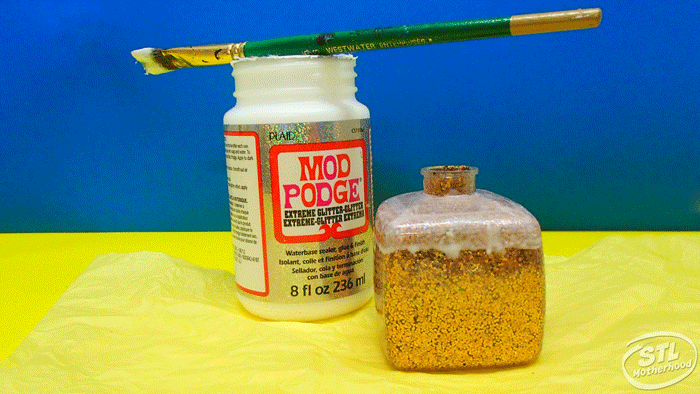 We filled the inside of the block with gold glitter (see above for directions) then painted the outside top of the ornament with Mod Podge (glue works good too) and sprinkled green glitter on it. After it dried, I applied a second coat of Mod Podge to keep the glitter from flaking off.
Need some more Merry Minecraft goodness? Check out my Minecraft Christmas Crafts post!