Free Printable for Baby Yoda in his floaty bassinet
Add a splash of cute green happiness to your window with this Baby Yoda sun catcher! It's easy to make from Shrinky Dink plastic and a free printable I made for you (and your) kids to trace.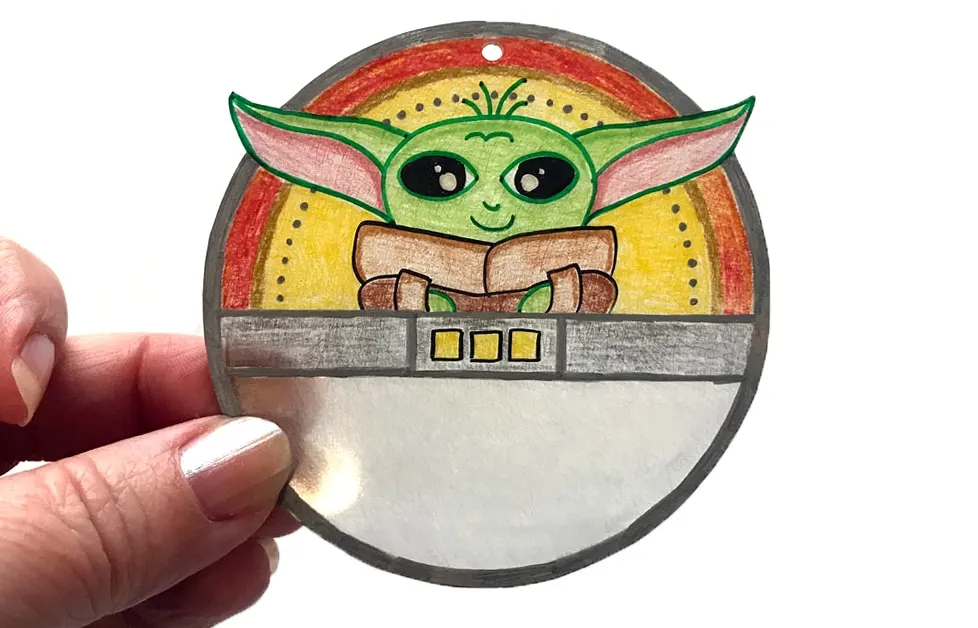 Since we're still waiting to get our hands on the official Disney merch, here's a craft your kids can make right now! You'll need frosted shrink plastic, permanent markers, colored pencils (or crayons) and an oven.
There are three kinds of shrink plastic, available in both the original Shrinky Dink brand or one of the knock offs: Clear plastic, frosted or inkjet ready. For this project we used frosted plastic, which allows us to use both markers and pencils/crayons.
Just don't try to use recycled plastic!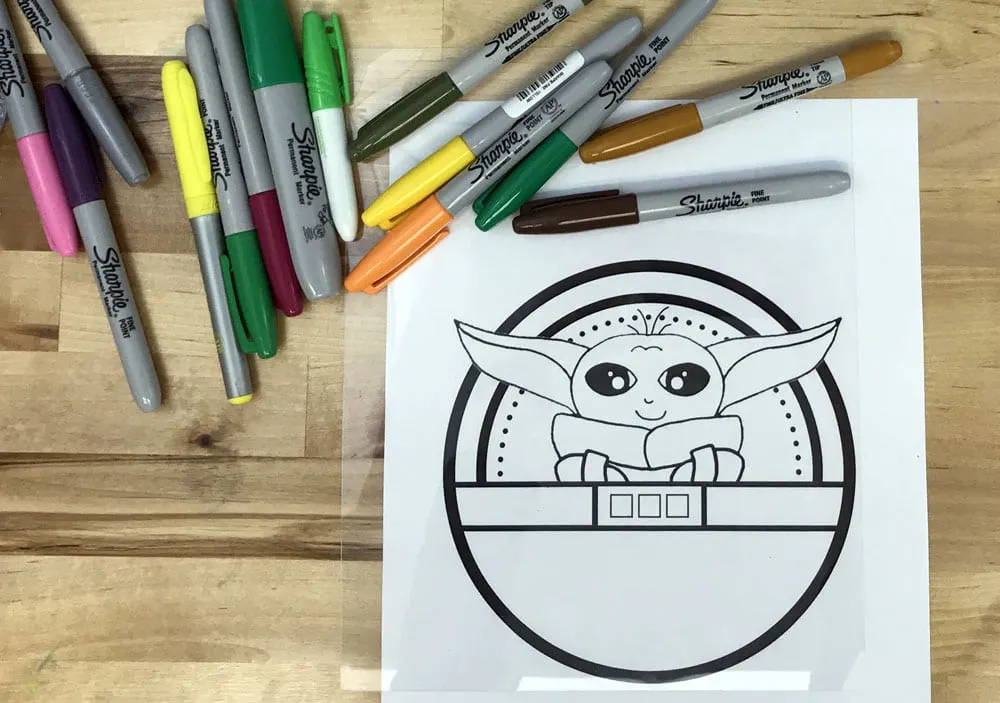 We actually tried making the sun catcher with clear Shrinky Dinks first — I thought it would look more like stained glass if it was transparent plastic. Unfortunately, colors get intensified when the plastic shrinks. Poor Baby Yoda's green skin turned out sunburnt when we colored him using only markers.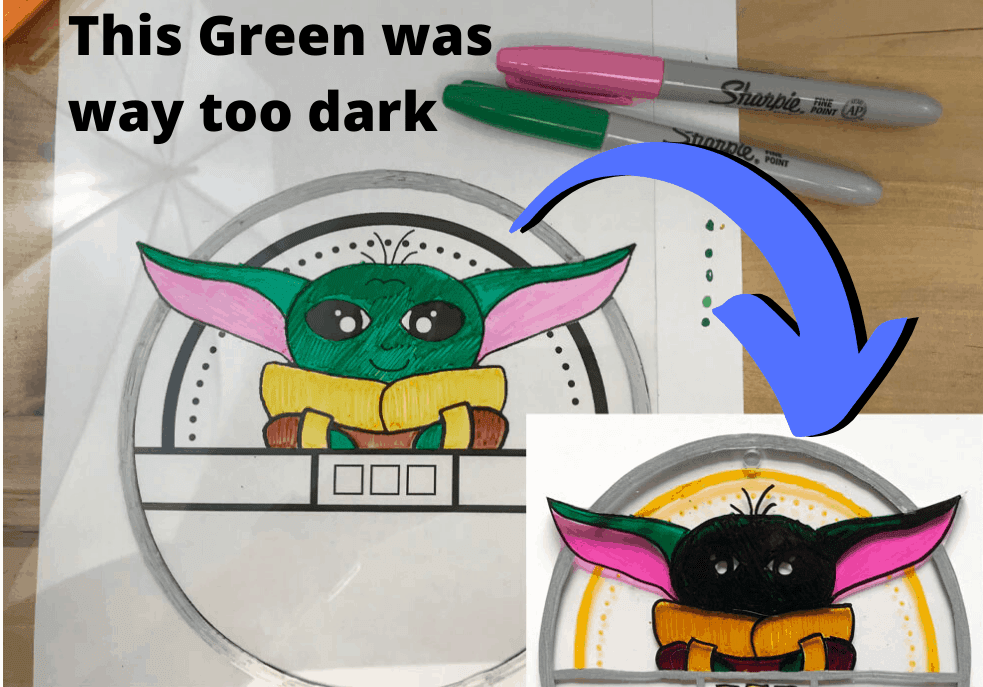 If all the green had turned out like the left ear, it would have been fine. But…it didn't. The lighter colors did ok, but the green scribbles were just too much.
Frosted Shrinky Dink Paper
So we switched to a frosted shrink plastic (Shrinky Dinky Ruff N Ready) and colored Baby Yoda with colored pencils. I still used Sharpie Markers for the outlines to add a little pop.
If you're unfamiliar with Shrinky Dink frosted plastic, it has two sides: a slick side and a sanded/rough side. You can use permanent markers on the slick slide–water based markers, like your kid's Crayola markers, will not stick to plastic. You can use just about anything on the rough side — color pencils are the medium of choice, but crayons and (permanent) markers work well here too.
For this suncatcher we used black, green and silver Sharpie Markers. We used Crayola pencils on the back and left the bottom of the floaty bassinet uncolored.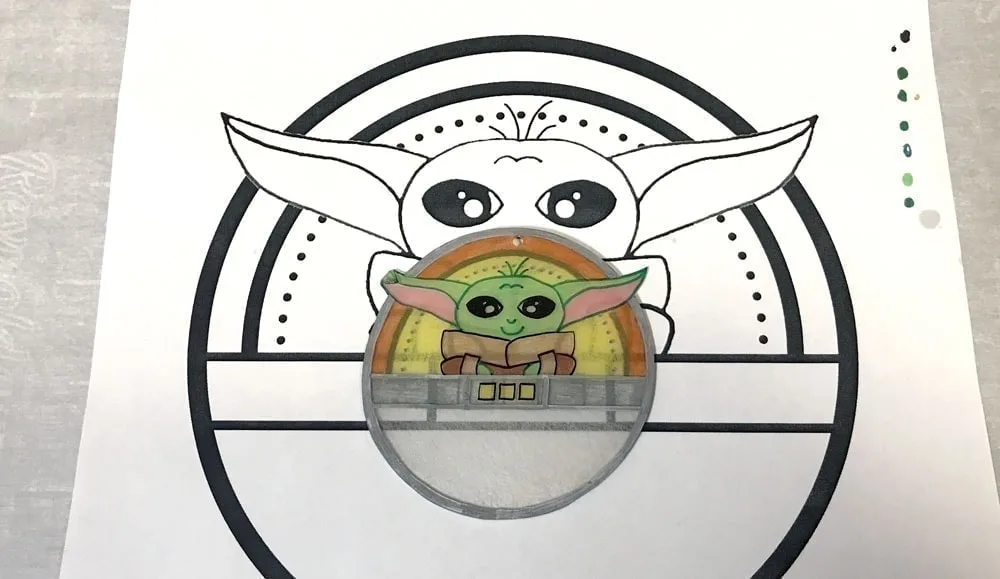 Shrinky Dinks shrink 1/3
My free printable for the Baby Yoda Suncatcher is 6.5 inches wide and will shrink down to 2.75, or roughly one third of the original size.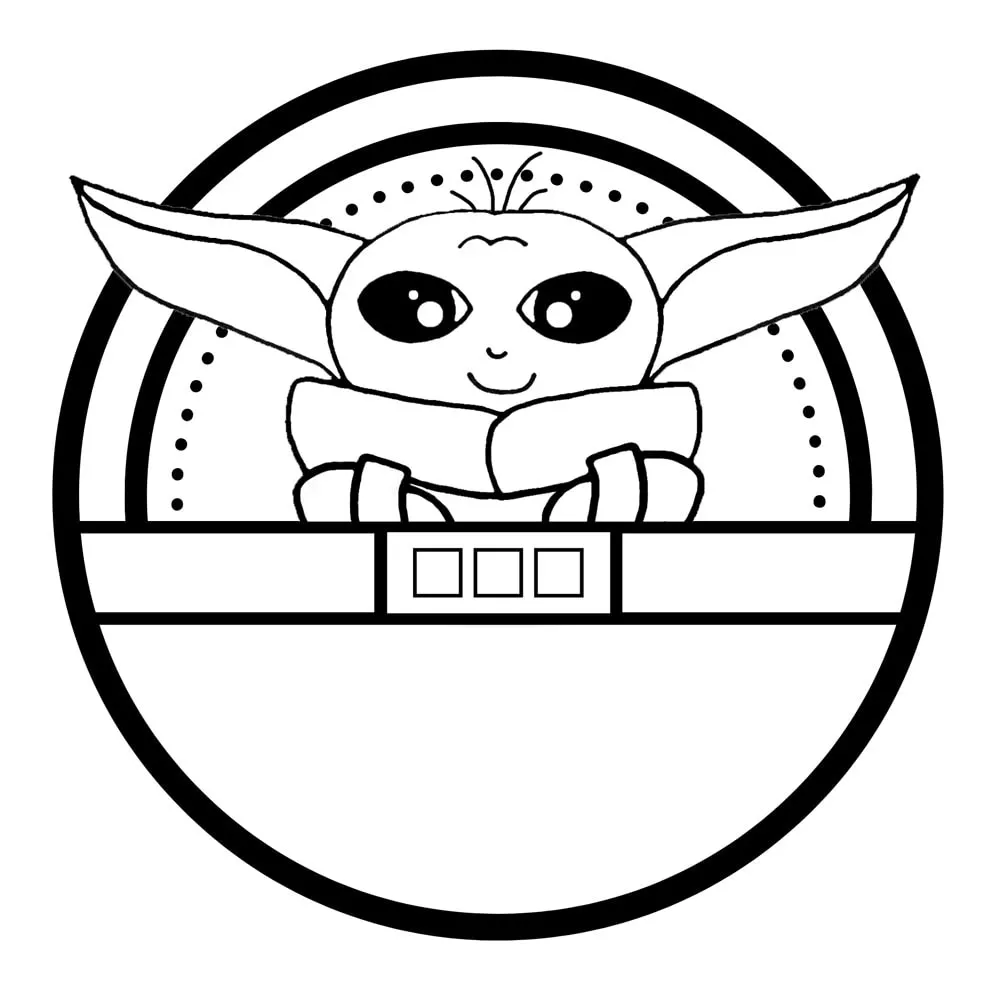 Here's the free printable of Baby Yoda you can print out and trace. I drew this little guy myself — you can also find him here in a set of Free Valentine Cards I made for you.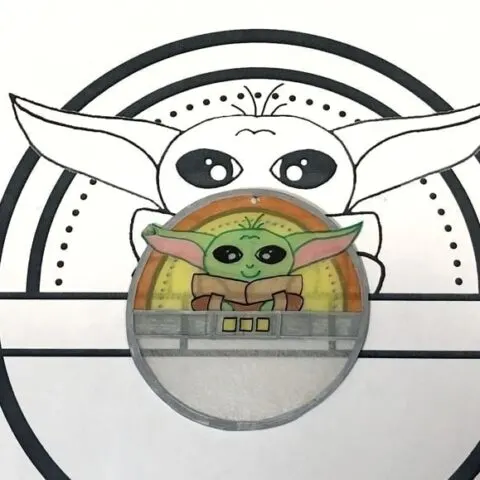 How to Trace the Perfect Shrinky Dink
Here's a few tips for making the perfect Shrinky Dink.
Materials
Shrink Plastic
Sharpie Markers
Color Pencils or Crayons
Tape
Instructions
Find clip art or a coloring page to trace
Tape the shrink plastic to the artwork shiny side up.
Trace the outlines of your art with Sharpie Markers
Slide a plain piece of paper between the plastic and the original art -- this will help you see your traced copy and see if you missed any spots.
Flip the shrink plastic over to the rough side and add color with color pencil or crayon.
Use scissors to cut the design from the plastic sheet.
Use a hole punch to add a hole to the top for hanging the suncatcher.
Bake in a 350 degree oven for 2-3 minute.
Recommended Products
As an Amazon Associate and member of other affiliate programs, I earn from qualifying purchases.