Playgrounds are, hands down, the best form of free entertainment for kids in St. Louis. And boy oh boy, do we have some of the BEST playgrounds in this town!
St. Louis families have tons of awesome parks to choose from! Some are city parks, others are county parks. A lot of them are super awesome, while, sadly, some are…not. Obviously the best park for your kid is one that is close enough to get to on a regular basis, while still having some element of awesomesauce.
And then there's the destination playgrounds. Those wonderlands of amusement that are so great, it's worth a half-hour drive on a sunny afternoon.
Here's a list of our personal favorites, in no particular order!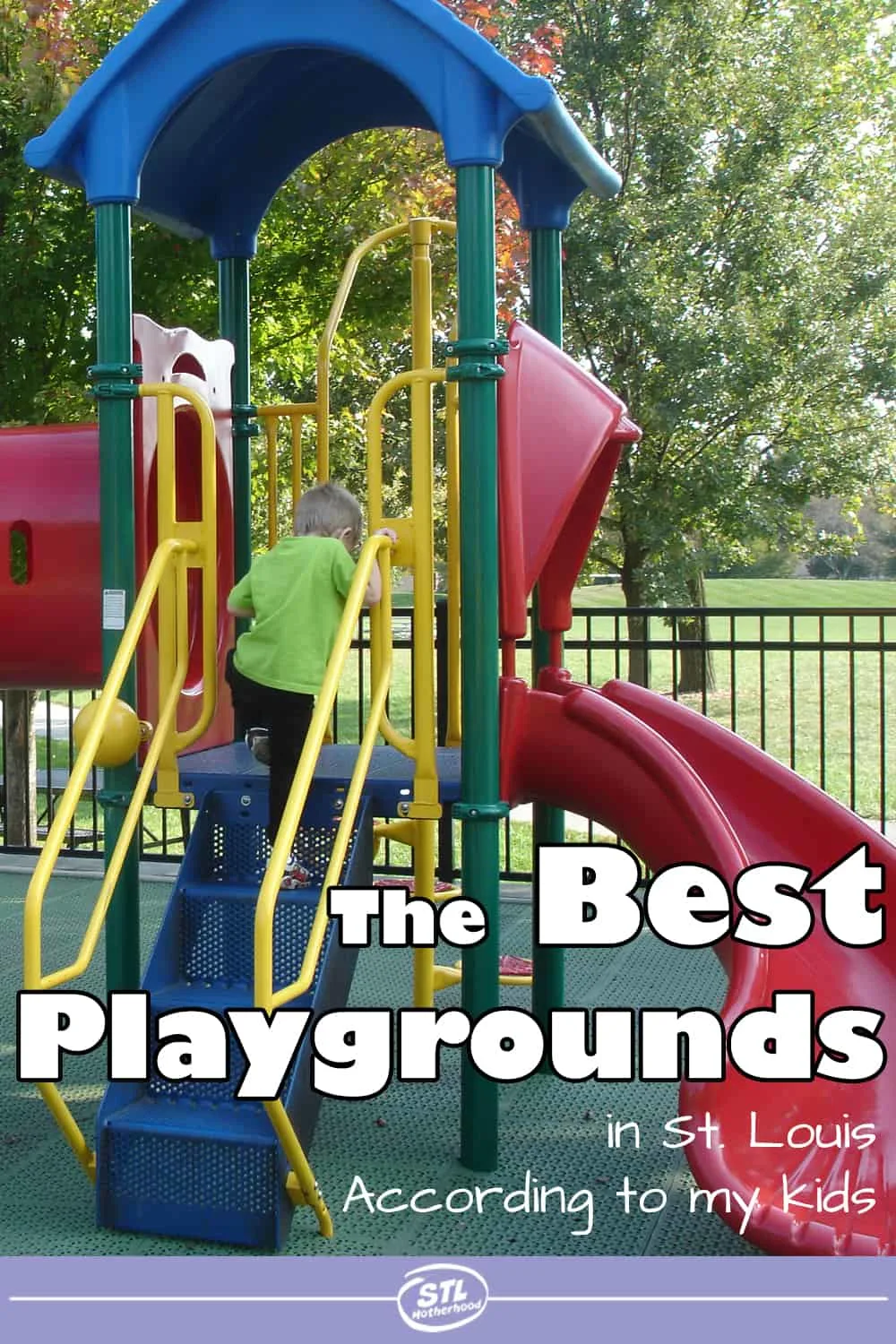 The Top 6 Best Playgrounds in St. Louis (according to my kid)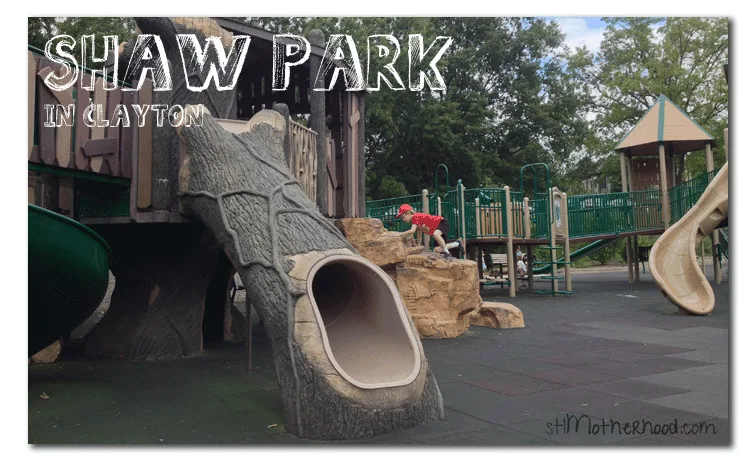 Shaw Park in Clayton: This is a playground built with the help of Unlimited Play, an organization dedicated to making playgrounds for kids of all abilities. It's wheel chair accessible, super creative and tons of fun. Interesting features: a wrought iron fence to keep kids from wandering off, a splash pad and a tree house. It also has the best collection of xylophones I've seen at a park and a nearby "sensory" garden.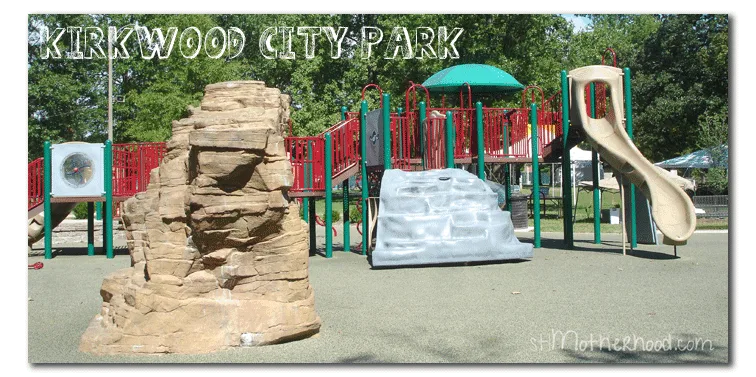 Kirkwood City Park: This park has two playgrounds (one for big kids and one for littles) near each other, but not so close that the toddler play area is overrun by the big kids. The playground for big kids is huge and there's plenty of shade for everyone. There's also a fitness area for parents, a lake and a walking trail. Interesting feature: a sand pit in the little kid playground. Not a box. A pit.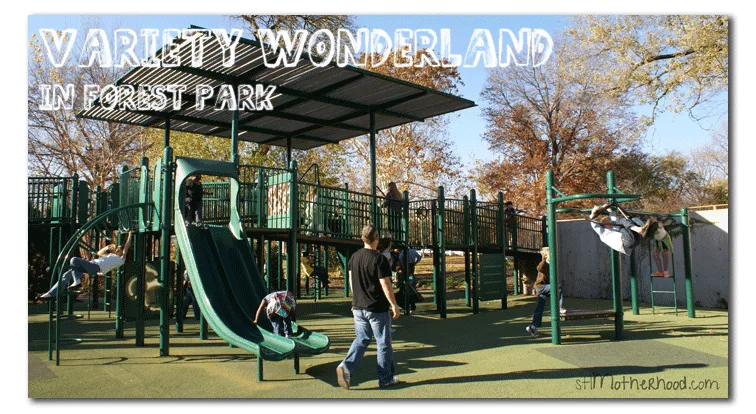 Dennis and Judith Jones Variety Wonderland in Forest Park: Tucked inside Forest Park is this super fun playground built for kids of all abilities. It's next door to the park visitor's center and close to the History Museum. If you're local, there's a good chance you've overlooked it.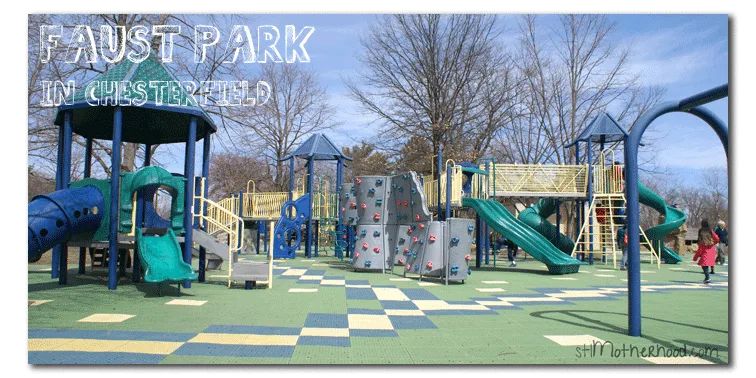 Faust Park in Chesterfield: This playground is right next to the Butterfly House and St. Louis Carousel–a trifecta of fun! The park is worth the trip even if you weren't looking for butterflies. My only issue with this park is that the toddler zone is two steps from the rest of the playground…so it's hard to keep your little dude from wanting to try equipment he may not be ready for. Faust Park's playground got a major overhaul about ten years ago, so if you haven't been here since you were a kid, know that the pea gravel and steam shovel diggers are long gone.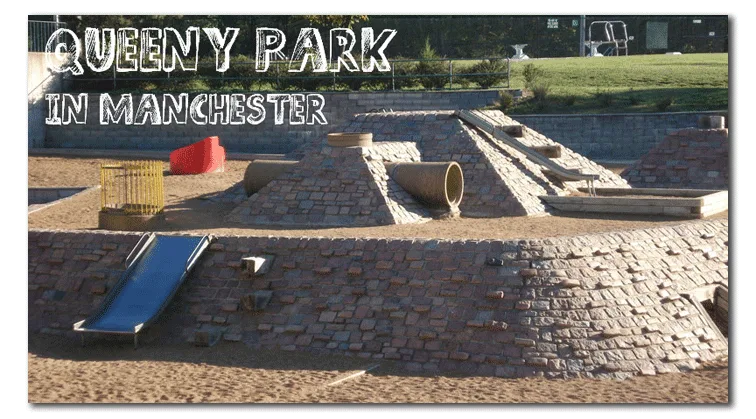 Queeny Park in Manchester: This playground gets double points for holding on to retro fun. Or maybe just not being modernized. Normally, I wouldn't list an old school park as a Must See, but this one is different. The main feature is an Azteck like pyramid that must have been built with construction yard leftovers. It's not padded, it's made of stone and concrete and your kid will go NUTS for it. You might not want to go here with a toddler–unless you're a Free Range Mom, this park will give you a heart attack. Excellent fun for elementary school aged kids. Interesting feature: tunnels to explore. Yes. Tunnels.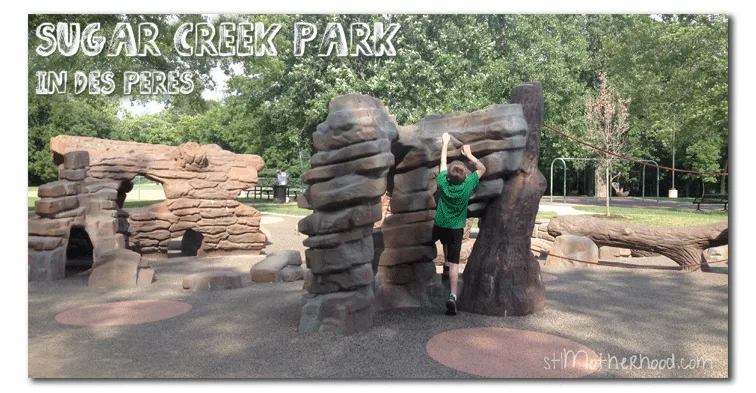 Sugar Creek Park in Des Peres: The playground here is "nature" themed, meaning it looks like a bunch of fallen logs. Of course the logs are made of fake material and hollowed out for kids to crawl over, under and through. There's a nearby splash pad and swings. The park has a bike trail and a path that goes through the woods. Interesting feature: it's next door to the Train Museum, making this a great picnic spot after doing some train sighting.
Honorable Mention:
Suson Park in South County: Suson often gets listed as a top park, and it DOES have a really good playground and fishing lake. However, it's known for the "working farm" that the county maintains on the grounds. Kids can walk through the barn and see all kinds of farm critters. My complaint is that it is not staffed regularly (there are special farm days) so my kids were always annoyed that they couldn't pet the sheep or feed the chickens like you could at other places. Still, if you've never seen a chicken before, it's pretty cool.