Kirkwood Park is great example of a city park that you'd drive across town just to take your kids to visit. It has everything a park needs: lots of playground equipment, rubbery surfaces, a cool area for little kids and a challenging area for big kids. There's even a fitness trail for the grown ups. Oh, and did I mention lots of shade? A nearby lake? Decent bathrooms?! Yep, Kirkwood knows how to play.
This playground is one of our 6 Best Playgrounds in St. Louis. But it might be moving down a notch if Kirkwood doesn't do a little remodeling soon.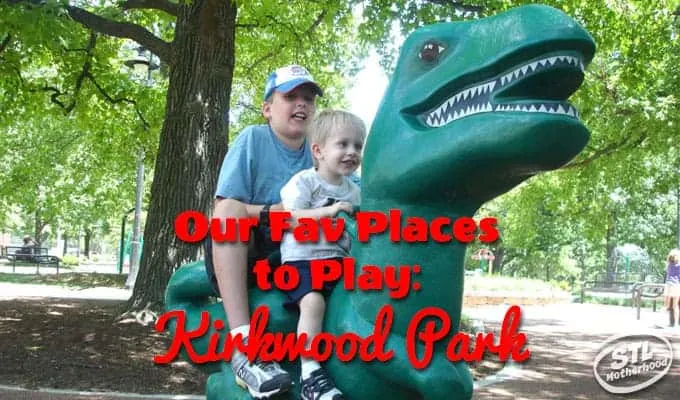 The massive playground has two separate play areas for the over and under five year old set. Mitch and I have been playing at this playground since he was a toddler, but I'm sad to report that it's been looking a little run down recently. Kirkwood has been patching the rubber mat play surface, which is fine and keeps the park safe. But in the little kid zone they removed a spring ride-on toy (the car) and just slapped an orange construction barrel on top of it. It's kinda sad.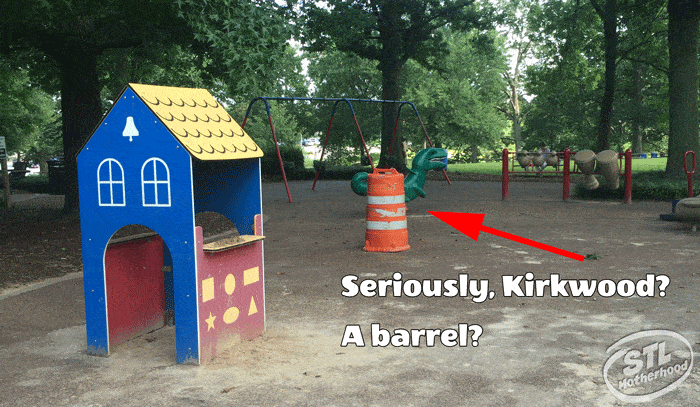 But despite the worn conditions the playground is in these days (summer of 2016) it's still a good park to play in with lots of things to do for both parents and kids of various ages. It also has a lot of Pokemon Go PokeStops and nice sidewalk for stroller walks or jaunts with your dog.
The little kid area has a sandpit and sand/water table, so be prepared with clothes that can get messy and be sure to bring an extra sand pail and shovel if you don't want your kid digging in with his hands. This playground also has a small ground level playhouse, a spring-mounted car and dino to ride on, swings and a short person playset only a few feet off the ground.
The big kid playground is top-notch, but not well shaded, so bring some sun screen if your coming with school-aged kids. This playset has more swings, numerous crazy slides, ramps and climbers. There's also monkey bars, balance gizmos, and things that spin.
This playground is handicap accessible—most of the platforms can be accessed from a ramp wide enough for a wheel chair. There's a metal slide for kids with a cochlear implant and a swinging saucer-like dish that a kid could sit cross-legged or lay down on and be gently pushed. Of course we've also seen a pile of able-bodied kids on the saucer, so it's not obvious if it was put there for great accessibility or just tons of fun.
Extras:
There's a spray tower for the summer, loads of picnic benches, a nice restroom, drinking fountains and a soda machine next to the playground. The park also has a fitness trail for parents who don't just want to sit and watch the kids.
A lake is just a short stroll down the hill, close enough to visit, but not so close you have to worry about little ones dashing into it unobserved. The lake has a walking path around it if you're in the mood for a little exercise or brought the trikes. Walk down there and check out the frog statues!
This is Kirkwood's main rec facility. There are also ball fields, tennis courts, a handball court and Kirkwood's municipal pool nearby.
Warnings:
The park is popular and can get super busy at peak times. It's proximity to the Magic House also means you're likely to find school field trips taking their lunch break here.
Kirkwood Park
111 S Geyer Road
Kirkwood, MO 63122
Park hours: April 15 – October: sunrise to 11 p.m.
October 16 – April 14: sunrise to sunset.