Every kid should go on a Washington DC vacation at least once in their young life to soak up some patriotic fun and knowledge. D.C. is a great place for families, because once you sort out the hotel, food and transportation, the rest is free!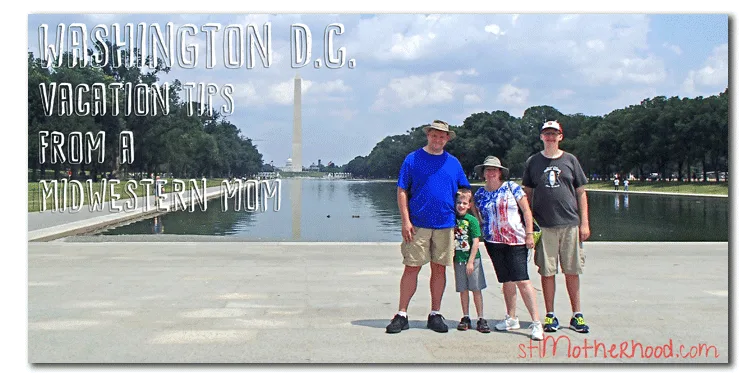 My family just returned from DC and I'm loaded with tips to share with other first time travelers to the Capitol. This was actually my second trip to Washington, but the first one was pre-kids. Adding children to the mix can slow you down–it seems like we covered a lot more ground when it was just me and the hubs on a 20-something romantic weekend. But kids also make the trip more interesting–I think we got more out of the museums on this jaunt.
Vacation Tips from a Midwestern Mom
1) The Metro is your friend. Washington D.C. is filled with cars and no place to park. The highways were jammed in the morning and late into the night–but where these people were going I haven't a clue. It's not easy for a suburban mom like me to leave her SUV behind, but if you find the right hotel, you won't need your own wheels. We found a Holiday Inn about a block from a Metro station, and though it wasn't the most glamorous place to stay, it was clean and cheap for DC.
This vacation was a road trip for us, but after we arrived we only took our car out to visit the Udvar-Hazy Air and Space Museum and once for dinner in Arlington. We were also lucky to find one of the few hotels that offer free parking. (If you're curious, it was the Holiday Inn at Rosslyn.)
Shortly after arriving in D.C. we walked to the Metro and purchased SmarTrip cards. If you're going to be in town for more than one trip on the Metro, this is the way to go. The cards cost $2, are reloadable and save you the "service fee" of one dollar per trip charged for paper tickets. We spent $8 on cards, but easily saved $64 in service fees over the course of our five day vacation.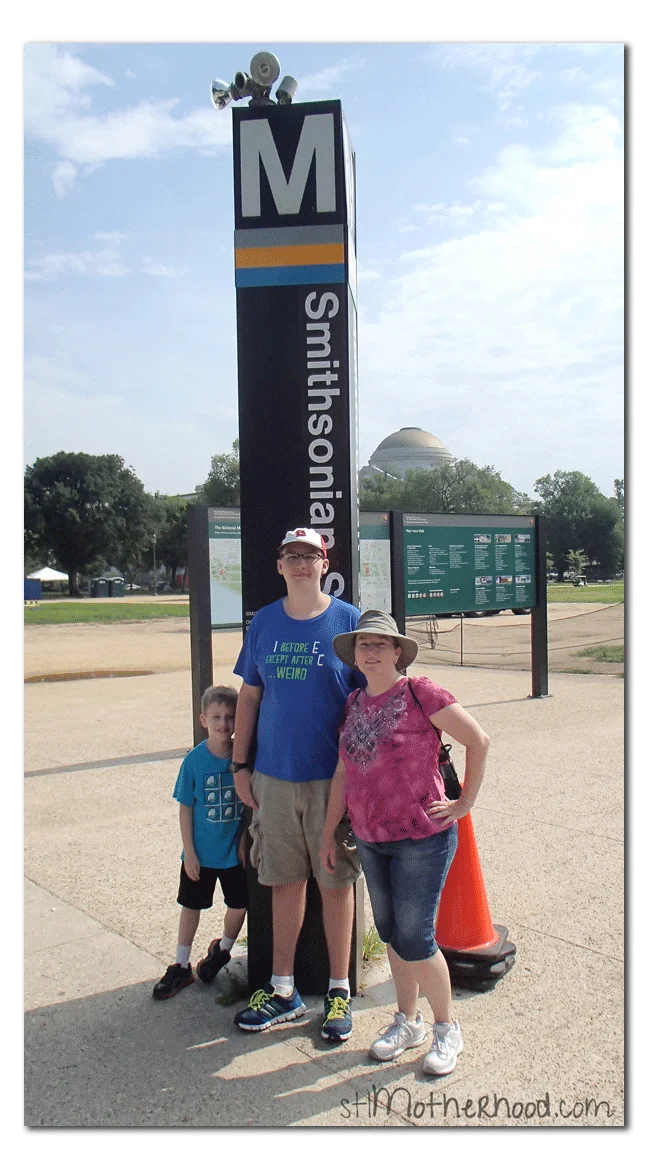 2) Summer in Washington DC is pretty much the same as in St. Louis…hot and sticky! You'll want to pack sunblock, hats and a water bottle. All the places we visited allowed us to carry in our snacks and water bottle, so long as it was stashed in a bag. (The White House is the only place where you can't bring ANYTHING except keys, wallet and cell phone. The Capitol gallery has a check in area for all the "dangerous" items you might be carrying…like water bottles and cameras.)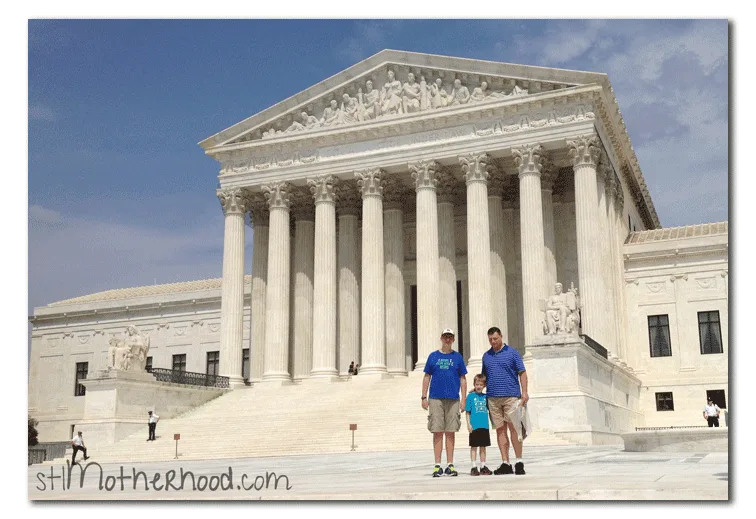 3) This is a walking vacation, so plan accordingly. Sure, there's tours you can take on a bike, trolley, Segway or amphibious vehicle…but you're not going to avoid the walking! The National Mall is about 2 miles long from end to end, and all the good stuff (monuments and museums) are in or around the Mall. And if you go inside any of the Smithsonians there's more walking. I brought a pedometer with me and I walked anywhere from four to seven miles a day.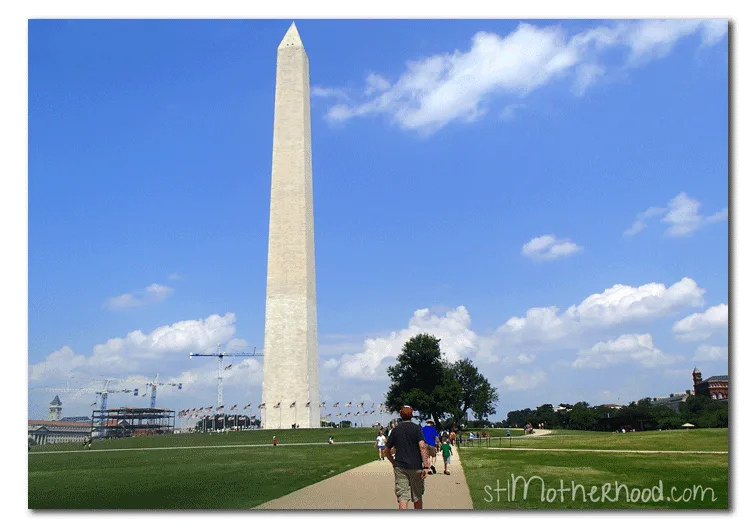 Make sure everyone has good shoes before this trip. And bring some moleskin just in case, I managed to get a lovely blister after that seven mile hike looking for monuments. Thankfully there was a drug store near my hotel, but I didn't figure that out until after I walked another five miles on that dang blister!
4) Food is not cheap in Washington, D.C. Food is going to be a big part of your vacation budget, and it's even worse if you're relying on the Metro to get places. Now don't get me wrong, you have options. There's food trucks at the Mall, an overpriced McDonald's at the Air and Space Museum (still cheaper than a lot of places) and tons of sandwich/taco/salad shops around the Metro Center.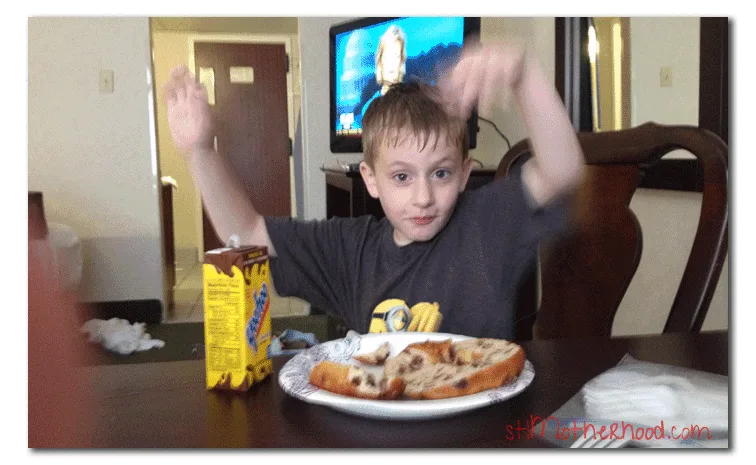 Because we drove to Washington we were able to pack a cooler and a couple bags full of snacks and breakfast items. Sure, you can get a hotel package with breakfast included, but I've yet to see a totally "free" breakfast at a DC hotel. We took the rock bottom price on our hotel and ate bagels, Pop Tarts and donuts from home, saving around $15 a day. Plus no one had to get dressed before breakfast, so I had people rotating between the shower and breakfast "table."
Our Rosslyn Metro stop also had a St. Louis Bread Co, excuse me…a Panera…so we had fresh bagels and yummy sandwiches from there too.
Being thrifty at breakfast made me feel less guilty about having a nice dinner out or stopping for icy cold beverages at a trendy restaurant when the Metro broke down and stranded us far away from tourist spots or our hotel.
5) Stay flexible. I had a list of places I wanted to see, but only hard dates and times on two places that required RSVPs. We left our agenda up to the weather and the kid's feet. And my blister got a vote in there too. I originally thought we'd do the monuments throughout the week, but since rain was in the forecast we tromped through them all in one seven-mile day. We packed umbrellas and headed to the museums when it looked rainy.
6) Plan ahead. Way ahead. My hubs and I are used to vacationing with family, which generally boils down to calling his mom in Florida a couple weeks before we visit. I thought we were really on the ball when we planned this vacation a full SIX WEEKS in advance. Ha!
If you plan your trip six months out you can find more open hotel rooms and have a better shot at White House tickets. You'll need to contact your Representative's or Senator's office via email and ask about White House and Capitol tours. They had no problem lining up an intern to guide us around the Capitol, but we were out of luck with the White House. You don't have to go through your Congress person's office for a tour, but a private tour with an intern is way cooler than wandering around with a herd of tourists. Neither option will cost you a dime–tax dollars at work, baby!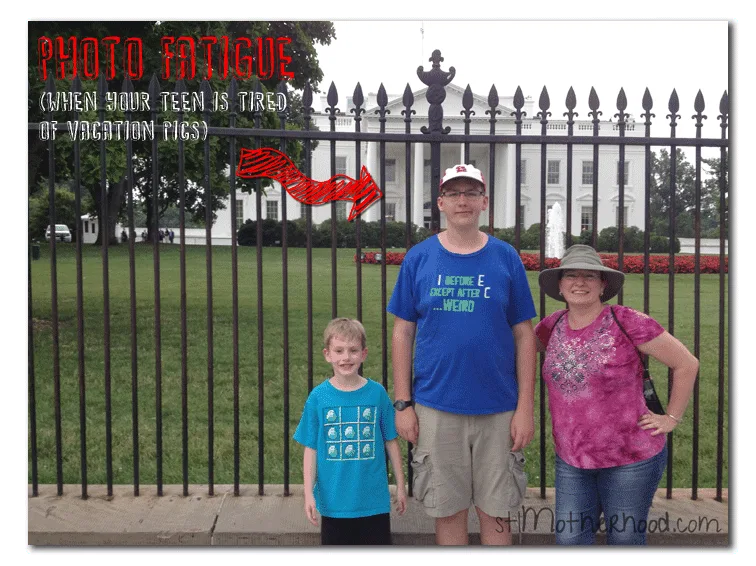 7) You can ask for Washington Monument tickets online. Tickets to the Washington Monument are free, but if you wait until you get to DC you'll have to stand in line first thing in the morning to get same day tickets. The tickets are handed out pretty quickly from what I hear. But they also have some tickets available online. You'll have to pay a handling fee to have them mailed to you–our four tickets cost around $8.50 to be mailed.
Again, advanced planning is key. If you're planning a trip for this summer (2014) it looks like the online tickets have all been claimed.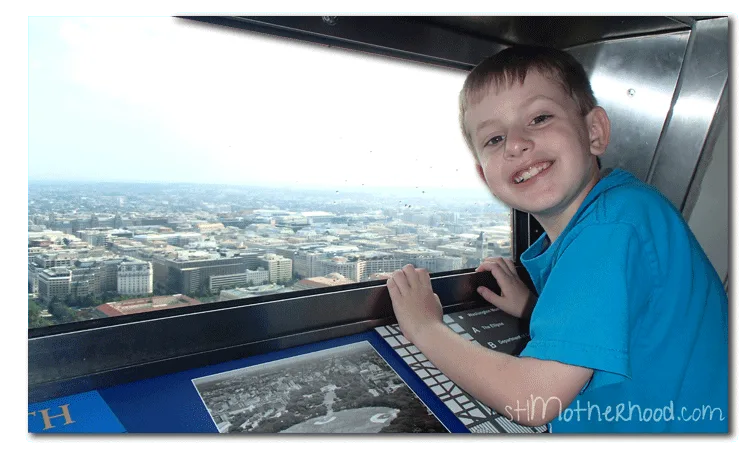 A trip inside Washington Monument is a lot like a trip to the Arch, except there's an elevator and they let fewer people up at a time. Oh, and there's a tiny museum up there on a second floor. Now I understand why people are looking for more to do at the top of the Arch!
8) Keep the kids interested, whatever it takes! There's a whole lot to see around Washington, but it's not exactly an amusement park. You'll need to balance what you want to see with what the kids will find fun. Both my sons nodded off while we watched a Senator speak at the Capitol, but they were super excited about the Air and Space Museums (yeah, there's two). We lured my seven year old around the monuments with a pocket full of Lifesavers, and kept the big guy on his toes by pointing out things that looked like the "capitol wasteland" from Fallout 3. We played "spot the Minecraft minerals" while touring the Natural History Museum and found everything but Lapis. And Redstone. We found that at the Air and Space Museum.