There's no doubt that Grant's Farm is one of St. Louis' favorite family attractions. For a mere $12 a carload, you can experience a deer park safari, pet a few goats, feed a sheep, watch animal shows and hang out with the world famous Budweiser Clydesdales. And since the whole shebang is hosted by Anheuser-Busch, you can also count on a few free samples of the brewery's latest refreshments when you visit.
But did you know WHY Anheuser-Busch is so generous with its hospitably? We get the Clydesdales, sure, but why all the goats, camels, cows, eagles, deer, parakeets… And what did General Grant have to do with beer anyway?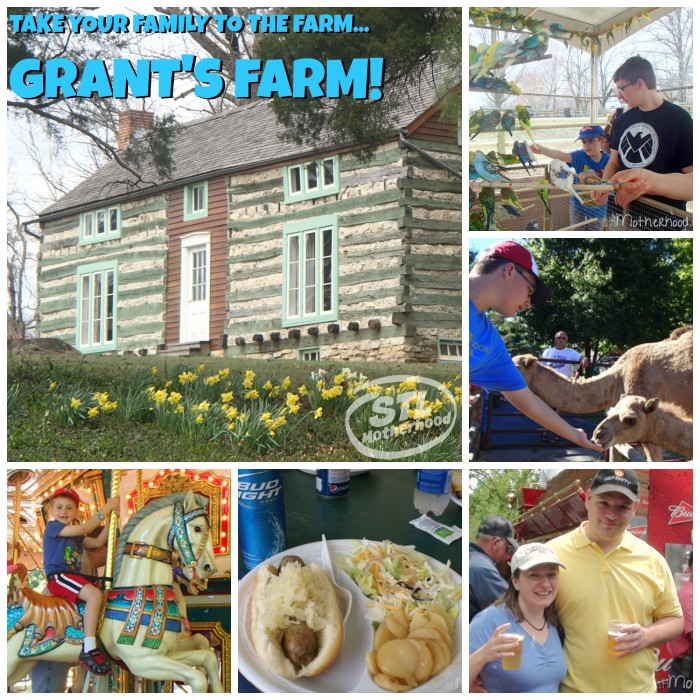 (FYI: I received a complimentary Estate Tour at Grant's Farm. My opinions are my own, because you know I was just dying to visit here!)
Actually…Grant had nothing to do with beer. It's just a coincidence that General Grant once owned the land that August A. Busch Sr. would purchase for his country getaway in 1903. He kept the "Grant's Farm" nickname and made the property into a rustic retreat with an old world deer preserve and, just for kicks, cattle and a couple of elephants. With a nod to his German roots, August A. built the Bauernhof, styled after old German farmsteads. It had space for 20 horses and 18 dairy cows. You've been to the Bauernhof, it's the beer garden at Grant's Farm where the kids eat ice cream while mom and dad have a few…samples.
But back to the story.
It was August A.'s son, fondly known around here as "Gussie" Busch, who bought the first hitch of Clydesdales and began stocking the family estate with exotic animals. In 1953 he also snagged a few Cardinals. According to a Grant's Farm tour guide, Gussie would step out onto his back porch every morning to feed the deer. The Cardinals, on the other hand, were invited out for a picnic which I'm sure involved beer and pork steaks. According to family legend, a baseball player's wife –we don't know which one–told Gussie that if he loved showing off his collection of animals so much, why didn't he open it to the public? They'd love to see it too!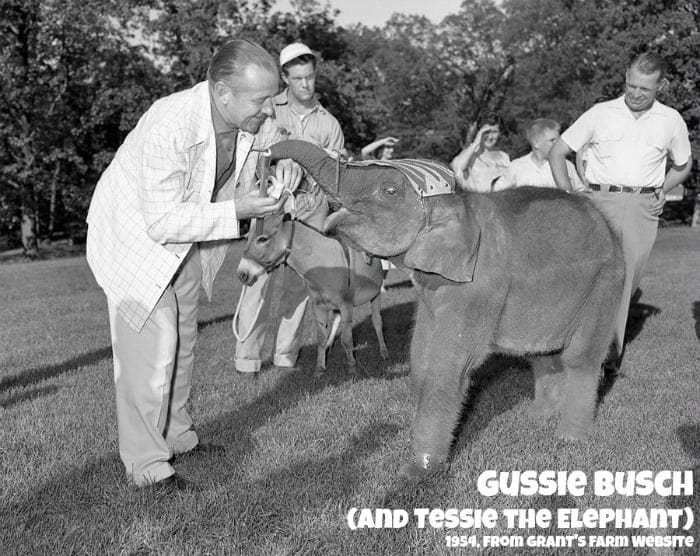 So, Gussie is the man we need to thank for Grant's Farm. The only thing he loved more than horses and baseball was entertaining. And in 1954 he opened his gates to the public and millions of families have enjoyed his hospitality ever since.
Gussie and his family still lived on the farm at the time, so he held back 22 acres surrounding the family home. Just enough of a buffer to keep "The Big House" away from prying eyes. And so it remained, until long after Gussie passed away in 1989.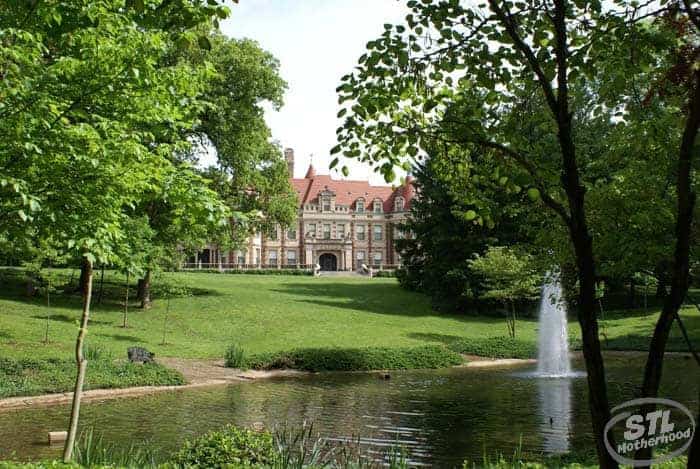 Gussie had many children, and he didn't want to split up the farm that he so fondly shared with St. Louis families. It was put into a trust for his heirs and Grant's Farm is still operated by his business, Anheuser-Busch. Just the way he wanted it.
Up until now you had to be someone pretty special to get invited to the mansion. You know, like Elvis or Yul Brynner. But today is your lucky day!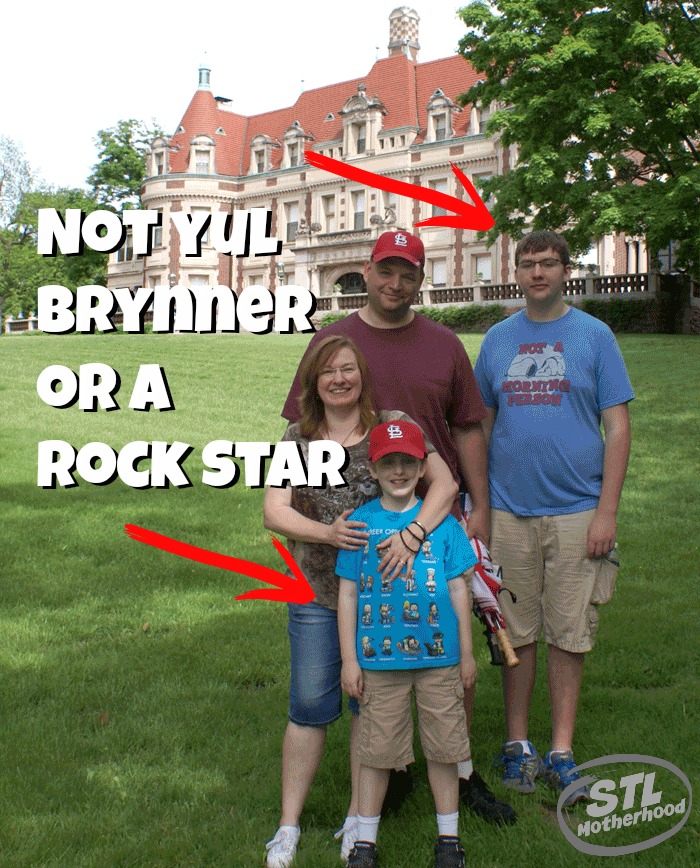 Grant's Farm now offers a walking tour of the Busch Estate, a.k.a. The Big House. It's a small private tour–no more than 20 people at a time. It's only offered in the mornings, and it's not handicap accessible so strap on your good walking shoes.
The tour takes you up to The Big House and starts at cute little playhouse made for the Busch children. It has running water and a real fireplace. The family kept it decorated just as it was when Gussie's children played there…with the exception of an Easy Bake Oven some modern grandkids play with when they drop by.
You'll get to stroll around the lawn and check out the lawn ornaments–life sized bronze moose and baby elephants! There's also several Bevo Fox statues hiding in trees–the fox was a mascot for a non-alcoholic brew Anheuser-Busch made during prohibition.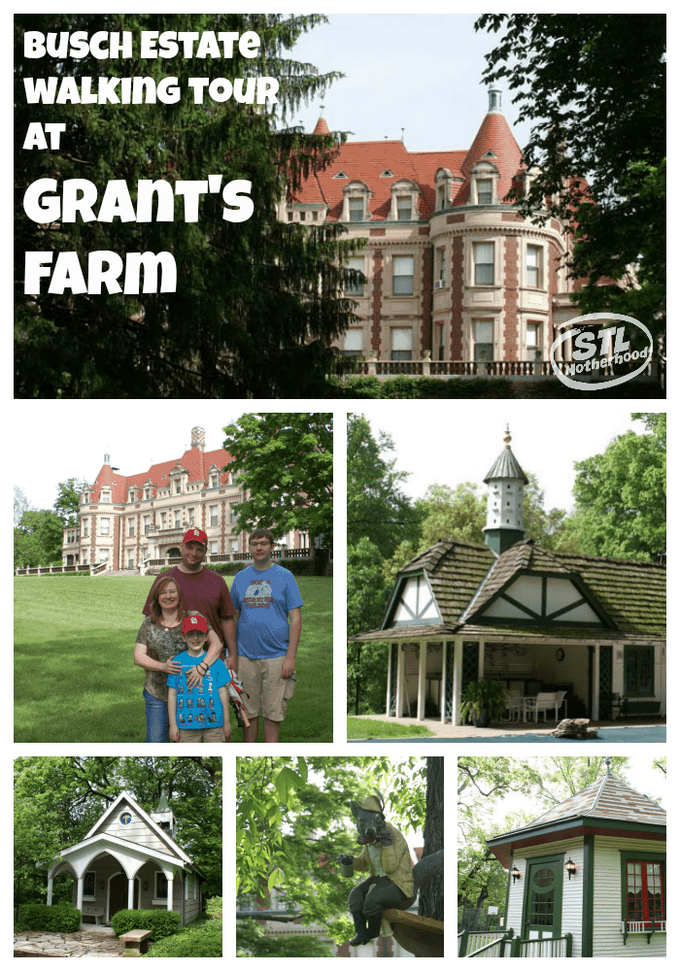 Next you'll stop at little Swiss style chapel built in the 1960's for Trudy Busch, Gussie's third wife. If you've ever visited Grant's Farm around noon and heard bells, it was probably from this tiny chapel.
There's a couple neat photo ops in front of the house, and your guides are happy to help you get a photo. So please, leave the selfie stick at home. Here's a fun bit of trivia: The front of house has no driveway or sidewalk, just a grand staircase leading to a big green lawn.
You'll visit the pool house, added in the 1960s for entertaining. Our tour guides pointed out fun facts, like how the pool, no bigger than what any well off suburbanite might install, was quite a big deal in the 1960s. Of course, your pool never had Elvis drop by, I'm sure. We chatted about Gussie's wild parties while our tour guide brought out ice cold Budweiser for the grown-ups and chilled water for the kids.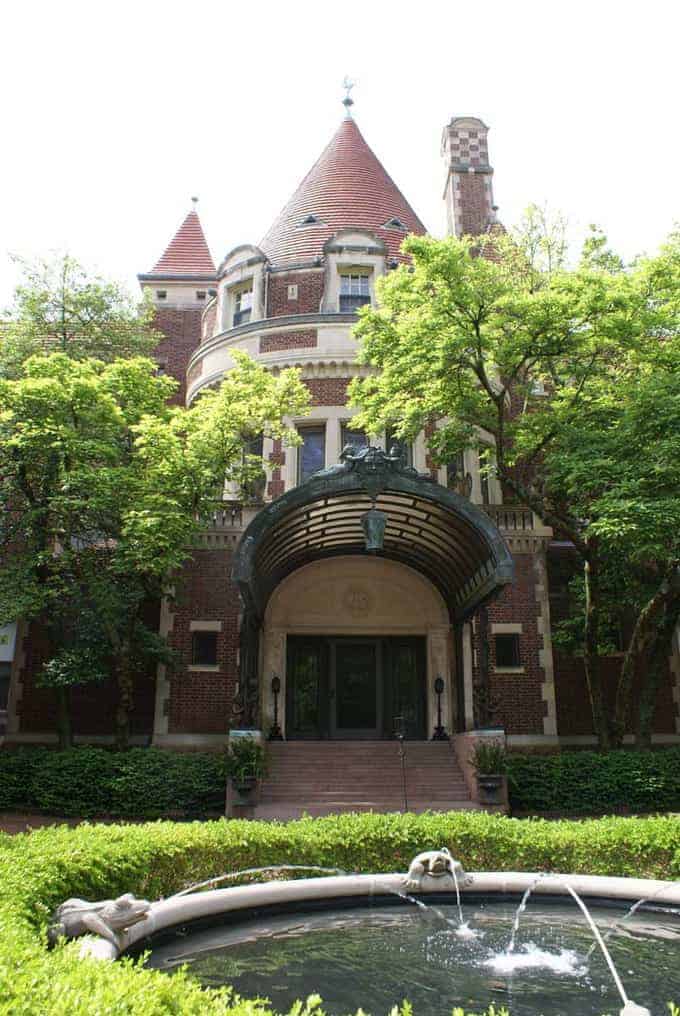 We also got to see a couple beech wood trees planted the Busch family, in honor their brewery's famed beech wood aging process. The tour ends at the back door of The Big House, which looks for all the world like a grand hotel entrance. Which is fitting, since this is the only place cars can pull up to the house and drop off friends, family and invited guests.
The tour doesn't go inside the house, so I'll leave you with a link to a Life Magazine article from 1955. I wonder if they still have all the deer heads in there?
If you'd like to arrange your own private grounds tour, RSVP online here at Grant's Farm. It's $25 dollar a person, which includes a complimentary beverage and a private tram ride around the deer park. The tour is mostly over mulched paths, so it's not exactly stroller friendly. My husband and I loved having a tour guide practically to ourselves, but the kids were eager to move on to the Bauernhof and a big bowl of Dippin' Dots. The tour lasts 90 minutes, so it's best for kids with a lot of patience.