The kids are counting down to summer break, so it's time to get out pen and paper (or open up your favorite notebook app) and make those Summer Bucket Lists! Whoo-hoo!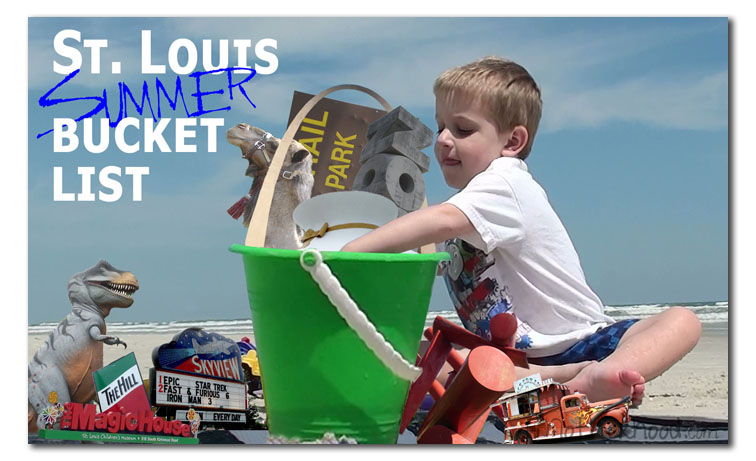 I make one at the start of every summer because things get so crazy busy and I don't want to miss out on any fun in St. Louis! And this year is extra special because I'm a finalist in the Official Explore St. Louis Summer Ambassador search!
Be A Tourist in Your Own Town
This year you can join me at Ball Park Village on April 30 from 10am to 2pm and we can do our planning together! That's when the St. Louis Convention & Visitors Commission (let's just call them Explore St. Louis) hosts the annual Be A Tourist In Your Own Town event. All the metro area's most popular attractions will be there! Plus we'll have free refreshments, music, prizes and tons of fun for everyone. Oh, and they'll be selecting the winner of the ambassador search, too.
5 Things I Gotta Do in (and around) St. Louis this Summer
This summer I'm going to shake things up and throw a few NEW things in the bucket list! Yes, even though I've lived in St. Louis my whole life, there are still awesome fun things I just haven't gotten around too yet, like…
Super Fast Go Karts. Pole Position always makes my list of fun things to do with big kids in St. Louis, yet…I've never been there myself! I've been told it's really fun, but with the huge age difference between my kids, I've been putting it off. No longer! This summer we're going to tackle the big boy go karts!
Learn about Daniel Boone. I've never taken the kids to the Daniel Boone Home historic site, even though we've been in the area many times to ride our bikes on the Katy Trail. Next time we'll leave early so we have time to make a side trip.
Get some BBQ. This is embarrassing, but we've never been to Pappy's Smokehouse. I know, right? It's not that far from the hub's office even. Time to let someone else do the grilling this summer!
Of course, we'll have to do some old favorites this summer!
The St. Louis Zoo has re-opened the penguin habitat and might be opening the new Polar Bear habitat soon, too. I understand that Kali the polar bear is packing his bags and might move here any time now. Maybe we'll have a new arrival this summer?
Grant's Farm is always tops on my list. Always. We bike Grant's Trail to get there, park our bikes for free then pet the goats, feed the camels and parakeets and maybe catch a pony ride. The kids get to enjoy ice cream in the biergarten while the hubs and I enjoy a little Anheuser-Busch hospitality.