There really are parts of Mardi Gras that are totally family friendly–and even dog friendly. Yes, it's time again for the Beggin Pet Parade in Soulard! (Woof! Woof!) Yes, Mousse, it's time to dress up–you're going to be in a parade!
The St. Louis Beggin Pet Parade for 2019 is Sunday, February 24 and runs from 10am to 4pm.
Here's the Schedule of Events:
10 am: Registration and pre-parade festivities kick-off at 12th Street and Allen in Soulard
1 pm: Parade begins
Immediately following parade: Coronation Costume Contest
2 pm: Weiner Dog Derby
The parade and concert are free to watch, but they are asking for a $10 donation (per dog) to join the parade. Proceeds are going to the Open Door Animal Sanctuary, a non-profit animal rescue and adoption organization in the St. Louis area. The Beggin' Pet Parade serves as their largest annual fundraiser.
This map is from 2015, but the route is the same in 2019.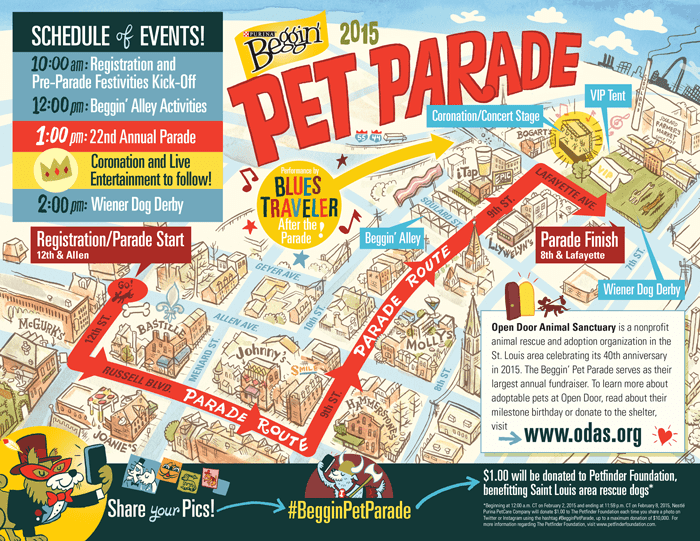 Coronation Costume Contest
Your dog's parade entry also get him or her into the big Coronation Costume Contest, held right after the parade. Pets deemed best dressed are selected as members of the Court of the Mystical Krewe of Barkus. These lucky pets are invited to the Coronation Pageant on 9th and Lafayette, where the King and Queen of Barkus are crowned.
There are THREE costume categories! The winner of each category gets to choose either a $1000 cash prize or a St. Louis Cardinals ticket package. See the rules here: Beggin Pet Parade Rules. Your dog can try for the Best Mardi Gras costume, Best Sports Personality or Best Celebrity Look-Alike.
You can register online at Beggin.com/PetParade or at 10am before the parade.