Have you started thinking about summer camp yet? I know, I know…spring isn't here and we're talking summer camp already? What, am I nuts?
Nope. Now is the perfect time to think about camp! Programs around St. Louis are booking NOW–and a lot of families like to get their summer planned out way in advance. This is a critical issue for working moms, but as a SAHM myself, I've always been on the fence about day camp for the boys. I don't want to spend a lot of money just to get them out of the house, but at the same time, I want them to have a fun this summer doing more than just watching TV or playing video games.
This summer they will both go to scout camp, and Ryan will of course have marching band camp–Go Silver Falcons!! But Mitch is going to try something new…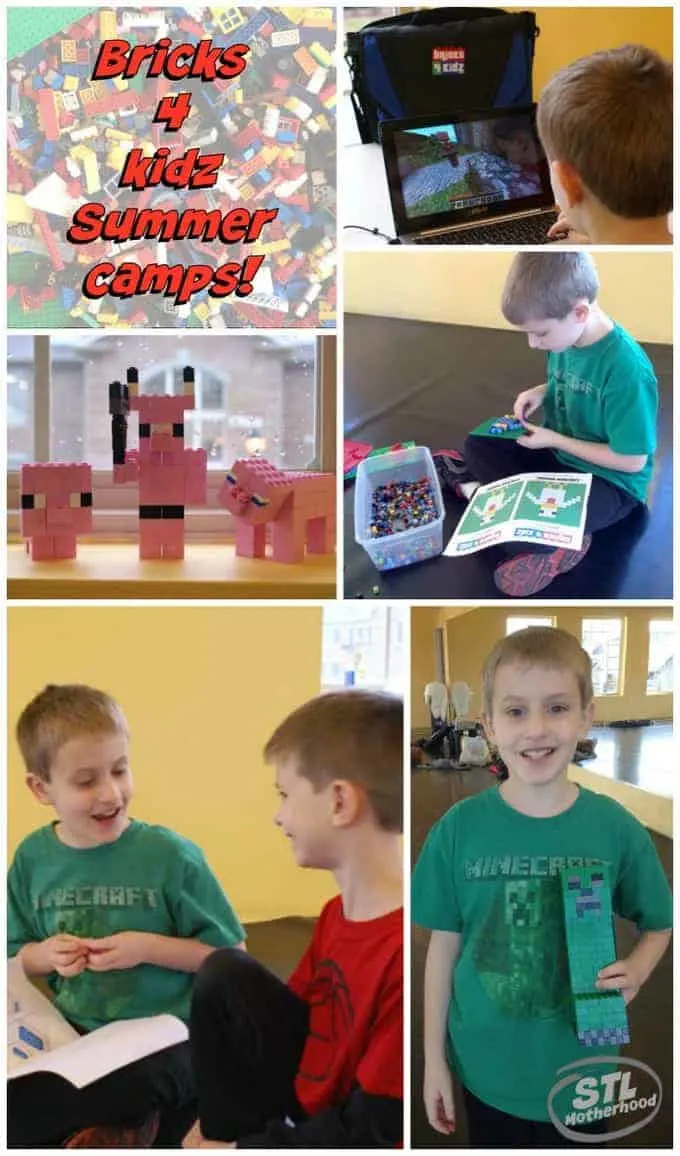 This summer I plan to sign Mitch up for a week or two with Bricks4Kidz, a program that introduces kids to STEM (that's Science, Technology, Engineering and Math) through LEGOS and robotics. The only thing he loves more than LEGOs is Minecraft, and they do both!
We first ran into Bricks 4 Kidz through scouts. Bricks4Kidz came out to our pack meeting and did a space themed program. The kids built a tiny LEGO space shuttle and then motorized with a LEGO Mindstorm kit. It was a great night–the boys learned teamed work and a smattering of robotics.
Mitch was having so much fun I posted it to Instagram, then chatted with the instructor, a fellow scout mom who turned out to be the franchise owner of Bricks4Kidz St. Louis. Nancy Portscheller is also a full time engineer with an degree in aerospace engineering, so she know the importance of getting kids excited about STEM concepts at an early age. Bricks4Kids isn't just a "let's play with LEGOs" after school program. They're trying to get kids hooked on science!
During Christmas break Mitch tried out a winter camp offered by Bricks4Kidz, and he had a lot of fun! The theme was Minecraft, so it was right up his alley. They crafted Minecraft creatures from LEGO bricks and paper, assembled LEGO Mindstorm powered creations, played Minecraft and generally had a lot of fun.
Bricks4Kidz offers introductory robotics for ages 6 and older, advanced Mindstorms robotics for fourth through ninth grades, stop-motion animation movie making, and a variety of LEGO building camps based on things like Minecraft, Clash of Clans, Superheroes and more! Bricks4Kidz even has preschool camps to introduce science to little builders. There's something for every curious, creative, and energetic camper at Bricks 4 Kidz.
This summer you can find Bricks4Kidz at RiverChase in Fenton, Wildwood Dance and Arts, Chesterfield-Harvest Bible Chapel, Town and Country Longview Farm House, Once Upon A Bash in Maplewood, Minds Ahead Academy in Creve Coeur and many of the Catholic parishes. More locations are coming soon!
Want to know more? Enroll today at bricks4kidz.com or by calling 314-610-4862.
PS: For full disclosure…this is NOT a sponsored post.

Related posts: