You've waded through the back to school aisle, bought countless pencils, notebooks and glue sticks; purchased an entire new wardrobe for each kid and started pleading with them to get to bed before midnight. Yes! You are officially ready for the first day of school!
Or are you?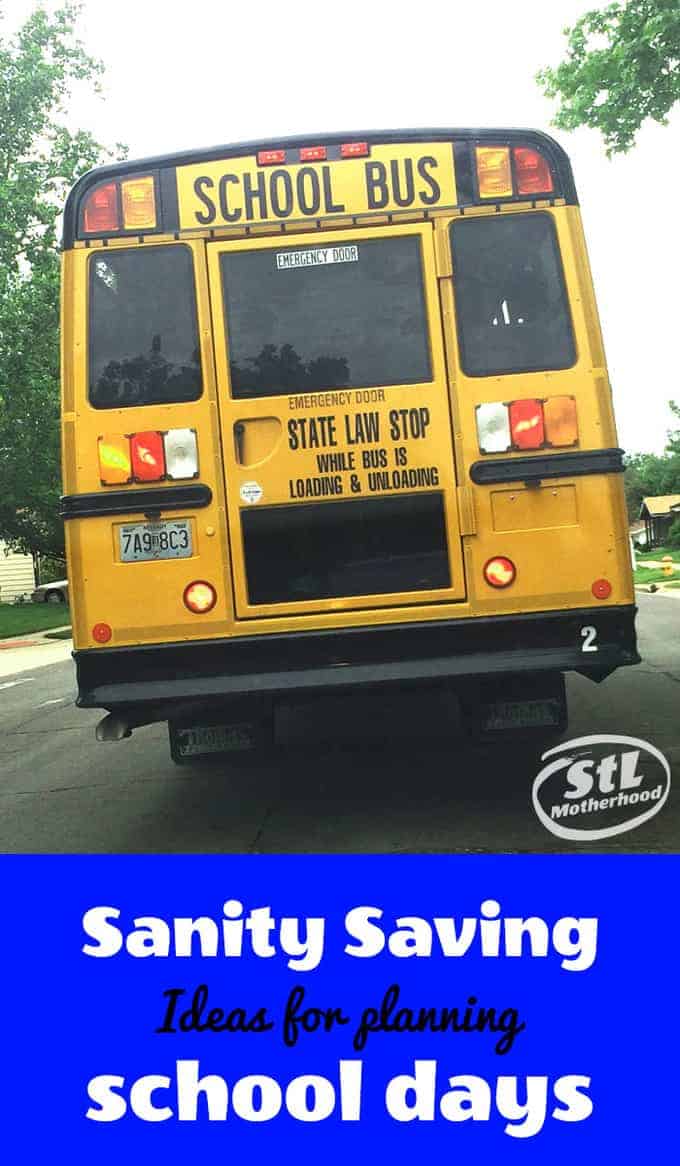 I always greet the new school year with mixed emotions. On the one hand, I'm happy to have more time to dedicate to blogging and meeting my girlfriends for lunch at places that use real plates. But on the other hand, I don't have as much time to play with the boys. I can't drop everything and head to the zoo or the Magic House…except maybe on weekends. I miss the days of eating chicken nuggets on the couch while watching Netflix cartoons. (Ok, I could still do that, but it's more fun with the boys.)
The lazy days of summer are over for both me AND the kids. If we're going to make time to play around here, I need to get my act together, plan our meals, plan the grocery shopping, plan for homework time, plan for scout meetings, plan for marching band practice, plan for weekend competitions…and plan to really enjoy our family time.
I need a plan. How about you?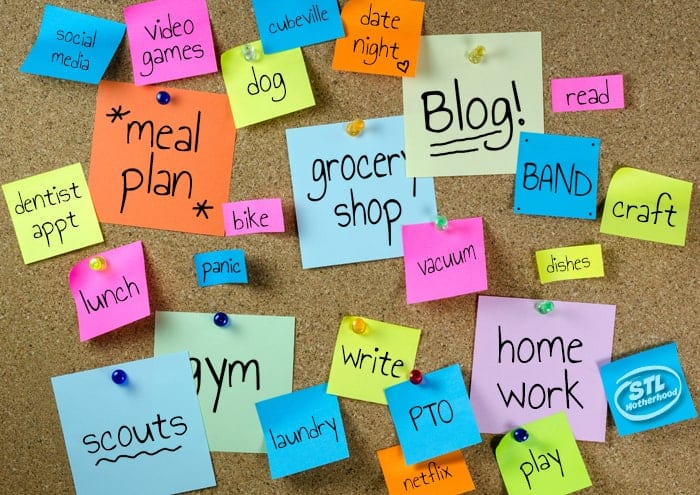 I'm not an planning expert. But I'm learning.
I'll admit I'm pretty lousy at time management, but every now then I get things right. So I'm going to try and string together more of those "well planned days" and be less stressed this school year. If I can stop doing everything at the last minute…we'll have more minutes in the day! Here's a few of the ideas I've stumbled upon that truly make a difference in this household. Maybe they'll help you too.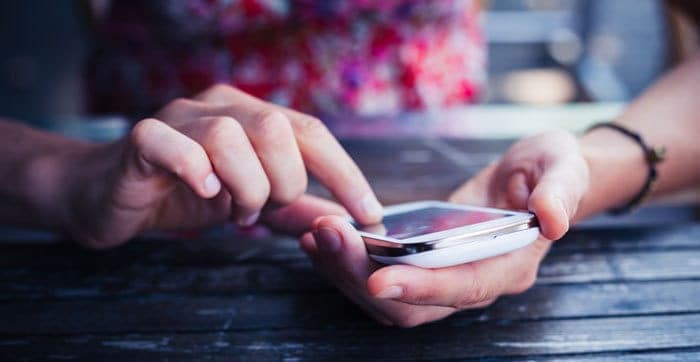 Make high tech lists: If it's not written down there's a pretty good chance I'll forget it. I used to make paper shopping lists, but I'd end up losing them. Sometimes they'd disappear in the house, sometimes they'd make to the car…only to be left on my dash. Heck, I've even had lists vanish in the middle of the freakin' dog food aisle! But you know what I don't forget? My phone.
That's why I've switched to digital lists. I've tried out several systems this year, and nothing has worked better than the basic reminder app on my iPhone. I just yell at Siri whenever I notice I'm out of milk or razors or anything at all. Siri's not perfect…sometimes I end up at the store wondering why I wanted "mango so larking water" or "Nacho lunch a bowls" but I usually figure it out. 
Talking to Siri can sometime feel awkward. Especially when Mitch sneaks up behind me and yell "toilets!" whenever I'm adding things to my list. 
Want to learn more about using Siri to make your shopping easier? Check out this article by Todd Zarwell. You can also use Siri to put reminders in your calendar so you don't miss school events or homework deadlines.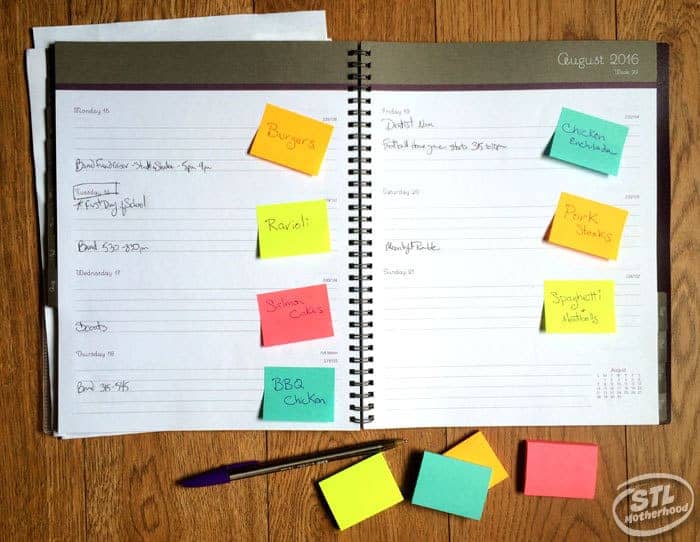 Plan our meals: Now that I'm making better shopping lists, it's only natural that I try my hand at meal planning. I've had way too many afternoons where I look at the clock, realize it's almost time for the bus to pull up and yet I have no clue what's for dinner. Oh, and one of my boys will probably need to eat dinner in 30 minutes because he has practice or scouts. Doh! 
This year I'm going to plan our meals out each week, write them down in my calendar and actually buy stuff for dinner at least 24 hours in advance. Who knows, maybe I'll go crazy and plan out a whole week! The better I can plan our meals, the fewer times I'll need to go to the store and the more time I'll have for doing important stuff.
Since I need to start simple, I'm really liking this Post It Note meal planning idea. It's basic and it doesn't require a lot of commitment.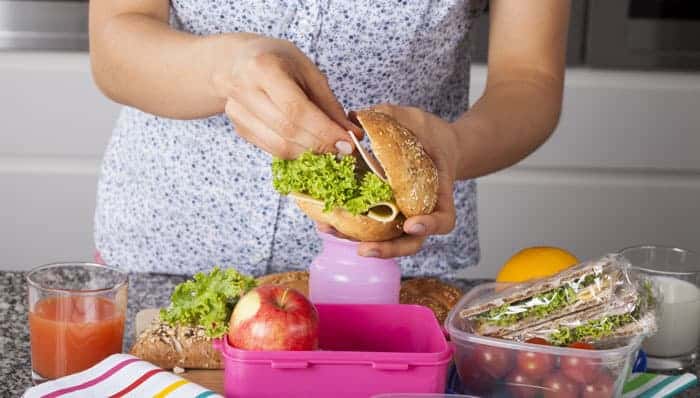 Pack lunches the night before: I'm one of those crazy at-home moms who shows her love through a well packed lunch. I prep lunches for both the boys and the hubby, even though they're perfectly able to do it themselves. I'll admit that packing three lunches while making coffee, toasting waffles, getting everyone up and finding clean shorts and signing homework planners simultaneously is not the best use of my time. Once everyone clears out, I'm exhausted.
I was reminded that there's a better way to do things during summer band camp. My oldest needed to be at school just stupid early, so for two weeks I packed his lunch–and the hub's–the night before. Yeah, it was a pain to pull out lunch fixing right after doing the dinner dishes, but it made my morning so much smoother. 
If you're feeling uber organized, you can go as far as making a lunch packing station in your fridge and pantry like Jen of I Heart Organizing. Personally, I think it's a big win if no one eats the cookies I was planning on putting in the lunches the next day…
Psst. Yeah, that's stock photo of a mom packing lunch. Think that's a Bloody Mary on the left? It would explain why none of the food is fitting in the box.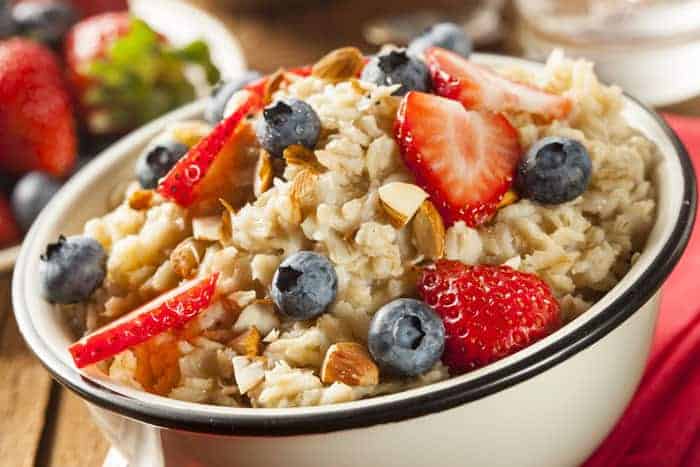 And make breakfast the night before too: Since my teen needed a healthy breakfast before marching around in the hot sun for hours, I tried a new thing. I prepped breakfast the night before. Now first, lemme point out that my teen is very self-sufficient. He's been getting up and making his own breakfast since third grade…so long as I don't mind his breakfast being a Pop Tart or a bowl of cereal. He might put something in the toaster oven once in a while.
You might have heard people raving about "overnight oats" last year? I didn't like the uncooked/raw taste. So we started cooking regular oatmeal, with big chunks of fresh apples and brown sugar, the night before. I'd make it a little thick (use less water), divide it up in bowls, and pop it in the fridge. Just a 30 second zap in the morning and the kid could have a solid breakfast despite stumbling around like a kitchen zombie at 6 am. Everyone wins!
Er…another stock image. That's way prettier than my oatmeal. But you get the idea.
Bonus Points for getting organized: Of course we should all make a homework corner with school supplies the kids need for completing their work. And it's always a good idea to set aside an area for kids to drop their backpacks so nothing gets lost…and remember to go through the bag to look for homework, notes and that lunch box every afternoon. 
Start the School Year off Right
Some of you are probably planning gurus and have been color coding your pantry since day one. But for the rest of us, these simple ideas are going to be just what we need to start our kid's school year off smoothly. We can do it! Let's plan our meals, use some high tech wizardly to stay organized and prep the night before for smooth mornings. 
Next step….getting back to the gym!