Did you know that every year thousands of school nutrition professionals meet to swap ideas and recipes to prep their cafeterias for the coming school year?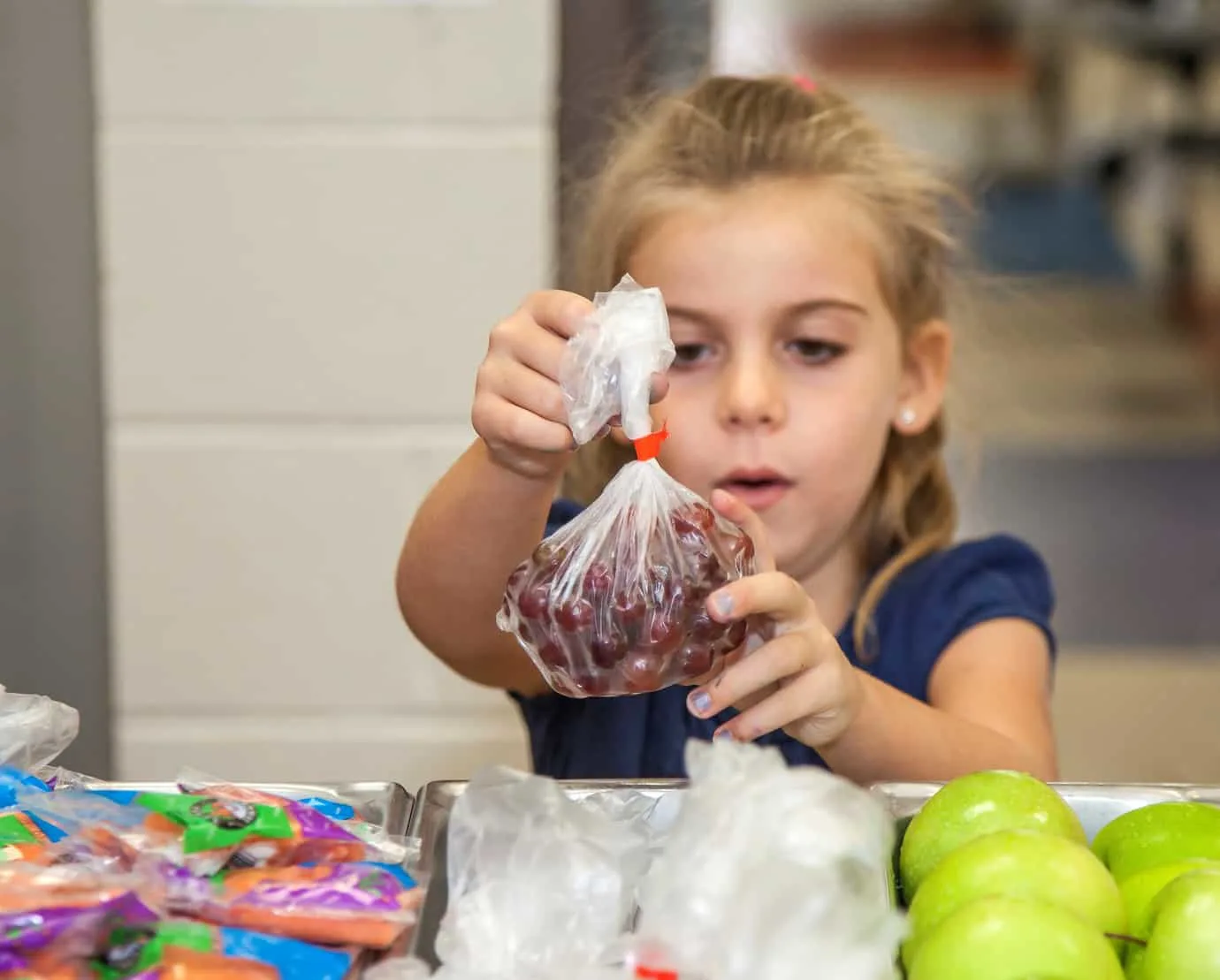 Neither did I! So I was pretty surprised when I got an invite to the School Nutrition Association's big conference this July here in St. Louis. This post is sponsored by the School Nutrition Association. All opinions are my own.
I had a chance to do something no other parent has done–tour a convention hall of full of food with a nutritionist from my school district! It was an eye-opening experience and made me think how little I know about the inner workings of our school cafeterias. I've always been a big lunch packer, but now that I've seen how much love goes into our school cafeterias, I know that a hot tray lunch isn't just a backup plan.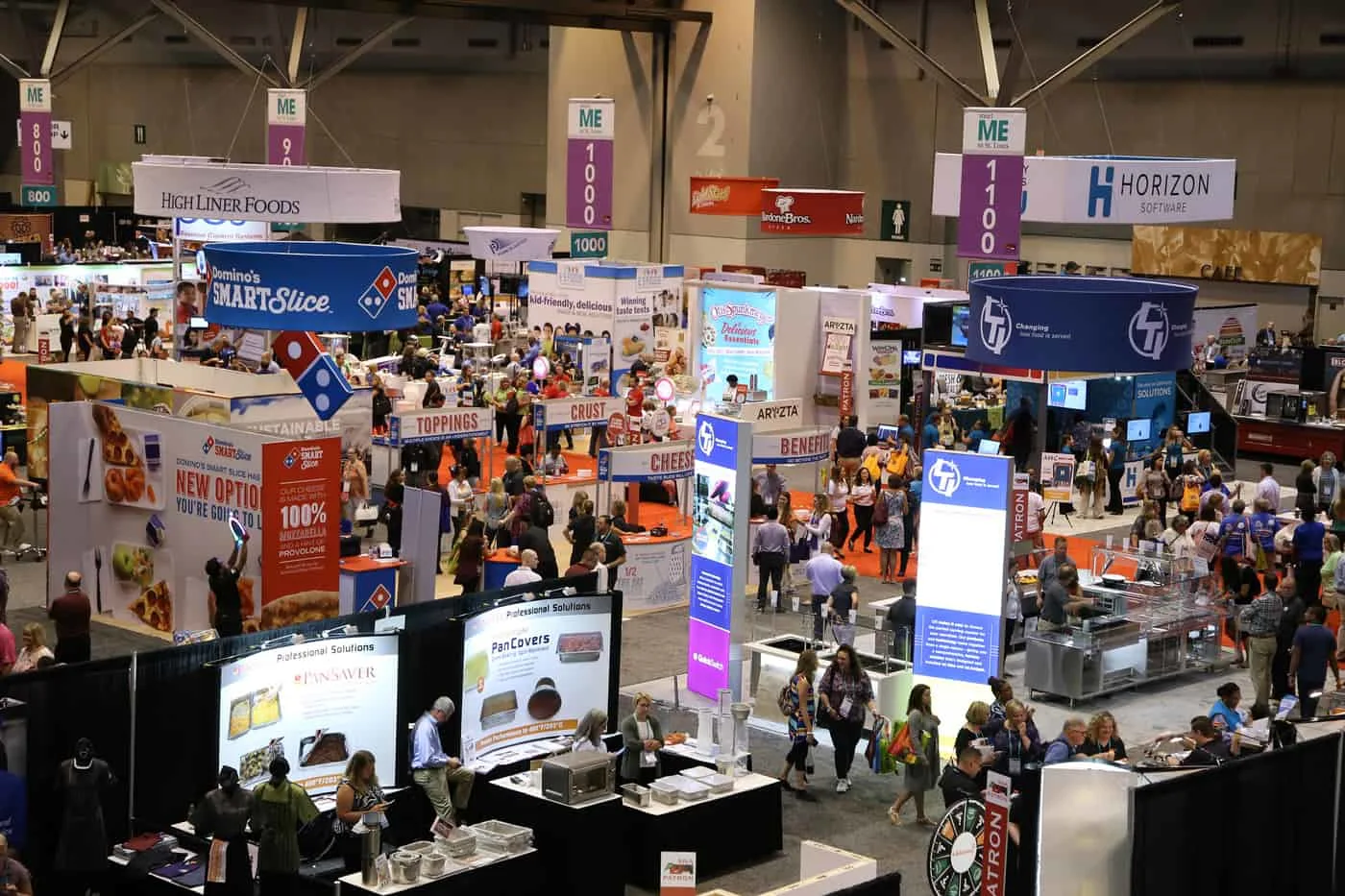 (Ok, I wasn't the ONLY outsider there–my buddy Jen from And Hattie Makes Three also got a tour! Her little one is starting Kindergarten this year! See what she had to think about all the cool options for school lunch here.
The Modern School Lunch
I grew up during a time when ketchup was called a vegetable and peanuts were liberally drizzled on every kid's lunch tray.
School lunches have come a long way since then!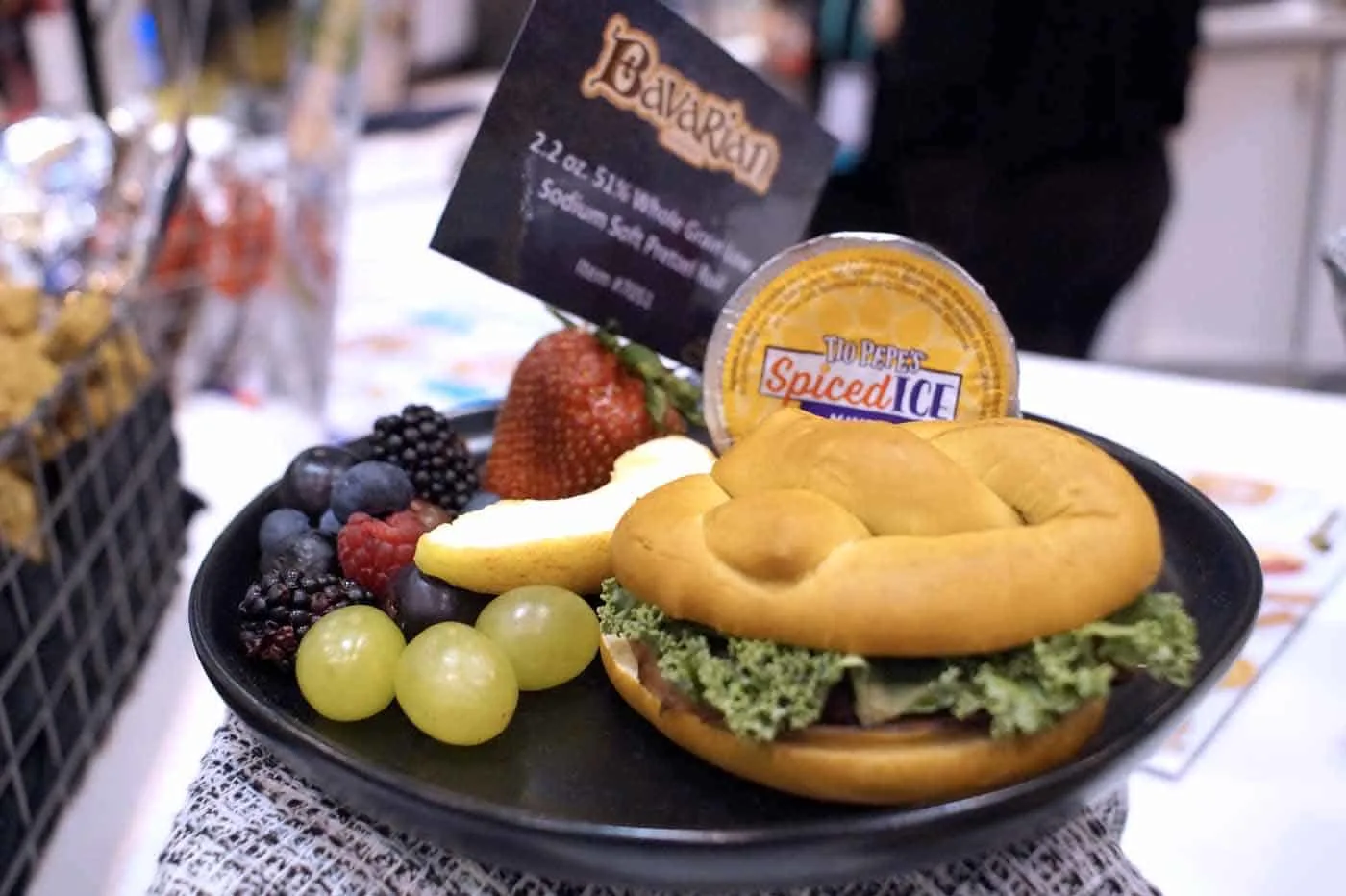 The modern school lunch program is constantly evolving. In 2012 the Healthy, Hunger-Free Kids Act upped the game, requiring school lunches to bring more nutritious foods to the table. Kids today are eating more fruits and veggies, plus lots of whole grains and less fat.
Cafeteria managers are stepping up with recipes that mimic restaurant trends and recipes pulled out of their own kitchens.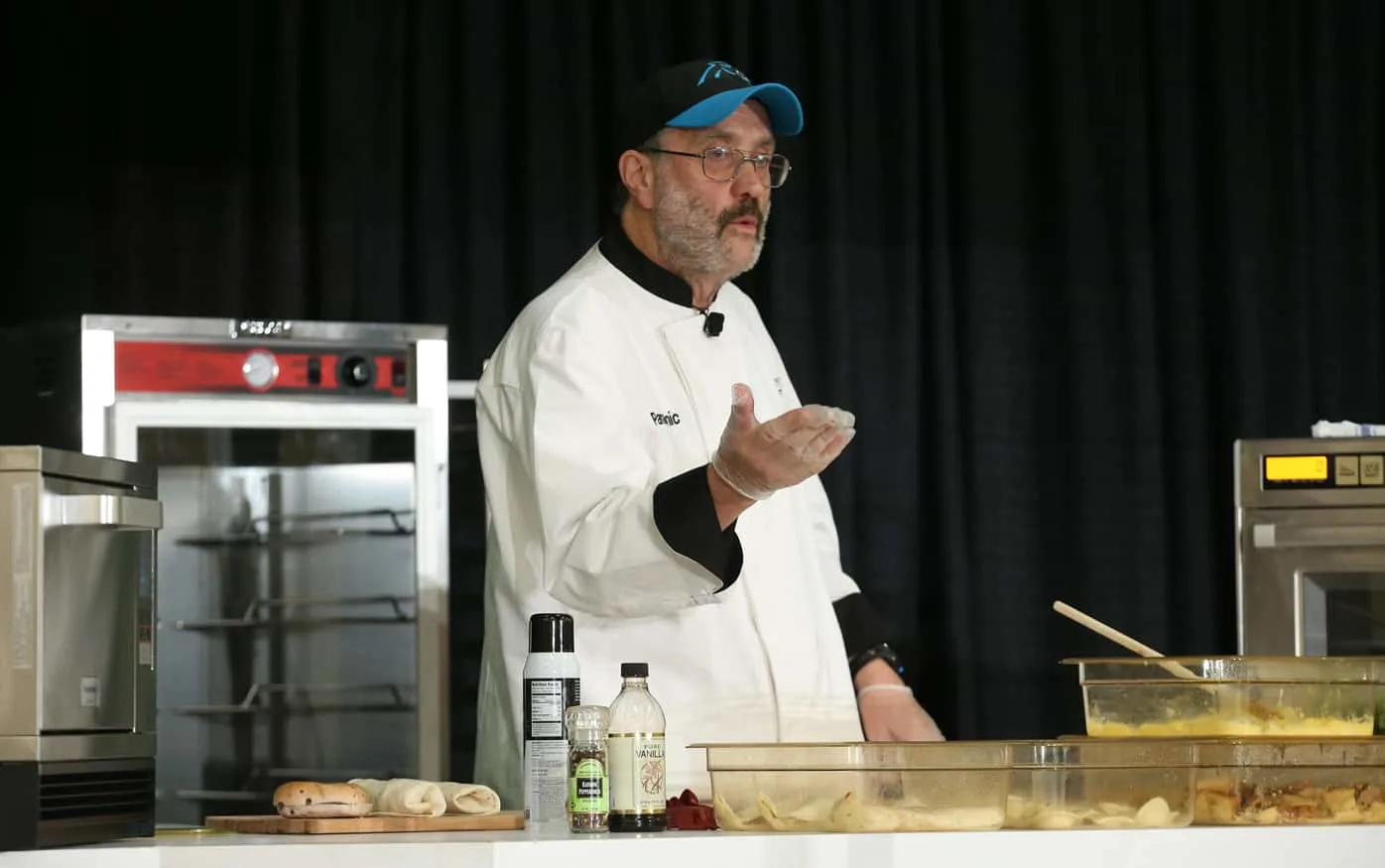 Your Cafeteria is full of Name Brands
I was really surprised by all the regular name brand foods I saw in the exhibit hall. These are things you'd find in your own pantry: Kellog's, General Mills, Schwans, Super Pretzel…even Domino's was there.
But how? I thought school cafeterias couldn't serve "junk food"? As it turns out, all these big name companies create a special line just for schools that meets strict federal guidelines.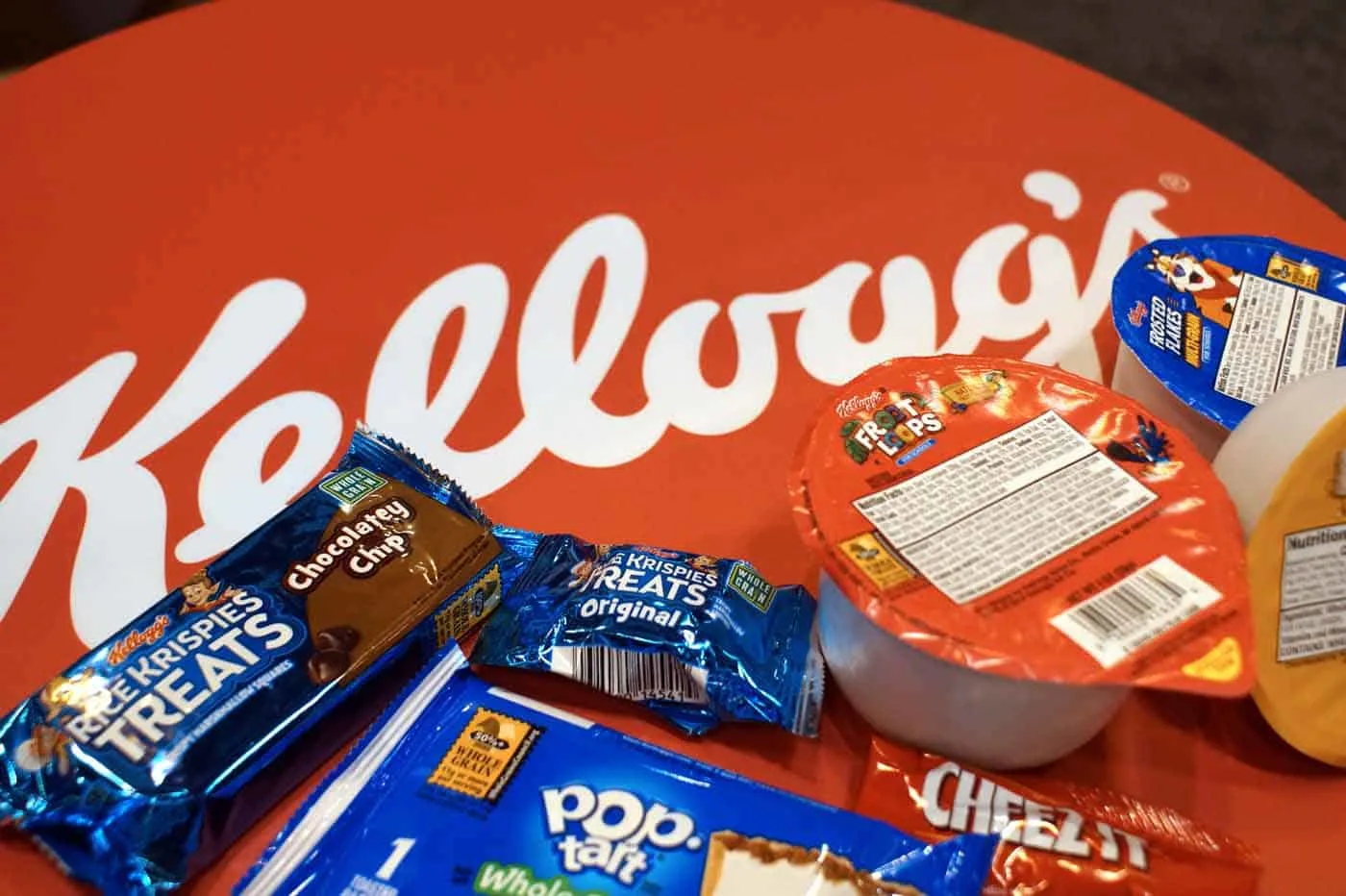 I scooped up a few samples to test out on the kids. I'm not gonna lie–they knew these snacks were whole grain right out of the box. For example, the "multi-grain" Frosted Flakes look more tan than golden–understandable since whole wheat is the first ingredient, not corn. But school edition cereal also weighed in 30 calories less, with less sugar and more fiber than the off the shelf single-serving box I picked up at Schnucks.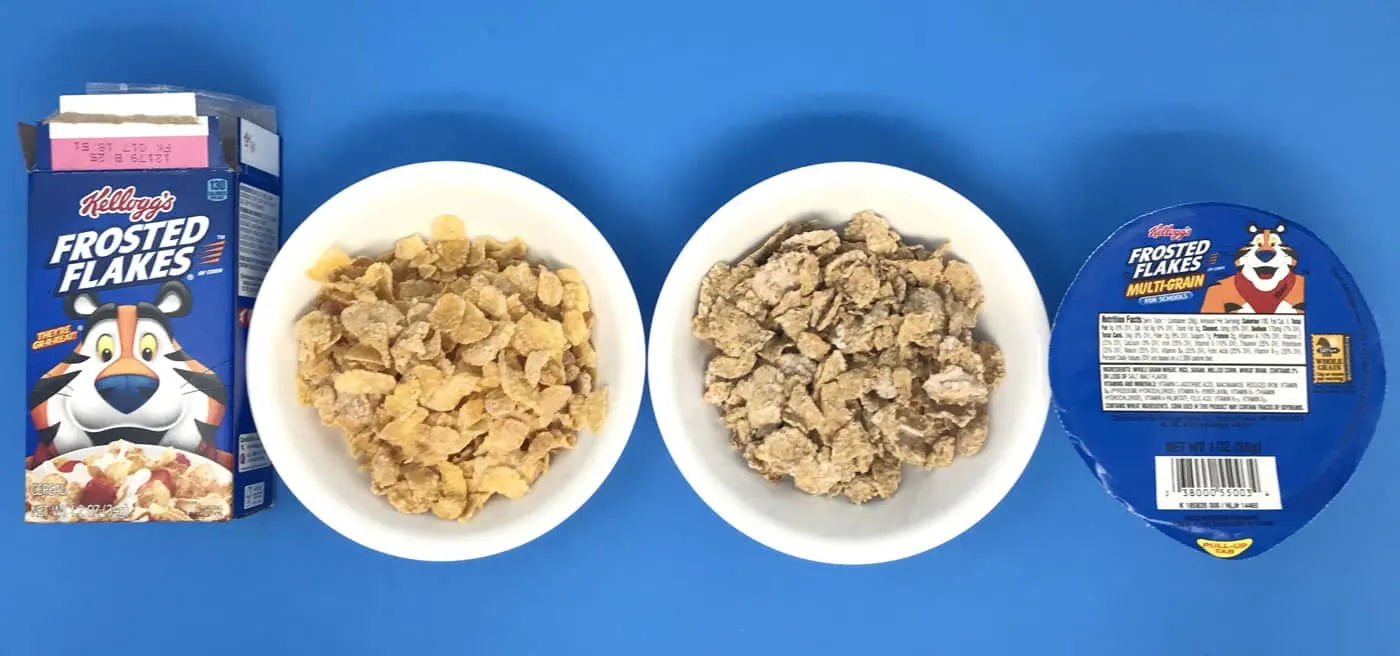 It kinda makes you wonder why these healthy versions aren't offered at the grocery store?
School Pizza is Tops
Everyone loves pizza day at school! I learned when schools serve pizza they're still keeping an eye on the nutritional value. Even if they order true restaurant pizza–baked by a local pizza chain and trucked over to school–it has to adhere to federal nutrition guidelines. They just don't tell the kids. How do they do it? Simple, schools sign up for the program (like A+ Pizza at Pizza Hut or Smart Slice over at Dominos) then place their order in advance. The restaurant breaks out the 51% whole wheat dough and a lighter cheese to make a perfectly healthy serving of pizza for the kids.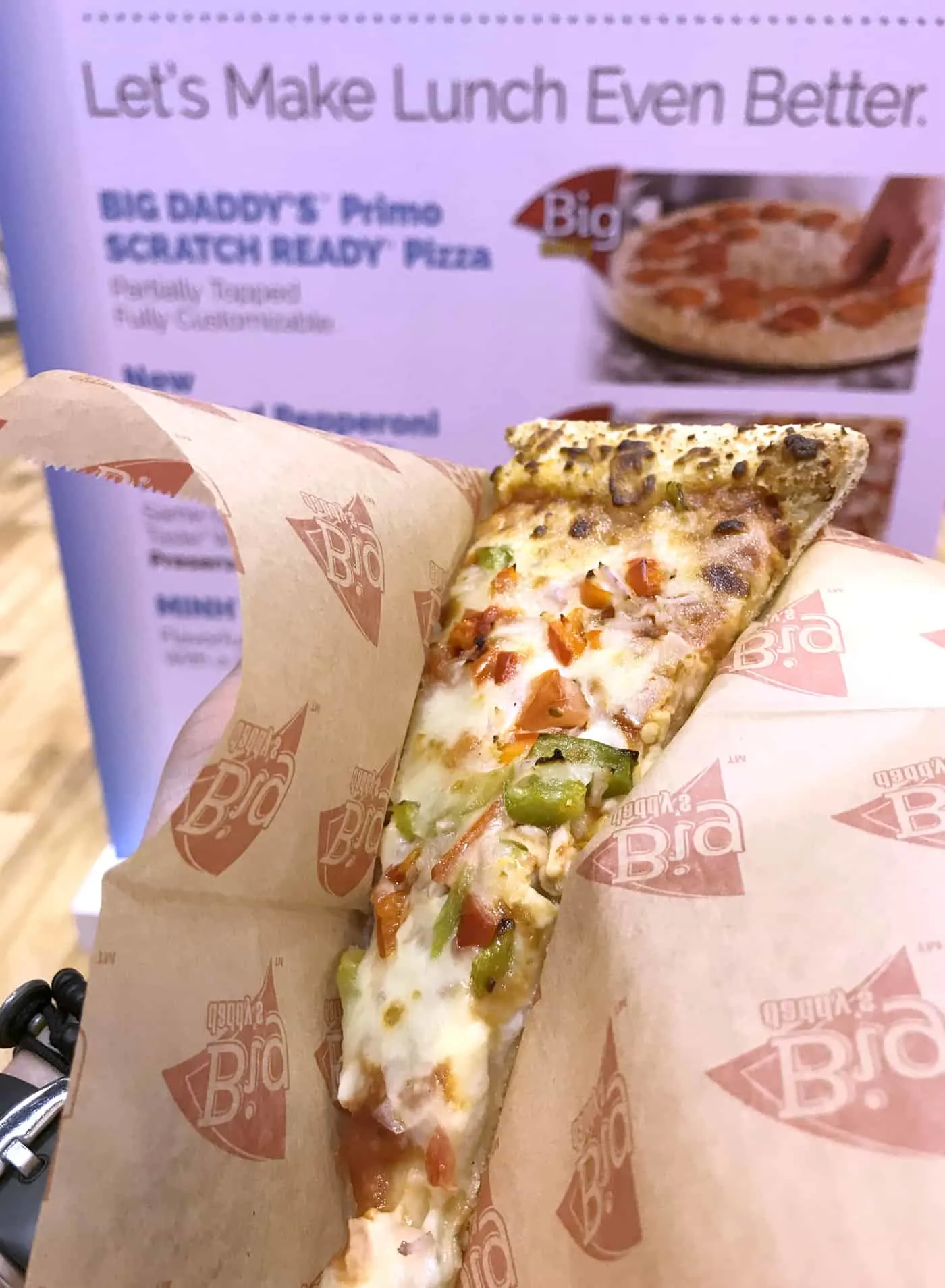 Schools can also buy frozen pizza from a company like Schwans–which happens to own Tony's and Red Baron. I tried a slice and it was as good as anything I've had delivered to the house.
I also discovered that one of my local high schools is installing pizza ovens this year so they can cut out the middle man and make restaurant quality pizza right in the cafeteria!
Taste and Quality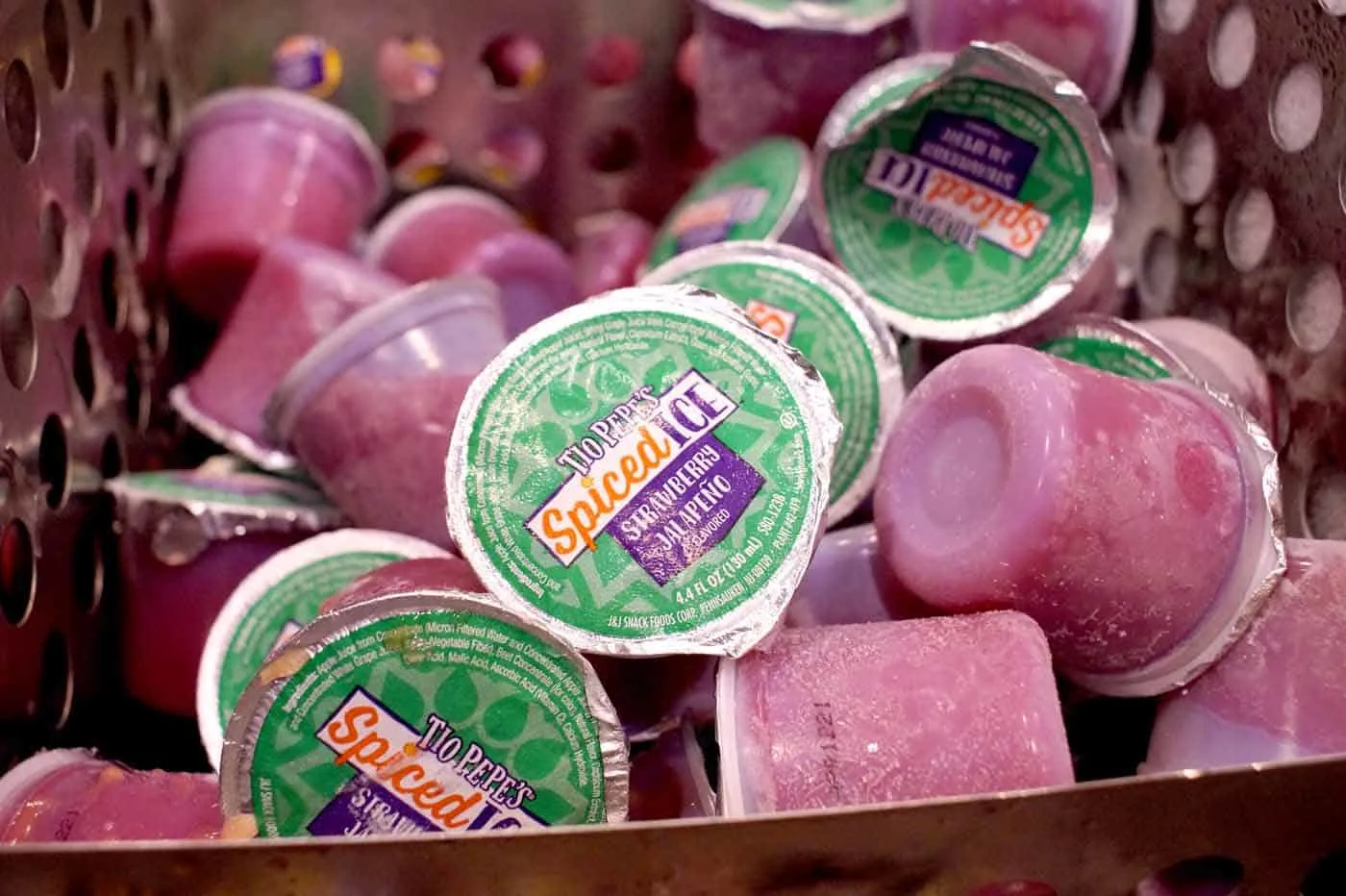 I had a very interesting chat with a vendor from J&J Snacks–you know, the company behind those big tasty ballpark pretzels, funnel cakes and ICEEs. He made a clear point that his company is finding foods that kids like and THEN making them healthy.
He gave me a sample of Spiced Ice in Strawberry Jalapeno. The dessert tastes like a spicy popsicle…but it's 100% fruit juice and counts as a 1/2 serving of fruit.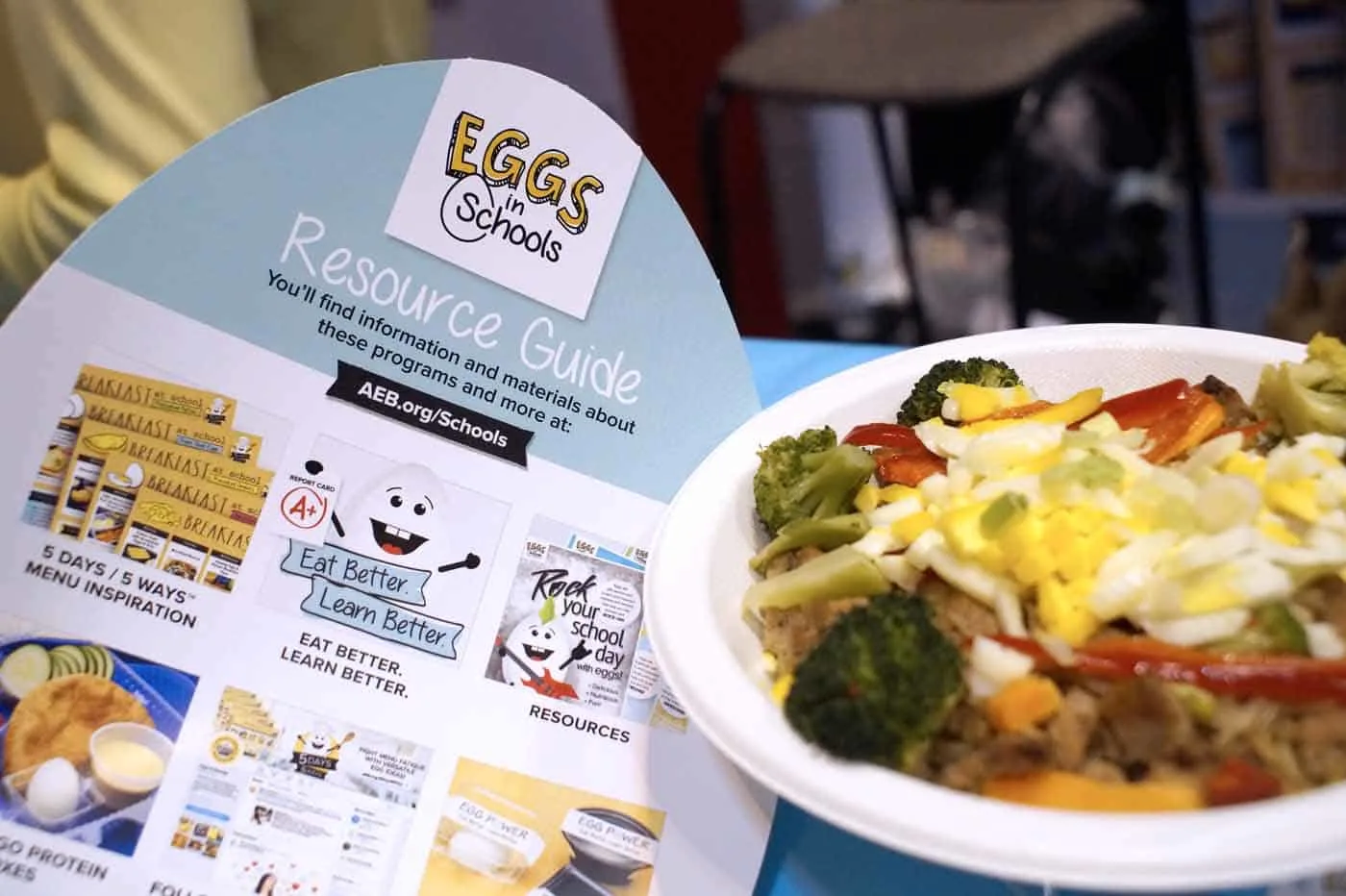 I also chatted with a rep from the American Egg Board and learned how eggs–a very budget friendly item for schools–can be the star of the show. Like a lot of vendors, her booth was set up to inform schools and show off recipes like ramen and egg or egg tacos.
I'd show you the recipe, but you'd have to make about 100 eggs. Fortunately, The American Egg Board (aka the Incredible Edible Egg people) also have a "regular" consumer side with eggs recipes for families. You might want to try this Eggcellent Taco for dinner tomorrow or a black bean scramble for breakfast.