It's officially back to school time in St. Louis and the big TAX FREE weekend sale starts Friday. All over town, stores are trying to get you excited about Missouri's tax holiday and get you into the store this weekend to buy your kid's supplies….like I need a reminder that school is starting next week. Thanks, Captain Obvious.
Personally, I'm not impressed.
It's a 4.225% Sale for Most Missouri Shoppers
Why are we supposed to get excited about a 4% sale–oh, excuse me, a 4.225%? That's right, if you fight the crazy back to school rush this weekend you're going to save a whopping FOUR PERCENT in Missouri state tax.
It's up to the local taxing districts if you'll save more!
Is your County "celebrating" the tax free holiday?
Many Missouri counties are NOT taking the tax holiday. Here's the list.
?St. Louis City, St. Louis County and Jefferson County are letting you shop tax free.?
But St. Charles wants their money. No tax holiday for you!
How to Find Your Real saving for the Missouri Tax Holiday
You might save a tiny bit more if you're shopping in a city that is also waving its local taxes, but a lot of towns are keeping their taxes in place. Hey, someone's gotta pay for fixing all those pot holes.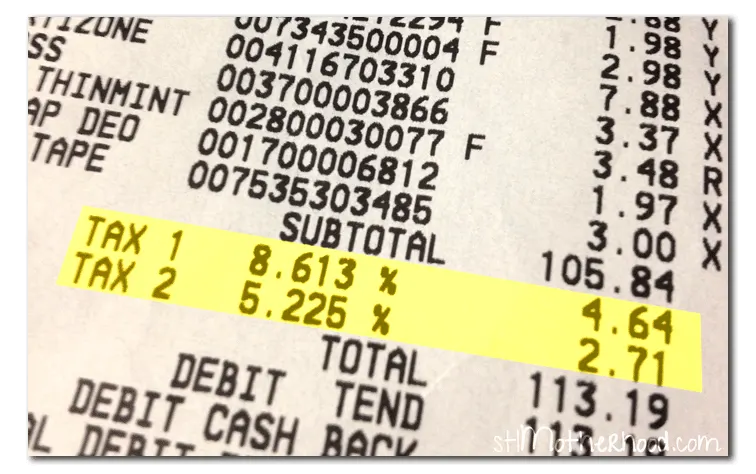 It's not easy figuring out sales tax rates–there are layers and layers of taxing districts in many shopping areas.
Let's use Gravois Bluffs Plaza as an example–that's where most of my own shopping happens. They're in Missouri (✔), St. Louis County (✔), Fenton (✔) …and the Gravois Bluffs Transportation Development District. (❌).
The TDD is an extra tax layered on to pay for developing Gravois Bluffs…which was built eons ago. Well…maybe 20 years…
Head over to the Missouri Dept of Revenue's "Find Sales and Use Tax Rates" page. Plug in the address of a store you plan to shop at — you can easily find a street address for anything by Googling the store and looking at the address section.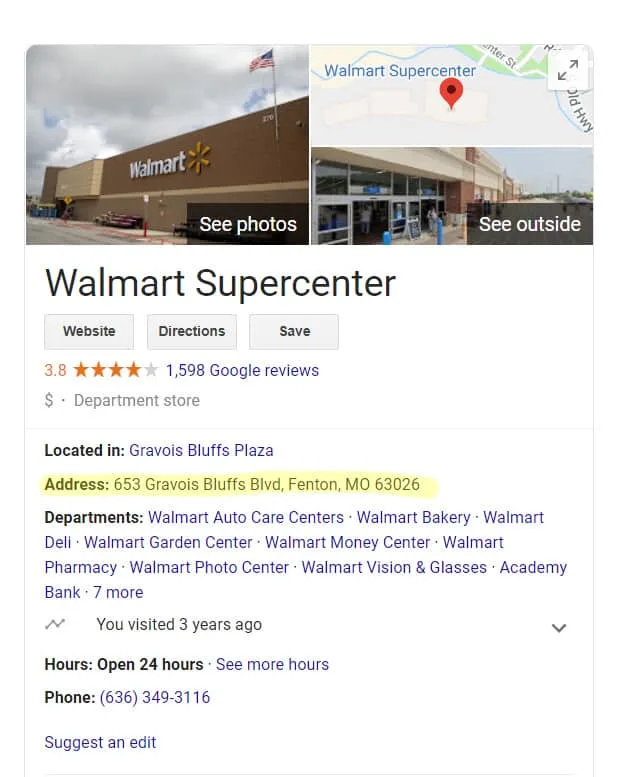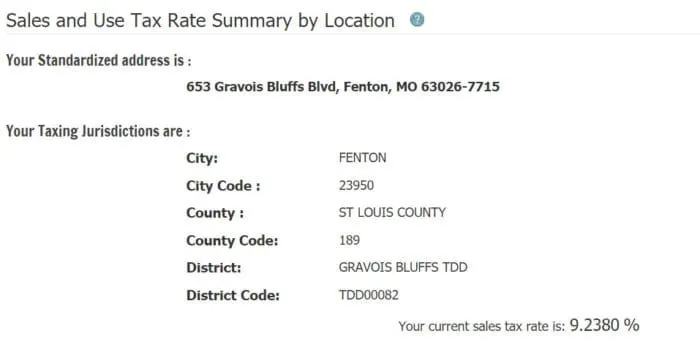 Now I can see that on a normal day, I'm taxed 9.238% at my local Walmart, Target and other places in the Bluffs. Wow. If I did my shopping in Kirkwood, I'd only be taxed 7.738%.
Unfortunately, the chart doesn't have the tax holiday information, so you'll have to look at the ever so helpful MDR "Back to School Sales Tax Holiday" and dig through 106 pages of charts to figure out if you'll be taxed at your favorite big box store.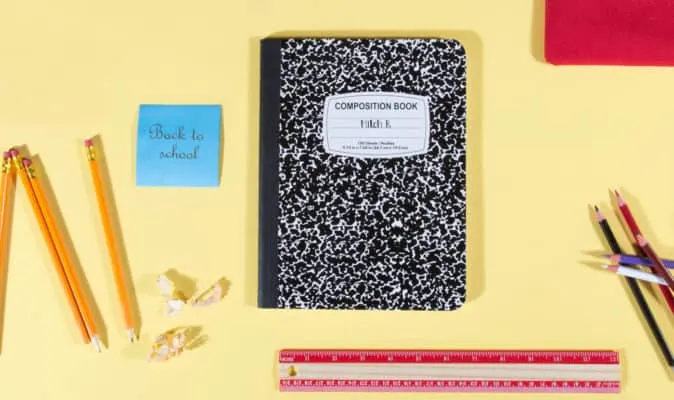 Back to my Gravois Bluffs example, I'll still pay a 1% on that hyper local TDD tax, but I'll save 8.23 percent on the holiday overall.
I looked up Kirkwood's Walmart location too. There's no tax being charged there during the holiday–they only charge state and St. Louis County taxes, which are all exempt. You'll save 7.738% in taxes.
What does that mean in real money?
Well, if you spend $100 in school supplies…you'll save roughly $8 in taxes (assuming an 8% tax rate). Or … 4 cents on a box of 50 cent crayons. 16 cents on a $2 box of pencils. Going for a big ticket item? Then $20 on an $249 iPad.
As for me, I'm going to try and avoid shopping this weekend. It is, after all, the last weekend before school starts for my kiddos. I think we have better things to do than play cart derby with the local coupon queens.