Last month I called up AT&T and told them to cut the cord on my TV service. It was a difficult call, mainly because the super friendly customer service gal was trained to keep me hooked up forever. I held my ground, turned down her offers for cheap TV packages…and poof. Cable was gone. 
So what's it like around here without a full service TV subscription? Not bad. Not bad at all.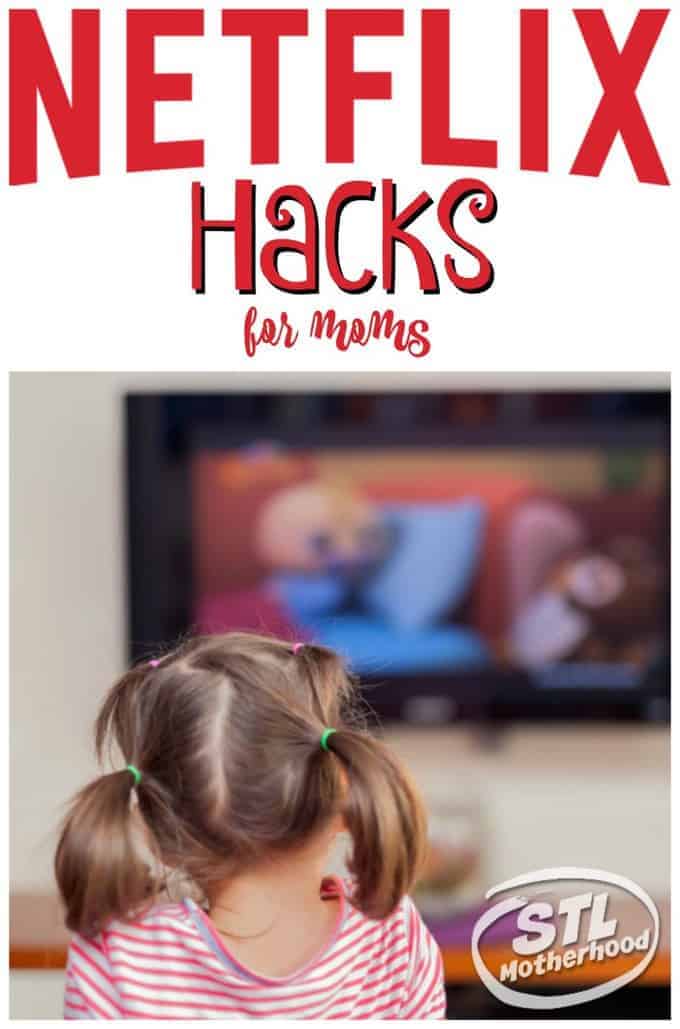 This is my second year partnering with the Netflix #Streamteam, so I knew we were going to be OK without a traditional cable package. Netflix has a great library of movies and original programming so we're pretty set for entertainment. Mitch really loves the further adventures of Hiccup and Toothless in the Dragons cartoons, and the Dawn of the Croods were pretty good too. 
Here's a couple things I've learned to make life after cord cutting easier with Netflix:
1) Test your equipment. I have several ways to access Netflix on the living room TV. We have a Chromecast that lets us use our phones and tablets as a remote. We have a "smart" Blu Ray player and an XBox. I used to get Netflix through the Blu Ray player, but it kept forgetting my password! For the longest time I thought it was a problem with Netflix, until my teen pointed out that he didn't have to sign in when he watched Netflix on his iPad. I switched to the Xbox, and problem solved. Hopefully you don't have a bad disk player too, but the point is you can access Netflix and other streaming services several ways! And they're all a little bit different. Try them out and see which one is easier for you. Do you like the interface on your phone? Want to use a game controller? Do you prefer a tradition remote control?
2) Use those profiles! Netflix allows up to six profiles on one account–each one tailored to your viewing habits. Your profile also remembers what shows you watched, so you can come back to them later. Mitch has the kid's profile, which only allows him to browse the kid approved content. It's also more image heavy, so it makes finding your favorite cartoon a breeze. Ryan's profile is always recommending car shows and standup comedy. My husband's profile remembers where he left on his House marathon. Mine? It's kinda screwy because I used it to find cartoons for Mitch…but I can fix that.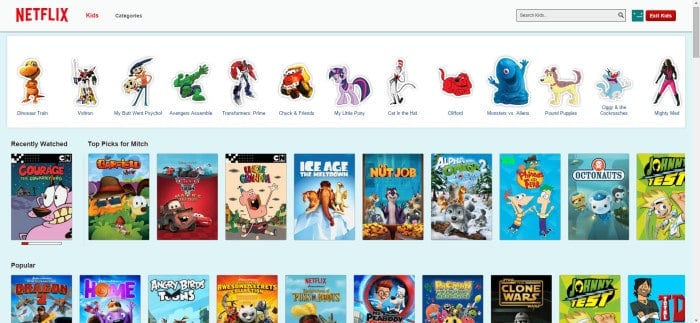 3) Reset your profiles. If you find that your profile isn't recommending the shows YOU want to watch because you watched one too many Magic School Bus episodes with the kiddo…you can fix it. Log onto your Netflix account with a computer to access your full account settings. Get here by clicking your profile photo on the upper right hand side, then click "your account." Under "my profile" click "viewing activity." Now have a delete fest and remove all the cartoons from your history…or whatever is cluttering up your feed. Don't worry, it allows you to delete by series.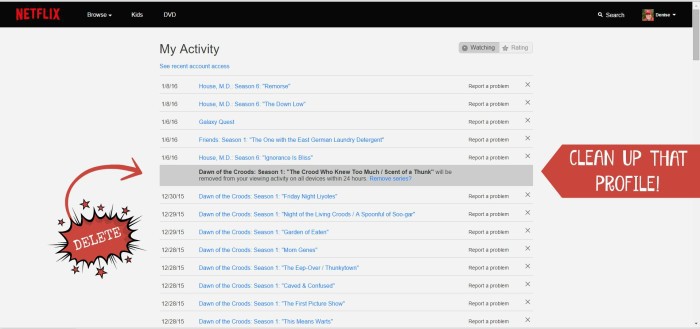 4) Make sure your children's profiles are family friendly. While you're tweaking profiles,make sure you have your kid's profiles set up to filter content. If you check the "Kid" box you'll get the special child friendly interface, like I mentioned above. You can also filter the ratings under "Allowed TV and Movies." There are four settings: For Little Kids Only (G), For Older Kids and Below ( up to PG), For Teens and Below (up to PG-13), and For All Maturity Levels (up to NC-17 and NR). These filters also use the TV ratings of TV-Y to TV-MA. Read more about Netflix ratings here.

5) Set up Parental Controls. If you really want to make sure the kids can't watch R rated (and up!) movies, you can slap a parental control on your family's account. This will keep your kids from logging with an adult's profile and require a pin number to access content above whatever level you set. Of course, that means YOU will have uses the pin number next time you want to watch an R rated movie, too. But if you can't trust your kids to stick to their profile, this will do the trick. Parental controls are in "settings" under "my account."