(Updated 2018)
Once again, Santa will be setting up shop at the St. Louis train museum (aka the National Museum of Transportation) This a great time to take the kids to see the Big Guy–it's a relaxed atmosphere and Santa's time is FREE with your admission to the train museum.
You'll need to bring your own camera–there's no professional Elf Photographer. But that's cool…and cheap!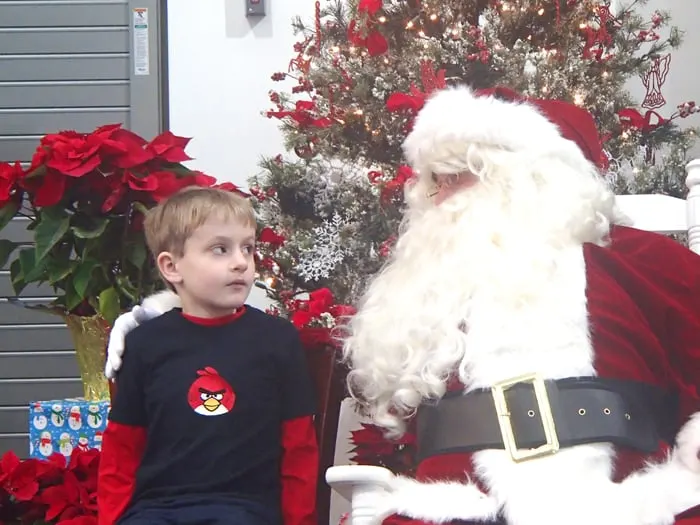 I've taken Mitch to see Santa at the train museum a bunch of times over the years after finding out that "mall Santas" freaked him out.
Santa usually sets up inside the museum visitor center with a nice He was looking good and jolly, and had a nice chair set up in the corner, next to the big Christmas train display in the visitor's center. I was told that Santa was going to set up inside the caboose, which would have been really neat, but it was too cold for kids to stand in line outside to see Santa. I'm going to assume they'll keep him in the visitor's center again this year, since it doesn't look any warmer.
Santa's Hours:
December 1, Saturday, 10:00 am to 2:00 pm
December 8, Saturday, Noon to 4:00 pm
December 15 Saturday, 10:00 am to 2:00 pm
December 22 Saturday, 10:00 am to 2:00 pm
While you're visiting Santa, check out the E. Desmond Lee Holiday Train Exhibit, which is the train display from the old downtown Famous-Barr windows! Macy's kept the display going for a few years, but when they decided stop they donated the trains to a local modeling group, who now maintain the set. (I understand the museum stores it now.) It is an AWESOME blast from the past!
Hopefully you can catch Santa during a warmish weekend so you can take the kids outside and see the big trains. Of course, if you're with the younger set, a visit to the Creation Station is just the thing for a winter's afternoon!