A couple years ago I decided to let go of the traditional "kid with Santa" photo. I know, I know, it's still right there on my Christmas bucket list, but we had already chatted with the big guy on the Polar Express Train. I have this one grainy iPhone photo…rather like a blurry image of the elusive Bigfoot.
I decided this one crappy photo would be enough because it really captured a great memory.
But it wasn't exactly something I could frame and give to Grandma.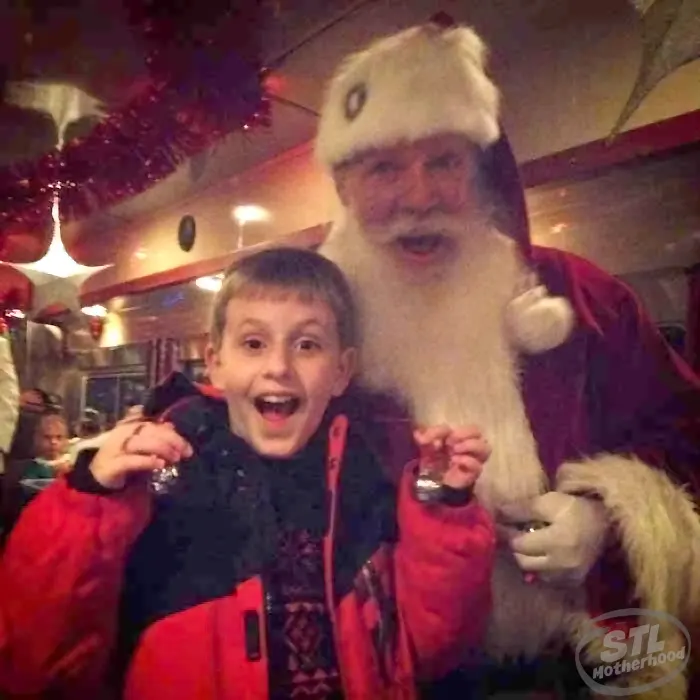 We needed a better Christmas photo. But without Santa.
Creative Alternatives to the Christmas Santa Photo
You might have other reasons you need to skip the Mall Santa. Maybe you have one of those kids who never trusted the big guy. For such a jolly old elf, he sure does scare the crap out kids in person.
Or maybe you're not that ready to sit next to a stranger during cold and flu season. I'm not going to judge.
Don't worry! You can still grab a festive holiday photo of your kids without Santa and make a snazzy custom holiday photobook! Here's a few ideas!
~This post contains affiliate links (including links to Amazon) which may reward me in the event of a sale.~
Photo with the Christmas Tree
A classic photo with your Christmas tree is a no brainer! Get a candid shot of your kid(s) decorating the tree and holding our ornaments. Or for something more Christmas Card worthy, dress up and stand near the tree. Get creative! Put the kids under the tree or peeking through the branches.
Remember the tree isn't the focal point of the photo — your kids are! So it's ok if the tree is out of focus in the background.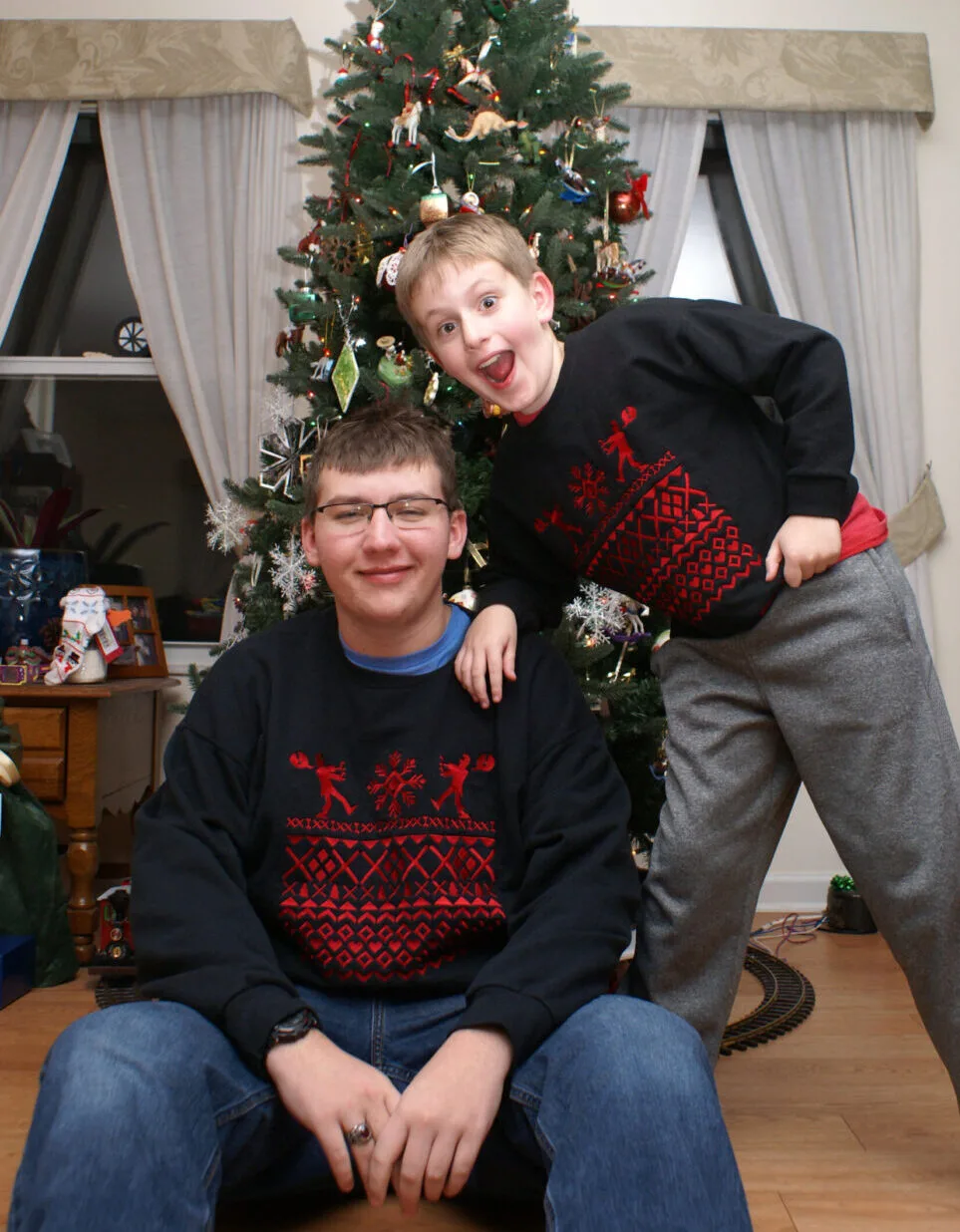 Photo with a LIT Box
Capture the magic of the season with a lit box for a prop! Wrap a box and stash some battery powered lights inside, then have your child look into the box for the photo. You may need to dim the lights in the house for this photo to look it's best.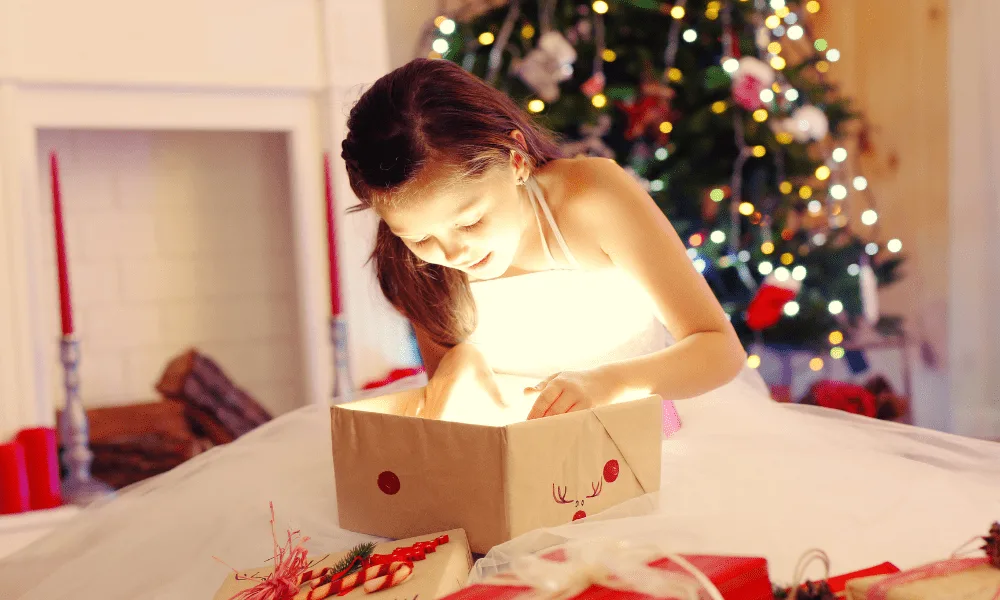 Photo Inside a (big) Gift Box
We've all got Amazon boxes laying around this time of year — why not wrap one up and put your child inside? I mean, don't tape it closed or anything! This shot gets trickier the larger your kid gets, but it's definitely worth it.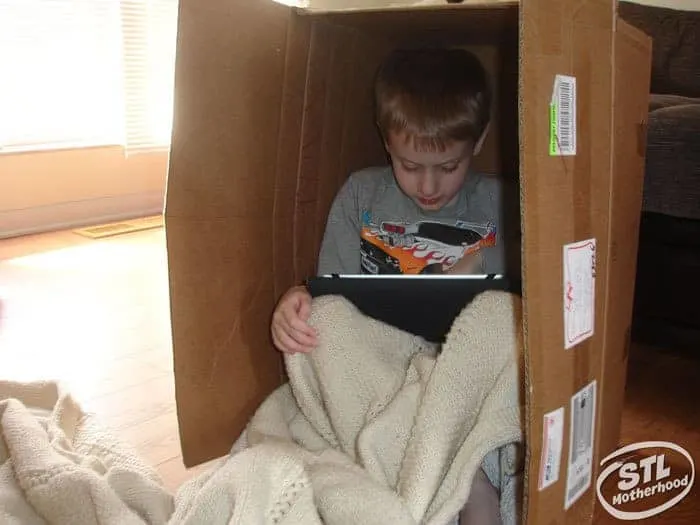 Baking Cookies Photo
Bake cookies with the kids and have your camera handy! Get extra and have them wear a chef's hat or aprons. This is a wonderful way to multitask for the holidays — the kids have fun, everyone gets cookies and mom gets a wonder memory on (digital) film.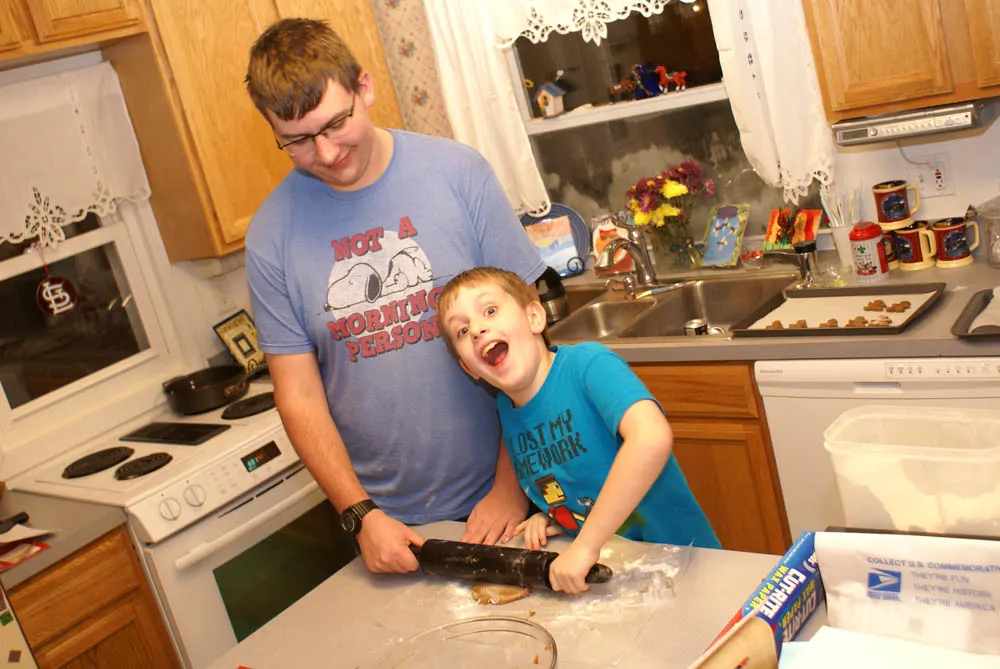 Outdoor Photo with Christmas Lights
Take your kid's outside! Find a holiday light display that looks great in the daytime for natural light, or practice your night time photography at a walkable light event. In my hometown the Botanical Gardens and Zoo are decked out for the holidays and have a lot of great backgrounds for your photo.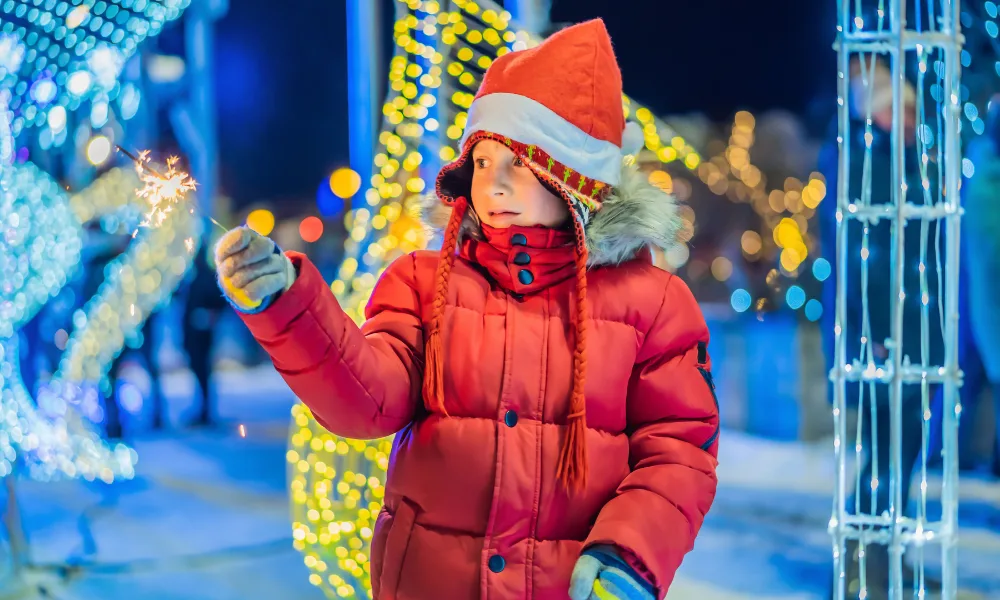 Christmas Concert Photo
Here's one for the band kids — the concert photo! Grab a photo by the tree before (or after) your school's annual Holiday Concert and remember those wonder times making music. Don't they clean up nice?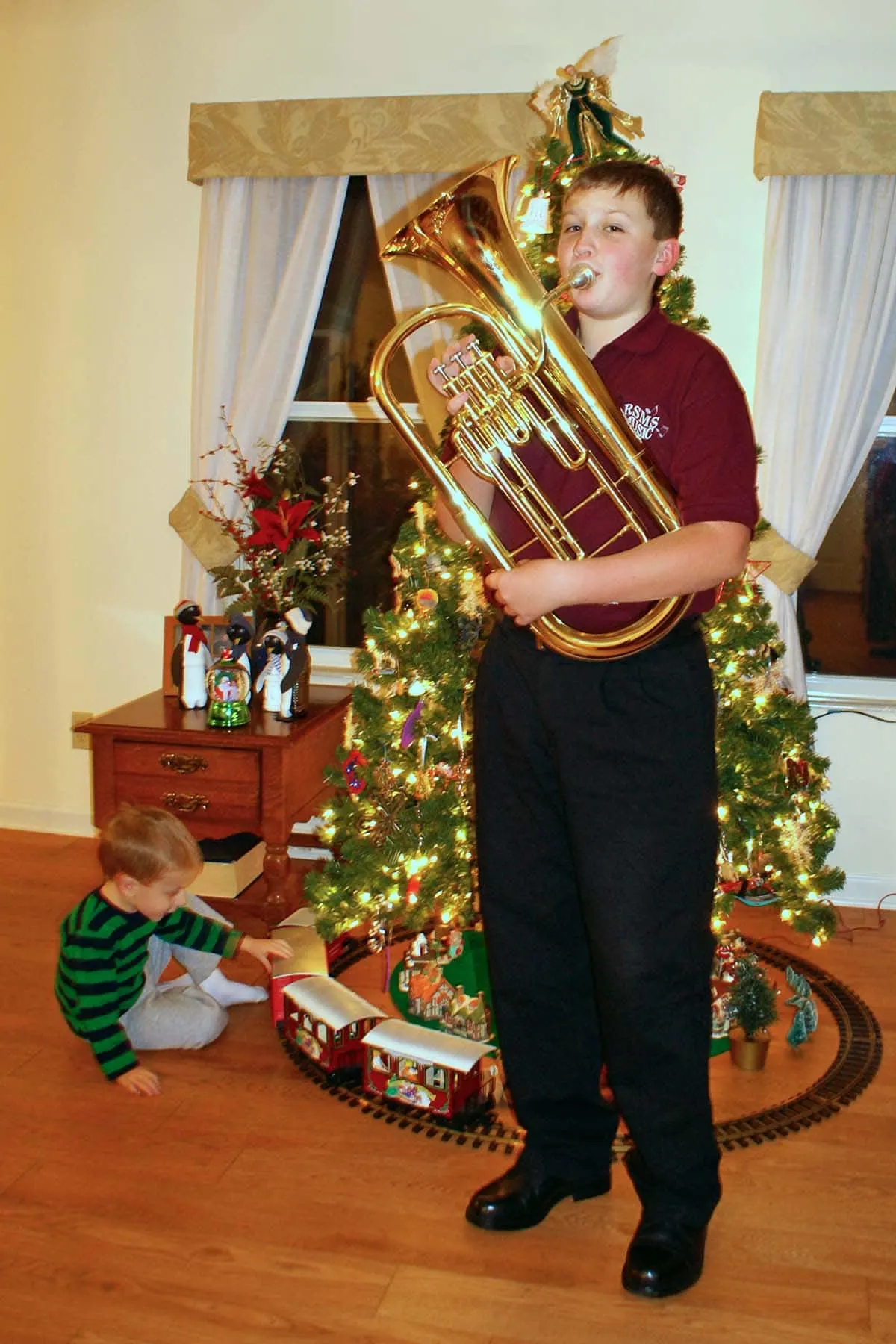 Reading a Book Photo
Stage a photo of your child reading a book by themselves, with siblings, with a parents or heck, even reading to the family pet. Bonus points if it's The Night Before Christmas. This one is easier to pull off with smaller kids because no one needs to be hamming it up for the photo…they can just read.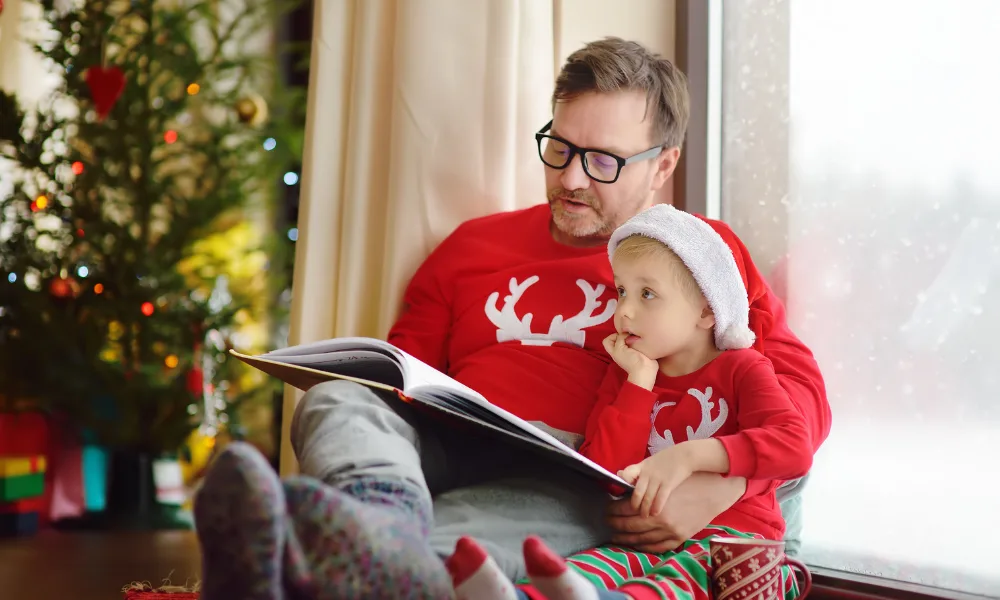 Photo with a Tangle of Twinkle Lights
Here's another low light shot that brings out the Christmas magic! Have your kid hold a tangle of twinkle lights–battery operated are best– close to their face and take the photo. Make sure the rest of the room lights are off or dim for full effect.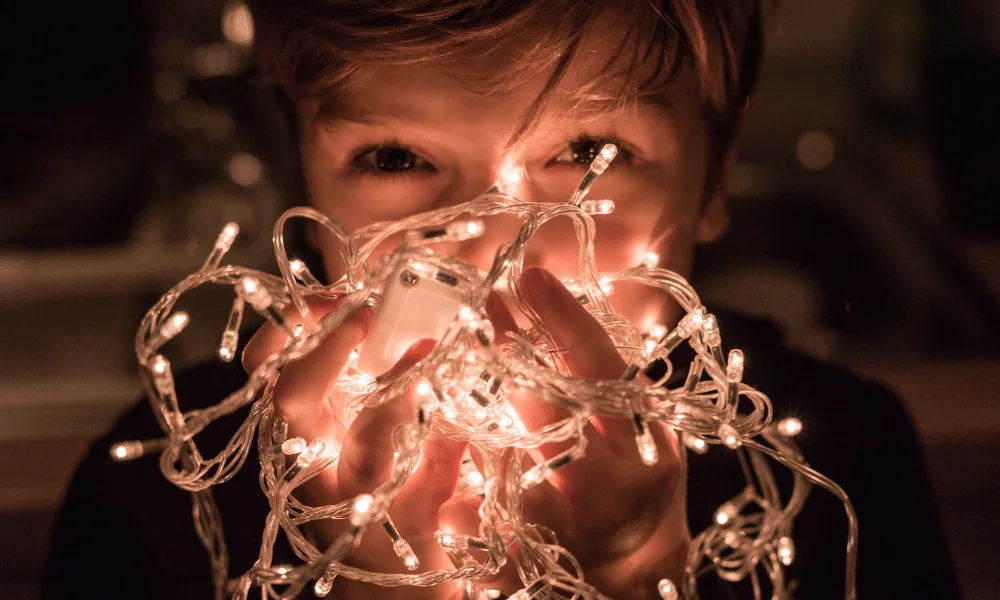 Top Tips for Photographing Kids
My best advice is to let your kids be kids. Don't dress them up in stuffy shirts if this is the only time you see them like that! Ok, maybe ditch the Minecraft shirt with the ketchup stains, but let them be natural.
Get down on their level.
Don't say cheese! Unless you want a cheesy smile. Get the kids talking about something funny, and keep snapping!
Include yourself! Don't be the "mom behind the curtain"! Use your timer, a self stick or grandparent and get in that shot with the kids!