Last year I decided to let go of the traditional Santa photo. I know, I know, I put it on my Christmas bucket list last year, but we already saw the big guy on the Polar Express Train. I have this one grainy shot…rather like a photo of the elusive Bigfoot. I decided that it will do this year, because:
a) Santa was super cool on the train and took a moment to chat with us, just like the real Santa might.
b) I don't want to mess with Mitch's fragile Santa belief by going to the mall to see Santa a second time. What if looks different? What if Mitch calls my bluff? I'm pretty sure my kid is sharp enough to know that Santa is a myth…and polite enough to not to mention it.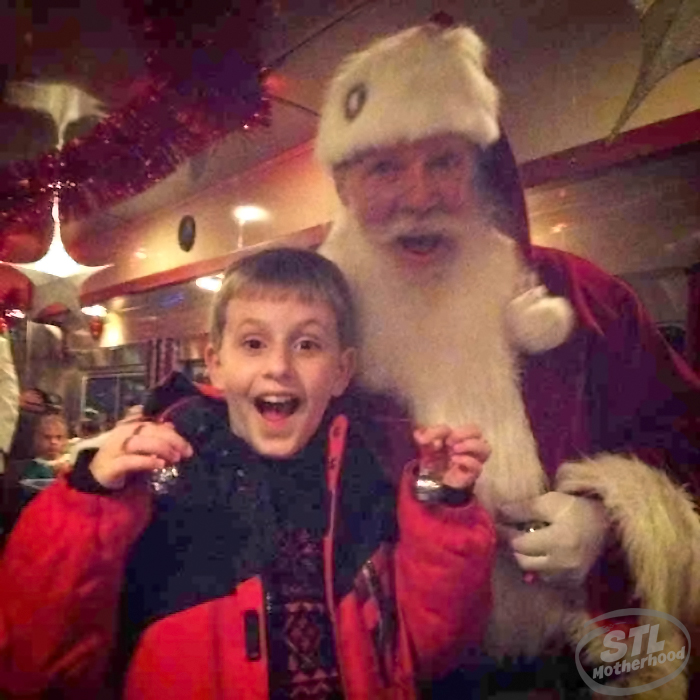 Alternatives to the Santa Photo
I don't know why, but Santa scares the crap out of a lot of kids. There are countless moms with horrible Santa photos tucked away in a scrapbook somewhere. I've gotten pretty lucky, but my boys are laid back. (Well, Mitch isn't exactly laid back, but he gets a kick out of hamming it up for photos.) I've also been an at-home parent for a long time, so when I really wanted a Santa photo we could do it on a Tuesday afternoon…not a crazy Saturday. If you missed your chance for a "perfect" mall Santa photo, don't worry! You can still grab an awesome holiday photo of your kids, DYI style.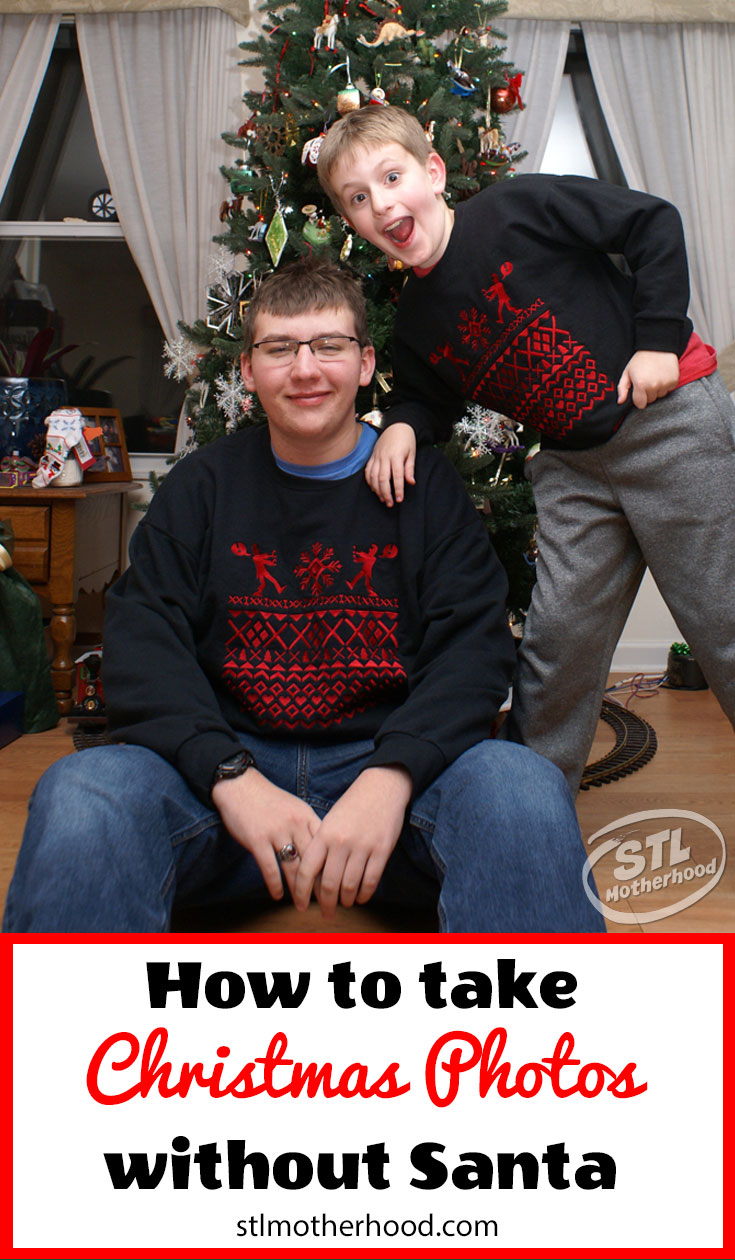 Take a photo with the tree. Duh. But don't just put the kids next to it…how about under it? Through it? Decorating it?
Take a photo with a wrapped gift. Capture the essence of the season by asking your kid to hold up the gift to the camera–after all, aren't we tired of photos of them tearing into presents by now?
Cookie time! Bake cookies with the kids and have your camera handy!
Go to a park! St. Louis is having some weird weather right now…so take advantage and get those kids to the park for an awesome holiday photo. And remember your Ugly Sweaters! The Missouri Botanical Garden is decked out for the holidays–I'm sure you'll find great backgrounds there.
Psst…do you know how to use Photoshop? See that photo up there?? I swapped Ryan's head…I couldn't get both boys to smile well at the same time. Yep, sometimes we cheat…and that's ok.
Get Photography Help NOW
Digital Photography School is fantastic website for people serious about their photos, but who aren't professional photographers. Right now they're offering a free holiday tip book if you sign up for for their newsletter. The book is for people with proper digital cameras, with advice how to diffuse your flash, where to find good lighting and how to pose your family for flattering photos.
The Today Show posted some good tips on getting holiday card worth photos. Best advice here…take a LOT of photos, because quality is hiding in quantity.
Top Tips for Photographing Kids
My best advice is to let your kids be kids. Don't dress them up in stuffy shirts if this is the only time you see them like that! Ok, maybe ditch the Minecraft shirt with the ketchup stains, but let them be natural. 
Get down on their level.
Don't say cheese! Unless you want a cheesy smile. Get the kids talking about something funny, and keep snapping!
Include yourself! Don't be the "mom behind the curtain"! Use your timer, a self stick or grandparent and get in that shot with the kids!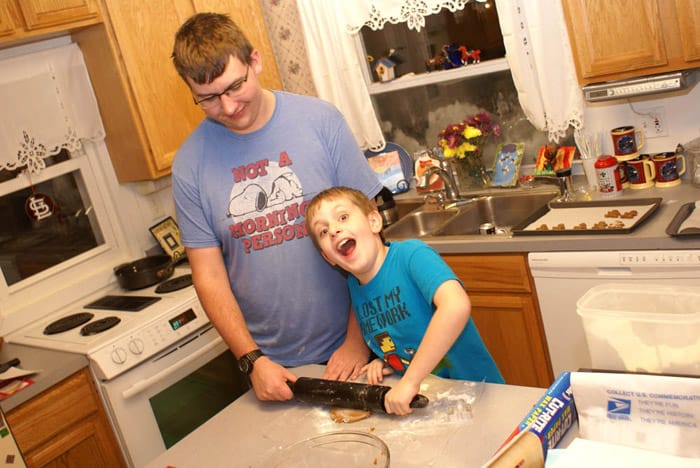 Not sure you can live without a good Santa photo? Here's a complete list of places to find Santa around St. Louis this Christmas time, and here's a list of all the places you can find him and get a free photo!