Lights! Polar Bears! Snow! Ok, I could do without the snow…but it's time to turn up the Christmas Magic and head over to the St. Louis Zoo for it's annual holiday light show: Wild Lights! They're stringing up a MILLION lights around the zoo, along with cute winter displays.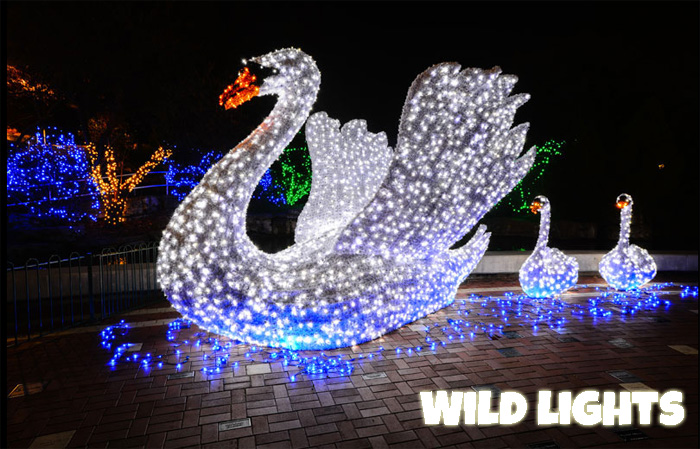 Wild Lights will start up Nov. 23 2018 and run to Dec. 30, 2018. Check with the Zoo's website for exact times–they're open on "select nights" this year, which includes a LOT of weekdays for cheaper admission.
Hours are still 5:30pm to 8:30pm. And remember that 8:30 is when they shut down for the night, so give your family enough time to wander through the display! They stop selling tickets at 8pm, but I doubt that's really enough time to see everything!
Ticket Prices & FREE Parking
Speaking of tickets… tickets will cost more on the weekends. Prices are $8 for members and $9 for non-members Monday to Thursday. On Friday, Saturday and Sunday tickets are $2 more. Kids under 2 are still free anytime. And don't think you can sneak in during the day…they will shut the zoo down at 4pm each day Wild Lights is running and re-open at 5:30pm. But, you get free parking on Wild Lights nights, so that's a big bonus. Both the North and South lots will be open.
Lights…and more!
The Penguin & Puffin Coast and The Insectarium will be the only animal areas open during Wild Lights. (They're letting everyone else get some sleep.) And you bet the gift shops will be open too, so plan on stopping by for cute animal ornaments and stocking stuffers!  You'll be able to purchase S'Mores to roast over a toasty campfire, have some photo ops and of course lots of crafts and games for the kids.
FREEBIE
The carousel and the 4D Theater will both be INCLUDED with your admission to Wild Lights! They're showing the Polar Express, too!
Sensory Night at Wild Lights
December 10 is set aside as a special night for guests on the autism spectrum and anyone who needs a "sensory-friendly experience". There will be quiet areas and staff to assist families. For questions about Sensory Night, please contact [email protected]