Chesterfield Valley is already a hot spot for family fun–I know we'll be making a few runs out that way during summer break to visit the SkyZone, Sports Fusion and Bounce U. We're sure to see a movie at the Mega Screen and me and the moms will do a little outlet mall shopping.
And now we've got a really fun, really fast, new place to eat: Pie Five.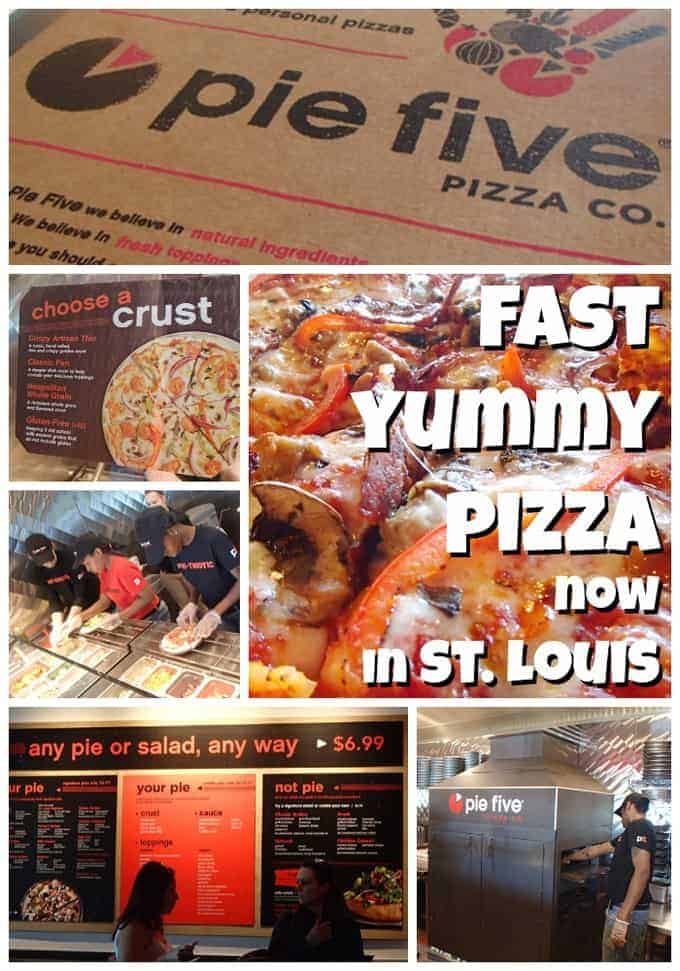 I had a chance to sample Pie Five when they were gearing up and it's really good pizza! But what makes Pie Five a GREAT place for a hungry family is the way they make your pizza! All pizzas are 10-inch personal size, made to order with the toppings YOU want. If your family can never decide between Italian sausage or pepperoni, all the veggies or no veggies at all, thin crust, thick crust…it's no problem. You can have it all. Really. All of it. I haven't seen a mushroom on my pizza in YEARS to avoid family pizza strife. Now I can get a pizza of my own, with all the "yucky" grown up toppings.
How does Pie Five Work?
Simply step up to the counter and let each kid pick their crust and toppings. A friendly server will load up your pizza while you watch–kinda like a sandwich shop. There are 29 toppings and 7 different sauces to choose from! Then they pop it into their super hot oven while you think about salads, dessert and drinks. By the time you've strolled down to the cashier, your pizza is ready for you! It takes about two minutes to bake. Seriously. Two.
And speaking of drinks, they also have one of those Coke Freestyle machines, so the kids can mix up Cherry-Vanilla-Rootbeer-Cokes or whatever. My boys think they're awesome.
Oh, are you avoiding gluten? They've got a gluten free crust–as well as crispy thin, pan and whole grain. (Sorry, the gluten free crust is $2 more.)
If you don't like being overwhelmed with choices, they also have 11 signature styles you can ask for by name. Just for us they have a St. Louis Supreme with a thin crust, "St. Louis Cheese" (wink, wink) and BACON. Oh, it was yummy.
The best part is every pizza is priced the same: $6.99. So feel free to go crazy with the toppings! For $9.99 you can get a combo deal with pizza, salad or dessert and your drink. There's a kid's pizza that's just 6 inches and comes with a single topping for just $3.49.
But is it good?
Yes! The pizza I had recently was super delicious. Pie Five is proud to offer fresh ingredients, including dough that is mixed up on location every day! Just say no to frozen dough!
Can I take it home?
Pie Five is a self-serve sit-down restaurant, so there's no delivery. But you can ask them to put it in a box if you want to take the pizza home or on a picnic.
So where are they located?
Pie Five Pizza is located at 17215 Chesterfield Airport Road in Chesterfield. Call them at 636-778-1903 and check them out online at piefivepizza.com They're between Kaldi's Coffee and Big Shark Bicycle.
Pie Five is still growing! Be on the lookout more Pie Five's in St. Louis soon! I'll keep you posted when they're ready to open! Next up is Richmond Heights off of Hanley Road.