Think taking your kid to a water park is just for sweltering afternoons in July? Think again.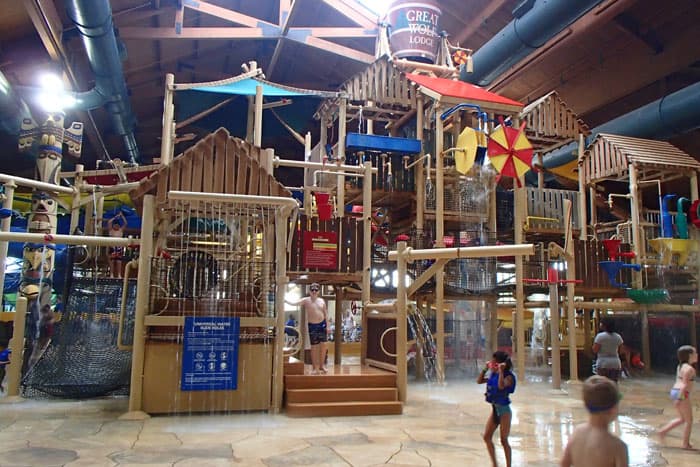 Lemme tell you about a place where your kids can swim and splash–rain or shine, hot or cold. An INDOOR water park that's also a cozy resort–so every kid in the place comes with a parent…not running wild because they've been dropped off for day. A resort where you can relax for the weekend with your family and EVERY room is a family suite. 
Great Wolf Lodge
First, I need to let you know that this post is sponsored. My family was invited out to visit Great Wolf Lodge in Kansas City for a media weekend, free of charge. Their hospitality was awesome, but all opinions here are my own, no matter how many danish they gave me!
Great Wolf Lodge is, above all things, a premium indoor water park. They have four water slides at the Kansas City location, plus a lazy river, a play fort for all ages of kids, an activity pool, a little kid pool and TWO, count 'em, two hot tubs–one for adults, one for the whole family.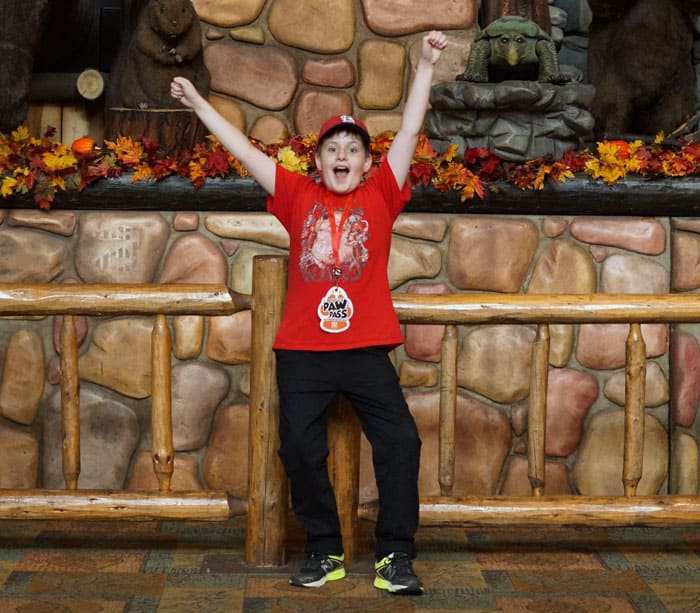 Great Wolf Lodge Kansas City
Before I dive into this, let me explain the concept here. Great Wolf Lodge is a very nice chain of family hotels with attached water parks. They are perfect for weekend getaways or a full vacation. Great Wolf is a destination–not a road side motel. The Kansas City resort is about 4 hours from St. Louis–far enough to feel like you've gotten away from home, but totally drivable in an evening. We left right after school on a Friday and got there around 8pm.
Your stay includes unlimited access to the water park, but they have other amenities to keep you busy for extra: an arcade, mini golf, a few shops, a nice sit down restaurant, a pastry & ice cream shop, a pizza counter and pool side burger stand. There's also two bars, but they're low key–one is tucked in a back corner of the water park, the other is in the resort restaurant.
The KC location is located in a suburban shopping area near the Kansas City Speedway and a huge soccer complex. There's an outlet mall nearby, plus a Target and Walmart and lots of restaurants. When we stayed over the weekend we popped out for cookies and soda to stock our mini fridge, and had dinner at 5 Guys Burgers in the mall. 
But you could totally spend your whole weekend in the resort!
Great Wolf Lodge Water Slides
If you're reading this, you're probably all about the water slides, right? So let's start there!
There's four water slides, all accessible from the indoor pool area. The slides are color coded, and a staffer will measure your kid before you enter the water park and assign them a color coded wristband so they know which slides are for them. If you have older kids, you're free to relax poolside and not worry about kiddos getting on a slide that too advanced for them. The staffers at the slides are very good and will check the wrist bands to make sure everyone goes where they're supposed to go…and not where they aren't!
Totem Towers
Totem Towers (actually 2 slides) is a "body slide" for all ages, and they're located at the top of the Fort Mackenzie play area. Make your way to the top of the play structure then slide down to the bottom!
Triple Twist
This is thrilling slide with funnels and tubes that leave the building and zoom back in. You ride a two person raft–everyone has to be over 48 inches for this one!
Alberta Falls
Alberta Falls is a tandem tube ride and kids under 42 inches can ride with someone over 14. If you're over 48 inches you can choose to ride it by yourself, but it's more fun with a buddy!
Howling Wolf is the biggest slide and exclusive to Kansas City! You ride this slide in a 2-3 person raft.  Kids under 48 inches have to ride with someone over 14. It's more of a thrill ride and perfect for the tweens and teens.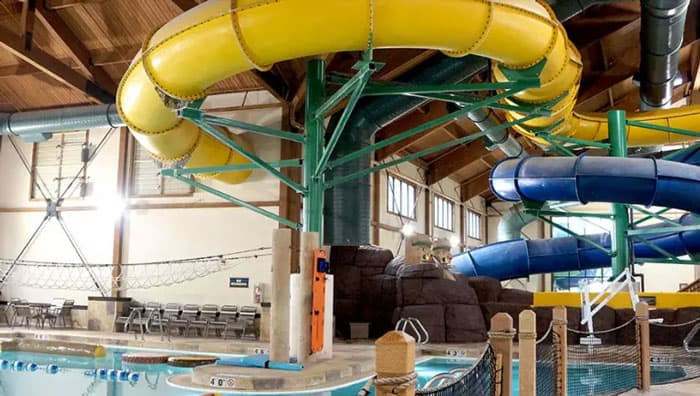 So while my hubs and the teen rode the water slides again and again and again…Mitch and I cruised Crooked Creek–the lazy river tube float–played in Fort Mackenzie, and splashed around the Chinook Cove activity pool. After a while we all piled into the family zone hot tub, which is kept at a safe but toasty bath water temperature. 
If you visit Great Wolf in Kansas City during the summer season, you'll also get to visit Raccoon Lagoon, their outdoor activity pool. But ALL THE WATER SLIDES and all the fun things I just listed are indoors where it's always 84 degrees and no sunblock required.
And naturally, the water park included with your stay at Great Wolf Lodge.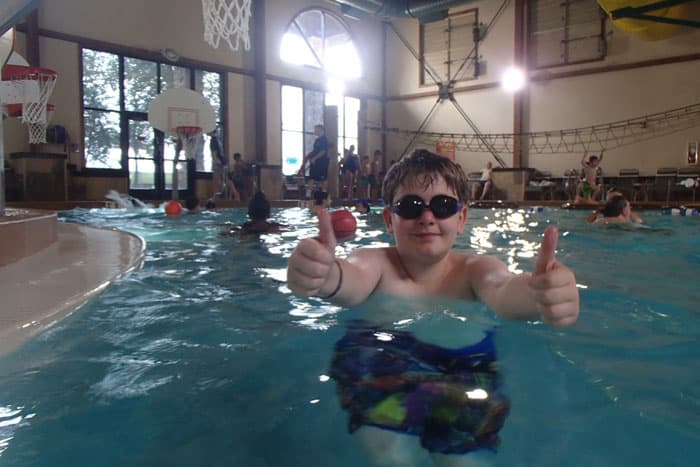 More than a Water Park
Great Wolf Lodge is so much MORE than just a water park. It's a complete family resort–yes, I said FAMILY resort! Everyone there is with kids, and kids are seriously catered to by Great Wolf staff.
The resort is really focused on keeping the little ones happy. Now I'll be honest, at first I was worried that my family was a bit old for this place. They have a LOT of fun set up for younger kids: easy crafts breaks, story times and nightly PJ dance parties. You can also make a stuffed animal to take home or schedule some time with a daughter in the Kid Spa. (Mitch totally took home two new plushy friends.)
But they also have a Mini Golf course, a candy shop, a 24 hour arcade and…MagiQuest. Mitch was kept quite busy and my teen was happy to hang out on the water slides and in arcade. 
MagiQuest at Great Wolf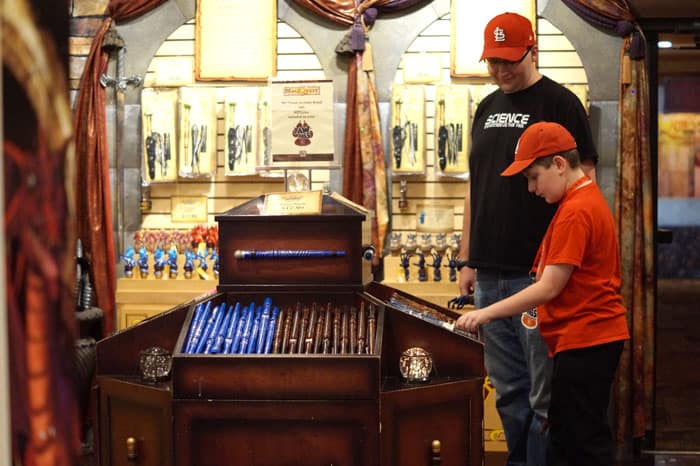 MagiQuest is just as popular as the water park for most kids! It's basically an electronic scavenger hunt where kids can adventure around the central part of the hotel with a magic wand zapping things. Kids use the wand to interact with magical creatures on computer screens and artwork, talking treasure chests and more.
To play the game you'll need to buy a wand which tracks your score in the resort's computer–anyone can use the wand, but the wand is only linked to one account. When you buy the wand the clerk will set it up with a gamer tag to use–an alias your kid uses to play the MagiQuest game. Anyone can look up the scores, so pick something fun but non-identifying. 
(Note: your wand and account are good forever–you can bring the wand back to play again on another visit.)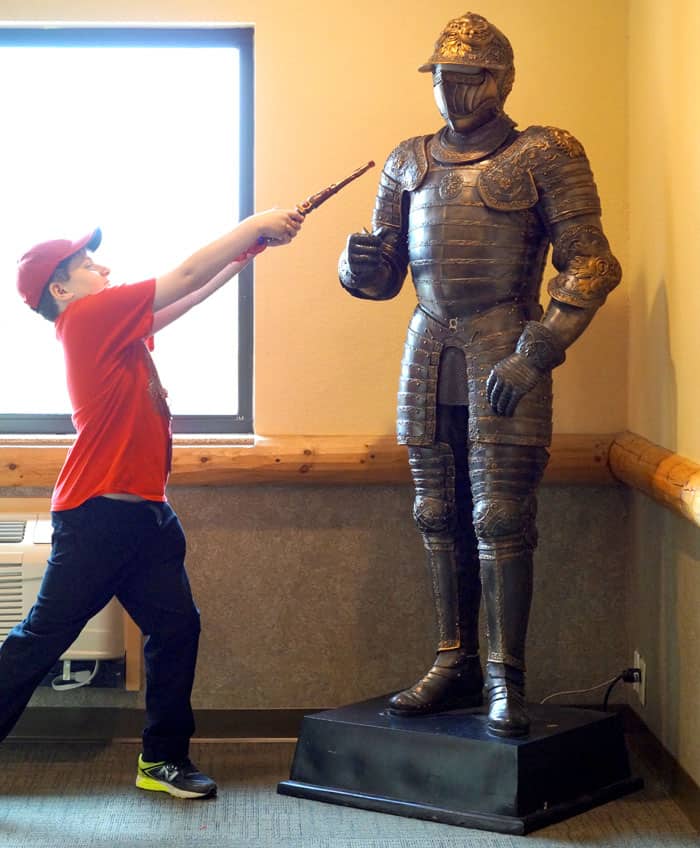 The real magic in MagiQuest is that the game keeps kids running up and down the stairs of the resort as it's spread out on several floors. Parents can trail along behind, or if you've got older kids just hang out in the lobby. It's a great way to tire out some excited kids!
And before you groan at the thought of herds of children running about the hotel waving wands, let me assure you of a few things: First, the game is shut down overnight so no one is tempted to play during quiet hours. Second, the game playing area is concentrated around the center of the hotel so kids are not running by guest rooms.
MagiQuest is optional and not included with your stay. Wands start at $15.99 and the game itself is $13.99. Once you pay for the game your wand is activated and you can play until you check out of the hotel. The wands make a pretty cool souvenir too!
Northern Lights Arcade
The 24-hour Arcade is pretty cool and I spent a good chunk of time there with the boys. Like any modern arcade you buy a card full of "tokens" then swipe the card where you want to play. Most of the games are set up to give you tickets that you can trade in for silly prizes at the arcade's counter.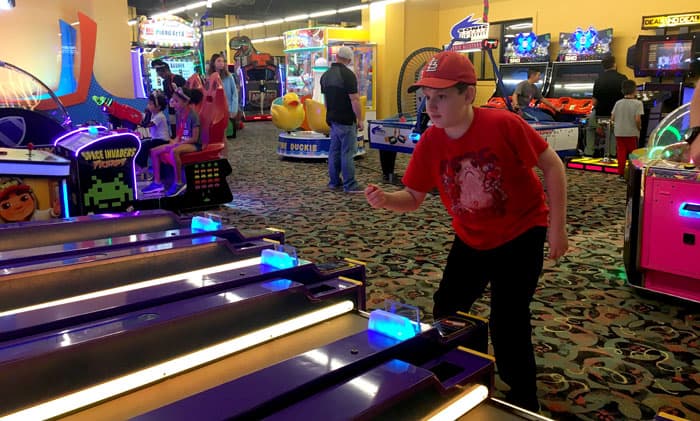 Even though my kids have had pc and Xbox games their whole life, there's still some extra fun about an arcade full of skeet ball and over-sized Space Invaders.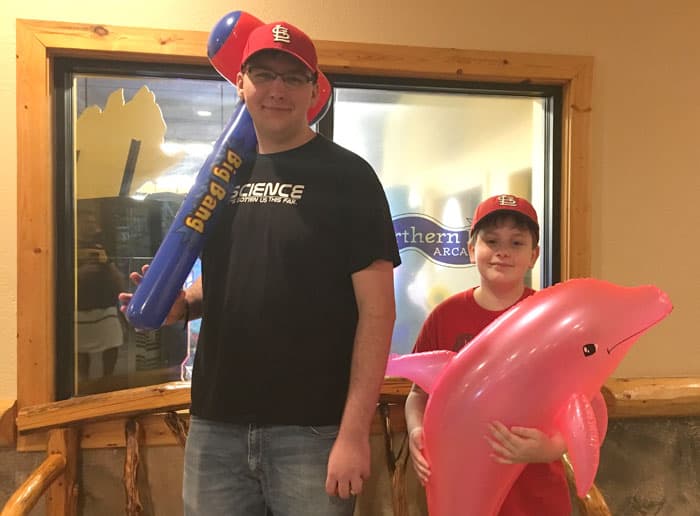 Howl in One Mini Golf
The mini golf course is pretty standard, but was a fun change of pace. The weather was dicey, so it wasn't staffed…we had to pick up our clubs from the hotel gift shop then walk around to the course. 

Creation Station and Scoops Spa
Being a boy mom we didn't try out the spa, but I'm told it's a place where you can have your nails done, enjoy a chocolate facial and wear a sparkly crown.
We DID however do the Creation Station, which shares space with the spa! Here you can pick out a mascot to stuff Build-a-Bear style, then pick out an outfit for your cuddly character to wear home.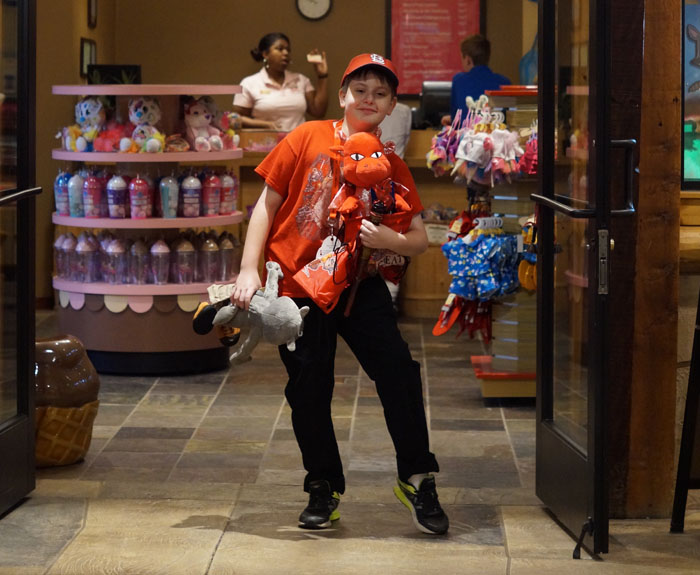 Save with a Paw Pass
Now that's a lot of extras, and no one wants to over spend while spoiling their kids. That's were the Paw Pass comes in! The pass gives your kid a little bit of everything for one discounted price!
The Paw Pass is $69.99 and includes:
One MagiQuest game
Choice of classic or color wand, standard topper, Magi belt or compass
One Creation Station animal (outfit not included)
One 12 oz. candy cup
One pair of Great Wolf Lodge goggles
One Glitz glitter tattoo
One Leather Treaty bracelet
One Paw Points game card ($5)
One round of Howl in One Mini Golf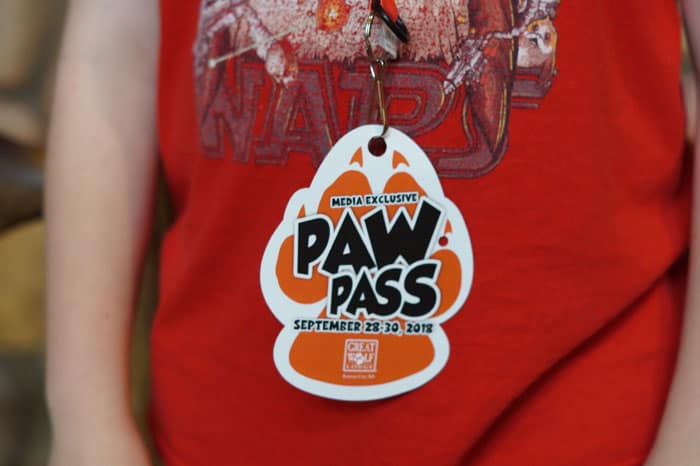 Dining At Great Wolf
Great Wolf Lodge at Kansas City has a nice sit down restaurant (Camp Critter Bar & Grille) plus a pastry/ice cream shop, pizza spot and a lunch counter by the pool. 
Camp Critter Bar & Grille is open from Breakfast to Dinner. They do an awesome breakfast buffet in the mornings and fabulous food from burgers to steak the rest of the day. Portions are hearty and the service is excellent. Look at these ribs my teen ordered! YUM!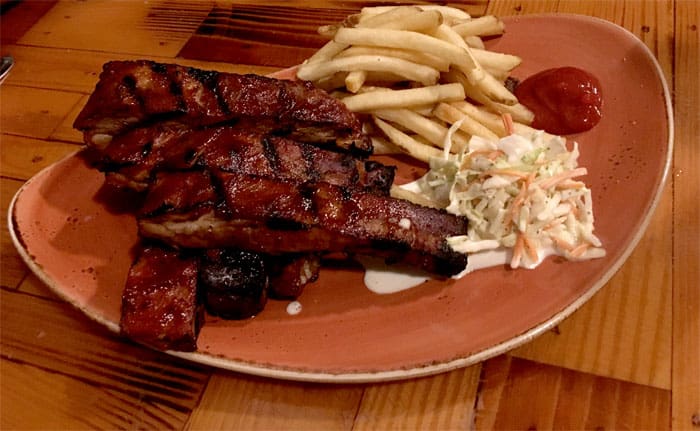 Hungry as a Wolf is a pizza…cart? Kiosk? Stand? Basically, there's a counter just outside the main restaurant where you can order up pizza, pasta and salads carry out style. We did this for lunch and the pizza was ready in about 15 minutes. There's tables in the lobby area where you can take your pizza, or you're welcome to take it to the pool or back to your room.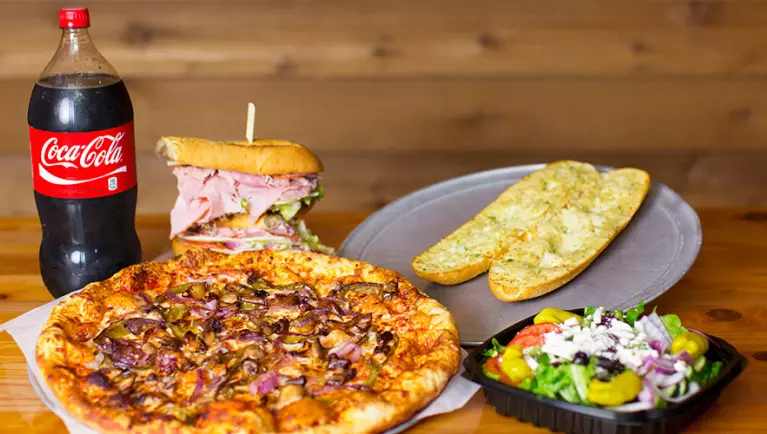 Buckets Incredible Craveables is located inside the water park if you want to grab lunch without toweling off first! Don't worry, there's a lot of chairs and even tables around the pool! They have burgers, hot dogs, salads, snacks and ice cream.
Bear Paw Sweets & Eats is place for Starbucks coffee, pastries, cupcakes and fudge. I saw quite a few mama bears in their PJs grabbing coffee here Saturday morning!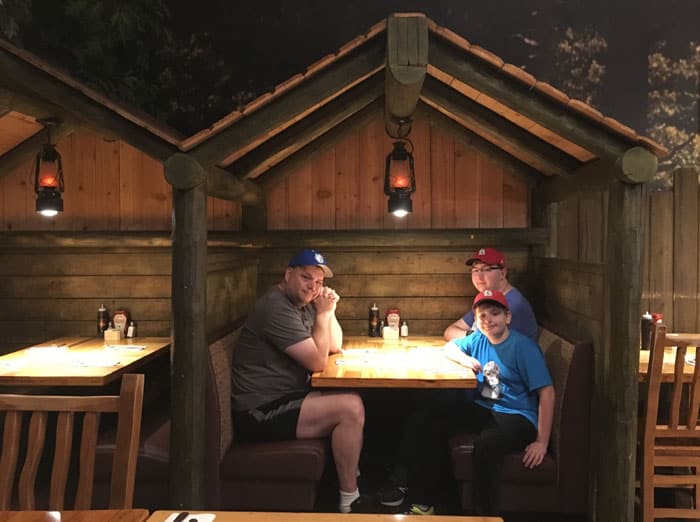 Great Wolf also offers a Wine Down Service! You can order it through Guest Services and they'll bring a bottle of wine and a culinary treat to your room after 8pm. We did chocolate covered strawberries with a bottle of Prosecco. If you've got little ones who are actually in bed at 8:30, the Wine Down is a nice treat for mom & dad. However, I've got older kids so I was pretty much forced to share the strawberries with them. 😉 Yes, they were really good.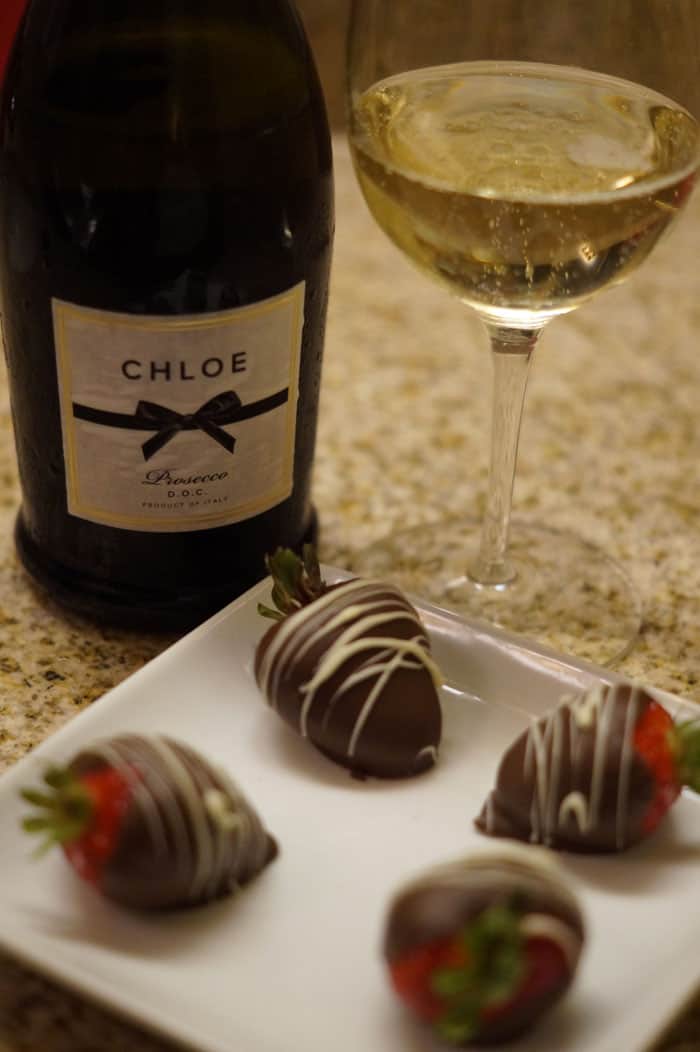 Great Wolf Suites
Now that I've told you about all the fun we had here, I should probably throw in a word about the room, right? Basically, every room in the hotel is a suite because this is a FAMILY resort. 
We stayed in a Family Suite, which is the basic unit. It has two queen sized beds and sofa sleeper. Mitch was happy to find the sofa sleeper because he didn't want to share a bed with his brother and get cooties. Seriously, the kid would rather sleep on the floor than share a bed…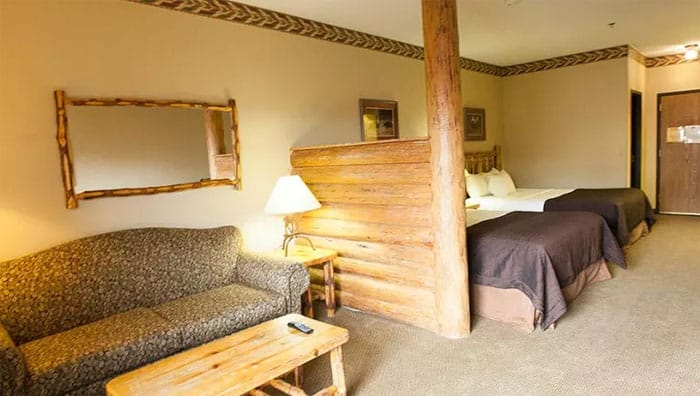 The room was nice and clean and pretty much what you'd expect. The bathroom had just the tub and toilet, with the sink being out in the suite. There was a little TV which you could watch from either the sofa or the bed, a mini fridge, a microwave and a balcony. You can't see the nice dresser with lot of drawers or the table with two chairs in this photo, but they're there. My only complaint is that the lighting is pretty much terrible at the sink mirror–I looked like some kind of freak show while I tried to put on makeup. 
If you're wanting a little more adventure in your room you can upgrade to a themed suite. Great Wolf has a three choices: KidKamp, KidCabin and Wolf Den. These rooms have one queen bed for the parents plus bunk beds tucked into a tent, cabin or even a cave. These rooms are great for bigger families and kids who don't want to share a bed with their siblings…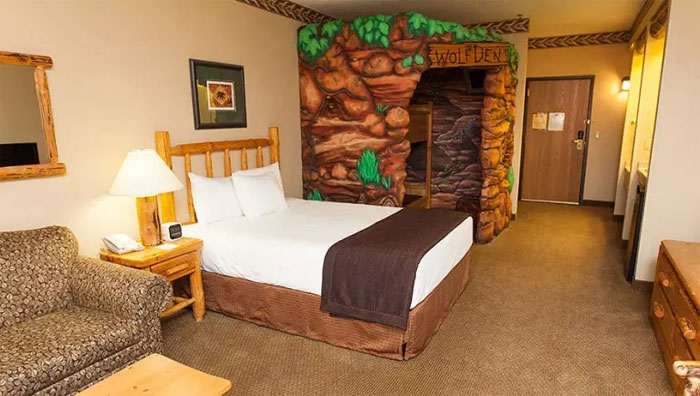 The suites also have a sofa sleeper so you can fit up to 4 to 7 people in a themed room!
Loft Suites
If you've got a big party or you're bringing more adults, you might want to reserve a Loft or Majestic Bear Suite. These rooms have three queens or two queens and king, with sleeping areas that are more separate.
Room Rates
I'm gonna be honest with you, room rates are hard to nail down. It's gonna depend if you're visiting during peak time or off season…and there's TONS of special offers you can use! I clicked around the site and prices are right around $220 a night in a family suite and $300 a night in a themed suite. Remember, this price includes your water park access too. You can get your price down as low as $84 a night if you plan a couple months in advance AND stay three nights.