We love us a good homemade Halloween costume around here, but we don't always have the time to make something elaborate like this tricked out Lego Star Wars costume.
Besides, most schools don't allow kids to celebrate Halloween anymore! Unless you've got a party to go to, your child will only need a costume for trick-or-treating. Why go to a ton of trouble for a costume that will be wore once?
I can proudly say that all of my kid's costumes, except for TWO, have been homemade. That's 18 costumes over the last 15 years. Ok, I did enlist Grandma's help for Mitch's lamb suit and Ryan's Knight costumes. But many years we've made super simple costumes using nothing more than sweat pants, a hoodie, felt and glue.
Sweat suit costumes are really great because it allows for layering! In St. Louis you never know what kind of weather we're getting on Halloween until Oct. 30.
(Need more ideas? He's another 30 or so costumes you can do super quick!)
Skeletons!
Last year the both boys wanted to be scary (a first for Mitch) so I made them both skeleton costumes. I was feeling really lazy last year so we made these from a mix of store bought and homemade parts. We used a store bought skeleton jacket for Mitch from the boy's department–not the costume area. (Though I can't imagine letting my kindergartener wear this jacket the rest of the year!) The rest of the costume was made by cutting out simple bone shapes from white felt and sticking them to the pants and jackets with spray fabric glue.
Truthfully, the glue didn't stick all that great, but it held up long enough for Trick-or-Treating, which was all we needed.
I would have finished the costumes with makeup but Ryan refused, saying it was dark anyway. If they had been going to a party, white makeup on his face with some black accents would have finished the look.
Bats!
One of my first costumes for Ryan was a bat–back then I liked to dress up with him, so we went as a mama and baby bat. I purchased black hoodies for both of us and used black pants we already owned. The ears were cut from felt and hand-stitched to the hood. The wings were sewn from black cotton fabric and stitched to the arms of the jacket. Even simpler wings could be cut from a heavy black trash bag if you don't want to/can't sew.
The best part of this costume is that after Halloween the wings and ears can be removed and the suit reused.
Puppy!
Ryan was still in daycare when I made the puppy and mother dog costumes for us. I wore mine to work and everyone thought I was a cow, so I guess if you have an undying urge to be a heifer for Halloween you can tweak this a bit. Maybe add horns and an udder?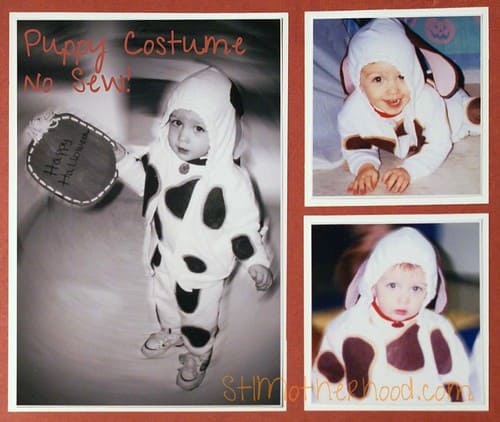 Anyway, this one used a white hoodie and sweatpants with brown spots glued on. Go for smaller black dots if you want to be a Dalmatian–we were going for the beagle look. I hand stitched the ears on to the hood and made a collar from red ribbon.
Mummy!
The year I went as a mummy was a low point in costume making for us. Ryan wanted nothing more than to be a Power Ranger that year and it was cheaper to buy him a plastic costume than make it. (Seriously, how was I going to make that helmet?) I flatly refused to be the Pink Power Ranger with him so I opted for our first non-matching costume…I went as his Mummy. (Get it?! I was his Mummy!) Basically, I wore a white turtle neck and white long underwear as the base. Sweat pants would be too bulky for this costume. I cut white cheese cloth into strips and wrapped them around the shirt and gave them a quick stitch to hold it together. For my arms and legs I used safety pins to hold the ends in place.
Unfortunately the costume started to unravel halfway through our Trick-or-Treat tour and by the time I got home my butt was hanging out of the costume. Oh well. It was dark.
A note about fabric glue:
Not all glues are equal, and no fabric glue is totally permanent. The puppy suit came apart in the wash (he got juice on it during a daycare party) and needed a quick repair job before Halloween night. However, if you make the suit "temporary" you can pull the pieces apart and wear the jacket and pants as normal clothes in November. I'm not a glue expert, so read the directions first and use caution.
Need another great idea for a Halloween costume? I've got 31 No Sew Halloween Costumes right here!