A good Pinterest worthy Halloween costume for your kid does NOT have to cost you an arm and a leg! Don't be tempted to browse that big box store costume aisle–you know everything there is either cheap or sleazy. Or both.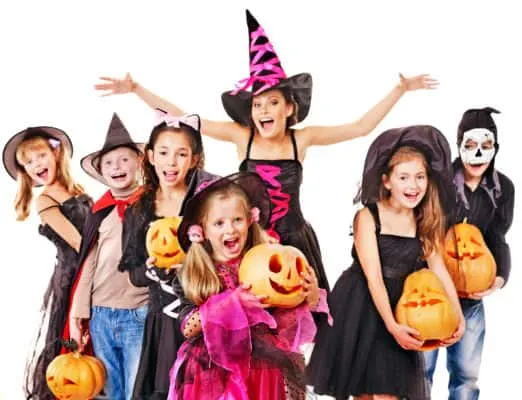 Yes, you really can make an awesome kid's costume that your kid is proud to wear to that Boo at the Zoo, even if you're all thumbs and don't own a sewing machine.
I've made a list of 31 costumes you can make at home and your kids are happy to wear. Who knows, maybe they'll be so grateful, they share their chocolate with you!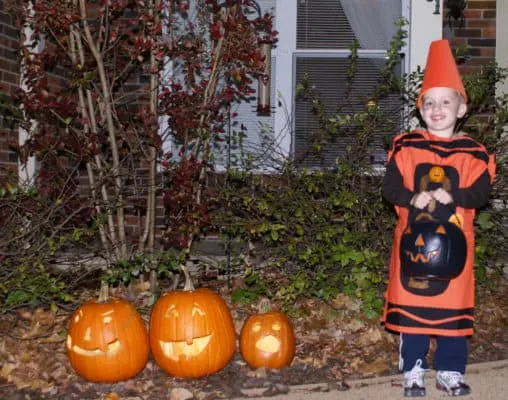 Don't let your kid miss out on the fun and creativity of a homemade Halloween costume. Grab your glue gun and let's get crafting with these awesome DIY Halloween Costumes!
Stanley and Gloria
I don't have a proper tutorial for this one (yet??) but you KNOW this costume will be a hit in St. Louis. If you search the internet you'll see a lot of couples from previous Stanley Champ teams, but always with the girl as The Cup. I'm thinking for a St. Louis twist we make the guy Stanley…and the girl is an 80's Gloria. Whatcha think?
Frozen/Princess Costumes
Super Simple No-Sew Elsa Costume (Frozen) Frozen 2 is coming out this fall, so you know everyone will want to be Elsa again! Here's a version you can make with a t-shirt, some fabric, glue and tape.
DIY Anna Costume (Frozen) You'll have to sew just a tiny bit, but it's still very easy.
No Sew Kristoff (Frozen) Got a brother to be Anna's side kick? Hey, boys like Frozen too.
Easy Olfa Costume (Frozen) This is an almost no sew costume with a hoodie as the base.
Princess Peach: Use the tips on accessories to make ANY sort of princess.
No Sew Snow White Costume: Another costume that you can switch up the colors and make pretty much any princess!
Crayon Costume
Crayon Costume: Mitch was a crayon one year too! Here's a simple way to make one!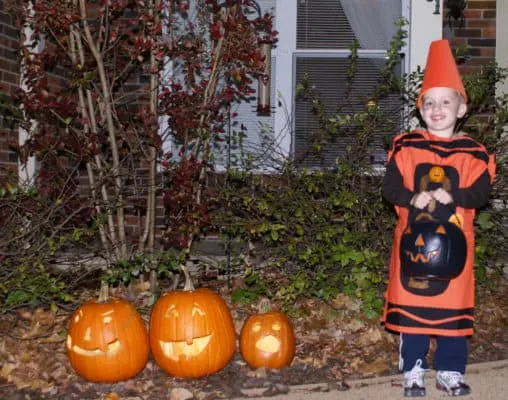 Want to be a WHOLE BOX of crayons? Watch the YouTube above. 😉
Hero Costumes
Captain America and Thor You might need to find the helmet in the toy aisle, but otherwise this is all paint and sweat shirt. The example is on a small kid, but can be easily scaled up.
Wonder Woman: Made with glue, tulle and a Wonder Woman t-shirt.
Animal Costumes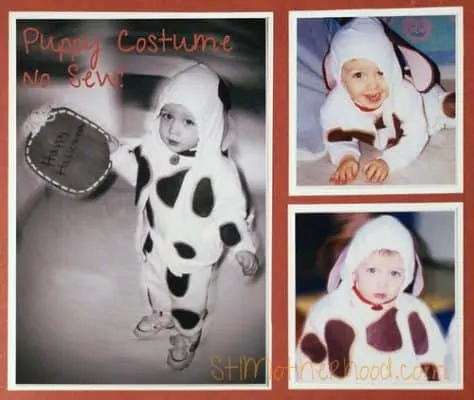 No Sew Puppy From my own collection, a hoodie puppy. Or cow. You choose.
Easy Hoodie Bat Costume One more, a hoodie bat costume. And yeah, click through to sees me as the momma bat.
DIY Dinosaur Another hoodie costume made with gluing felt to a hoodie.
Beautiful Butterfly Add these simple "wings" to a pretty dress and you're ready to go. Could also work for as a fairy accessory.
Baby Spider on a Mommy Web Ok, it's Martha Stewart. But it's really easy with very little needle work. And oh so cute.
No Sew Star Wars
Jedi: Did you know you can whip up a Jedi costume without sewing a single stitch? Plus, it gives you an excuse to make those pool noodle light sabers!
5 Star Wars characters: Han Solo, Classic Princess Leia, Padme, Jedi, Queen Amidala
Classic Skeletons & Ghosts
No Sew Skeleton My boys were skeletons one year–here's their costumes, made with sweats, felt and glue.
Ghost: I love this no sew ghost costume! No, you're not gonna put a sheet over your kid's head so they become a spooky tripping hazard!
Mad Scientist
A Mad Scientist is pretty easy–we threw one together with a run to the hardware store plus a cheap lab coat from the Halloween aisle! If your kid is small, you can get away with making the "lab coat" from an adult white button down shirt.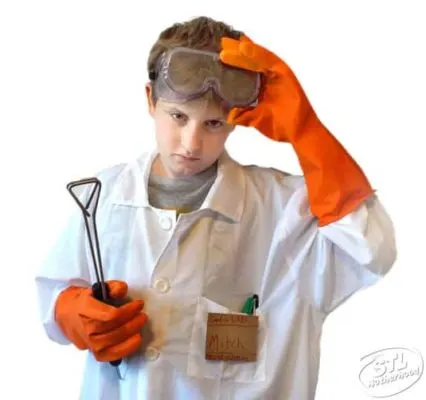 You can get fancy and follow this DIY for a Mad Scientist–holding his own head! It's still a no sew costume and pretty cool!
Baby Shark & Sharknado
Shark What can't you make from a sweat suit? Felt teeth and a grey hoodie is all you need.
Jet Pack 2 ways
Sci-Fi Jet Pack A really cool "jet pack" for your kid.
Bonus Costume: Minecraft Creeper! I didn't want to include this in the list because it's not exactly easy. It took me all freakin' day to hot glue squares of felt to Mitch's sweat suit…but it is pretty cool.