I've been looking into fun ways for the kids to spend summer and found a real gem! My local SkyZone is hosting a Summer Camp! Score!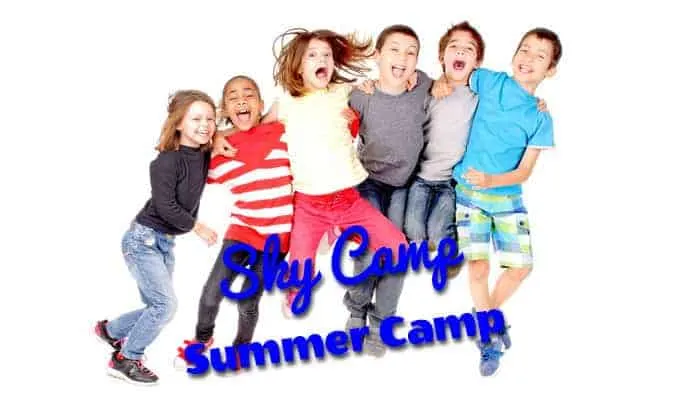 Day camp at SkyZone is a real treat! Not only is it weather proof and bug free (you know, being all indoors) it's also incredibly active! Your kids will be jumping and playing games all day long, burning off tons of summer energy while have more fun than you can shake a stick at!
This post is sponsored by SkyZone, the super fun trampoline park that makes even my couch potato son work up a good sweat. Our opinions are our own.
Early Bird
Save your kid's spot at Sky Camp Fenton before June 1 and get a $25 gift card! Because, seriously, who can get enough of this place?!
Summer Camp at SkyZone
Camp is from 8am to 3pm and includes a camp shirt, Sky socks, lunch and a snack.
There are three weeks to pick from in June and July. Can't fit in a whole week, but want to sample the fun? Book a single day of Sky Camp!
Camp Sky Zone
June 19th – 23rd
July 10th – 14th
July 31st – August 4th
Camp Sky is $199 for a week and $50 for a single day. Got more than one kid who want to jump around? Ask for the sibling discount and save $50!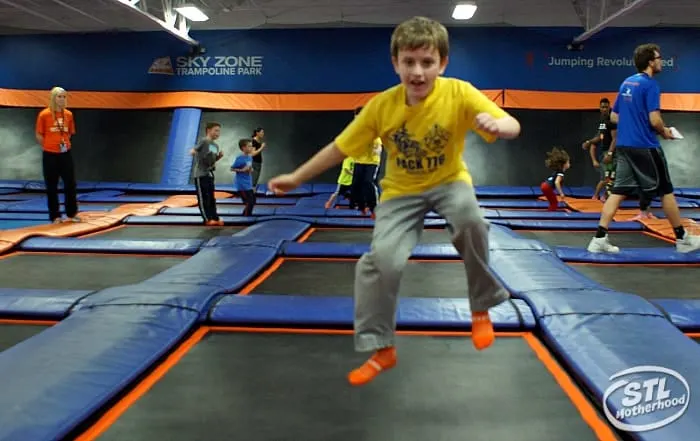 Book Sky Camp NOW
I got the scoop on Sky Camp before it even hit their website, so if you want to book your kid's spot RIGHT NOW you'll need to call them up at 636-364-4444 to book your dates! I'll update this post as soon as I have link to their online booking. Want more info about all the other fun stuff happening at SkyZone Fenton? Check out their website!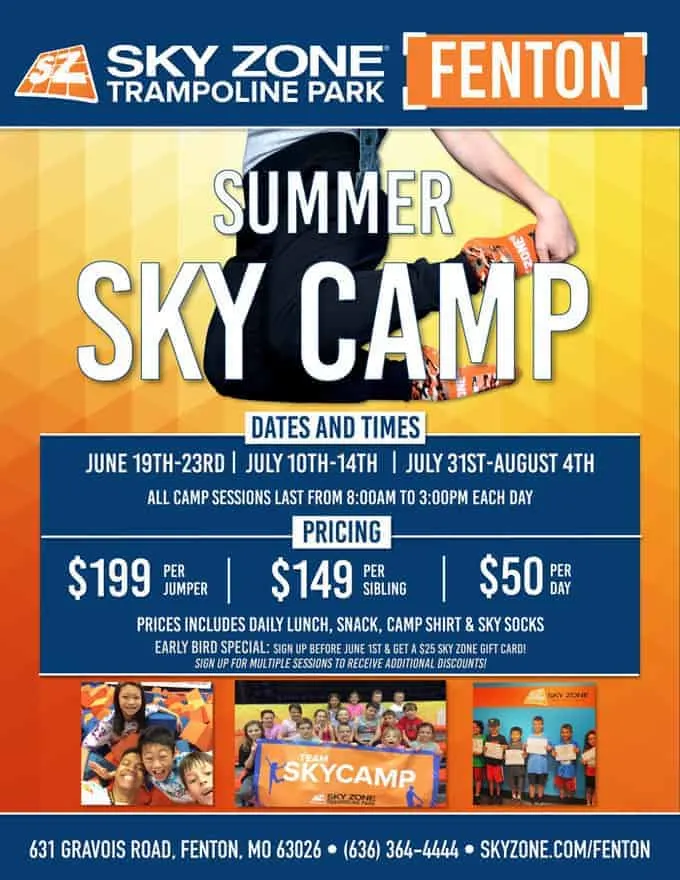 Not in my area? That's cool! SkyZone is a national franchise–and though I personally think that SkyZone Fenton is the best location around with super friendly staffers, there's locations all over the country! Call your local SkyZone and see if they're offering camp too.