No need to panic when the sun is hiding and the kids are stuck indoors!
I wrote this post during, get this, a FLOOD DAY. Not a snow day, a flood day. We were out several days because water was up over the highway and completely surrounding one of our high schools. The superintendent actually toured the school BY BOAT.
Ordinary rainy days can be hard to cope with because the kids are stuck inside–but when you're off school because of bad weather, you might be afraid to venture away from the house, too.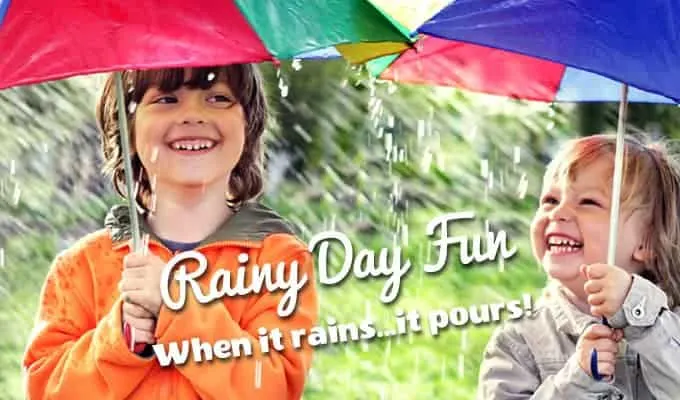 But bad weather doesn't have to drive you nuts! There's plenty of fun things to do at home and around St. Louis no matter what Mother Nature dishes out.

Rainy Day Play at Home
Make a blanket fort: Get creative with sheets, blankets and couch cushions. Everything is more fun in a tent! Your kids can play in there, have lunch or just an imaginary tea party.
Stop it with the Minecraft already: Get crafty with your Minecrafter! You can make spawn eggs, make your own player character in paper, or work ahead on those Christmas ornaments!

Snuggle Nest: Rainy days are perfect for snuggling down and reading a good book. Let the kids heap pillows and blankets on the couch to form a perfect "snuggle nest" and pull out a few favorite books. May we suggest The Cat in the Hat?
Free Coloring Pages: Art is a perfect boredom buster for rainy days. If your kids claim to be all out of ideas, try my collection of St. Louis coloring pages! There's also one here for Moana and here for Star Wars.
Break out the Play-Doh: Rainy days are perfect for Play-Doh. Want to take your dough up a notch? Make some Electric Play Dough and mix art with science!

Treasure Hunt: Play pirate for a day and have a "treasure" hunt. You can hide the booty in a clean peanut butter jar or Tupperware container. Then draw a map that will lead the kids to the treasure. Next, have them draw the map and hide the treasure for you to find!
Play Balloon Tennis: all you need are balloons and paper plates for instant fun.
Rainy Day Play in St. Louis
Get Educational: Head to the Magic House or the Science Center for some brainy indoor playtime. (The Science Center if FREE if you park on the Planetarium side in Forest Park.)
Get Artsy: Take the kids to a paint your pottery shop, like Pottery Hollow or to Yucandu for mosaic making.

Butterfly Time: The Butterfly House is hands down one of the best indoor places to go. Unfortunately, it's hot in there, so some kids may not want to stay long. Dress accordingly. Make sure you check out the St. Louis Carousel next door.
Play Trains: You can head for the free play room in the Frisco Train store or to the Creation Station inside the Transportation Museum for a small fee. (Ok, if you're reading this during a flood event you won't be able to get to the Frisco Train store in Valley Park.)

Get Jumpy: we have two Sky Zones–one in Fenton and the other in Chesterfield. No RSVP needed, just come on by.
Laser Tag: We have quite a few laser tag arenas, and they all have extra features like arcades, rock climbing or even bumper cars. Check out Epic 6 in Fenton, Chesterfields' Sports Fusion, or the one in America's Incredible Pizza.
Have an Evil Burger: I know, some moms would rather eat a live worm than a cheeseburger from Mickey D's, but they still have some of the best–free!–indoor playgrounds.
Or Don't have an Evil Burger:Chick-fil-A has an awesome play area for little ones AND the food is awesome.
Go for a Swim: Do you belong to your local rec center or YMCA? Chances are they have an indoor pool, and as long as it's not a thunderstorm, they're open for swimming. If you don't have a membership, call ahead and see what the daily rates are.
Go to the Mall: If your kids are smaller the malls have some decent little kid playgrounds. Try the ones at West County Mall or Chesterfield Mall.