Elephant Rocks is our family's favorite day trip destination! It's a state park about 90 minutes from St. Louis, located south of Farmington. I'm sure you've heard of the park–it's full of GIGANTIC granite boulders that reminds some people of…elephants. (Isn't that clever, elephant sized rocks…Elephant Rocks State Park?)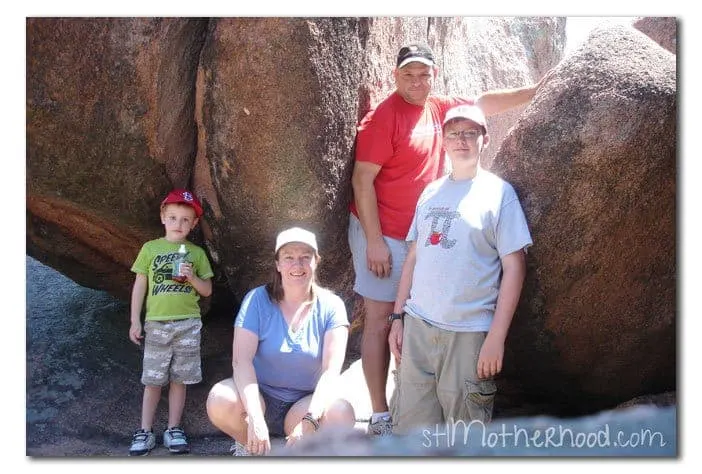 Elephant Rocks State Park
Elephant Rocks State Park is a pretty much a natural playground for both you and the kids. You can climb the giant boulders, crawl under some of them and explore the maze-like crevices between. Of course, there's also a trail that runs between the rocks, nice and safe on the ground. But what fun is that? If you let the kids climb, make sure you spot them–Mother Nature doesn't put rubber safety mats on her playgrounds.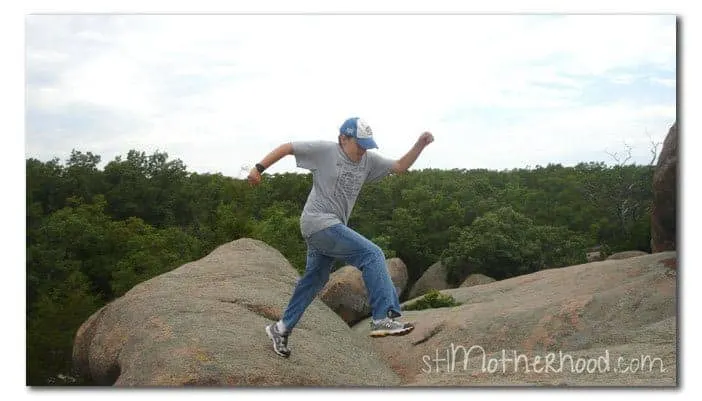 Elephant Rocks is about 80 miles south of St. Louis County and it takes around an hour and a half to drive there, depending on your starting point and which highway you take. The best route is by way of Hwy 67 (pick it up in Festus) to Farmington, but from there you're on smaller state roads. You can also take Hwy 21 all the way to the park if you want a scenic country drive on a two-lane road. It's highly recommended to get your directions from the park website here—if you type "Elephant Rocks" into some GPS and mapping systems you may be directed to the local park ranger office, which is nowhere near the rocks. Elephant Rocks does not have a street address.
Fun Fact: Elephant Rocks started out as a 19th century quarry for red granite. If you've been to Laclede's Landing and the St. Louis riverfront you've seen cobblestones made from the Elephant Rock's cousins. Stones for Eads Bridge were also were taken from this quarry. Thankfully for modern visitors, land from the quarry was donated in 1967 to turn the rocks into a state park. Neighboring areas are still mined for granite.
The Braille Trail
If you want to play it safe, or you brought a stroller and/or dog, take the one-mile blacktop Braille trail that circles the park. Yep, it was made for the blind. There's a ton of sign posts along the trail that explain the surroundings, in both print and braille. The trail snakes around giant granite boulders, past a couple scenic overlooks and a beautiful lake that was once a quarry–don't even think about swimming here.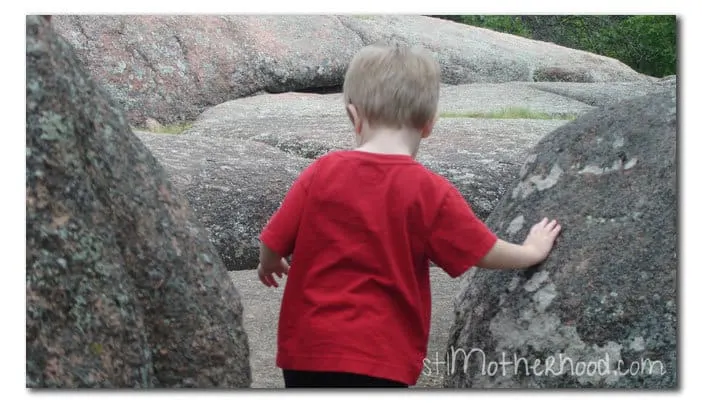 Your kids might be interested in the stone walls that edge the trail in spots. The walls are made of granite quarried from the area, so you can see what the cut and polished stone looks like.
Look for the side trail that will take you to an abandoned stone train shed–this is how the miners got the stone up to St. Louis. There's even a little bit of railroad track left in the woods. Creepy, and yet cool.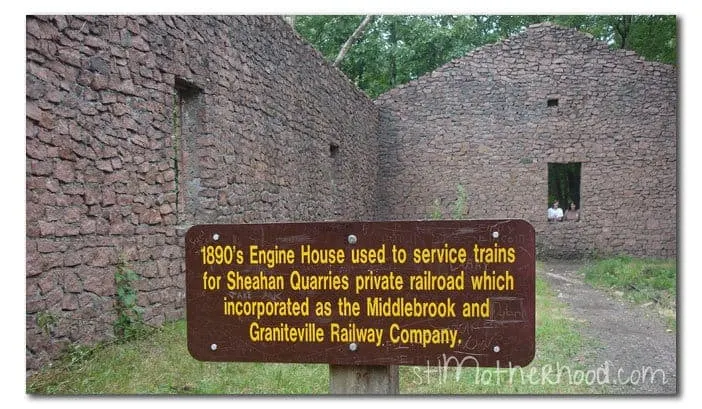 The middle of Elephant Rocks is where the real fun is! Here you can check out the "elephants." The slope up is fairly steep, but can be easily climbed with rubber soled shoes. This is not a place for flip flops. The boulders on top can be climbed freestyle and many athletic hikers leap from boulder to boulder. No rock climbing equipment is permitted in the park.
What to Wear
Be sure to dress for this park! Like I said, flip flops are a terrible idea. Wear tennis shoes or even hiking boots. Old jeans are a really good idea, too, even if it's hot. The rocks are so rough and scratchy that you can easily scrape your skin if you're not careful. We've put holes in plenty of jeans scooting around rocks at this park.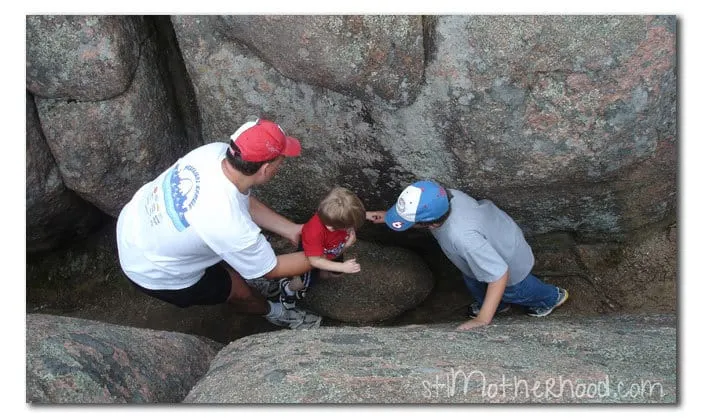 Picnic, yes! Swim, no!
Elephant Rocks is not exactly a full service park. It's pretty rustic, but they have managed to upgrade to a bathroom with real plumbing in the last few years. (Hip hip, hooray!) You'll find plenty of picnic benches near the parking lot, but there's no camping or swimming here. If you want to do that, drive to Johnson Shut-Ins, which isn't that far away (and a perfect companion park!)
If you want to eat some place civilized, the best place to stop is in Farmington, 18 miles away.