Have you caught the stl250 Cake craze? A lot of people have, and why not? It's free, it's fun and it gets you out of your house to explore St. Louis! The stl250 Cakes were made in honor of St. Louis' 250th birthday this year. They are placed all over the metro area, at historical locations and places that are just fun to visit.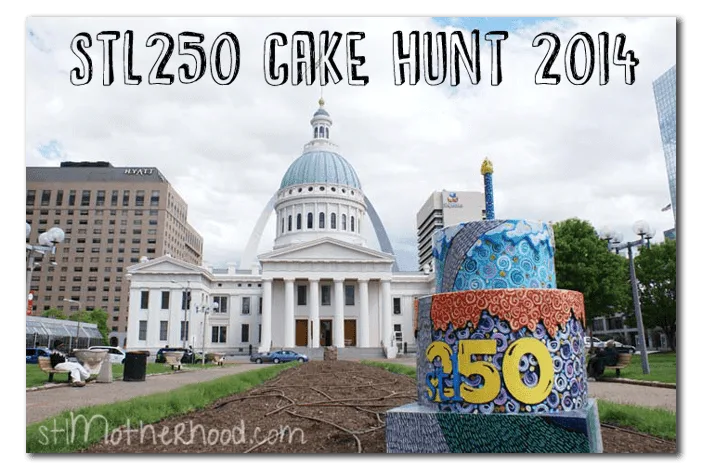 There are 250 cakes marking interesting places around the metro area. Most of them are on display, but as of this writing there are still a few stragglers that haven't made it yet. You'll want to visit Cakeway to the West to find a listing of all the cakes and their locations. Be sure to click the link to read more about the location and why it's so important to St. Louis (or the country)!
You can also see a photo of each cake, just in case you don't get to visit it in person! The cakes are only going to be on display for 2014.
You can also download an app for your phone to help you find and track the cakes.
I believe all the cakes are located in public places where you don't need to pay admission to reach. There was a complaint earlier about the cake at the Wolf Sanctuary being located inside it's gates but it looks like it's been moved. The Grant's Farm cake is in the beer garden, but hey, it's free admission. The Magic House cake is on the front porch, but before you get to the entrance, so you can get that one without buying a ticket.
Have a stl250 Cake Hunt
Mostly we've been getting photos of stl250 Cakes as we come across them, but we might put together a cake hunt just for fun. There's several in our part of town located in parks and one at the Maritz headquarters. I know several people who have spent weekends (or spring break) collecting cake photos with their kids. It's like a city wide scavenger hunt!
I have no plans to get ALL the cakes. Especially since some are pretty far out there–looks like there's a cake at all the neighboring county courthouses. I don't think I'm driving out to Carlye, IL for a cake…
Here's some of the cakes we visited so far!