(Updated 2022)
Nothing says Merry Christmas more than a million twinkle lights. With camels. And a baby yak.
Definitely need the baby yak.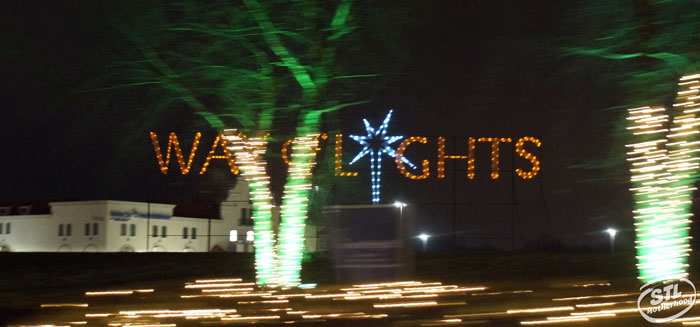 52 Years of Way of Lights in Belleville, IL
Yup, it's Christmas time at the Way of Lights. So bundle up the kids and head to Belleville for a night of sparkly Christmas lights, camel rides and a nativity scene inspired petting zoo.
This year's lights run Nov. 18 to December 31, 2022.
This is the 52th year for the traditional Christmas light show has been hosted by The National Shine of Our Lady of the Snows! Every year they string lights on trees and shrubs and wire sheep along a mile and a half drive. The lights form tunnels, snowflakes, shepherds and the city of Bethlehem while signs tell the story of the first Christmas.
Admission is Free to the Way of Lights
There's no entrance fee to see the lights, but they do ask for a charitable donation on the way out. Give them a $17 donation and you'll get a Build A Bear stuffed animal for your kid! Looks like 2022 will be a lion/teddy bear.
Mitch still keeps his Baby Lamb we got at the Way of Lights when he was just a toddler on a special shelf.
Petting Zoo for Christmas
Our favorite part of visiting the Way of Lights is stopping to visit the petting zoo. It's full of full of baby animals you might expect to see at a nativity scene. They have goats, sheep, camels, a yak, an antelope and llamas.
The zoo is free, they only charge for animal feed. You can buy a cup of carrots or grain for a small charge.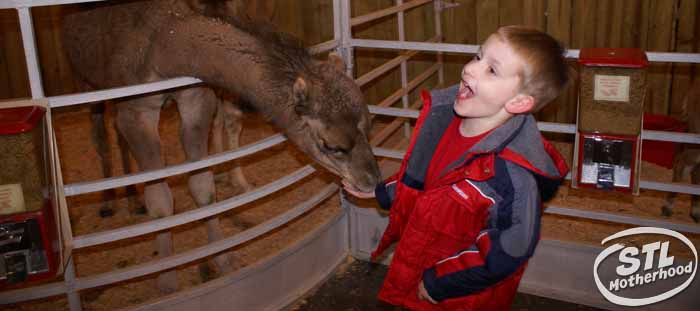 Next to the petting zoo is a riding ring with full grown camels, a donkey and ponies for the kids. Adults can ride the camels with their kids but pony riding children need to be big enough to hang on themselves. Rides are $8.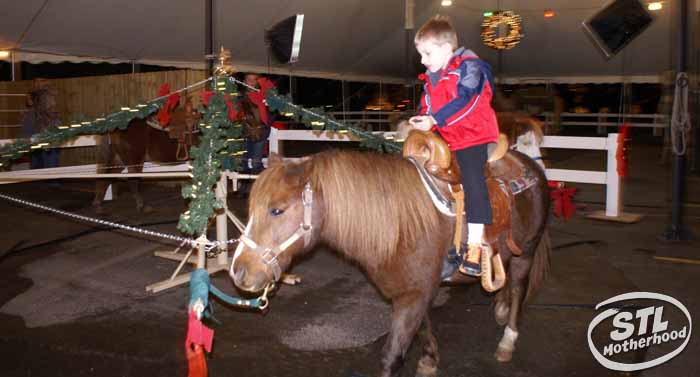 2022 Hours at the Way of Lights
The lights run from 5 p.m until 9 p.m every night from Nov. 18 to December 31, 2022. The indoor activities and petting zoo will be closed on Christmas Eve and Christmas Day, but you can still drive through to see the twinkle lights.
Weekends can get insanely crowded, so we recommend going on a week night.
Horse Drawn Carriage Rides
If you like to watch the lights from a carriage you can hire one! Horse and buggy rides are offered every day EXCEPT Saturday. A 6 person carriage is $65, a 10 person carriage is $100.
Carriage rides are by St. Louis Carriage Company, call 314-621-3334 for reservations.
Family Night Discounts
Tuesdays are family nights! You'll not only beat the weekend crowds, but score some discounts too. This year you can get discounts on kettle corn, a dollar off the pony and camel rides and a buy one get one on carrots for the petting zoo.
Military Mondays
On Mondays, service members can get discounts by showing their military ID. You'll get a dollar off the camel ride. (Normally there's more discounts, but these other activities have been suspended for 2020.)
Indoor Activities
You can also stop at the Shrine's conference center for dinner in the cafeteria, a photo studio where you can dress up as angels and check out a puppet show. There's also a free craft at the Children's Christmas Cove plus choirs and other entertainment.
The Christmas LEGO display is at the Visitor Center. It's $5 per person, with kids under 3 free.