Nothing says Merry Christmas more than a million twinkle lights. Or maybe camels. And a baby yak. 
Yup, it's Christmas time at the Way of Lights. So bundle up the kids and head to Belleville, IL, for a night of sparkly Christmas lights, camel rides and a nativity scene inspired petting zoo.
The traditional Christmas light show has been hosted by The National Shine of Our Lady of the Snows for more than 40 years and is held at the Shrine's campus. Every year they string lights on trees and shrubs and wire sheep along a mile and a half drive. The lights form tunnels, snowflakes, shepherds and the city of Bethlehem while signs tell the story of the first Christmas.
There's also a spot to get out of your car and visit a petting zoo full of baby animals you might expect to see at a nativity scene. They have goats, sheep, camels, a yak, an antelope and lamas. The zoo is free, but you can get a cup of carrots for a buck or a handful of grain for a quarter.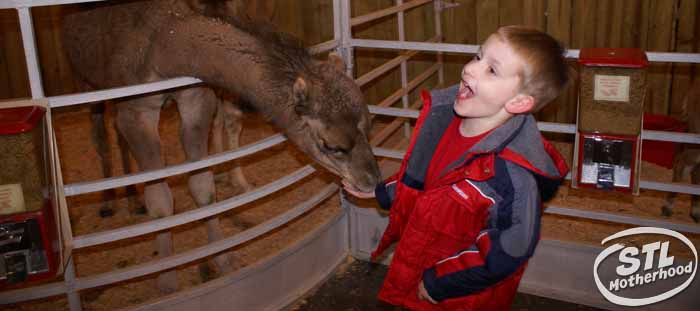 Next to the petting zoo is a riding ring with full grown camels, a donkey and ponies for the kids. Adults can ride the camels with their kids but pony riding children need to be big enough to hang on themselves. Rides are $6.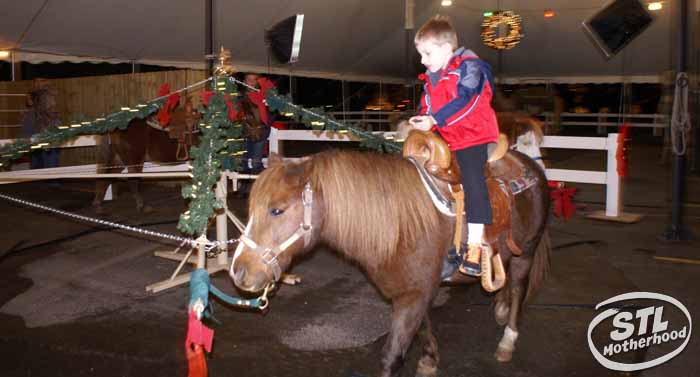 You can also stop at the Shrine's conference center for dinner in the cafeteria, a photo studio where you can dress up as angels and check out a puppet show. Update 2016: They've moved all the LEGO goodness to the Guild Center and added huge LEGO display, plus a LEGO Maze. The play area is still free, but the rest is now $7 per adult and $5 for kids over 4. 3 and under are free. Also new this year are fire pits in the church parking lot where you can stop for S'mores. (Kits are $6 each.)  (note: we'll update this part for 2017 as soon as we have more details.)
If you like to watch the lights from a carriage you can hire one! Here's the link for carriage rides if you want to make a reservation.
Free (but make a donation)
The lights are totally free, but they do ask for a donation on the way out. According to the website, plush animals are back for 2017! Give them a $15 donation and you'll get a Build A Bear stuffed animal for your kid! Mitch is still best pals with the Baby Lamb we got at the Way of Lights when he was just a toddler. 

The lights run from 5 p.m until 9 p.m every night from Nov. 17 to December 31, 2017. The indoor activities and petting zoo will be closed on Christmas Eve and Christmas Day, but you can still drive through to see the twinkle lights. Weekends can get insanely crowded, so we recommend going on a week night.