Whether you call it a Pillow Fort or a Blanket Fort or even a Couch Fort, these impromptu play tents are super fun for kids to build. The next time you're stuck inside, give the kids the go ahead to tear into the linen closet and build away!
My boys made recently made a pillow fort in the basement rec room and now Mitch has a secret hideaway!
When I told my teenager that we were making a pillow fort for Mitch for his little brother, he told me to stand back and see how a pro does it! He gathered up all the pillows in the house and a blanket and set to work.
I popped some microwave popcorn and sat back to watch the fun.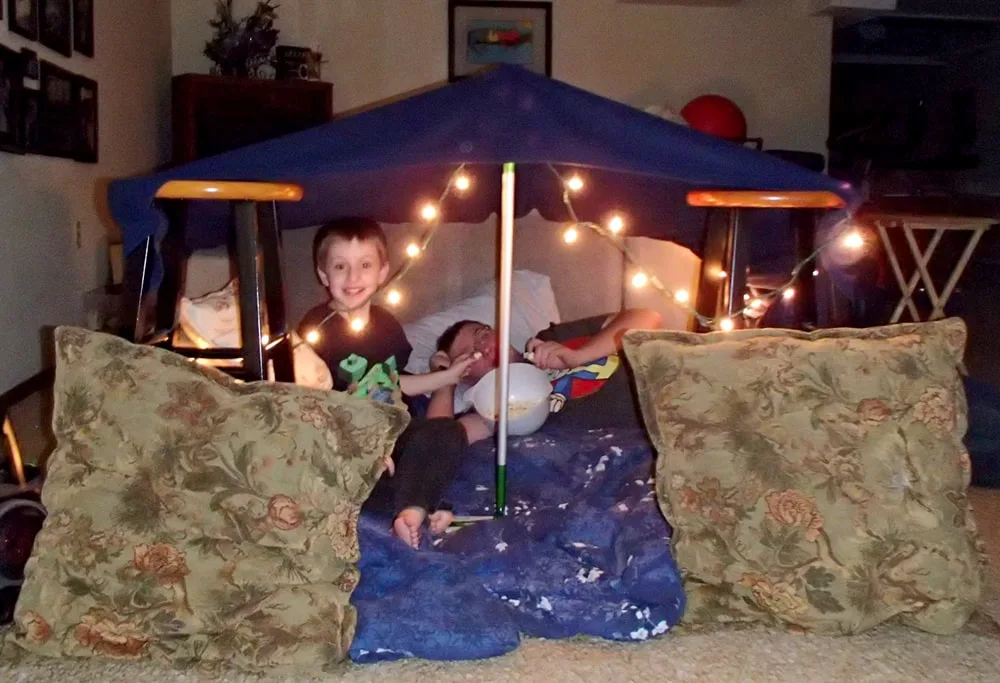 Gather your Pillow Fort Materials
You'll want lots of pillows, plus blankets AND sheets. If you don't mind not sitting on your couch for a while, couch cushions are EXCELLENT building materials.
Safety pins, clothes pins and even binder clips can help hold things together. Try using the pins/clips to wrap material around chair legs!
If you really feel extra, I've seen several forts made with the help of Command Hooks stuck to the walls or ceiling.
Where to Build a Blanket Fortress
Build your pillow fort where you can keep it up for a couple days and keep the fun going! We built ours in the basement rec room, using the back of a couch for support.
You can also use a card table or dining room table if it won't cause too much disruption.
Go Big or Go Home
Make sure your fort is big enough for everyone who wants to play, but small enough to feel cozy.
My oldest insisted on making it big enough that he could crawl in there too and he and Mitch watched a couple videos together on his iPad when they were done building "Camp Basement." I just love it when I can get Ryan to play with his little brother!
Their blanket fort project was awesome: Ryan got to show off his big brother building skills…and Mitch got to play in it.
Pad the Pillow Fort Floor for extra Cozy
Use a fluffy blanket for the floor to make it cozy. Extra pillows are great here too!
Add Twinkle Lights
It's can get pretty dark in there, so how about adding a string of battery powered twinkle lights? You probably have some in your Christmas decorations! You can also build this faux Firefly Jar to light the fort!
Think like an Engineer
Pillow fort building is a great time for your kid to put those STEM skills to work!
They can test what works best for the roof: a thin sheet, a heavy blanket, a big cushion? Or just use a table? What if they use a dust mop handle for a tent pole? Stand back and let them try out all kinds of ideas!
Add Snacks
Your kids will definitely want some snacks for their fort — think of foods that aren't too messy, like popcorn and snack mixes.
Entertain Them
If the fort is built in the same room as a TV, then just point the door (or a window) in the right direction! Otherwise you can let the kiddos bring in an iPad or gasp! a good book to read.
Also…Fortnight. In a Fort. How awesome is that?
Pillow Fort Party
What's better than a pillow fort? TWO PILLOW FORTS! Have your kids invite friends over for a blanket fort extravaganza. If you have enough materials, the kids can set up forts on opposite sides of the room and have an epic Nerf Battle.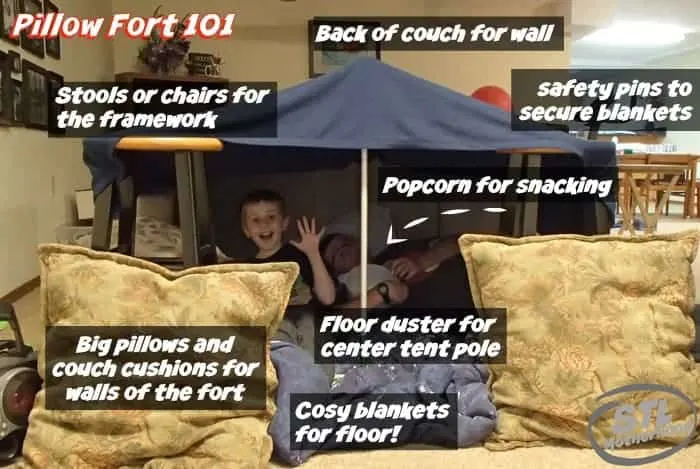 7 Top Notch Blanket Fort Ideas
Let your kids build a secret hideaway from blankets, pillows and yes...the couch. Here's some pillow forts that go to the extreme.