Updated for 2020: Eckert's has canceled the Easter egg hunts for this year.
If you're in the area, the Eckert's Country Store in Belleville
It's spring! And that means Easter is just around the corner–and so are egg hunts! If you're looking for a fun place to take the kids for a big egg hunt, I've got just the place for you: Eckert's in Belleville!

What, you thought Eckert's was just a place to pick fruit? Heck no, Eckert's in Belleville is open year round and they have plenty of things to do this spring! They will be hosting three weekends of Easter Egg Hunts in 2016, from March 12 to right before Easter. The festivities start at 10am and egg hunts will be held on the hour from 10am until 2pm. Admission is $12 per child, which gives him or her a passport full of fun activities! You'll get to hunt eggs, decorate a cookie, visit with the Easter Bunny, get your face painted, pet some bunnies and chicks, plant a seed and take a tractor ride!
FYI, this post was sponsored by Eckert's Farms, who invited Mitch and I out for some serious Springtime fun last year. All opinions are mine, but you know I love this place! I've update the dates and prices for 2016.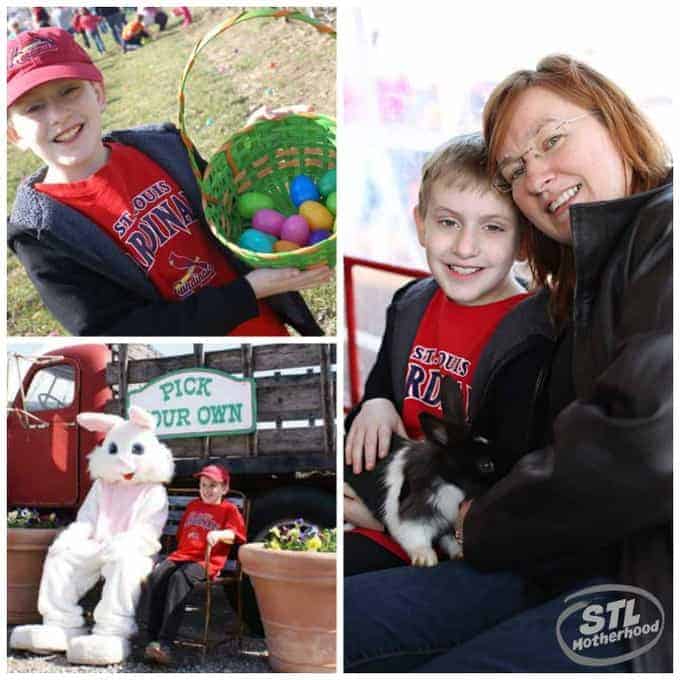 Mitch and I went to the first weekend of Eckert's Easter Egg-Citement last year and we had a blast! There were tons of eggs, fluffy bunnies, baby chicks, and so much fun!
TIPS for a fun time at Eckert's Easter Egg-Citement
Mitch and I arrived at the Belleville farm at 9:30am and there wasn't much of a crowd. Go early and beat the rush!
You do NOT have to RSVP. Just get your kid's tickets at the Fun Corral.
Remember to bring an Easter Basket for your eggs! If you forget, they have some for sale.
Eggs are scattered between rows of apple trees in the orchard right behind the Fun Corral. You don't have to walk far.
Egg hunts are divided into three age groups. If you have kids that fall into more than one age group, don't worry, they do the little one's first (0-2), then the middle group (3-5) and finally the older kids (6-12). There will be a little bit of time to switch move over to the next age age group between hunts, so you can watch (or help) everyone have fun.
Eggs are fills with little toys, but if you want you can swap the eggs and goodies for an apple or banana.
Bring a camera! You can take your own free photo with the Easter Bunny, or pay $7 for a professional photo.
Carnival rides are extra, but the trikes and mini golf are free!
Plan on having lunch at the Country Restaurant–the fried biscuits with home made apple butter (free with your meal) are NOT to be missed.
Stop by the Country Store before you leave for fresh baked goods or groceries.
Mitch really liked the bunnies and chicks that Eckert's has for holding and petting. Pull up a haybale and grab your camera–you don't want to miss this. Unlike other places where you can visit with animals, these tiny critters can be held by your child in their lap. They are sooo cuddly–and so fragile! So be careful.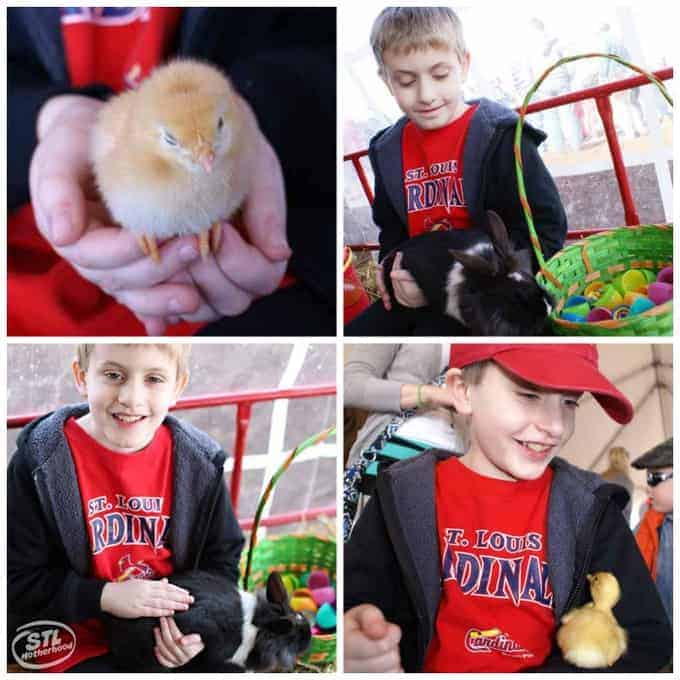 We are so looking forward to our next visit to Eckert's farm this May to pick strawberries! Since no one can predict exactly when the strawberries will be ripe for picking go follow Eckert's on Facebook so you won't miss out! You also might want to check out Eckert's calendar to see all the fun they have in store for us all year round!
What, you haven't been to Eckert's yet?! Well, they're located at 951 Green Mount Road in Belleville, Illinois.