The kids are bored…again…and your wallet is empty…again.
You've been to the local park three times already this week.
And if you have to sit on that same playground bench and make small talk with Perfect Becky one more minute you might just snap…
We've all been stuck with a house full of kids–or even one really noisy kid–and a budget with no wiggle room for entertainment. Sure, you could stay home and watch TV, read books or play in the yard…but sometimes you just need to get OUT of the house.
When we go out of town I'm shocked at how much it costs to entertain the kids! Not in St. Louis! Here we have tons of totally free activities for families to enjoy. So pack your lunch and pack up the kids–it's time for fun!
Amazing Free Places to Visit in St. Louis with the kids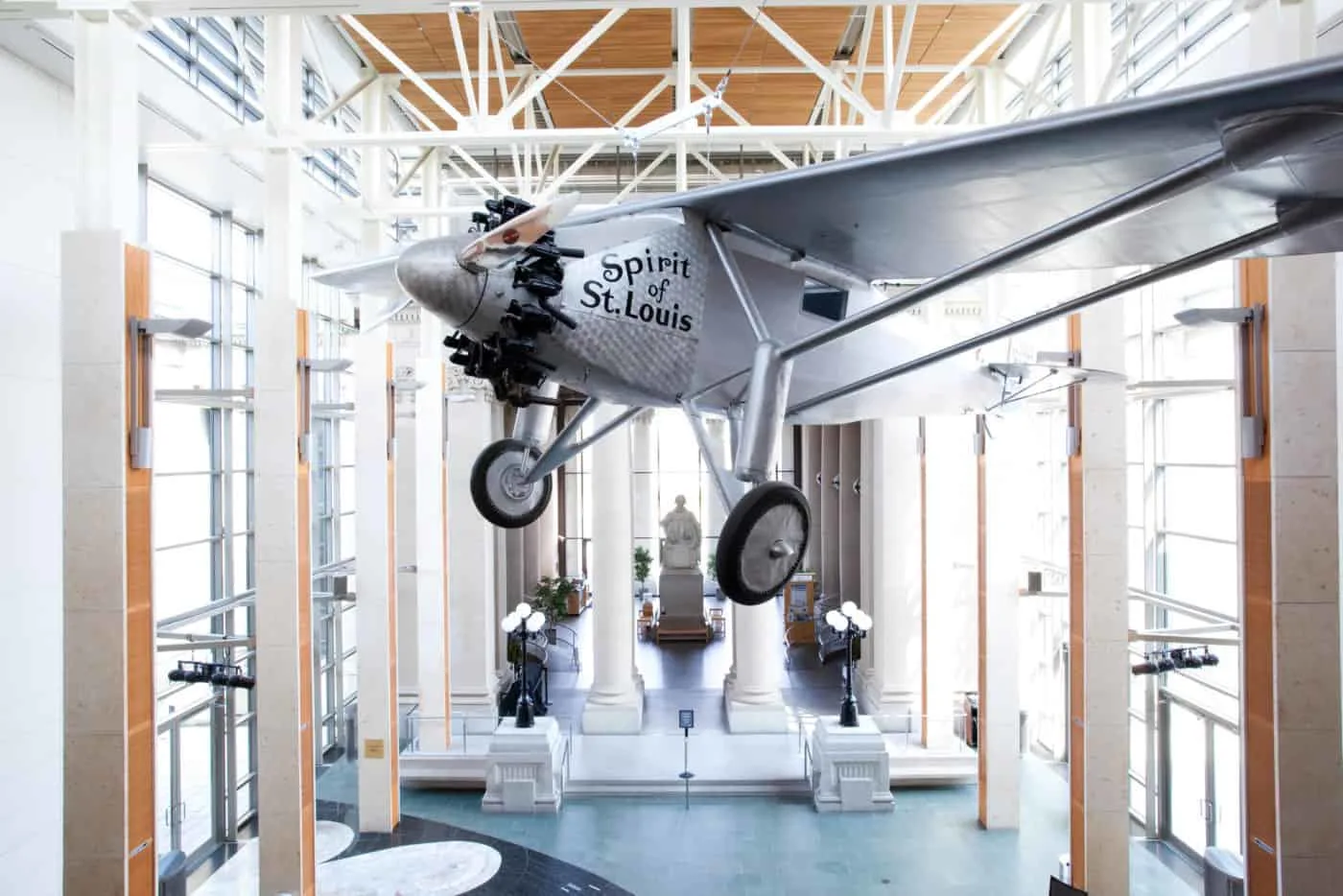 Free Museums in St. Louis
Who said museums are boring? These museums are great for entertaining kids and most of them NEVER charge admission. Even our prim and proper Saint Louis Art Museum has super fun family days where they get down on the kid's level. Got a kid who loves to run around and touch EVERYTHING? Take City Garden or Laumeier for their art appreciation…outside!
THE place to play while learning about science! Tons of hands-on exhibits from dinosaurs to space exploration. You can score free parking if you start your adventure on the Forest Park planetarium side. 5050 Oakland Ave, St. Louis, MO 63110
Be sure to go on a Sunday when they offer free crafts and tours for the little ones.
One Fine Arts Drive, Forest Park, St. Louis .
The History Clubhouse is a whole wing dedicated to showing kids the history of St. Louis! Plus there's hands on displays throughout the museum, making it fun for kids! 5700 Lindell Blvd. Forest Park, St. Louis.
Located under the Arch, this museum was completely updated in 2018. Full of hands on displays that make history fun for kids. The museum is free, but you'll need tickets to ride up to the top of the Arch. Under the Arch, St. Louis
The National Great Rivers Museum
Learn about the Mississippi River and the wildlife that live around it at this museum set up by the Army Corps of Engineers. Lock and Dam Way, Alton, IL
Lewis and Clark State Historic Site
This museum is the commemorates Camp Dubois, the winter headquarters of Lewis and Clark's great expedition. (The real site is under the river now.) See a replica of the fort, a full-size keelboat and lots of hands on displays. 1 Lewis and Clark Trail
Hartford, IL.
Learn about nature in a kid-friendly museum, then explore a couple miles of paved trails. 1715 Cragwold Rd,Kirkwood.
Art and Nature together! Bring your dog too, and hike a fantastic trail through the woods. Great for Pokemon players too! 12580 Rott Rd, Sunset Hills.
Is it a park or an outdoor art museum? We're not sure, but it's a lot of fun! This park is just a couple blocks from the Arch, so make it part of your downtown plans.
801 Market St, St. Louis.
Ok, normally it's $12 a person, but once a month they do Free Fridays, and there's also free kid admissions on Fit Kid days. Details here. 516 S. Kirkwood Road, Kirkwood.
This museum features a rotating selection of contemporary art–in a building which is a work of art all of its own. Too serious for little kids, but if you have a budding artist, definitely worth a trip around the middle to high school years. 3716 Washington Boulevard, St. Louis.
This art museum is definitely for more mature kids who are interested in art (think middle and high school). However, on the 2nd Saturday of every month, they open a little early for "stroller tours" so parents can soak up culture without worrying that a fussy baby will annoy other patrons. 3750 Washington Boulevard, St. Louis.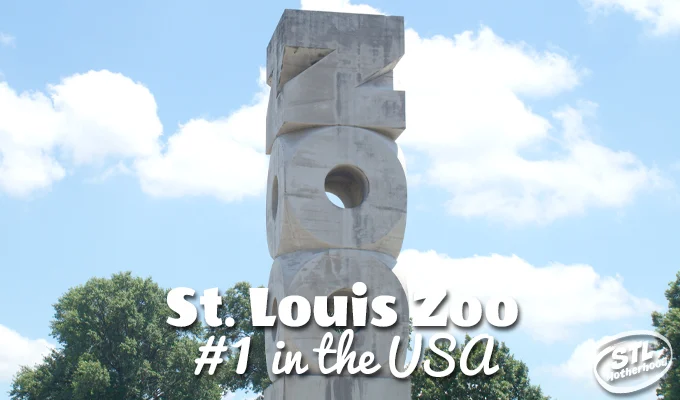 Free Zoo and Animal Parks in St. Louis
Do your kids love animals? You're in luck because our world-class Saint Louis Zoo has NO admission charge! We also have Grant's Farm and a park full of awesome birds of prey.
Named the Best Zoo in the US, our zoo has no admission fee. Bonus: if you visit early you can get into the Children's Zoo, Carousel and Stingrays for free during the first hour. Government Dr, Forest Park, St. Louis.
Visit the Budweiser Clydesdales, ride through a deer park, then pet goats, camels, llamas and parakeets! Free animal shows (and free beer for the grownups–it's the Busch family ancestral home). No entrance fee, and you can skip the parking lot fee if you peddle the Grant's Trail bike path. 10501 Gravois Rd, Sappington.
Take the kids to see life on the farm with hands-on milking demonstrations, a hay ride and an exciting agility dog show. 500 William Danforth Way, Gray Summit, MO.
This "bird zoo" is the home of dozens of birds of prey: eagles, falcons, hawks and vultures. Plus a couple chickens. ¯\_(ツ)_/¯ The sanctuary covers 305 wooded acres with hiking trails, an outdoor theatre for bird shows and nature center. 125 Bald Eagle Ridge Road, Valley Park.
This county park used to be a WWII artillery training area, but now it's home to a couple herd of bison and elk. Drive through and see if you can find them! 1 Lone Elk Park Rd, Valley Park.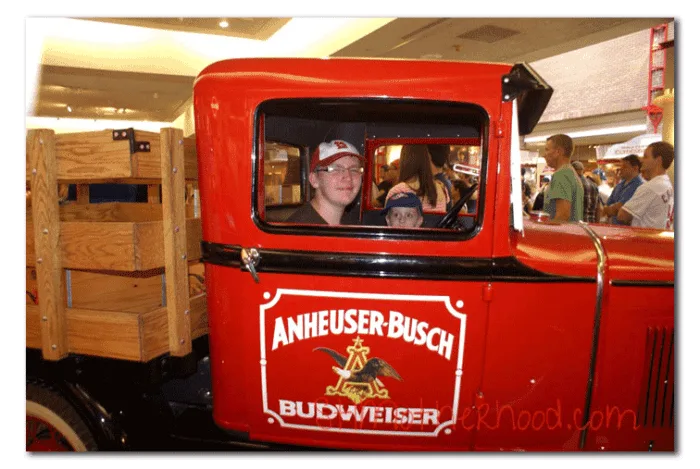 Free Family Fun + Beer for Mom & Dad
St. Louis is the home of Anheuser-Busch, and the Busch family LOOOVE their local fans! Touring the brewery is free and totally family-friendly. Also, did you know that Grant's Farm is the old Busch family home? So it's only natural that they offer free samples!

Plus Two for the Chocolate Lovers
St. Louis is home to several fabulous chocolate companies…but these will give you a free sample.
Tour a Chocolate Factory, Because Its Free. And Its Chocolate: Drop in Tours
Free St. Louis Fun: Bissinger's: Tours by RSVP only (Bissinger's has been sold to Chocolate, Chocolate, Chocolate.)
Best Parks in St. Louis
Going to the same park over and over can get boring, so shake things up! We have some AWESOME parks which are great for free fun–plus fresh air and exercise! Here's our favs!
Coupons for St. Louis Fun
Not every great place to visit in St. Louis is free, so here are three of the best websites to visit for printable online coupons to area attractions. You can get a great deal on tickets to the Magic House, Butterfly House, Science Center, the Arch and so much more. Print them out now and leave them in your purse or glove box so you'll never be without a coupon when visiting some of St. Louis' best kid-friendly attractions!
Drury Hotel: Be a tourist in your own hometown! Anyone can use these coupons for St. Louis "vacation savings." Sample bargains: $2 off the Omnimax at the Science Center, half-off one admission to the Magic House when you buy one, $2 off child tram ride at the Arch with an adult, and $1 off admission to the Butterfly House.
Bonus: they also have coupons for Kansas City, San Antonio, Columbus and Atlanta.
Town Planner: A great resource for St. Louis coupons to attractions, restaurants and services.
St. Louis Attractions Card: You can get a hard copy of this coupon source at Dierbergs, Shop N Save or Schnucks. Or just print coupons from the website. Sample bargains: buy one get one half off admission to the Magic House, $10 off a Zoo membership, free coaster ride at America's Incredible Pizza.