No visit to the Gateway Arch in downtown St. Louis is complete without a riverboat tour of the Mississippi! Step back in time as you board the Becky Thatcher or Tom Sawyer and take a tranquil tour of the riverfront.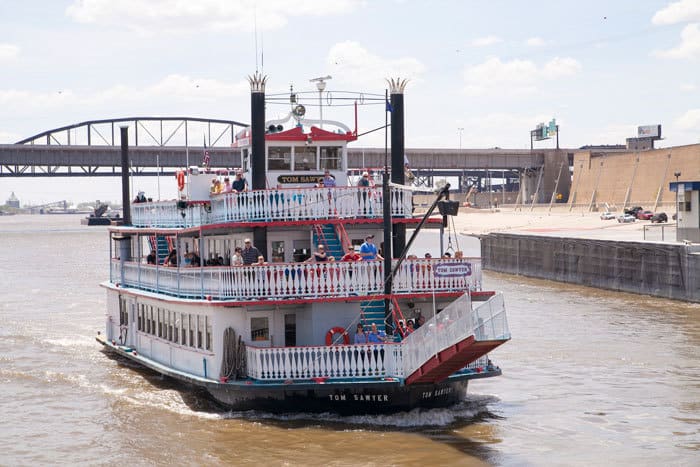 Just to let you know, the family and I were invited to tour the river on board the Becky Thatcher and enjoy a complementary Sunday Brunch. This post is sponsored by the Riverboats at the Gateway Arch, but all opinions are my own.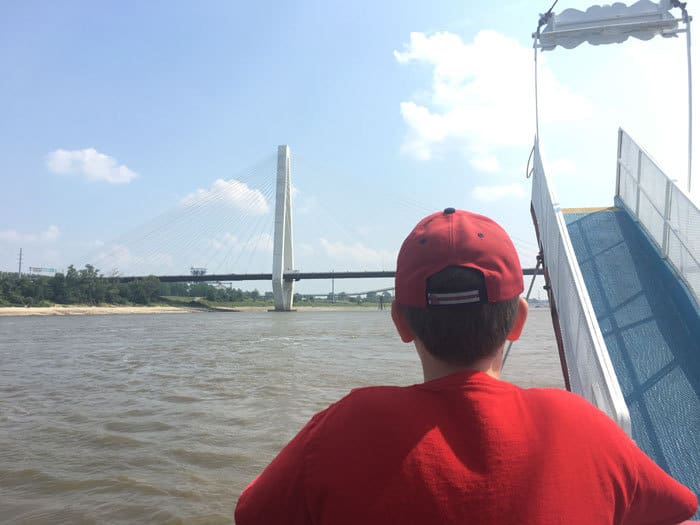 Before interstate highways crisscrossed the nation, people did their luxury traveling by train and steamboat. St. Louis was a bustling river town in the 1800's with hundreds of steam powered paddlewheelers docked on riverfront! There's a cool display of what St. Louis looked like back then at the Arch's new museum–be sure to check it out on your next visit.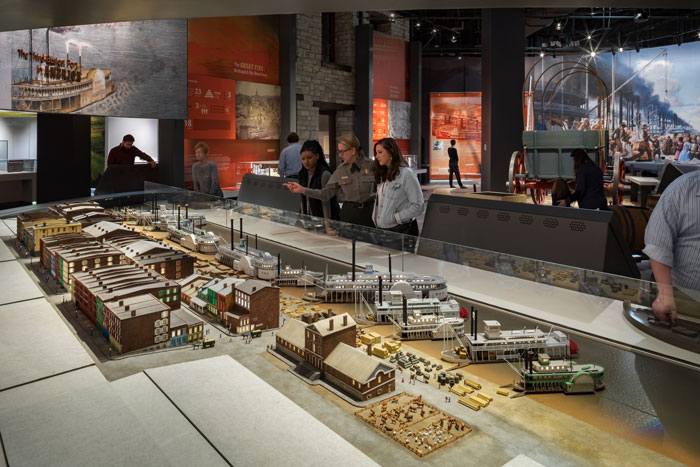 Riverboat Cruise at the Arch
After you've checked out the museum, you need to visit the real thing–our two Gateway Arch riverboats! They're named after Mark Twain's characters: the Tom Sawyer and the Becky Thatcher. These are modern tour boats decked out to look like steam era paddle wheelers (but don't spoil it for the kids).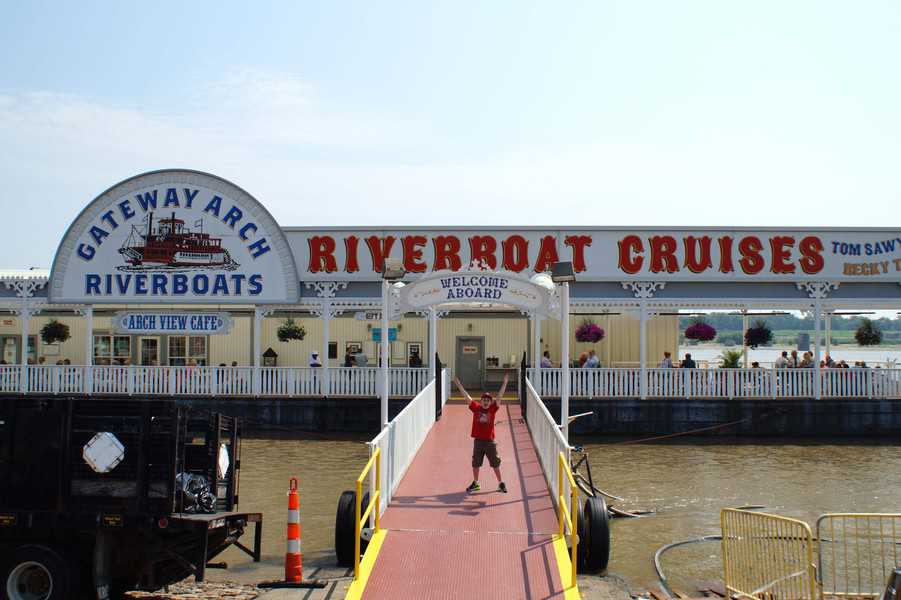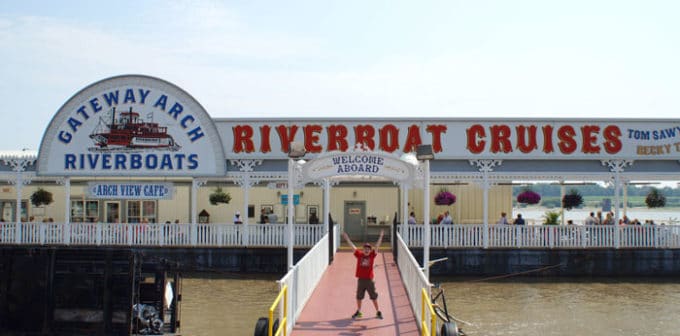 The riverboats can take your family on a hour long tour of the riverfront–there's a sightseeing cruise running every day from March to November.
But if you want to make it really special–book a dinner or brunch cruise! The Becky Thatcher is set up with a double decker dining room and takes visitors on a two-hour tour of the riverfront while you dine on a delicious buffet.
Brunch on the Riverboat Becky Thatcher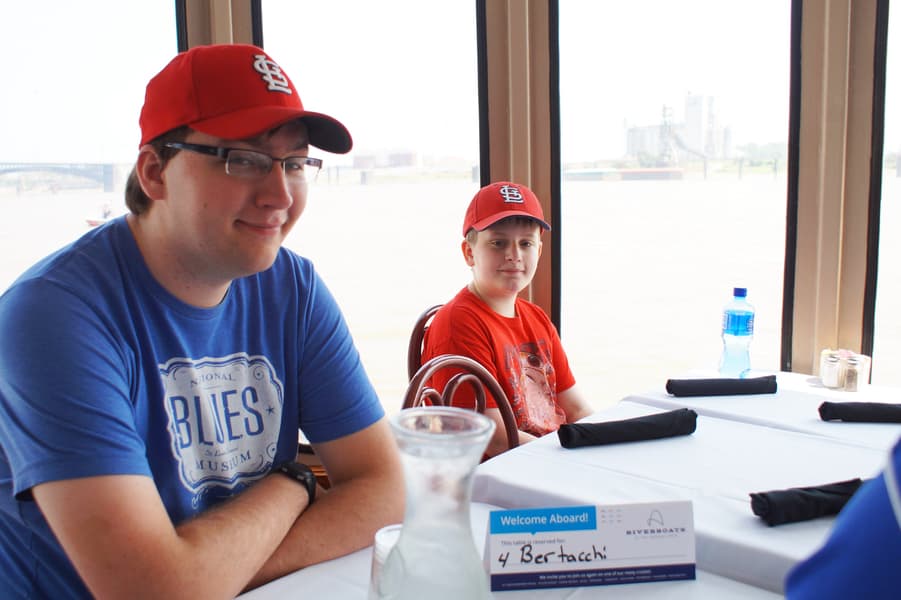 There's nothing like watching the Mighty Mississippi roll by your window as you sip iced tea and dig into a stack of French Toast with eggs, prime rib and cheese blintzes on the side.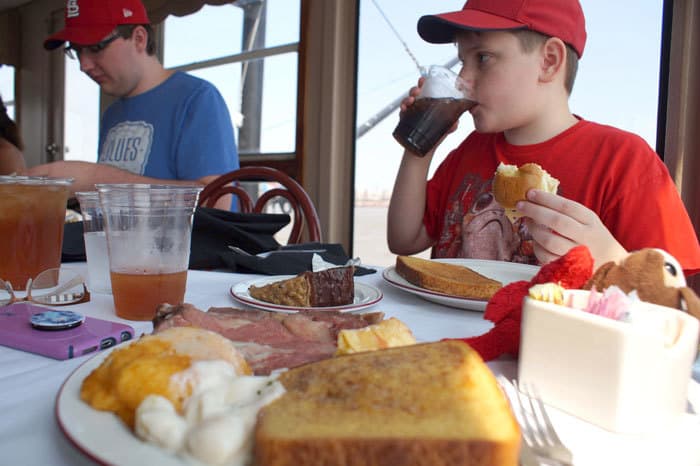 Sunday Brunch Cruises are a great way to celebrate Easter, Mother's Day and Father's Day. Of course you don't need a special occasion to enjoy a wonderful weekend at the Arch with your family! There's one or two brunch cruises scheduled every month the boats operates. Check out their current schedule under "specialty cruises" here. There's also dinner cruises, dancing cruises, and a couple cruises up to see the lock and dam where the Missouri and Mississippi Rivers meet!
What's included with my ticket?
Your brunch ticket includes a buffet full of scrambled eggs, blintzes, French toast, sausage, prime rib, stuffed chicken, veggies, pasta, dessert, and coffee, iced tea, orange juice, milk and chocolate milk. Soft drinks, beer and cocktails are available at the bar for an extra charge.
Dinner cruises are similar, with a buffet style menu of roast beef, chicken, veggies, pasta, desserts, coffee, ice tea and a cash bar.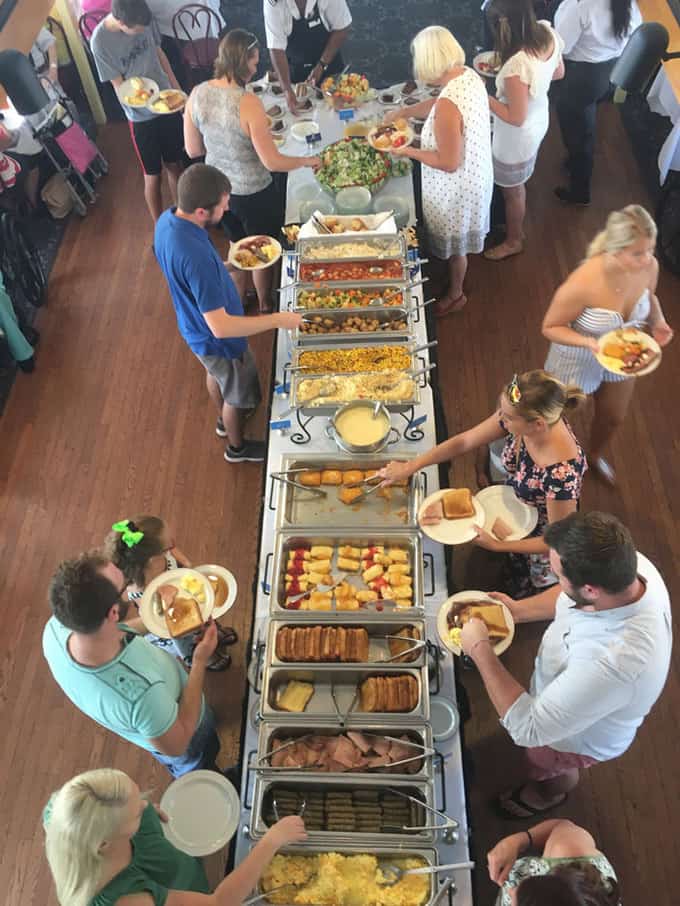 What to Expect on your Riverboat Brunch Cruise
First, you'll want to reserve your spot early by getting tickets online. Tickets are $45 for adults, $18 for kids 3-12 and free for little ones under 2.
The boats are docked at the foot of the Gateway Arch. Stop by the ticket office to pick up your tickets by 12:30 — the boat leaves promptly at 1pm!
Before you board you can take a souvenir photo to pick up later. Totally optional, but they do a fantastic job! (Ok, they do a great job assuming your kid isn't about ready to explode because it's 92 degrees outside and the sun is in his eye. I'm looking at you Mitch.)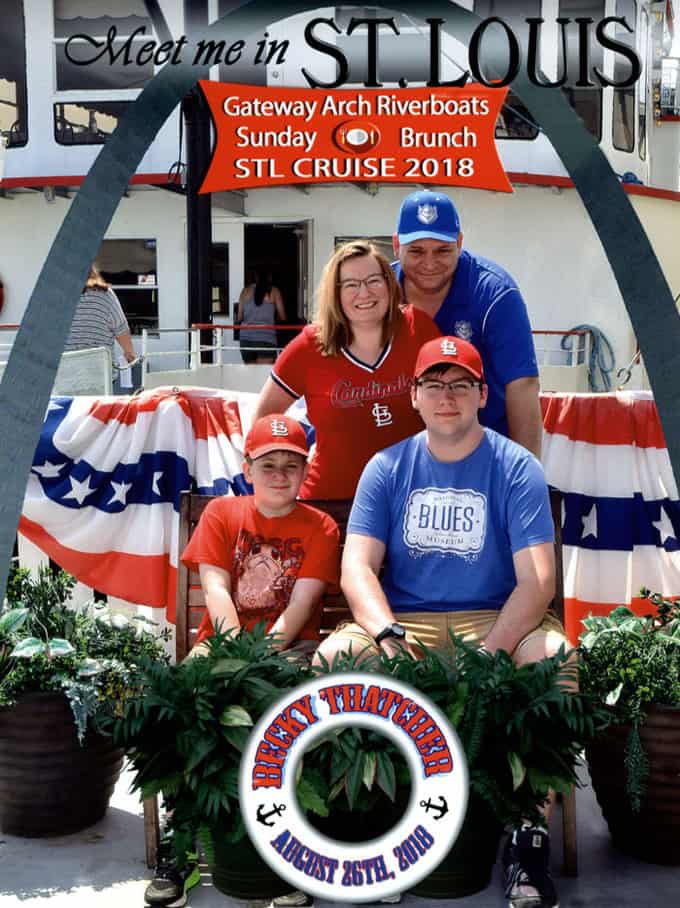 Then you'll come aboard and be directed to your seat. Unlike the sightseeing tours, the Brunch Cruise has reserved indoor seating with white linen table clothes. Tables are located by the windows, so you can enjoy the whole cruise from the comfort of the cabin, or pop upstairs to watch from the observation deck.
The food might be served buffet style, but you'll also get a friendly waiter to serve your drinks and clear the plates. Don't worry about standing in line either, the serving staff dismisses diners by table so the buffet isn't overwhelmed.
And while you wait, enjoy a little Dixieland music!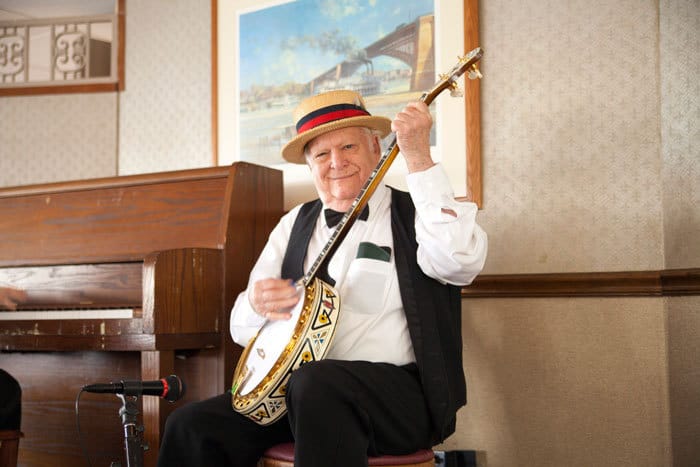 Where do I park?
Normally I tell people to park at the Stadium East Garage when they visit the Arch, but if your destination is the riverfront, you can't beat the levee parking. It's only $6, it's literally on the river and it's a quick stroll to the boat dock. The levee is on the old riverfront cobblestone, so if you're wearing heels you might want to get dropped off next to the boat and let someone else park the car. The lot is a little tricky to get to, so here's a pdf to help you out.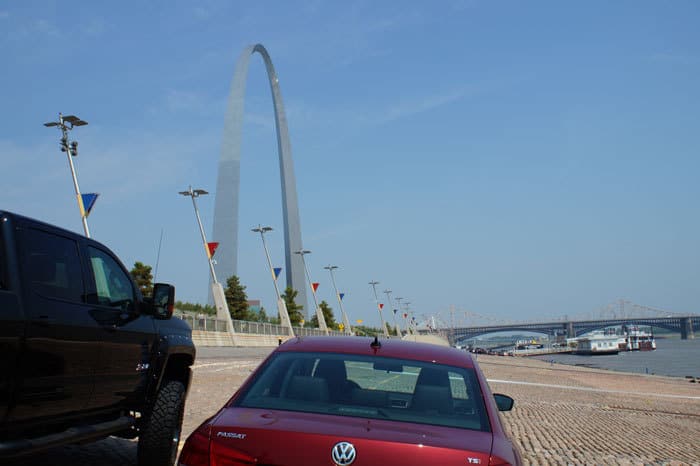 Best Photos of the Arch are Here
If you're looking to get a postcard photo of the Gateway Arch, a riverboat cruise is where to be! You can also get a pretty cool one from the Malcolm W. Martin Memorial Park over on the East Side, but you don't need to worry about pesky power lines messing up your shot here. (Here's a few more ideas for great photos with the Arch!)