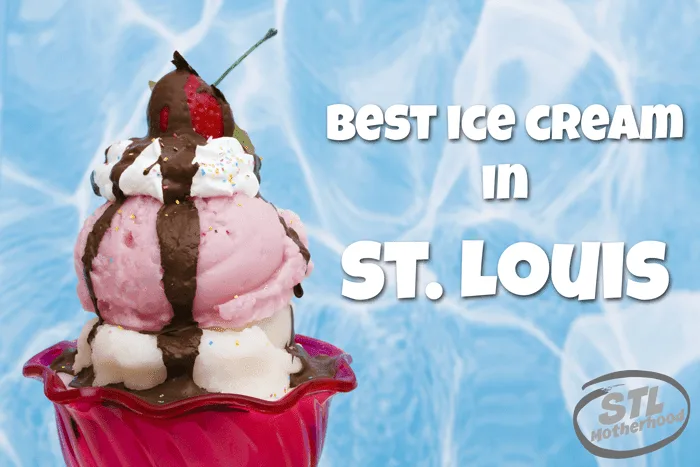 This summer my boys volunteered to find the best ice cream in St. Louis! It's a tough job and much ice cream was devoured. We decided to keep our competition to LOCAL ice cream shops–no chains. So what did we find out? St. Louis has some AWESOME ice cream…and you should really try it for yourself!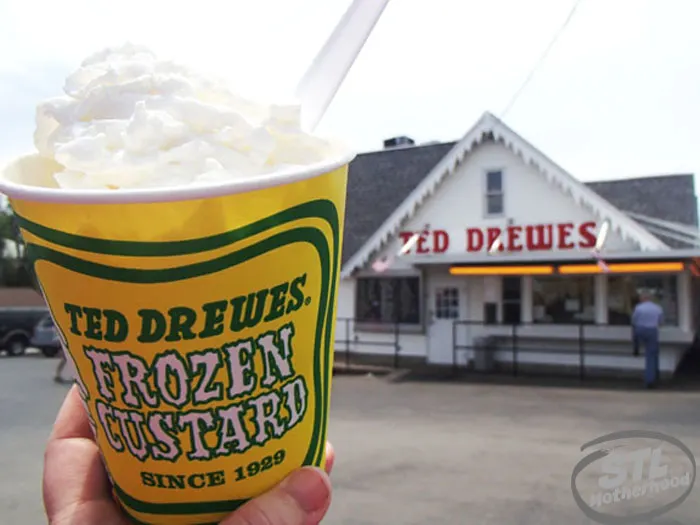 Ok, it's concrete, not ice cream, but St. Louis' favorite frozen custard needs a shout out on any list of frozen treats. This is a custard stand, which apparently means you stand around while eating it. We like to have ours tailgate style. Why we like it: Ted Drewes is the ultimate in customization–add whatever topping you want and make it your own! A St. Louis classic. Two locations: 6726 Chippewa and 4224 S. Grand Blvd.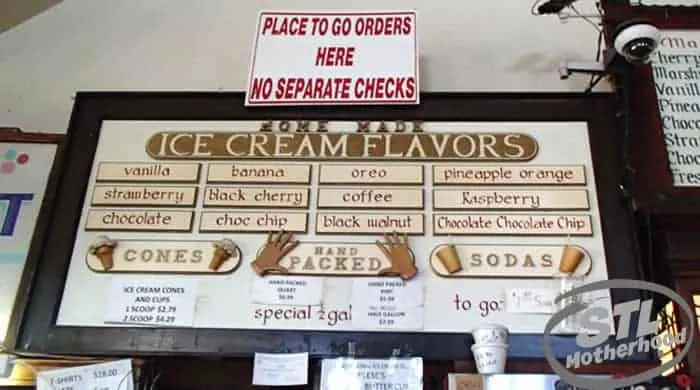 Another St. Louis classic with lines out the door on nice summer days. Crown Candy is an old fashioned ice cream shop…literary, it's like over a 100 years old! They make a killer old school milk shake, but seriously…their biggest claim to fame is that they never moved from North St. Louis. Still, if you live anywhere near St. Louis, you have to put it on your bucket list. Why we like it: there's only one size for milk shakes, it's $4.79 and it's so big you really need to share it. So bring a friend. Very little seating, so order yours to go. Located at 1401 Saint Louis Ave.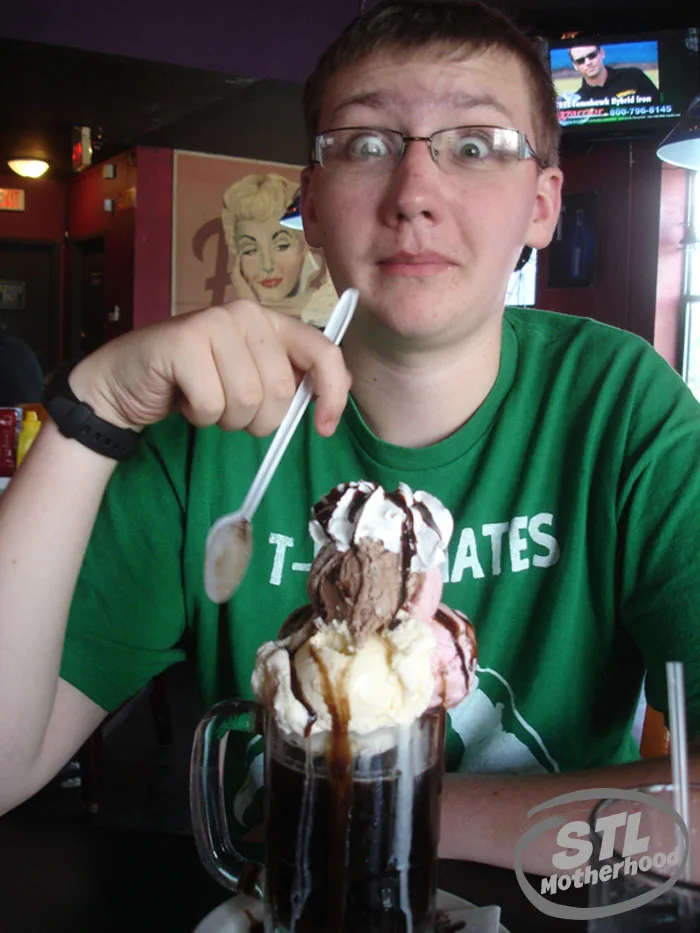 I know, I know, Fitz's is not an ice cream parlor. But have you seen their root beer floats? Their massive ice cream shakes? O.M.G. Every summer the boys and I have to make a trip to Fitz's just for the ice cream.
Why we like it: three scoops of ice cream on Fitz's Root Beer on tap! Two locations: 6605 Delmar Boulevard in the Loop and 5244 S. Lindbergh Blvd. in South County.
Have you tried rolled ice cream yet? It's the latest trend in ice cream, though it's actually been around a few years. The ice cream is made fresh for each serving, with fresh cream (batter??) poured onto a 20 degree slab and worked with paddles until it freezes. It just takes a couple of minutes, then the ice cream is rolled up and put in a cup!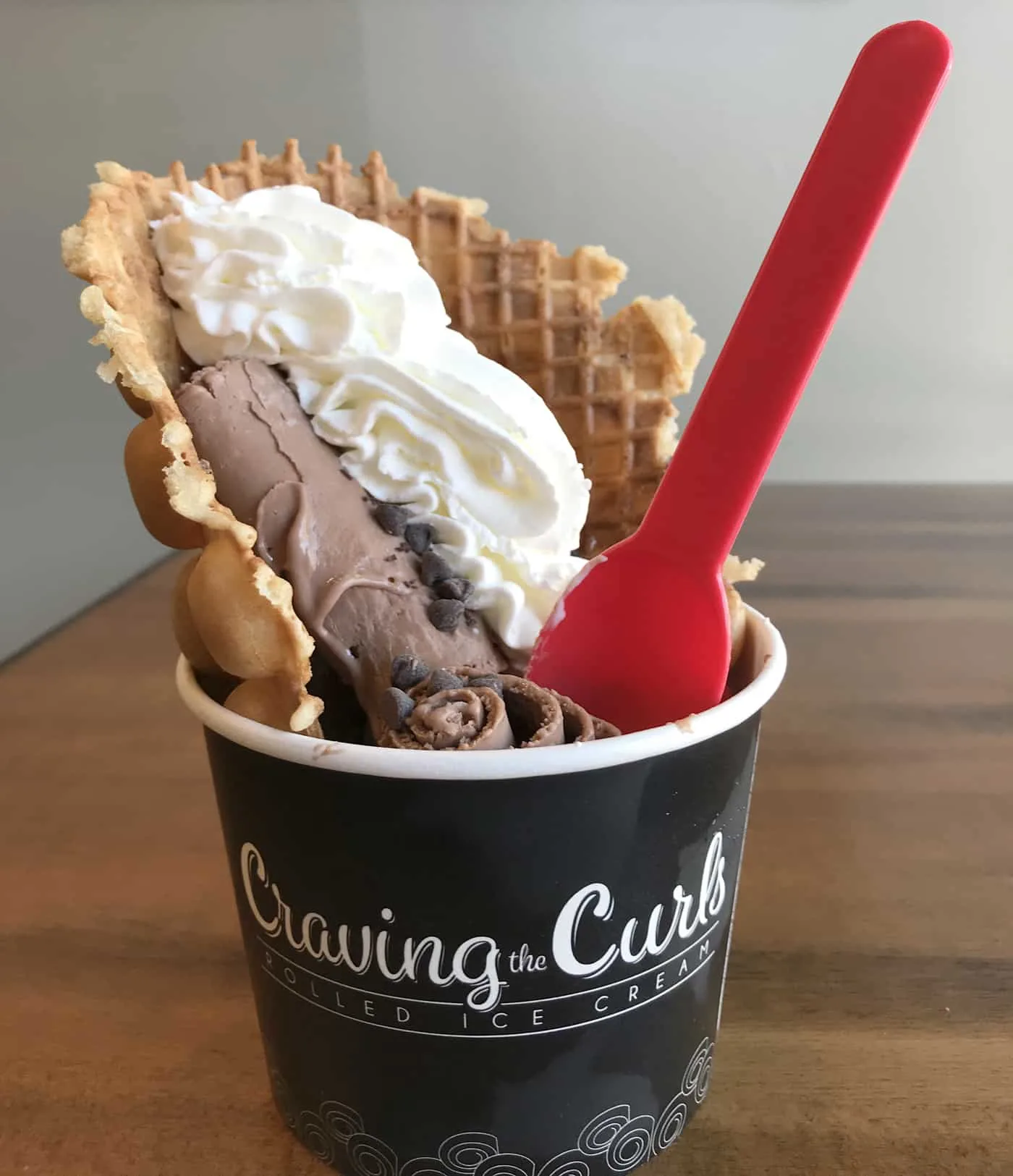 Alright, technically this is a franchise, but Craving the Curls in historic St. Charles is just the 2nd location–the first is in Paducah. Close enough in my book!
Why we like it: can't get any fresher, and it's super fun to watch them make your ice cream just for you!
Location: 215 North Main Street, St. Charles.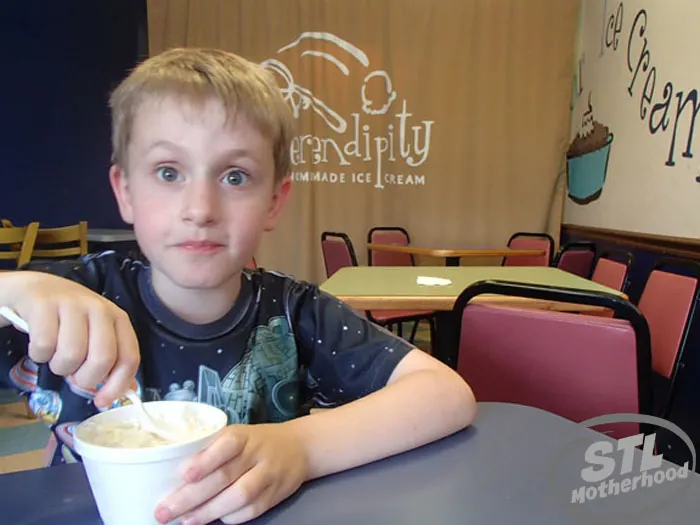 Located in Webster Groves, Serendipity dishes out homemade ice cream that's really, really good. This is a nice sized ice cream parlor, so you should be able to find a seat when you drop by. Serendipity has quite the reputation for excellent ice cream and wholesales to local restaurants.
Why we like it: Handmade, right in the shop. Located at 8130 Big Bend Blvd.
This shop is worth the drive, if just to admire the art deco decor! This is a full service restaurant and bar, so you can come for lunch or just drop in for an ice cream. Kids can choose from the Old Fashioned Ice Cream Specialties (I recommend the brownie cake in a cup) and while parents can opt for an ice cream martinis–the Grasshopper is fantastic!
Located at 3037 Locust Street.
Why we like it: the dining room is like time traveling to the 1920s — and the ice cream is awesome!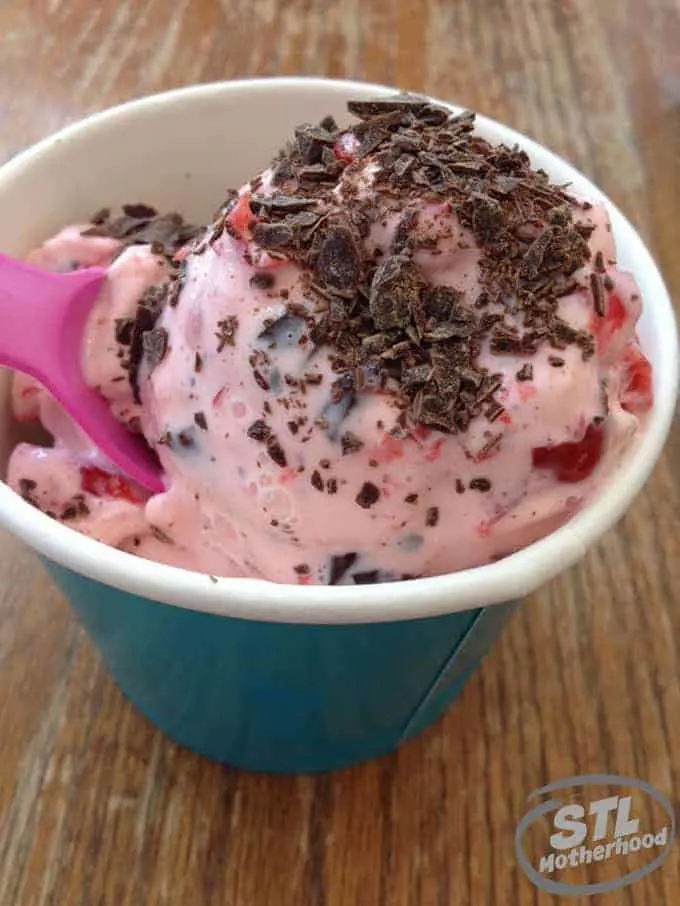 This shop has it all! Historic charm (they're in the Shaw Neighborhood), plenty of seating, generous servings and LIQUID FREAKIN' NITROGEN. I'll admit, the boys were impressed the most with Ices Plain and Fancy because each delicious scoop is mixed up just for you and frozen on the spot with a dash of liquid nitrogen. Why? The liquid nitrogen is not only showy, it makes the ice cream extra smooth and creamy. It was also very, very good. Why we like it: the ice cream is so smooth, you can't describe it. Go get some! Located at 2256 South 39th Street.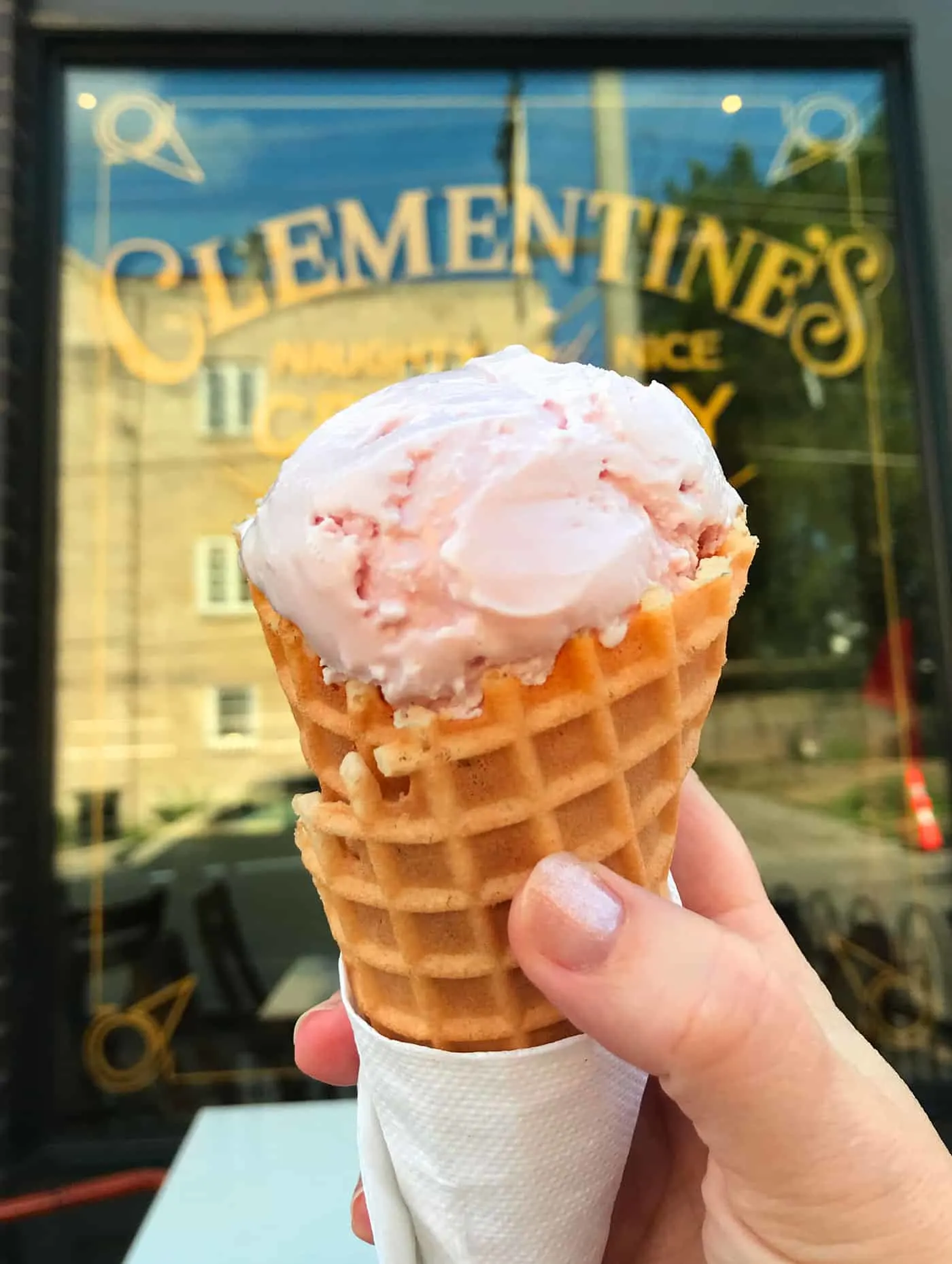 Clementine's knocked everyone's socks off when they introduced St. Louis to "handcrafted small batch" ice cream, using only the finest natural ingredients.
They call their ice cream Naughty and Nice because they have a selection of boozy ice creams–but their ice cream shop is totally family friendly.
Their first location is amazingly TINY, so I suggest heading to their newest location in South Hampton at 4715 Mackland. You'll still have to hunt for street parking, but it's totally worth it! This location has all the charm of World's Fair ice cream parlor with tons of indoor space, a party room and a very nice patio.
Why we like it: creative flavors like Salted Crack Caramel with candied bacon. Yum!
3 locations: 1637 S. 18th Street in Lafayette Square, 730 De Mun Ave in Clayton and the newest at 4715 Mackland in South Hampton.
---
So there you have it, our seven best ice cream parlors in St. Louis! Note that at FOUR of the shops, mom and dad can have an adult beverage/ice cream concoction while the kids get hyped up on ice cream…I'm sure that's just a coincidence. (Ices, Clementine's & Fountain serve over 21 ice cream flavors; Fountain and Fitz's have full bars.) All the shops are family friendly, so next time you're in the area, stop for some of the city's best ice cream!