"Left or right, kiddo?" I asked my 8 year old, stumped by the towering rows of corn surrounding us. He shrugged. Maybe if I hadn't been so intent on Instagramming our journey through the Great Godfrey Corn Maze I'd know which way to go. Or not. We were in maze after all…and mazes are meant to be wandered.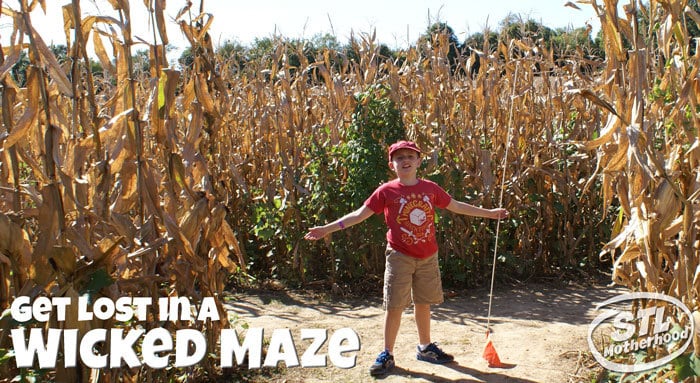 Mitch wasn't too worried about the whole getting lost thing. After all, he had a flag handed to us by a friendly staffer–if we really, really got lost, all we had to do was wave the flag and a spotter stationed on the edge of the maze would shout out directions. Besides, I could hear laughter from kids playing at the Glazebrook Community Park, where this frightfully fun corn maze was grown. How lost could we really get?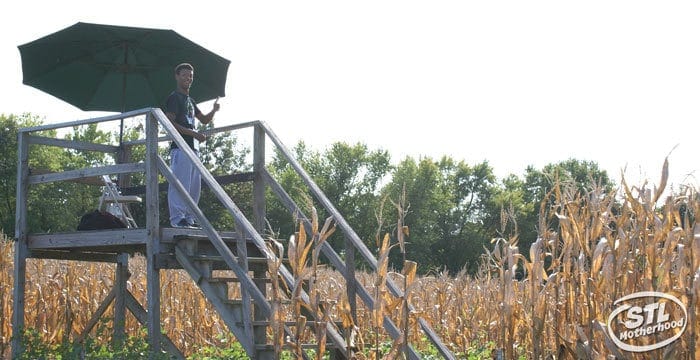 There's only a few corn mazes in the St. Louis area, and the one in Godfrey, Illinois has got to be my favorite. The Great Godfrey Maze is seven acres of corn in a PUBLIC PARK! The maze is open on weekends throughout October. During the day, you can enjoy a kid friendly tromp through the corn and play a few games. After dark on Fridays and Saturdays the maze will be HAUNTED.
You can plan a whole afternoon of harvest fun at the Great Godfry Corn Maze. There's a photo "booth" area to capture great selfies, a two tractors rides around the park, a zip line and…Mitch's favorite…a corn bin. It's like a sand box…but with dried corn. The kids love it.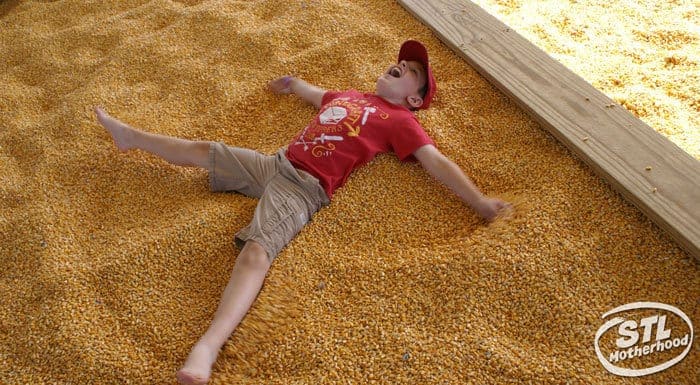 There's a also a concession stand with snacks and a really nice playground.
The Maze had a "Wicked" theme in 2015. In 2016 the theme is Birthday Celebration, in honor of the town's 25th anniversary. Though the decorations have changed, the activities have not. There's still a cow train, wagon rides & corn bin. The Maze will also be HAUNTED on the weekends!