updated 2019
I've visited Grant's Farm tons-it's one of our favorite weekend family activities. The kids get to feed goats, lamas and parakeets, maybe ride a camel and eat lots of ice cream. Mom and dad get few free beers. What's not to love?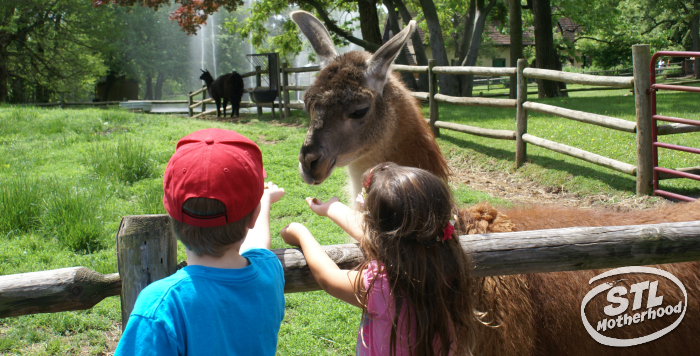 Note: Worried about e coli and petting the goats? Click here to read more.
What is Grant's Farm?
What do you get when you combine a small zoo, a historic place and a bit of corporate good citizenship? Well, if you're in St. Louis…you've got Grant's Farm! This is one of our favorite places to visit with the kids and I'm sure it will be yours too!
I have to admit, Grant's Farm is an unusual tourist attraction! It's basically a mini zoo run by Anheuser-Busch as a gesture of corporate goodwill. The farm is named after President Ulysses S. Grant, who's family once owned the property. In 1903 the land was acquired by the Busch family, who thought it would be a lovely retreat from their city home. Eventually Busch built a mansion, a German style barn and a deer park. In the 19th century it was trendy for the wealthy to play at being farmers–it's pretty interesting stuff if you dig into it. I'm thinking he had some of the most pampered cows in town.
So how did this playground of the rich and famous become a beloved public attraction? In the 1950's Anheuser-Busch was headed up by Gussie Busch, a real "man of the people." He owned the Cardinals, he built the first Busch Stadium and he was one heck of a promoter. He knew how much his friends loved visiting his animal collection, so he decided to open it to the public.
Grant's Farm been open to the public for 65 years as of 2019. It's changed a lot, but mostly for the better.
History Lesson Over…Grant's Farm Today
Here's my best tips for the Best Visit EVER!
Wear comfy walking shoes, a hat and sunblock
(File this under "duh.") The park may not be that big–and they do drive you around a lot–but remember that the Clydesdale's barn is in the back of the parking lot. You'll want to see them too!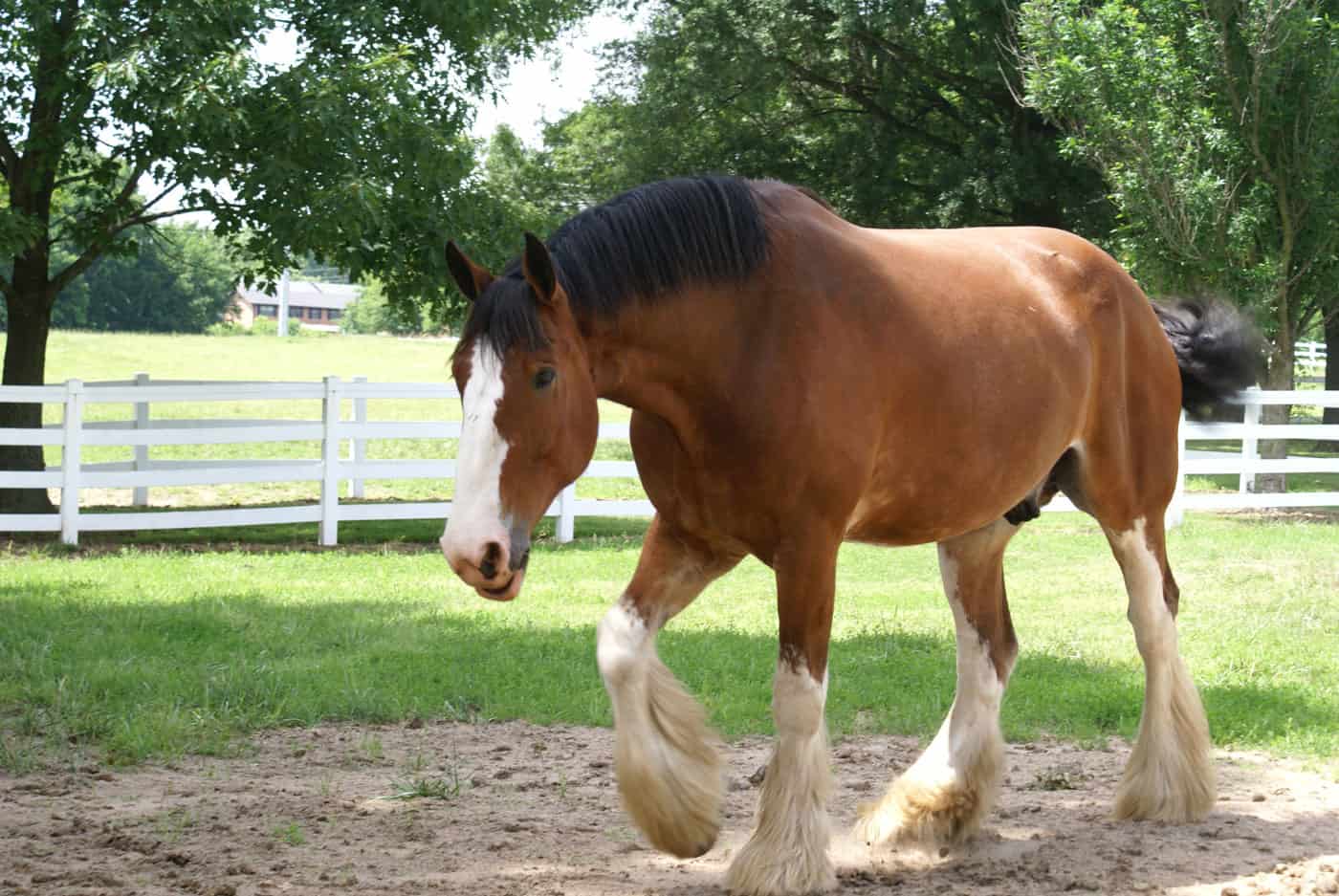 You don't need to pay admission…
But you do need to pay to park–currently it's $15 a car. Once you pay the gatekeeper, you're in! I've seen plenty of out-of-towners looking for a ticket booth that doesn't exists.
You will need to pay for some of the extras like the carousel, camel rides, animal feed and the new in '19 animal show. (There's still a free Animal Encounter show.)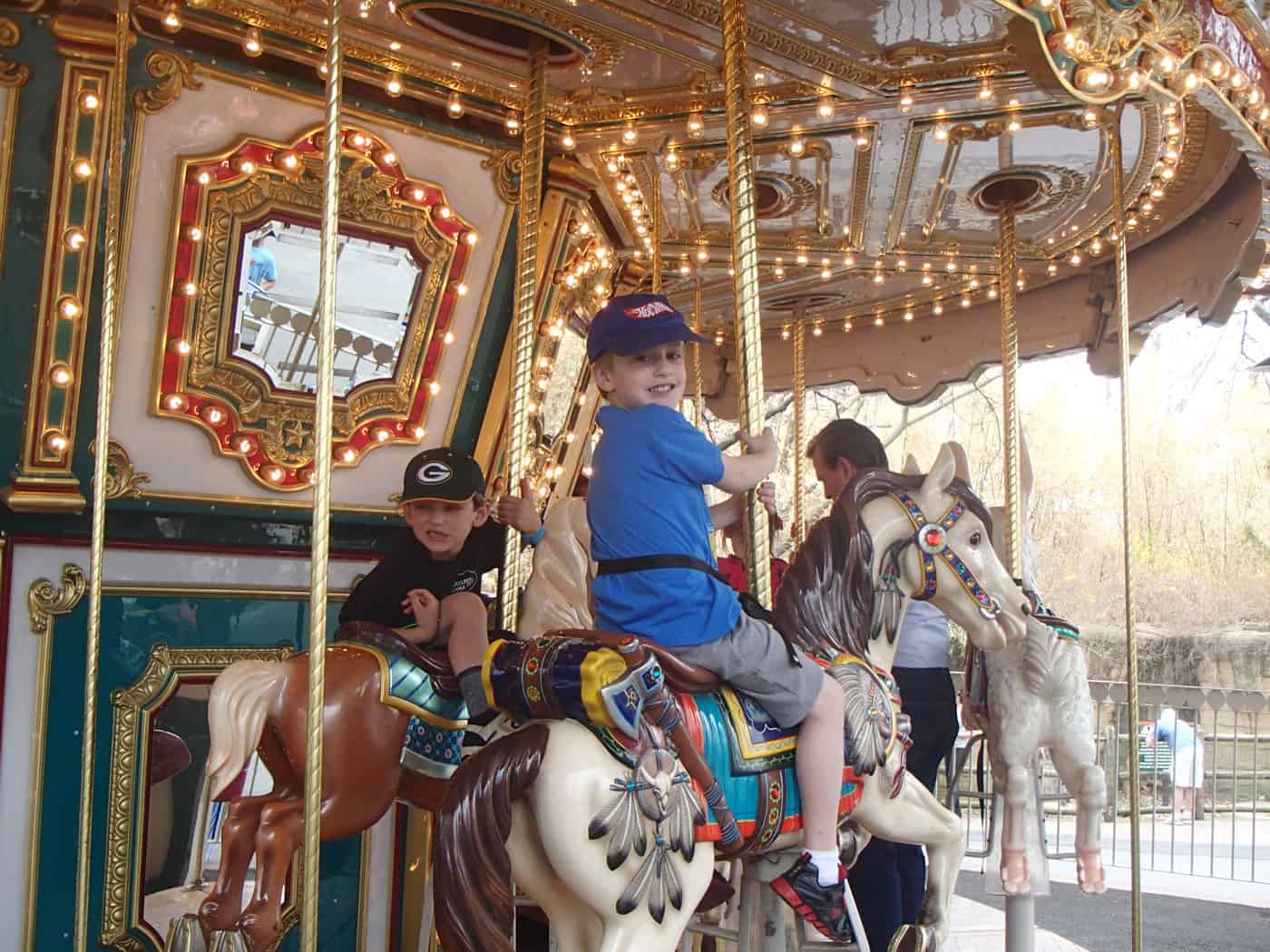 If it's a nice summer day, go a little later.
Grant's Farm is busiest on summer weekends when the tourists are in town. We've noticed top crowds when you come early–but remember, the Farm stays open about 90 minutes AFTER the gate closes, so an afternoon visit could mean a shorter line to get in and fewer people in the beer garden. Check here for animal show hours so you don't miss anything you want to see.
Or plan a Late Friday Evening Visit!
New in 2019 are Extended Hours on (most) Friday nights! The Farm is open from 9am to 10pm from May 17 to Aug. 30. Everything remains open–except the parakeets who can't handle 13 hours of attention and feeding! In fact, Mitch and I visited on the first late Friday and noticed that they brought in fresh baby goats after 5pm so kids could keep petting and feeding them.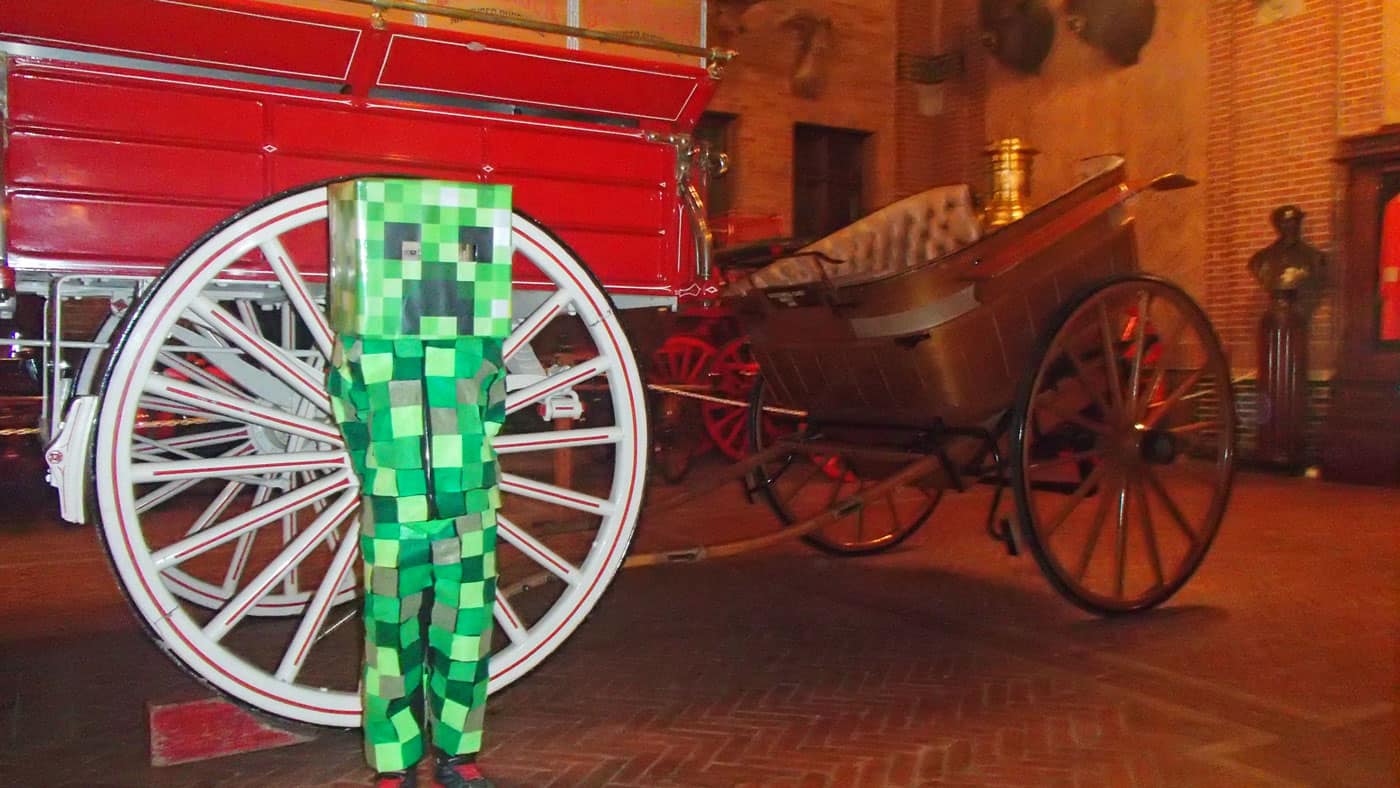 Holidays are Special at Grant's Farm
In 2019 Grant's Farm will stay open from May to December! Fall Fest/Halloween Nights will start Oct. 3rd and run Thurs-Sun until Oct. 27. They'll take a little break and come back for Winter Festival Nov. 23! They haven't done a holiday light display in AGES so I'm really excited that they're doing this!
See the Grant's Farm calendar for details.
Please, leave your giant stroller or wagon at home!
You'll need to ride a tram to get into the park–all strollers have to be folded up and stored in the first car. If they can't fold it, it's not going.
They do rent strollers once you get to the Tier Garten, but the park really isn't that big. If you can do without your giant SUV style stroller, you'll be a happy camper. And so will the rest of us waiting in line behind you as you unpack your stroller to fold it up.
No outside food!
If your in serious need of a picnic, visit nearby Whitecliff Park. Otherwise, just grab a bite to eat at the Farm. After all, Grant's Farm offers two free adult beverages to everyone over 21, so it balances out whatever you're buying for the kids.?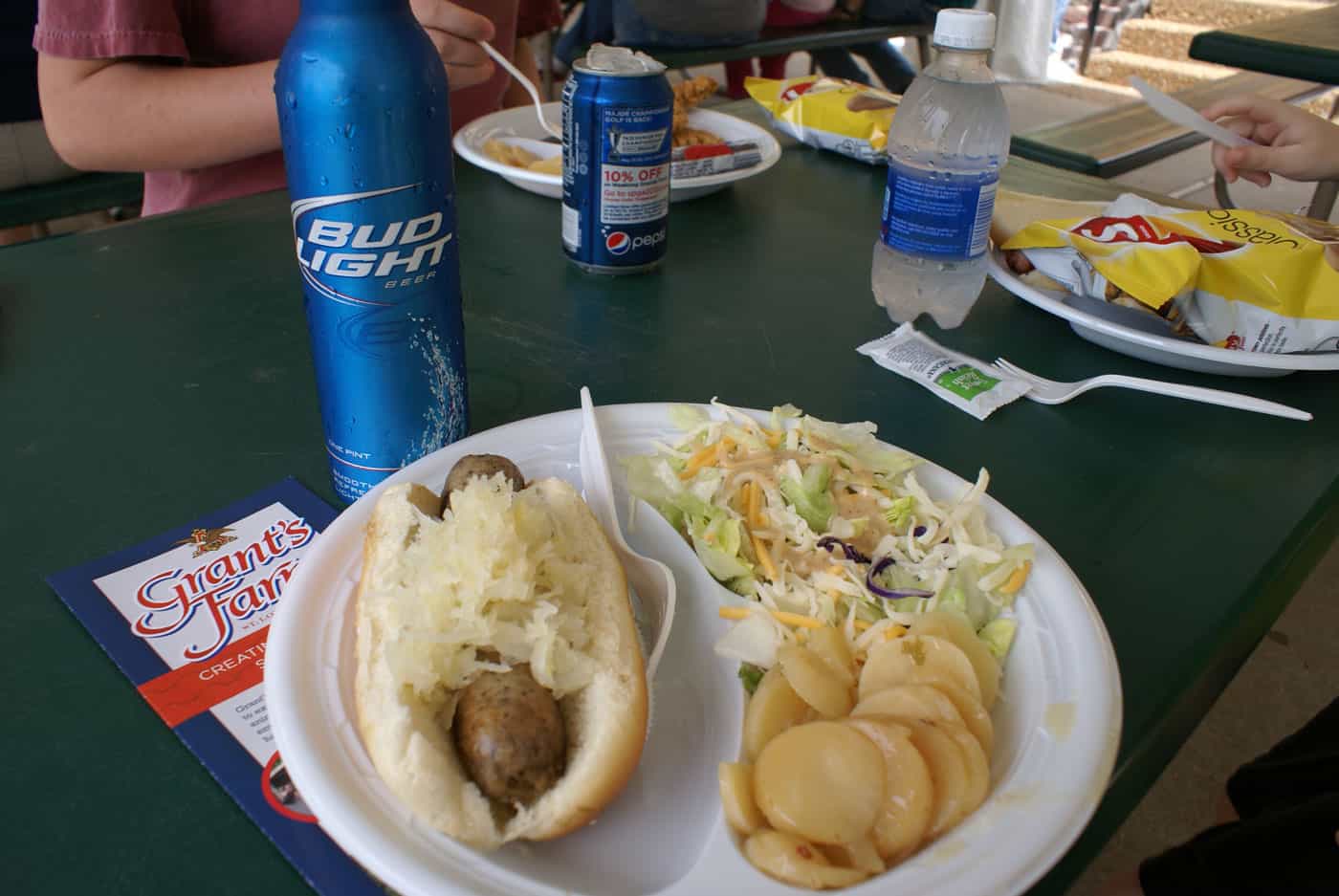 Conquer the Bauernhof!
Lunch crowds can be big at the main beer garden, so it's better when you have at least two adults in your group. Have one stake out a table with the kids while the other tracks down snacks/lunch/daddy's free beer.
Or hit Tier Garden Treats for lunch
If the Brat Haus line at the main beer garden looks too long, remember that you can get brats, pizza, hot dogs and ice cream at the food stand next to the amphitheater. This area is rarely crowded…probably because there's no free beer here. ?
Yes! They take plastic!
For the longest time the Brat Haus and Tier Garden Treats only took cash. They've modern now, so no worries if you only brought your debit card. They take Master Card and Visa. (I told you, I've been going here a loooooooong time.)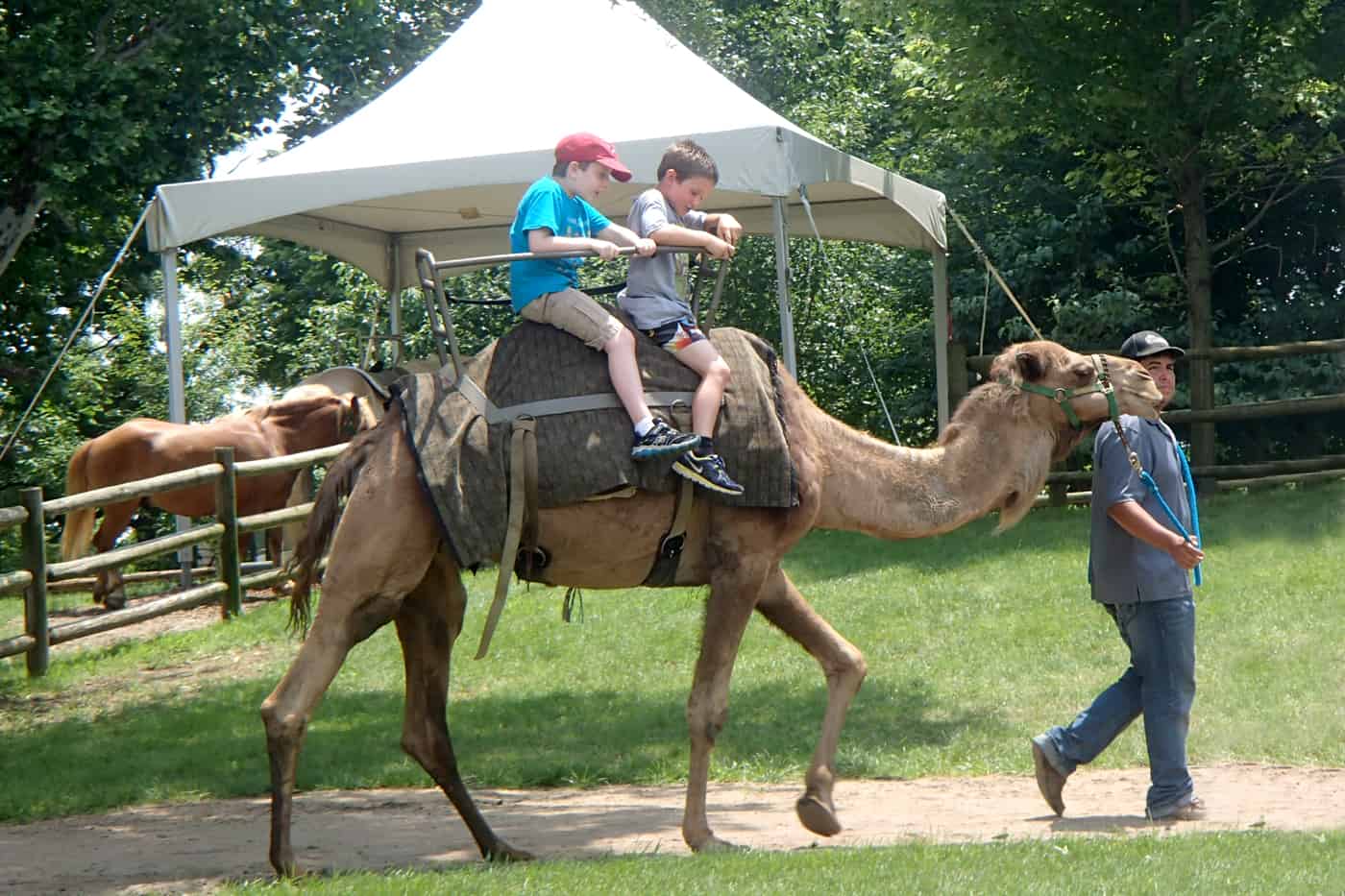 Still, bring some cash–especially quarters.
Grant's Farm can be a pretty cheap weekend outing, but there's a few extras you don't want to miss!
Petting the baby goats are free, but feeding them is $1.50 for a bottle or cone of goat chow.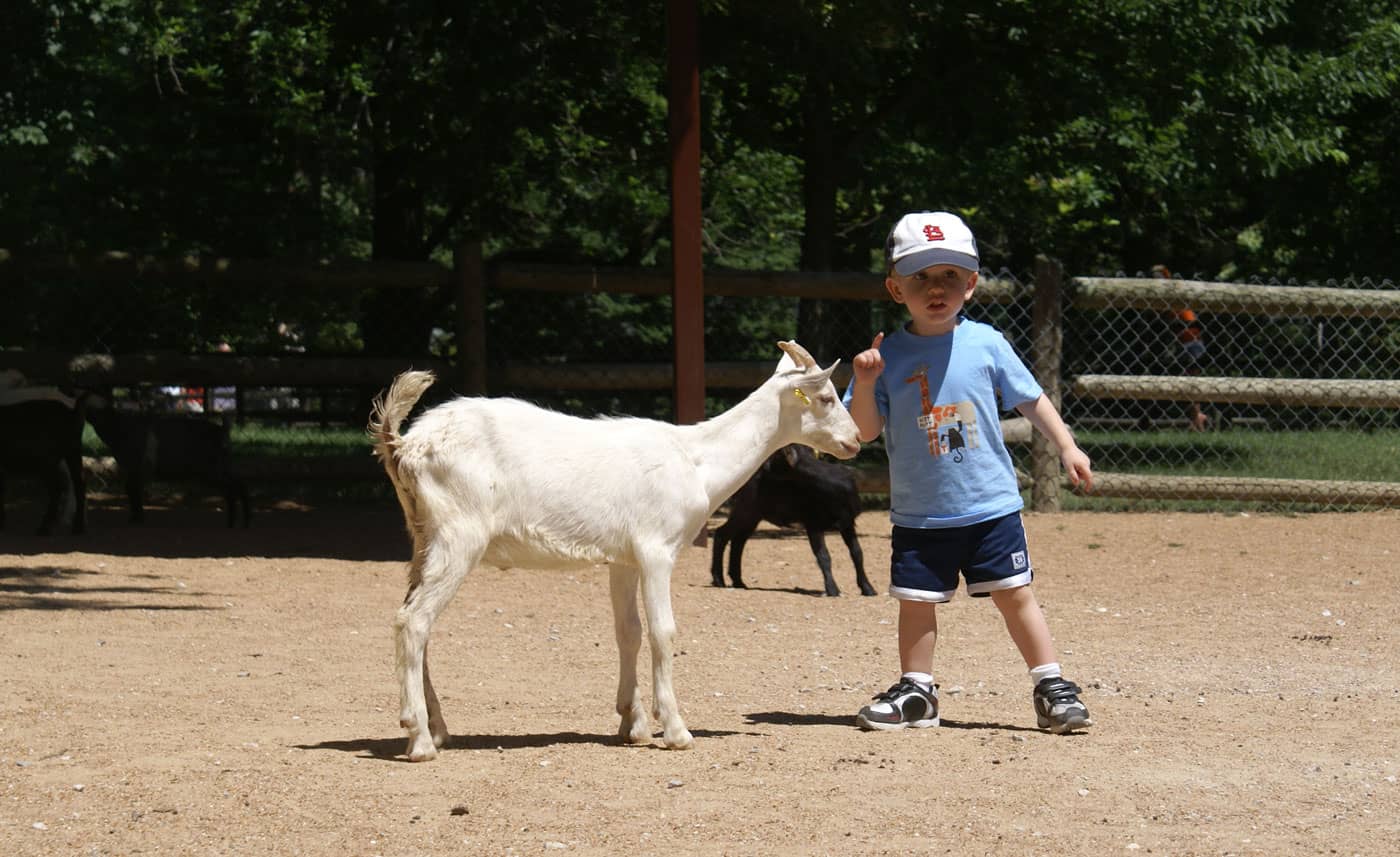 You can feed camels, lamas, sheep & mini cattle–feed them for 50 cents and they'll love you forever.
Take a spin on the carousel for $2–adults are free if you need to help a smaller child.
Feed the Parakeets for $1.50.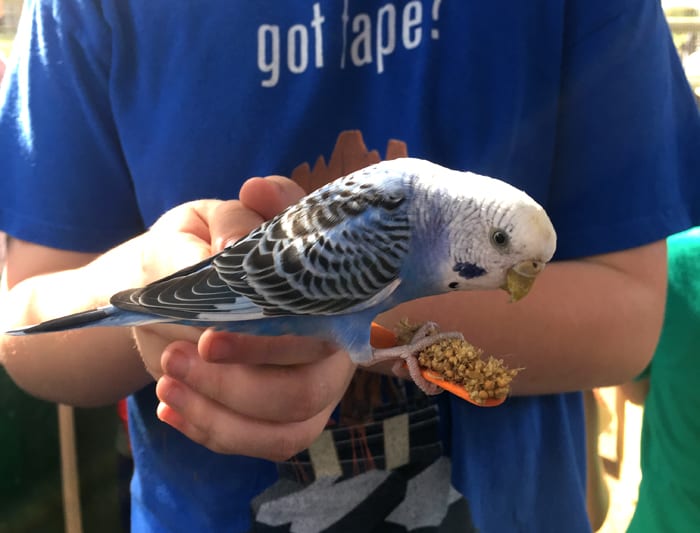 Camel rides are $6. You can grab your own photo, or let the pros do it for $5.
Want a photo with a Clydesdale? That's $10–and they'll let you pet him too.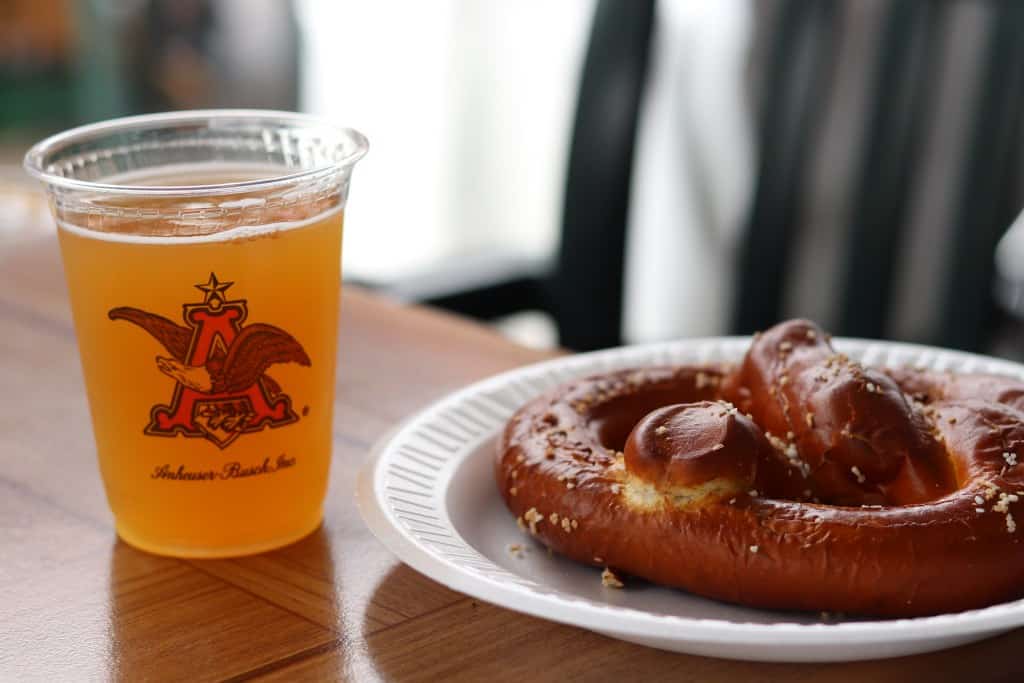 No, they won't let you get a beer for your wife, husband or grandma who's watching eight kids.
If you want a free beer, you're gonna have to get it yourself. A few years ago they slimmed down the sampling selection which speeds up the line a hundred-fold. So don't worry, you won't wait long.
You're only getting two samples at the hospitality room. Really.
You might think with all of those people stopping by for a free beer that maybe the bartenders give out an occasional extra. Nope. I've seen these folks in action and they remember. Every. Visitor. They often hand you a second beer with a cheery, "see you next week!" And if you look young, you're getting carded.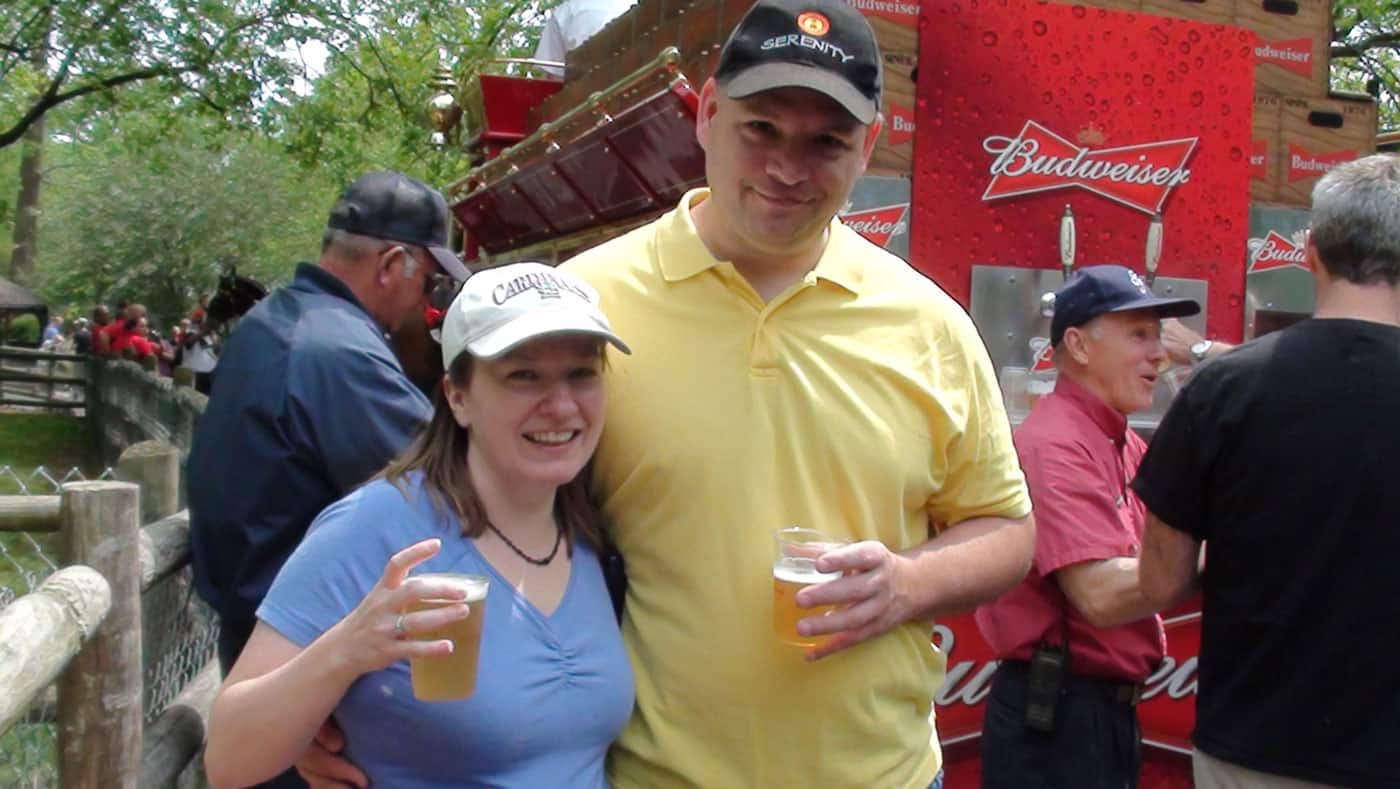 Do you want in free? Ride your bike.
Bike racks are located right off Grant's Trail, an eight mile paved path that runs from Kirkwood to Lemay. The closest trail heads are at Applebee's on Watson and next to Norrenbern's Lumber on Tesshire Road. You'll save some cash and burn some calories, it's a win-win.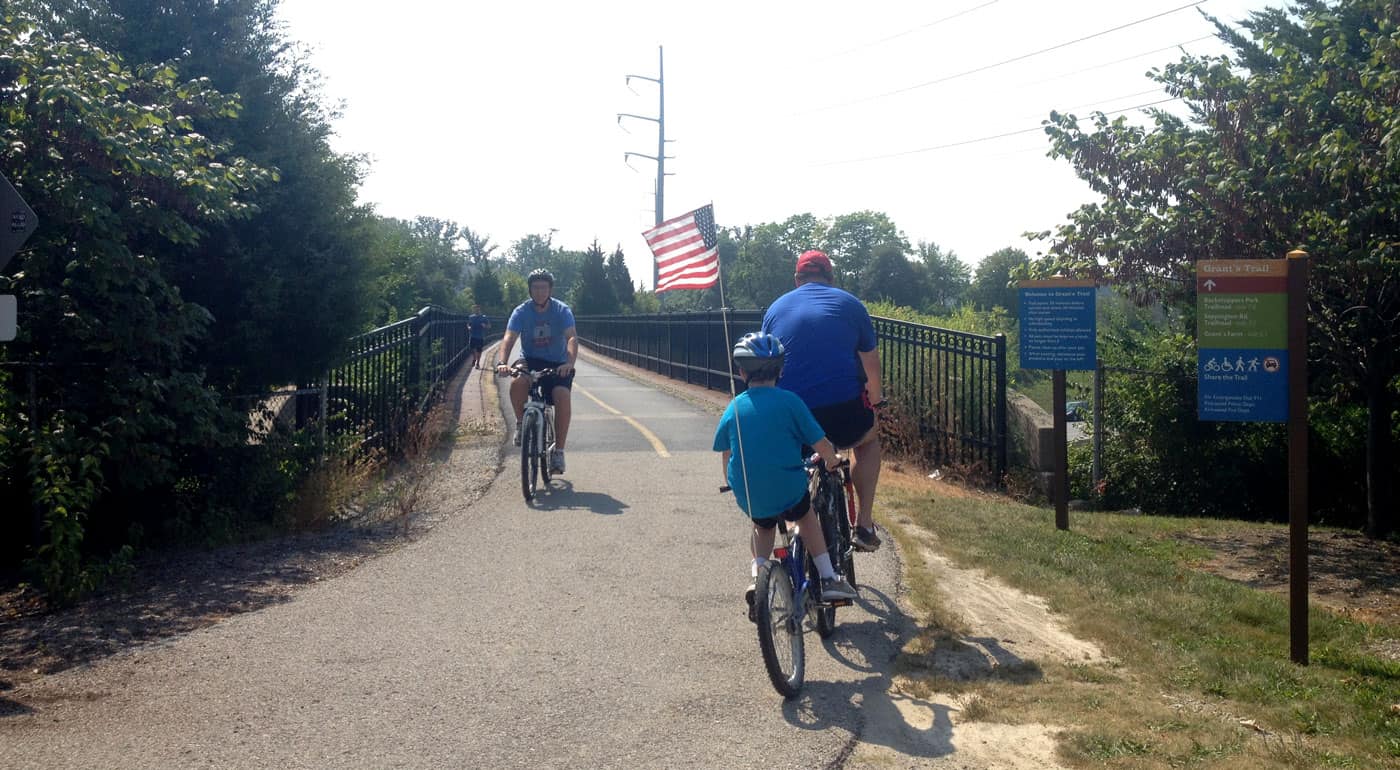 See the rest of General Grant's estate at the National Historic Site next door.
Don't even think about parking there and walking to Grant's Farm, the Park Rangers patrol their parking lot looking for cheapskates. The Historical site has a museum and offer tours of White Haven, Julia Grant's family homestead. Grant's Farm, on the other hand has no problem if you leave your car in their lot at walk to the National Park. Look for the steps to Grant's Trail over by the front gate, it's just a few hundred feet between Grant's Farm and the historical site.
This is part of our Summer Bucket List!
>>> Click here for More Fun Ideas! <<<