I remember creeping around a dark and smoky room, laser gun in hand. My vest started blinking…again…and one of Ryan's friend's started cackling behind me. "I got Ryan's mom!" he crowed. That was probably the last time I play laser tag with a bunch of seven year old boys.
Now don't get me wrong. I looooooove laser tag because my boys love laser tag. I take them to the arcade with a car load of friends, then curl up in the parent's lounge with a tray of nachos and my smart phone. Ah, bliss.
The other thing I love about laser tag is that it's for older kids. When your kid starts to get bored playing make believe at the Magic House…it's time to take your game up a notch and play make believe at the laser tag arcade.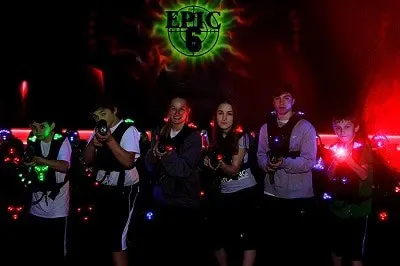 Epic 6 Laser Tag
St. Louis has quite a few places to play laser tag, but my boys tell me that Epic 6 is one of the best. We've played there a lot, and recently they offered us a couple passes in exchange for sharing their awesomeness with my readers. And yes, Epic 6 is AWESOME. They have 7,000+ square foot TWO level laser tag arena, with the latest gear–a 36 player system from Delta Strike International. The arena is a super creepy black light environment full of space aliens, sort of Halo meets Stargate. It might be too scary for younger players, but so much fun for the older kids!
Games are 13 minutes long and new game starts up every 20 minutes.
We usually get a 2 hour pass for the guys when we visit Epic 6. Then they spend the entire time trying to cram in as many games as they can!
More fun than you can shake a stick at…
Epic 6 has more than just laser tag. There's a dodge ball court, basketball court, climbing wall, inflatable obstacle course and a laser maze course. Oh, and of course there's an arcade.
Parent's Lounge
The best part of being the parent of "older" kids is being able to step back and let them have their own fun. Of course my teenager is of driving age, so I can just send him off to meet with friends at Epic 6 these days (check out the Late Night Special on Friday and Saturday nights). But I'm still on chauffeur duty for my youngest, so I'll be taking advantage of the parent's lounge. The lounge is off in the corner, but has a window so you can still spy on the kids. Unlike some places, it's a totally separate room, so it's nice and quiet.
The lounge has a couple flat screens, free wi-fi, electric outlets and a stack of magazines. Feel free to settle in to do some work or just catch up on Pinterest.
Pricing and Hours
Epic 6 has per game pricing, but what you really want is a package. They offer plenty of special packages, depending on the season or the time of day. I already mentioned the Late Night Special for teens and up ($15), but there's also a 2 hours Beat the Buzzer special for $20, a Happy Hour package for $10. Get all the details at their website.
The hours at Epic 6 are flexible, to match the school schedule of local kids. This is means that if the kids are out of school–especially for a holiday–Epic 6 is probably open. Check out their calendar for more details.