I was looking for something special to put under the tree this year for the boys, something so freaking awesome they'd both love it. A game that–gasp–a teenager could play with his little brother. I'm talking about the Ultimate. Family. Gift.
This post is sponsored by Academy Sports + Outdoors but all opinions are my own.
I got them an air hockey table. Oh, yeah!
Ok, ok…it's not a FULL size table, but it's pretty dang big, almost 5 x 3 foot.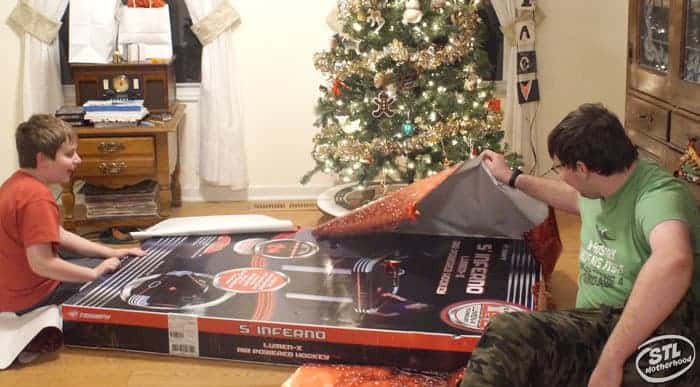 It's the perfect family fun gift–something we can all take turns playing, something that friends will want to play when they come over…and best of all, it doesn't involve a screen! It's also a game that even I can play with the kids!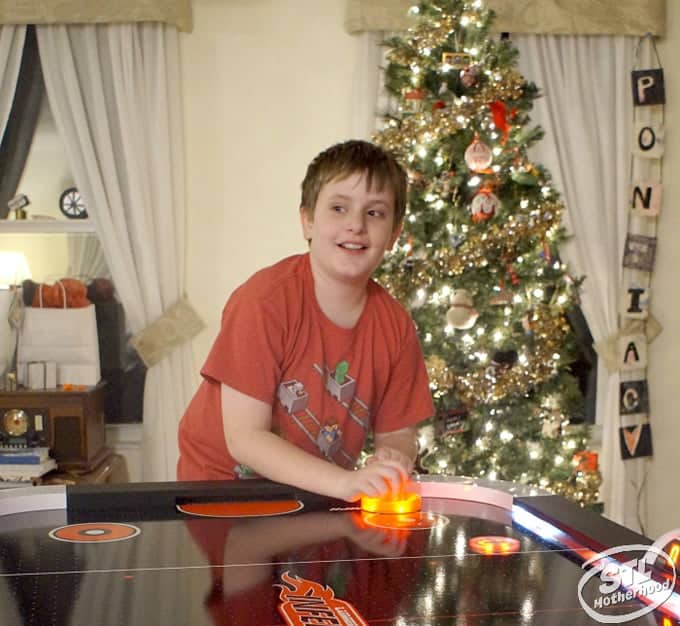 We found our Triumph Inferno 5 air hockey table at Academy Sports + Outdoors, which is loaded with awesome holiday gifts for the whole family. They really make it easy to give and gift this holiday season with their everyday low prices! There's also a big holiday sale going on right now, so our super cool light up air hockey table was a great value at $149.99 (normally it's $199.99).
Family Fun at Academy Sports
If an air hockey or foosball table isn't on your wish list this holiday season, that's ok. I've got a whole lot of other ideas for family fun!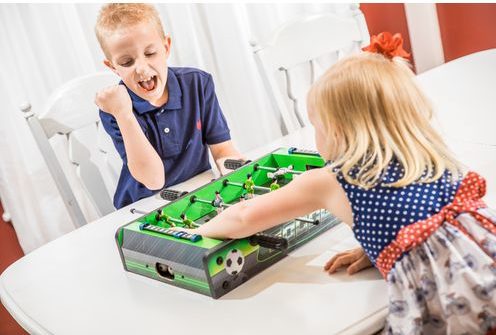 Mini Size Me: you can pick up table top versions of air hockey, foosball, pool and table tennis games, starting at $9.99! The smaller sized games are just right for little kids and can be packed away in the closet when you're not playing with them. No need to rearrange your playroom for these games!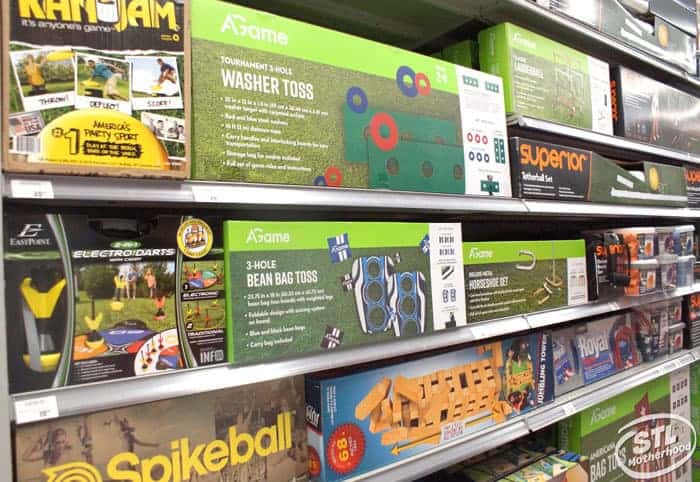 Lawn Games: Take your family fun outside with a set of (soft point) lawn darts, washer and bean bag toss, horse shoe sets and my favorite, the three-foot tall block stacking game Giant-Size Jumbling Tower! Who knows, with the crazy weather in St. Louis, you could be playing these on New Year's Day.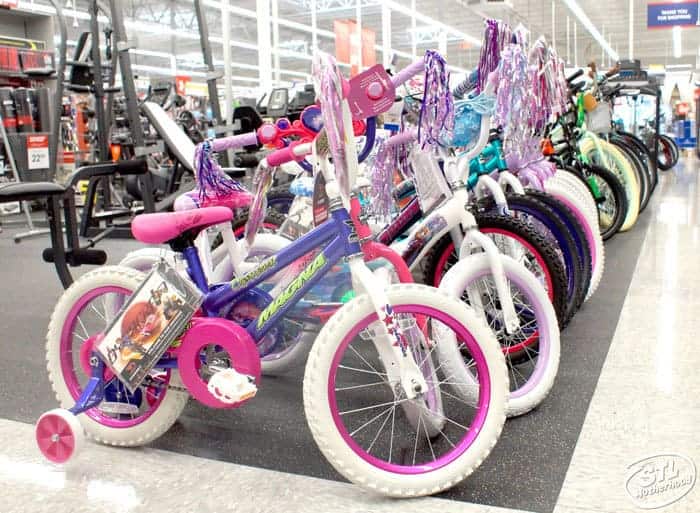 Bikes: You know I love taking the whole family for a peddle on Grant's Trail, right? It's the best family activity for all ages–little ones can roll along in a bike trailer or tag-a-long until they're big enough for their own wheels! While I was conducting research at Academy Sports + Outdoors the staff were literally rolling fully assembled bikes out on the floor. They have TONS of bikes for kids of all ages and grown ups. 12 inch bikes with training wheels are on sale for just $29.99, and 20-inch coaster BMX bike starts at just $39.99.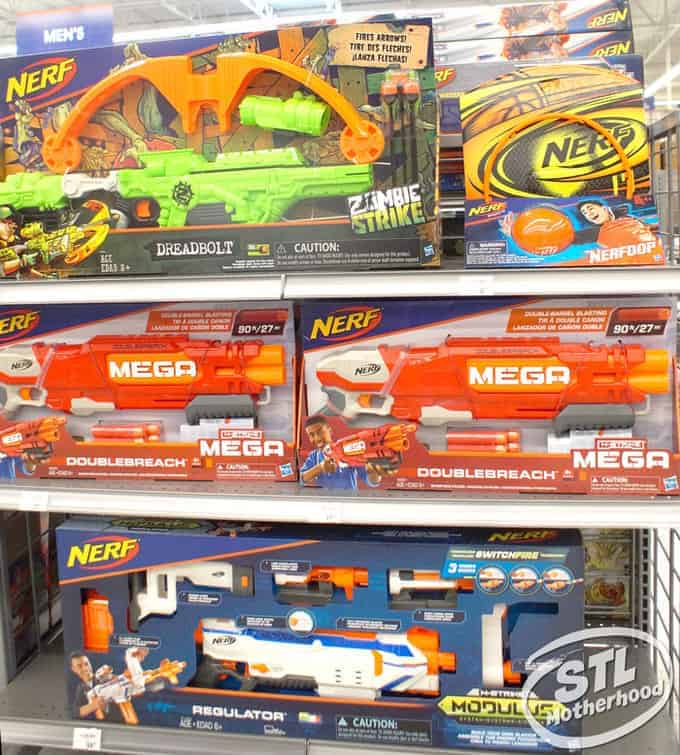 Nerf: Yes, Nerf guns are the BEST thing ever in the family fun category. Last year a friend gave my whole family a set of Nerf pistols and a box of foam darts. We had a blast! Academy has a huge selection of Nerf toys, so don't let the kids have all the fun! I've even got a few ideas for setting up a target range that you can play inside or out.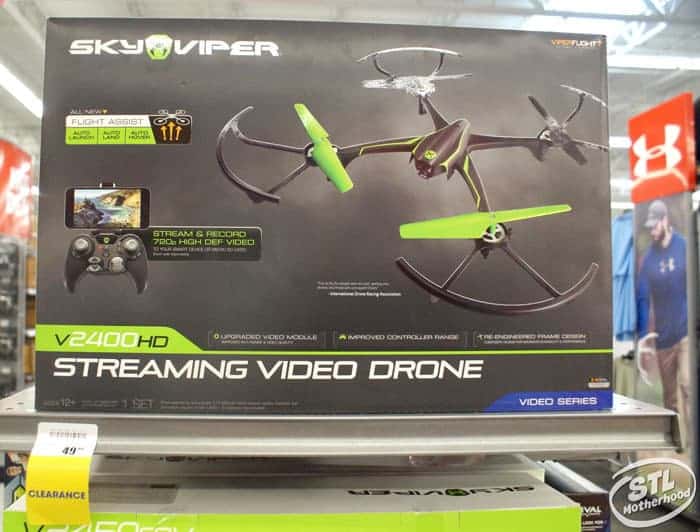 Drones, Drones, Drones: Academy has several drone helicopters that would be great gifts! They have tiny indoor drones starting at $19.99 to larger outdoor drones with cameras for $49. Got a Star Wars fan? How about an X-Wing or Tie Fighter quadcopter?
instagram.com/en_US/embeds.js">