It took me three years of begging to get my first Millennium Falcon, and when that baby showed up under the Christmas tree in 1981 I was one happy nerf herder. I still have that Kenner Falcon, and believe it or not, and I actually let the boys play with it. I'm not one of those nuts who keeps her Star Wars toys in a glass box, but I do ask the kids to be very careful. My Falcon might be fastest hunk of junk in the galaxy, but she's also 35 years old!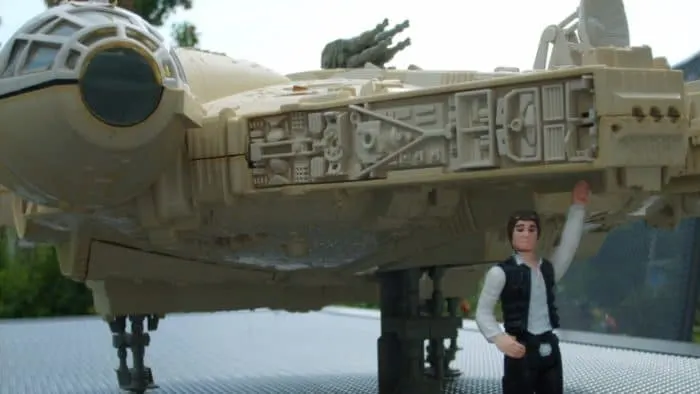 These days we have several Millennium Falcons in the house. One has dangled from my rear view mirror, going all the way back to the first car I ever bought. A tiny Falcon sits on my computer desk. My oldest boy got a LEGO Millennium Falcon for his birthday years ago…and the pieces are scattered all over the house. Ryan wasn't much for keeping his builds in their original format when he was 10.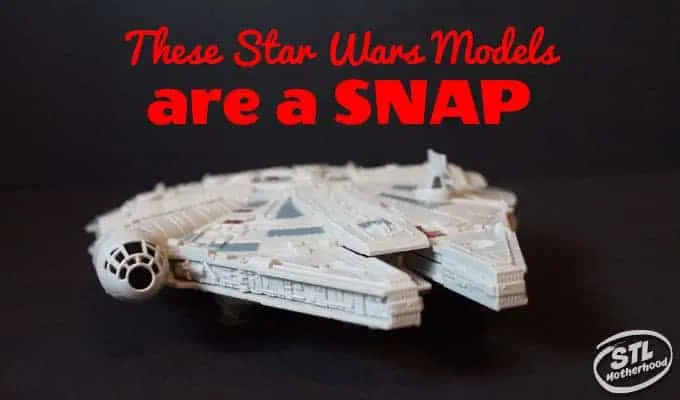 And now Mitch has his own Falcon, one he built himself.
Model maker Revell sent us four fabulous Star Wars The Force Awakens models to test out, free of charge.
Star Wars SnapTite Model Kits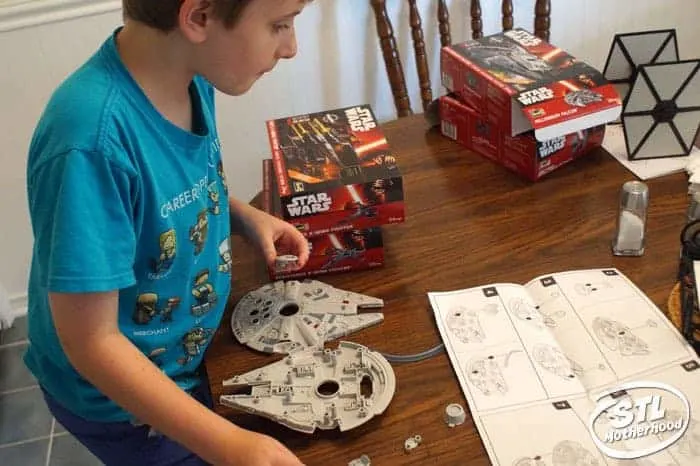 These first four models (Millennium Falcon, Poe's X-Wing, a Resistance X-Wing and a First Order Special Forces Tie Fighter) are for kids 6 and up. Revell says it takes about 30 minutes to build each SnapTite model, which do not require any glue or paint. Just snap together the pieces and you're ready to fly! My nine year old only took 20 minutes to build each model. (He's a pro builder!)
Need more Star Wars Crafts? These are the crafts you're looking for!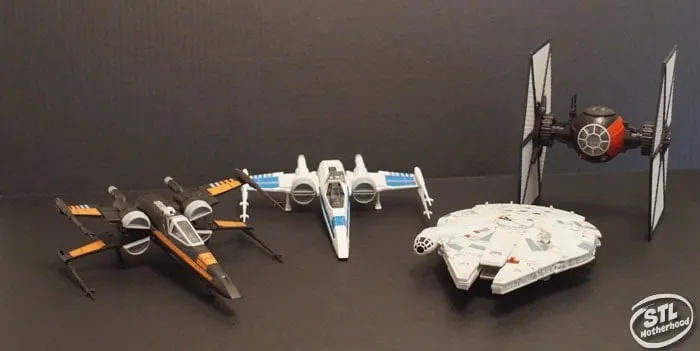 Unlike other models we've tried in the past, these have genuine play-ability. Each one makes engine or laser cannon noises, some light up and they all have moving parts like landing gear and cockpits. They're super simple to build–Mitch had no problem snapping them together himself. In fact, he wouldn't let me help at all! The models are also pre-painted, so you just snap and get right to the playing! And if you're more interested in displaying them, you can park them on your desk, or fold up the landing gear and let them fly from a string. (There's no string mount, but I'm sure you can figure something out.)