Mitch snatched the box out of my hands with a gleeful look in his eye. "Can I build in the living room?"
I nodded my head. The Tinkering Lab STEM kit isn't messy–there's no glue, no paint, no goo of any kind. Just laser cut wood shapes, rubber bands, screws and a couple electric motors.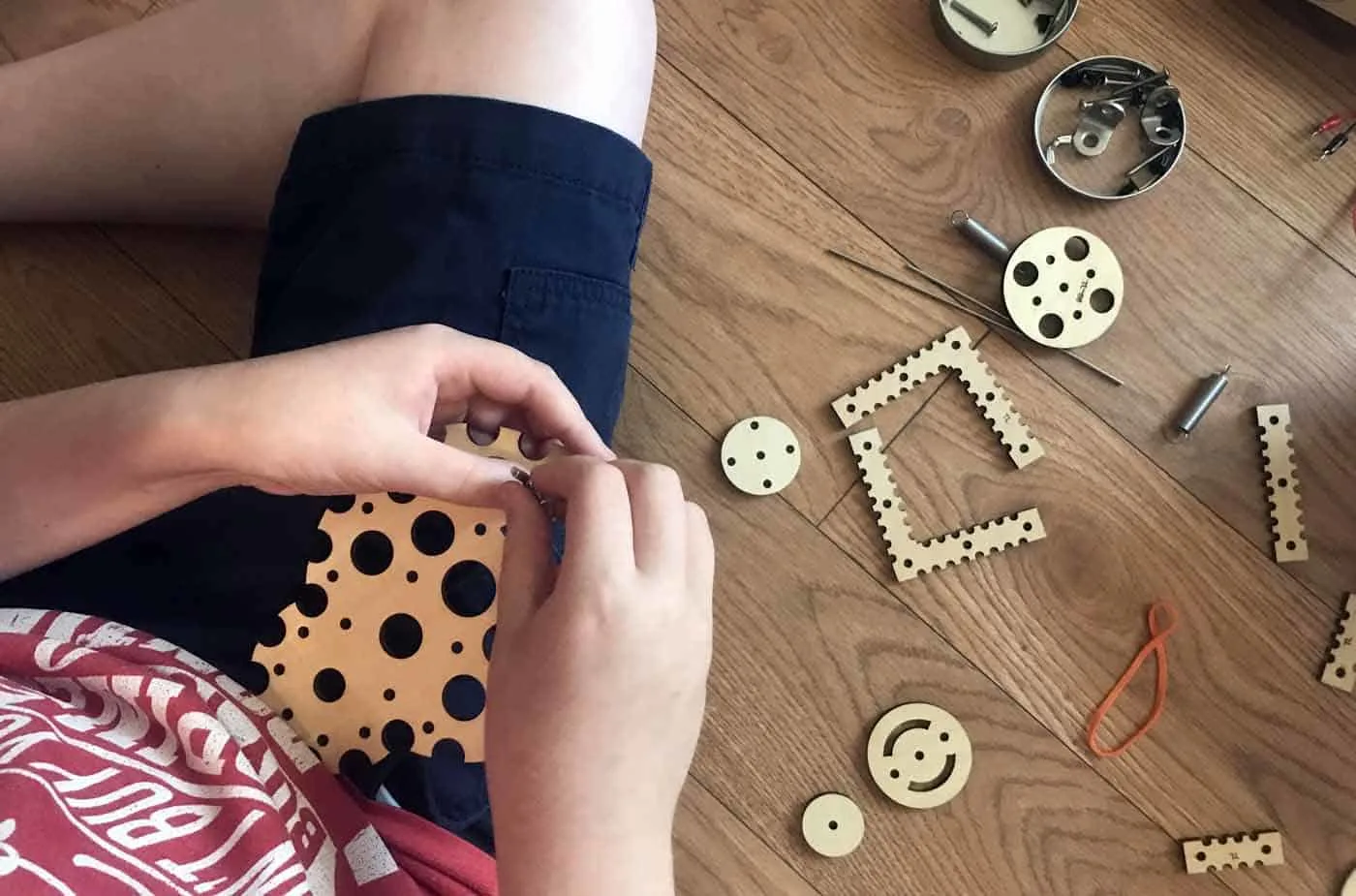 Ok, the kit does come with some markers and big sheet of paper just incase your junior engineer wants to build a robot that draws.
STEM = Science, Technology, Engineering & Math
What are Tinkering Labs Kits?
Tinkering Labs creates just one kit: the Electric Motors Catalyst.
It's an opened ended design "toy" where nothing is ever glued together. Like an old school box of Tinker Toys, kids are meant to experiment, create, tinker…then take it apart and do it again!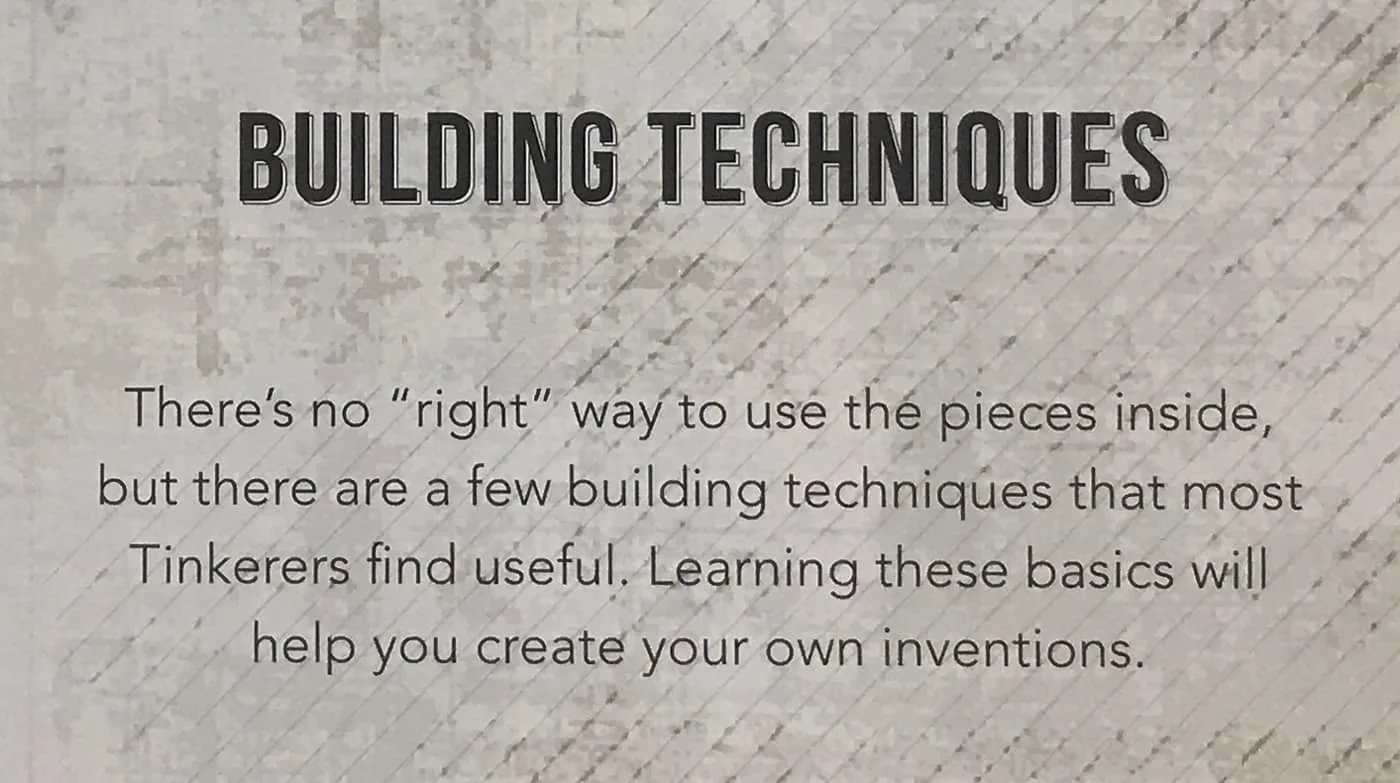 The replay value is enormous! Unlike other STEM kits, you don't sign up for an unending monthly subscription of one-off projects. You only have to buy the Tinkering Kit ONCE, but believe me, your kids will come back to it again and again.
What's in the Electric Motors Catalyst?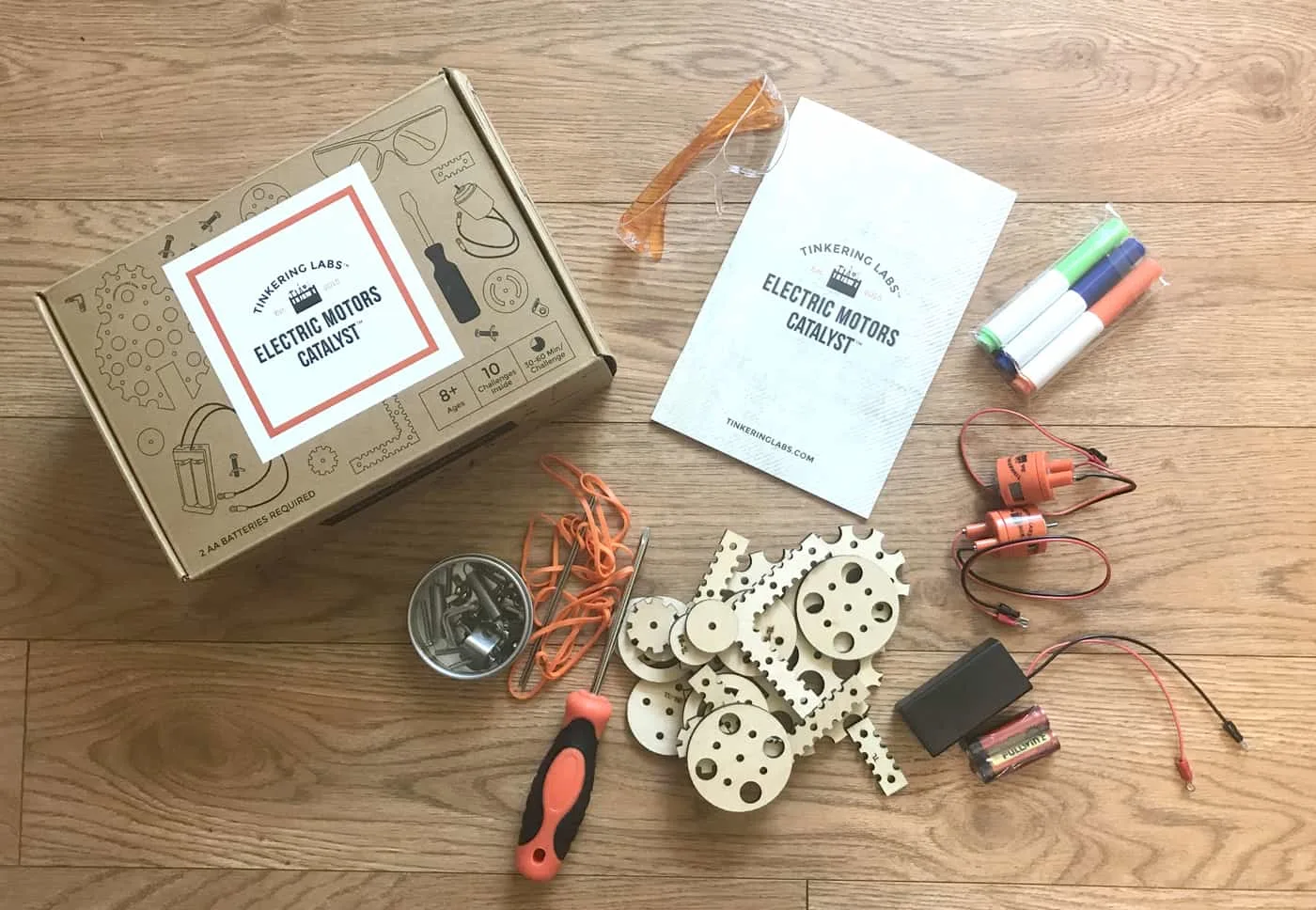 The Electric Motors Catalyst has over 50 REUSABLE parts. The main building components are laser cut from durable wood. Each wooden part has lots of notches and holes to allow for a multitude of connections.
Here's what's inside the Catalyst
2 Electric Motors with detachable wires
1 Battery Pack
2 AA Batteries
1 Wooden Chassis
6 Wooden Connectors in 3 Shapes
12 Wooden Wheels in 6 Different Sizes
2 Metal Axles
4 Metal L-Brackets
10 Bolts with Wing Nuts
2 Metal Springs
12 Bushings
12 Rubber Bands
Plus you get a pair of kid sized safety glasses, a full sized Phillips screwdriver, 3 washable markers, a giant sheet of paper, a cloth bag to store your parts and a hardware tin for all those little bits and bots.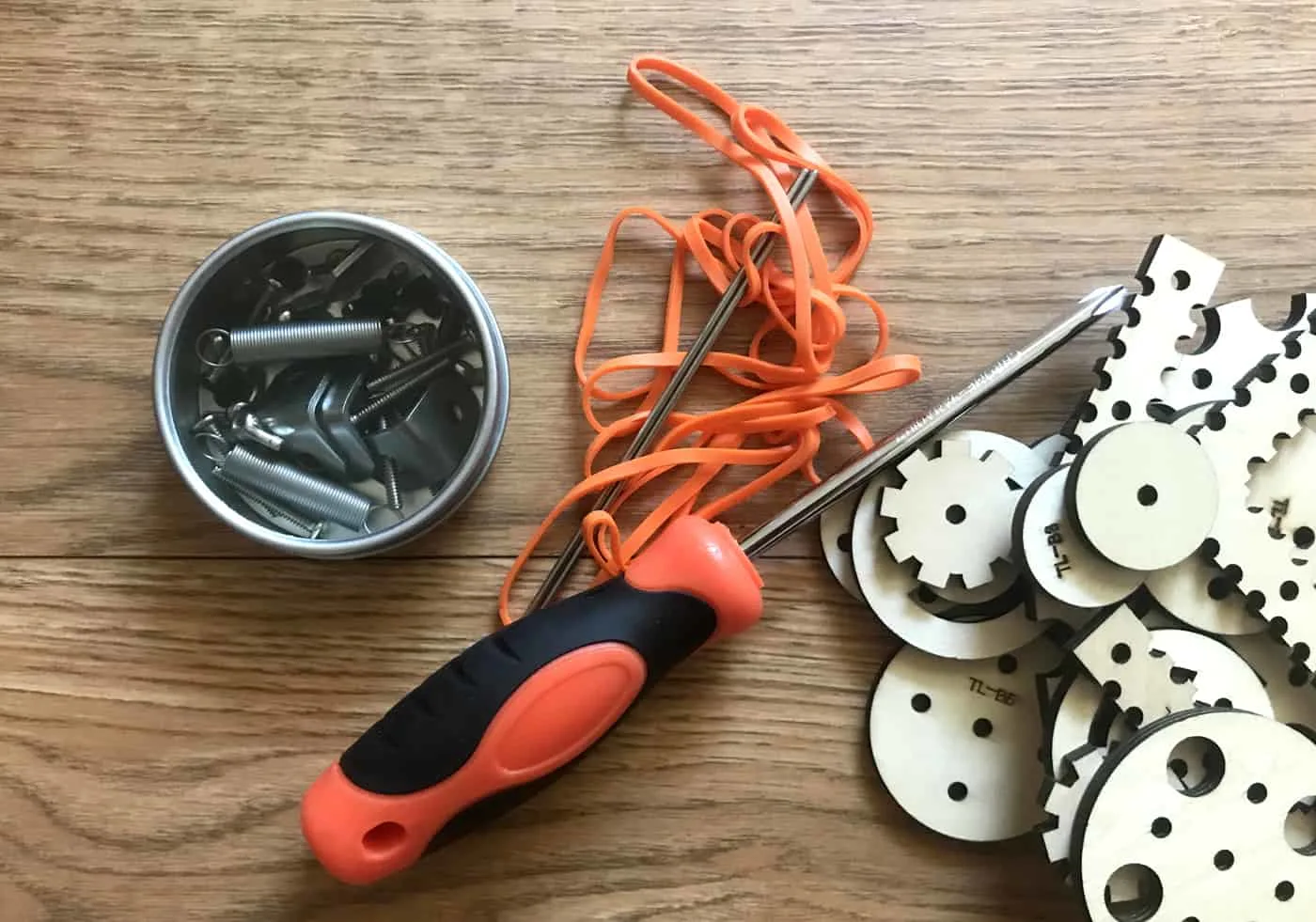 Tinkering Labs Challenge Cards
Oddly enough, you don't get an blue prints. Ok, you get some basic building instructions–like three ways to connect the motor safely and how to get a wheel spinning.
Otherwise, the kit is totally open ended.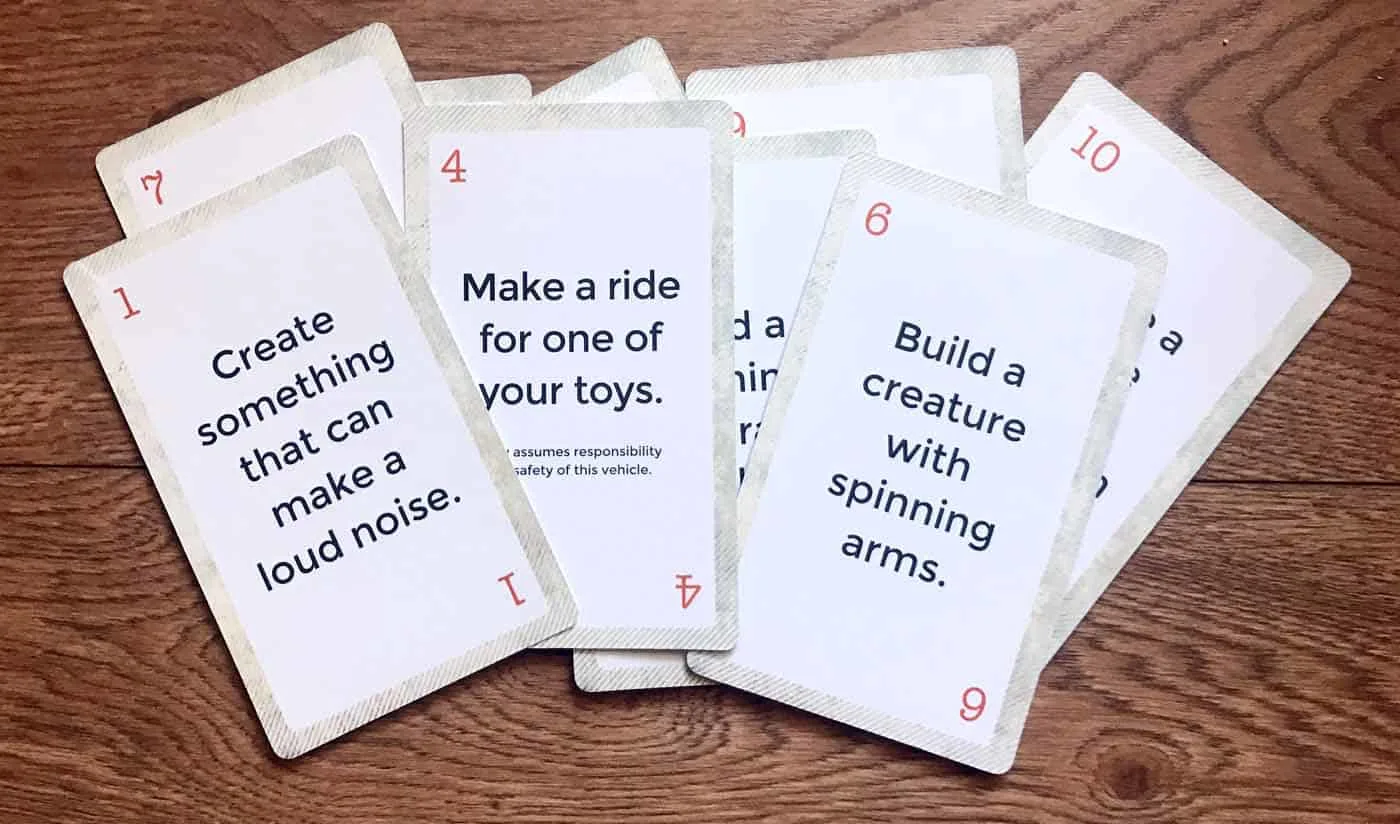 There are 10 Challenge Cards to give the kids some ideas on what they can build.
Get Started Building
Mitch dove head first into the Tinkering Labs kit! He's had a lot of experience building with similar kits and including making his own Doodle Bots and Brush Bots.
If your child hasn't worked with electric motors yet, you can watch these three videos from Tinkering Labs to learn how to make safe electrical connections, attaching parts and taking apart the motor.
Quarterly Build Contests
If your kid needs help getting started, your best bet is heading to YouTube and looking up the Tinkering Labs quarterly build contests. Each contest is based on one of the Challenge Cards–right now they're doing a Summer Contest on Challenge 1: Create something that can make noise.
Kids are asked to build something that meets the challenge, then submit a video. Everyone who enters gets a cool wooden sticker, and the winner will get a custom tool box for their Tinkering Labs kit.
Videos from past contests are a goldmine of ideas for your own tinker kid.

What Age is This STEM kit for?
The recommended age range is 8 to 12, but it's so open ended I think any middle school kid will get a kick out of building with it.
Tinkering Labs Project Ideas