I've put it off long enough–it's time for Mitch to start carrying a cell phone. The decision to let your child have a smart phone is highly personal–you have to consider your kid's level of maturity, responsibility and the actual NEED for a phone.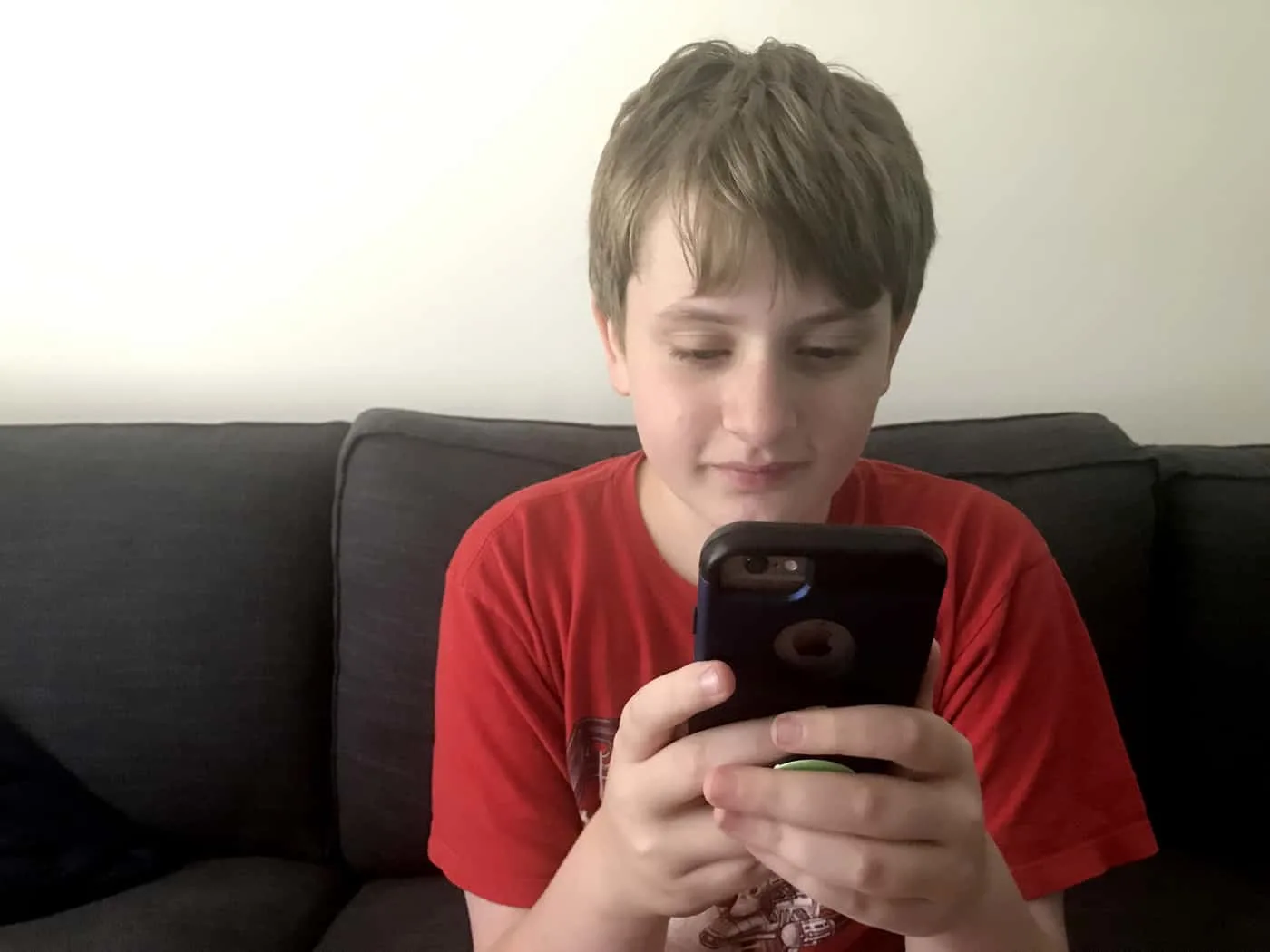 This post is sponsored by iTechshark, all opinions are my own.
Does Your Kid Need a Phone?
For good or ill, most tweens like Mitch have phones. In fact, many of his friends have had phones for YEARS before him.
If you're not sure about getting your kid a phone here's a few questions to ask:
❓ Do they NEED a phone? Why?
❓ Can they make do with a tablet or computer?
❓ Do they take care of their expensive toys and belongings?
❓ Are they mature enough to handle texting and social media apps?
There's a great blog post by Cool Mom Tech that outlines things to think about when you're getting your kid a smart phone. You might find the tips on how to set up a contract between you and your kid especially useful.
If you're thinking about buying a phone as a gift, here's some more food for thought!
Yes, My Tween is Ready for a Phone
I know that my kid is ready for a phone–his room might be a mess, but he's never broken an expensive toy and takes great care of his school Chromebook. He's kind and caring with his words, and I already trust him use my iPad in his room.
We Don't have a Landline
The biggest reason my tween need a cell phone is our lack of a traditional wired phone. Like 50% of the country, we don't have a landline.
Plus my oldest son and de facto babysitter is moving to away for college this school year!
The kid needs a phone. Just in case.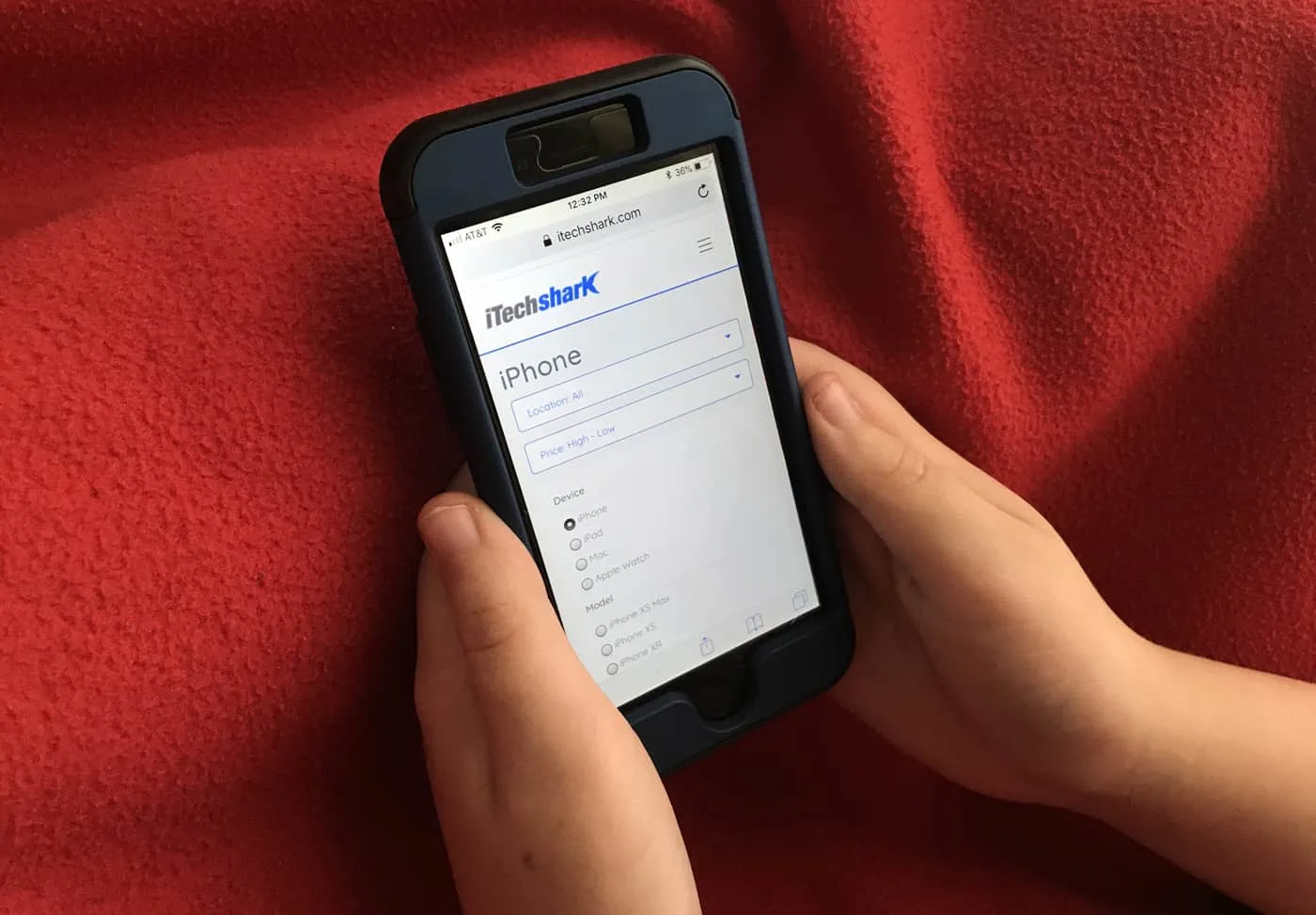 Cheap Phones for Kids
I'm always looking for bargains when we buy electronics. We're a single income household with a kid in college. No one around here is carrying a $900 factory fresh iPhone X.
Not me.
Definitely not the kids.
I also don't want to weigh down our phone bill with installment payments for new phones. We don't buy new phones for giggles around here, we wait until one is actually broken.
And We do the Cell Phone Shuffle
My boys are lucky enough to have tech savvy grandparents who love buying gadgets. A couple of times they've given my oldest their old phone when they picked up the latest new thing.
When we add a new phone to the family, we do a big phone shuffle. As the blogger in the family, I get the best tech–call it a mom perk. Then I'll hand my phone off to the person who's phone is actually broken.
Sadly the phone shuffle doesn't always work. Poor Mitch was given an iPhone 6s that had been through both his grandfather AND his big brother. The phone worked for a while, then I noticed he wasn't keeping it charged up. Turns out the charging port was worn out and the phone wasn't getting any juice! All this abuse took a toll on the battery, which was down to 20% of it's usefulness.
iTechshark to the Rescue
We needed to get Mitch a phone and buying new is not an option. I needed to find a deal on a refurbished phone.

By the way, when Apple says you can get a iPhone Xr for the low low price of $479, they mean you can trade in your pristine iPhone X with 256GB in order to get that awesome price. A worn out iPhone 6 will get you a free trip to the recycle box.
I've shopped for refurbished phones online before. I had a good experience, but it's a little nerve wracking. You have to take them on their word about the phone's condition and hope nothing gets lost in the mail.
That's why I was happy to find iTechshark–a one stop shop for Apple devices that 100% local. They have four St. Louis locations–Ballwin, Brentwood, Oakville and St. Charles. A fifth store in Chesterfield will be open soon!
iTechshark: Repair & Refurbish Apple Devices
iTechshark specializes in Apple products, from phones to laptops. They have in house technicians who do repairs and service. If you need a common repair–like glass replacement or a new battery, they can do it on the spot, while you wait!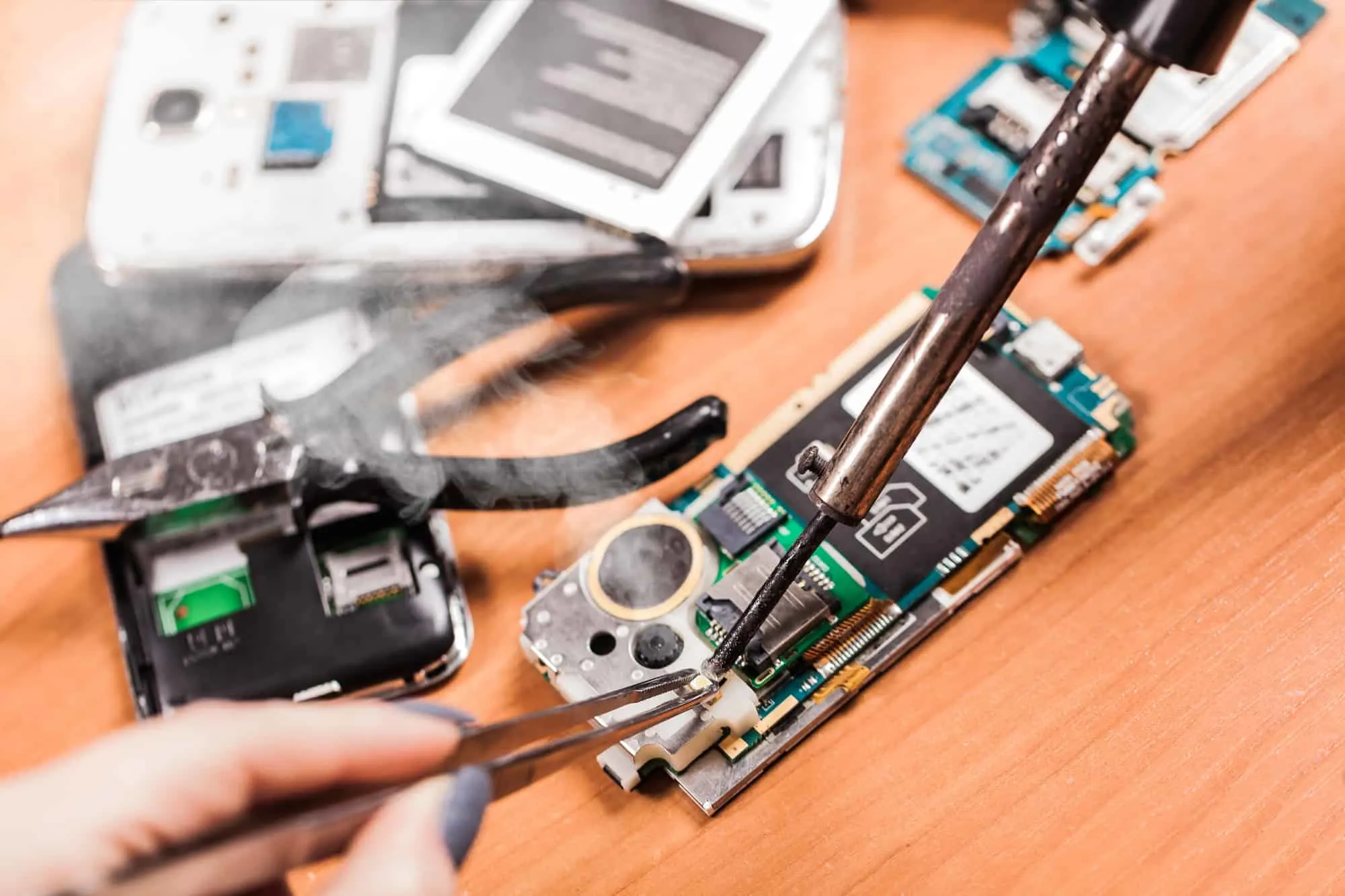 What I really like about iTechshark is the transparency–prices for repairs and devices are posted right on the website.
For example, if Mitch's old iphone 6s just needed a new battery, I can see exactly what it costs to fix by checking the repair section of the website. Glass replacement prices are listed too!
The service technician at iTechshark said that Mitch's old phone could just have some pocket lint in the charging port. He offered to clean the port and change out the battery as one of our options.
However, I was curious about their refurbished iPhones.
iTechshark Bargains and Smart Buys
When you visit their website you can see what phones they have in stock at each location. Stock moves quickly, and each store has a slightly different selection.
After examining the prices online, I saw my least expensive option would be a "starter" iPhone–a refurbished iPhone SE for $119.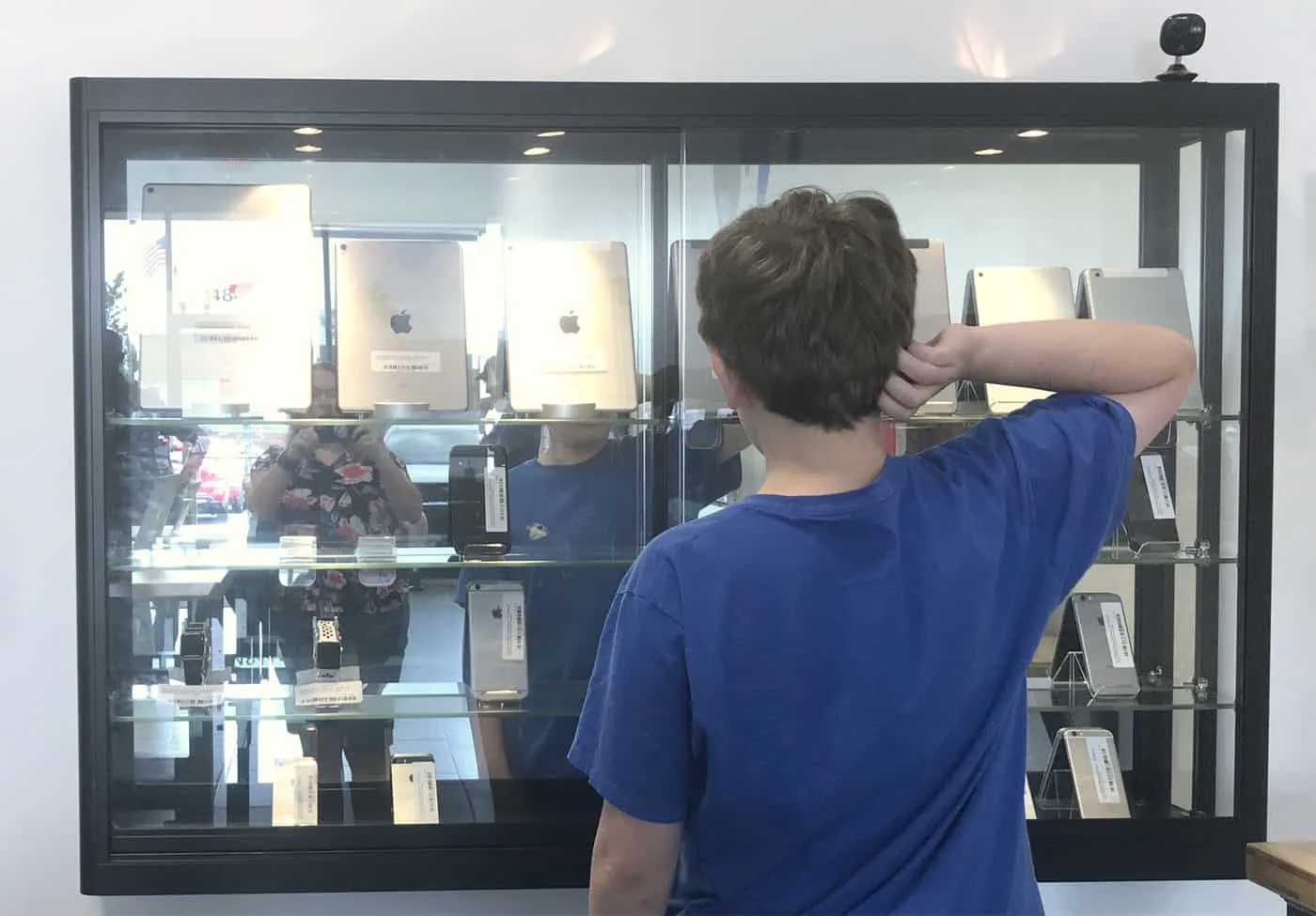 They have lots of phones to choose from, including very recent models. Right now they have a refurbished iPhone SX for $749, which is $250 cheaper than new.
When you visit the shop they're happy to pull phones out so you can inspect them for scratches–the ones we looked at were in like new condition!
I settled on a refurbished iPhone 7, the same as what I carry. They're currently priced around $250, depending on the amount of memory they have. Much to Mitch's annoyance, I did another family phone shuffle and gave the refurbished 7 to his brother, who is heading off to college this fall. Mitch got his brothers 6s (again).
I told Mitch that if he manages to not lose or break his new-to-him phone, we can talk trade ins around Christmas.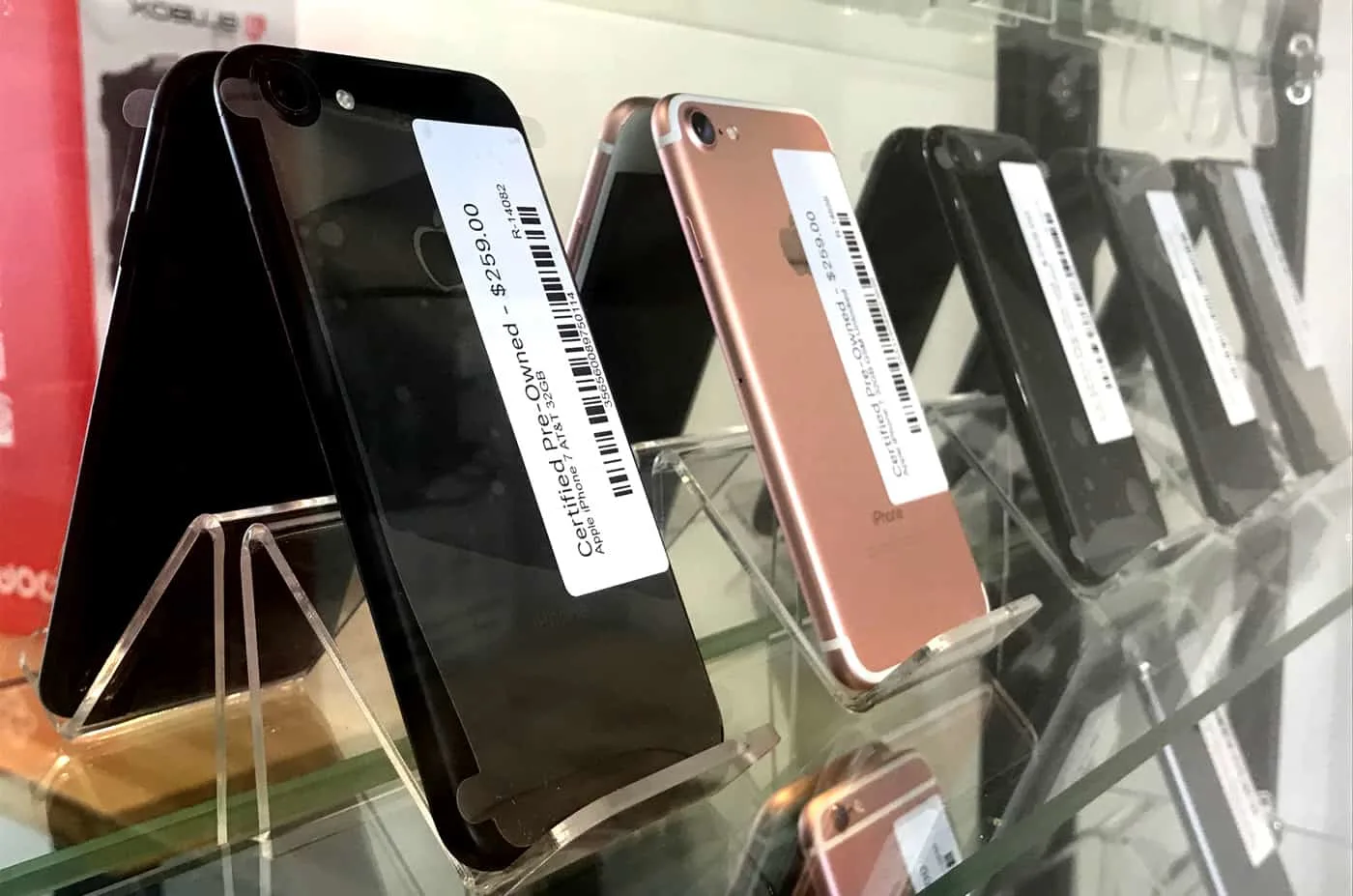 Trade in your Phone at iTechshark
Selling your smart phone to iTechshark is just as easy as buying one. They list estimates on the website, allowing you to get an idea what your phone is worth. They'll buy both Apple and Galaxy phones.
iTechshark gives you a price for cash and a (better) price for trade in value. Check it out here.
30 Point Inspection
Every phone that iTechshark sells goes through a 30 point inspection and repair (if needed) to make sure its in the best possible condition. They back their work with a 90 day guarantee AND a 14 day return policy.
Top Notch Customer Service
The staff at iTechshark are not only great at repair–they're great at service too! When I dropped by–without an appointment!–I didn't know if I wanted to repair Mitch's phone or trade it in. They were happy to check out the old phone and give an estimate on repairs…and the trade in value.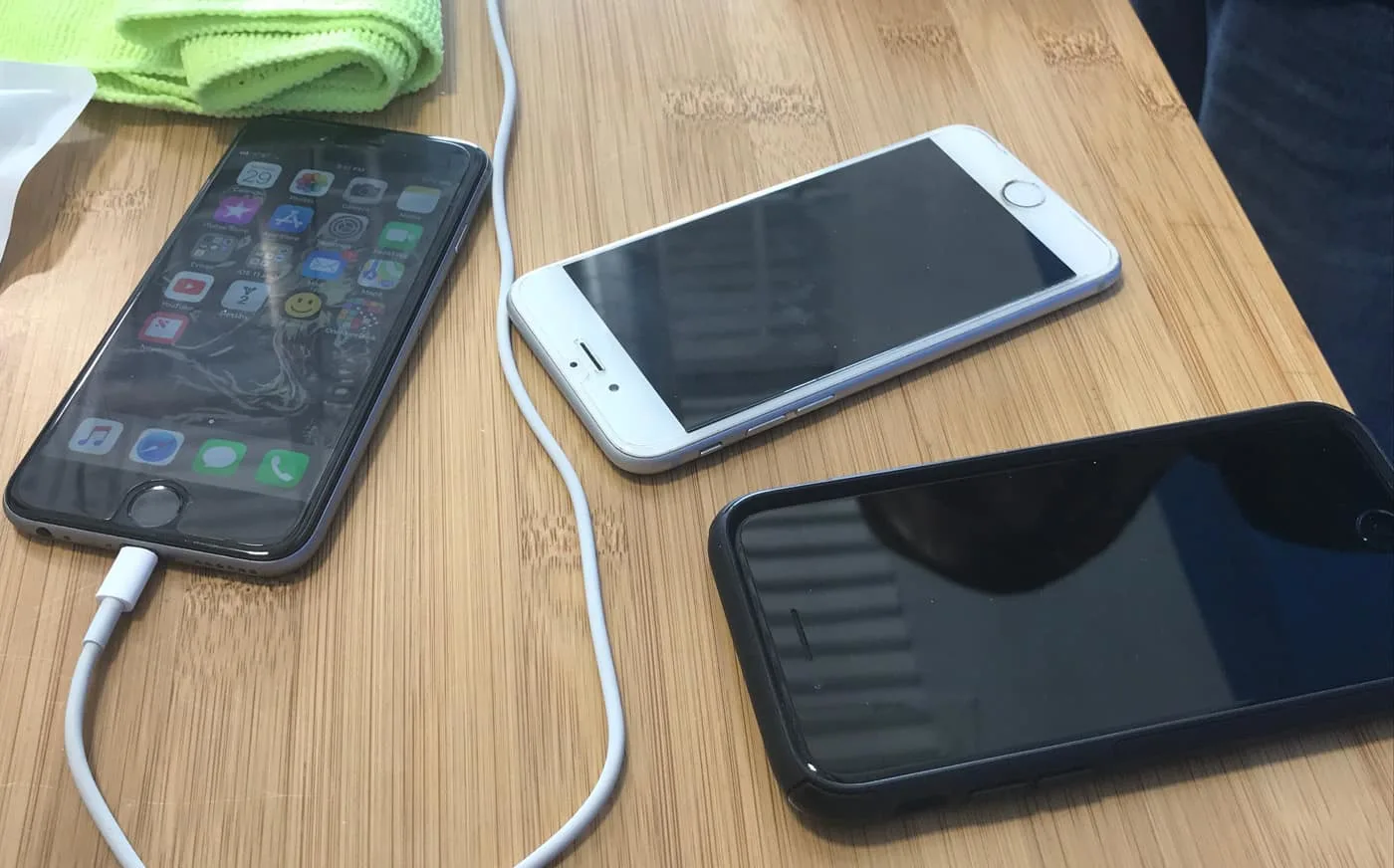 We opted for trade in, and the staff further helped us transfer the data from the old phone to the new. Then he walked me through wiping all data from the old phone before we turned it over.