Want to SPARK your kid's curiosity about science? Then you'll want to check out the Curiosity Cube, touring St. Louis this September 2019!
The Curiosity Cube is a traveling science lab put together by MilliporeSigma, a global life science company. If the name sounds a bit familiar, its because MilliporeSigma is the result of a merger between German based EMD Millipore and home town chemical and biotech company Sigma-Aldrich.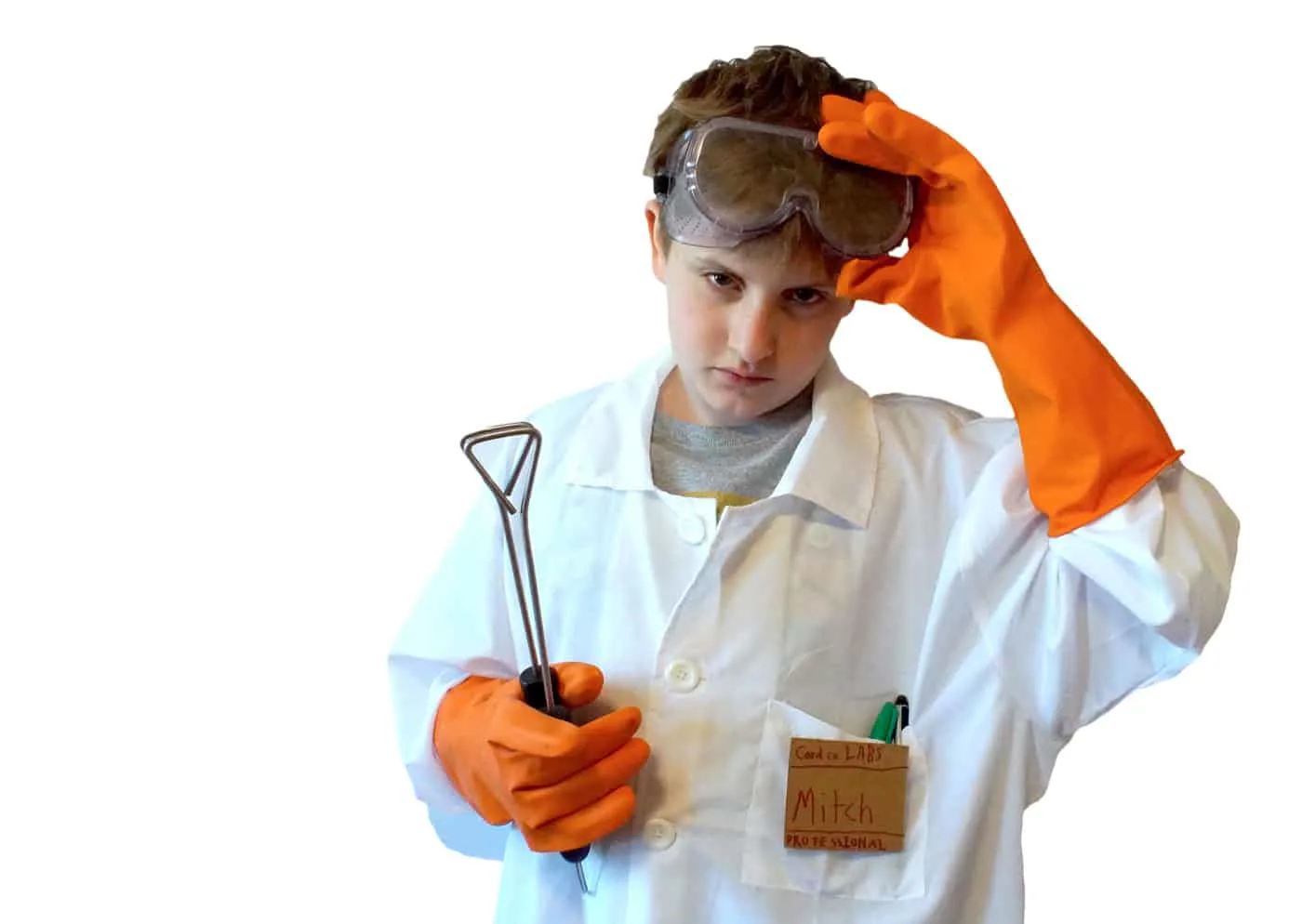 What's the Curiosity Cube?
It's a traveling hi-tech lab stuffed inside a 22×10-foot, retrofitted shipping container! The mobile lab is solar powered and can be set up just about anywhere. They have computers, microscopes, lab equipment and a 3D printer to support a variety of STEM experiments.
How Much are Tickets to the Curiosity Cube?
There's no cost to visit the Curiosity Cube–it's totally free! The Cube is staffed by local volunteers from MilliporeSigma who want to spread their passion for science to the next generation. Because kids who are excited by science today can be a great scientist tomorrow!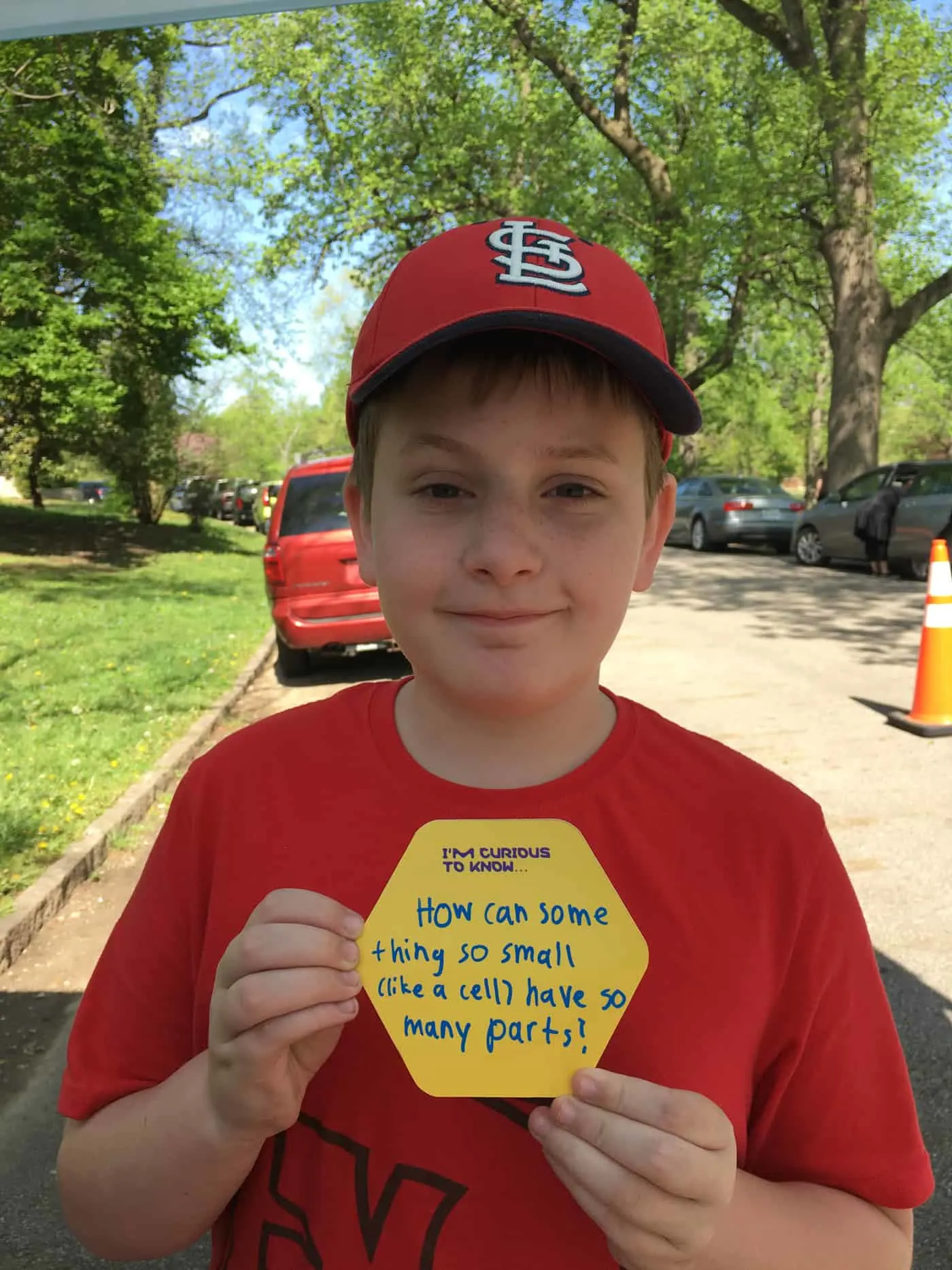 Where can I see the Curiosity Cube?
The Cube will be visiting two great family locations this year! It will be at Eckert's Apple Festival in Belleville on Sept. 8 and at the Magic House Sept. 13 & 14.
See the full schedule here–> https://thecuriositycube.com/schedule-2019-tour/
Friday's Magic House visit will be from 4 to 6:30 during Grooving in the Garden. You'll need to pay to visit the Magic House, but if you just want to see the Cube it will be parked on their lot. Visitors are welcome to drop by just to check out the experiments, no need to buy admission to the Magic House.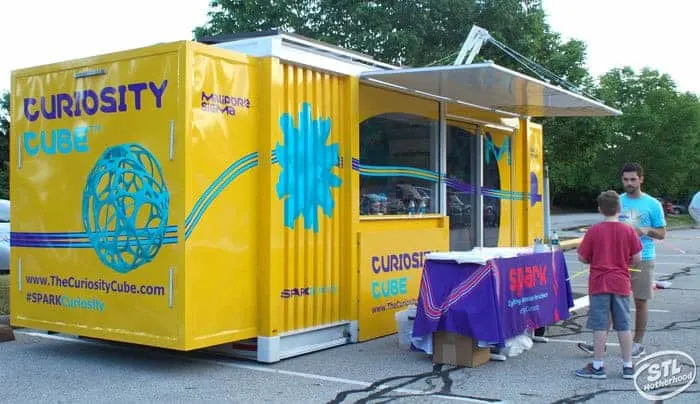 Mitch and I have been to the Curiosity Cube on two previous tours–once when it stopped at the Butterfly House, and last year when it was at a farmer's market.
Cool STEM Experiments
Each year they load the Cube up with new experiments to share with kids. This year they will focus on the 150th anniversary of the Periodic Table of Elements.
They be showing kids Elements in Nature, in Technology (with robots!) and inside the human body.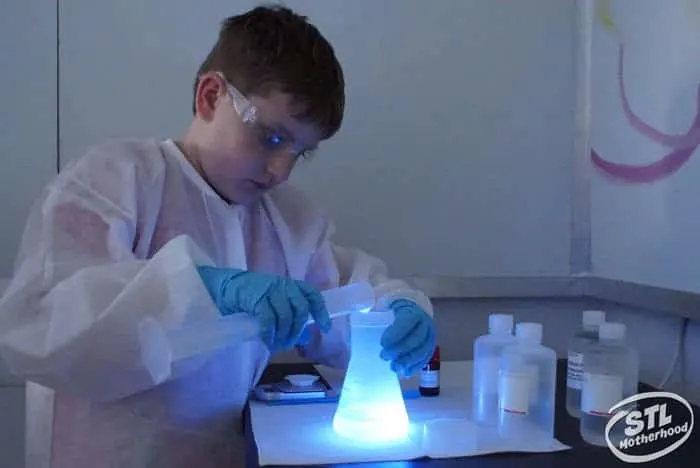 Experiments inside the Cube are carefully guided by volunteers. The Curiosity Cube is listing itself as an "all ages" event, but their target audience is the middle school crowd.
When Mitch was a going into 5th grader he had not done any real chemistry, so the friendly lab volunteer taught him to pour and measure chemicals for his experiment. He mixed five chemicals together (I was busy with taking pictures, so I couldn't tell you what exactly was in the beakers) and the result was a brief, yet very bright glow. It's the same chemical reaction found inside a glow stick.
The Cube is on a quest to bring STEM experiments to 350,000 students from two dozen cities around the nation. The Curiosity Cube is an offshoot of the Sigma-Aldrich's Curiosity Lab program, where employees volunteer their time to bring science experiments to schools all over the globe.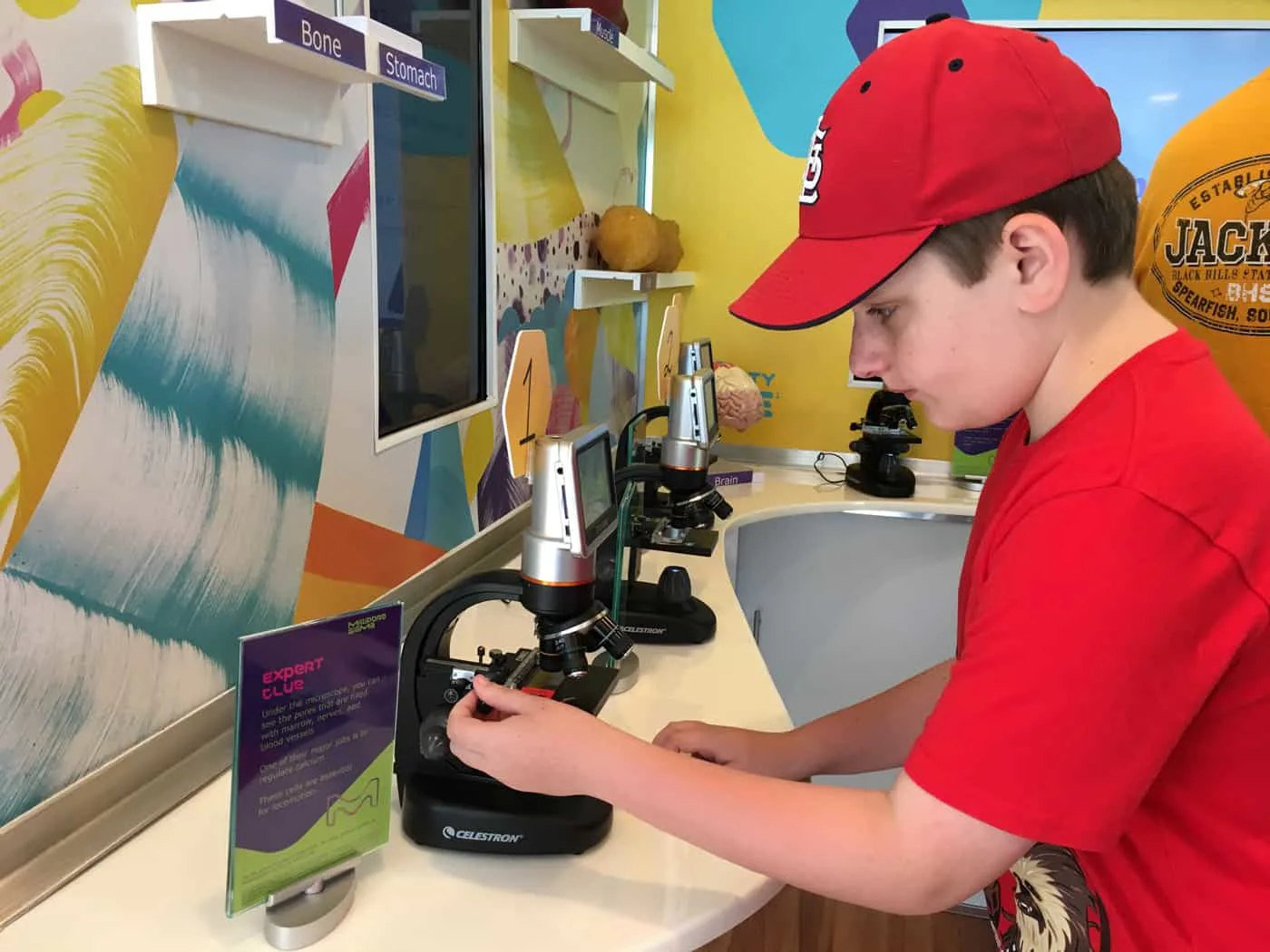 Last year Mitch got some hands on time with microscopes and checked out microbes with virtual reality goggles. Science is pretty cool when you get to see it in action! This year they're using the VR goggles to find elements in the human body!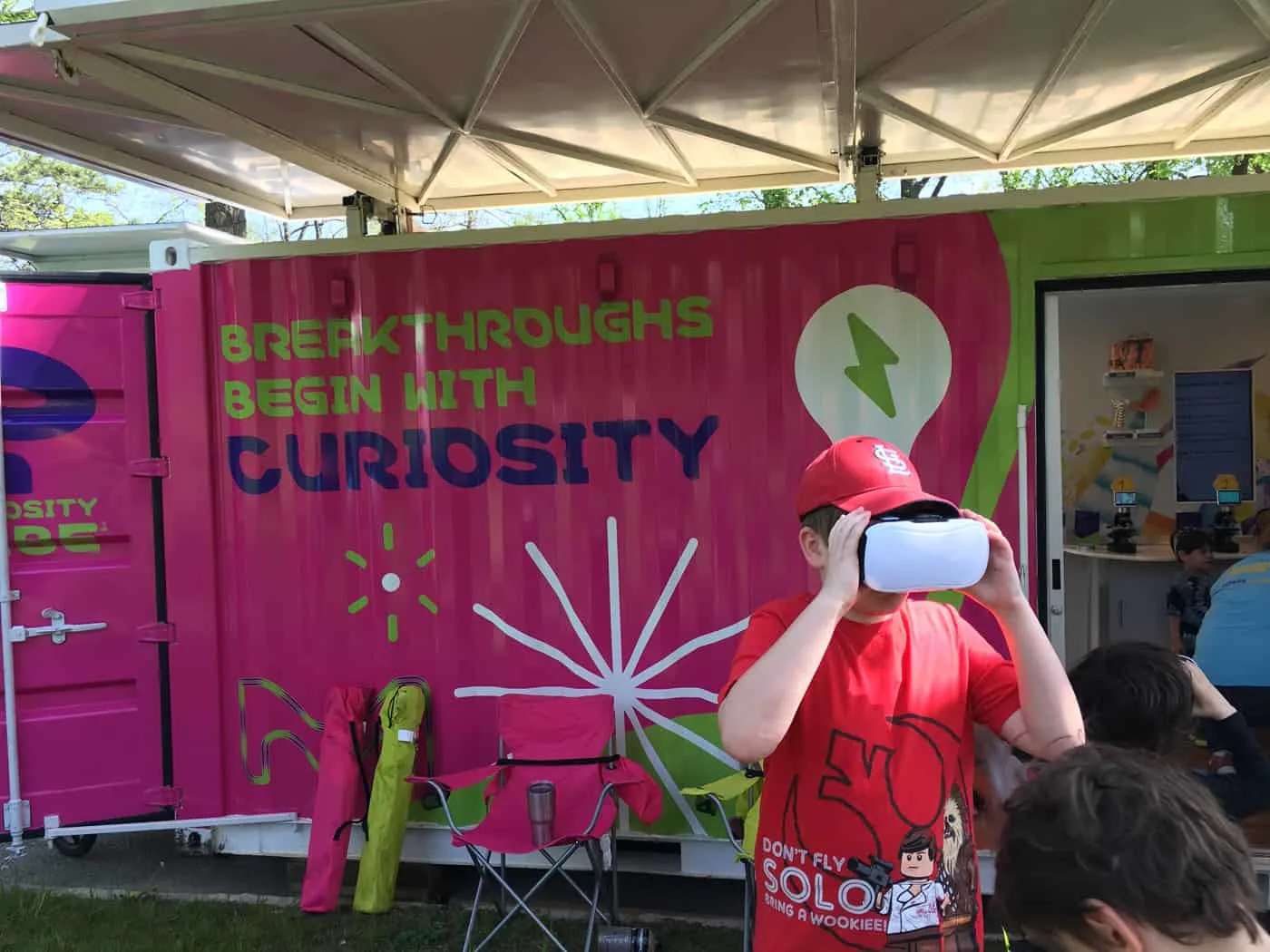 Oh, and if you're a middle school teacher, or know a teacher, tell them about the Curiosity Labs. MilliporeSigma has 8 locations in the St. Louis area and 2000 employees! They help staff events at local schools and teachers just need to apply–and it's free. They can come out to your school or you can take a field trip to one of their locations.
Disclosure: I was invited to visit the Curiosity Cube as a member of the media. The Curiosity Cube is free for everyone to visit!