Did you know your kids can make an awesome "stained glass" candle holder with colorful tissue paper? They're super easy to make–you'll want a batch for every holiday!
The method we're using is known as Decoupage, which is just a fancy term for gluing paper to an object. We'll use Mod Podge to glue tissue paper to our candle holder jars. The tissue paper is nice and thin so it will allow light to shine through, giving us that super pretty stain glass effect.
This project is great for ALL AGES. They look great when little kids slap scraps of tissue paper on randomly, and they look even better when big kids (or you mom!) take a little more time.
Don'y you love projects that turn out beautifully no matter what skill set you bring to the table?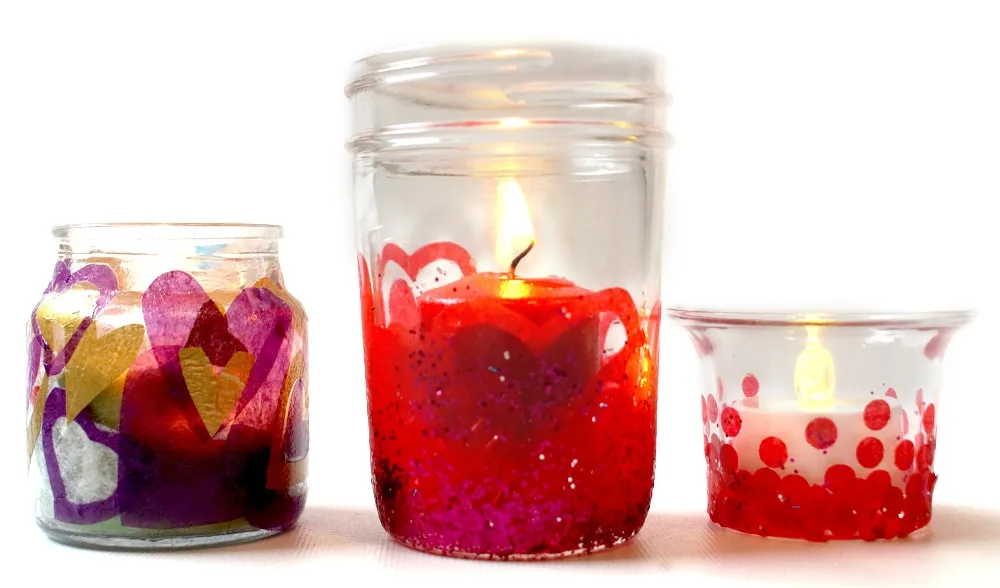 These cute candle holders are a great way to teach kids about upcycling–taking something old and giving it new (and awesome) life. You can use any kind of glass jar from sauce jars to baby food jars and even the tissue paper can be from recycled sources.
You can also spiff up plain glass votive holders and juice glasses picked up from the thrift store – how awesome is that?
Need more Valentine craft projects? Why not make a mailbox to hold all those great friendship cards from the school party? Or predict the future with a Valentine themes paper fortune teller?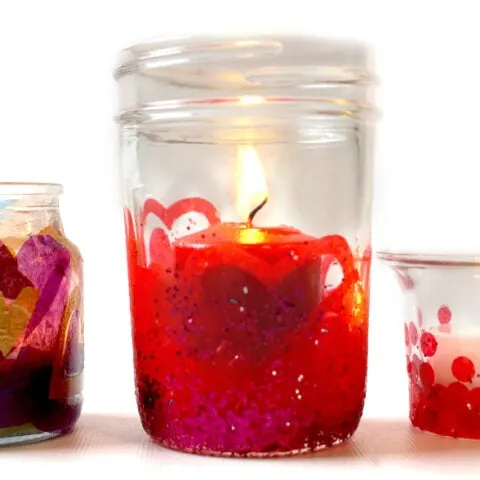 Decoupage Valentine Candle Holders
These cute candle holders are easy for crafters of all ages to create -- and they look fantastic! All you need is an old glass jar, tissue paper and Mod Podge or glue.
Materials
glass jar of any size
tissue paper in festive colors
white glue or Mod Podge
glitter (optional)
water
Tools
paint brush
wax paper or foil to protect your work surface
small dish for mixing
scissors
paper punch (optional)
Instructions
Cut the tissue paper in shapes. Younger kids can tear the tissue paper, while older kids can cut out hearts or use paper punches to make polka dots.
Pour glue into your dish and thin with a few drops of water. You don't want to use too much, just enough to make the glue easier to paint. Add glitter if you want extra sparkle.
Use a brush to cover the jar with a thin layer of glue. If the jar is large, paint it one section at time.
Apply tissue paper shapes to the glue--once your brush is dampen with glue it makes an excellent pickup tool and keeps your fingers clean.
Brush each shape with a little glue to smooth and press it into place. Use a light touch so you don't tear the paper. Continue until the whole jar is covered.
Add an extra sprinkle of glitter if you like.
Coat the jar with one more light layer of glue to make sure all the tissue paper is stuck down and seal in any glitter you've used.
Allow to dry before using.
Notes
A few wrinkles in the tissue paper adds character, so don't worry about getting it perfect.
Work in sections if the jar is large or the kid is young. But don't worry if you glue dries out before you can stick paper to it -- just add more glue!
Great for both battery candles and real ones.