Can't wait for things to green up? Give it a jump start by sprouting some seeds indoors! Starting a window sill garden is a great activity for Spring Break too!
You can plant seeds as a little science experiment, or just for the fun of watching your creation grow! Either way, your kid will love to care for a cute garden of their own. An indoor garden can be can great tool for teaching kids about science and the natural world. Your kids can learn about photosynthesis, plant life cycles, while they practice measuring, counting, and observing as they track the growth of their plants.
Bonus points: an indoor garden can have a positive impact on mental health — something we all need to work on, including our kids. Studies have shown that being around plants can reduce stress and anxiety, improve mood, and increase feelings of calm and relaxation. So let's work on that green thumb!
Disclosure: Some of the links on this page are affiliate links, meaning, at no additional cost to you, I will earn a commission if you click through and make a purchase.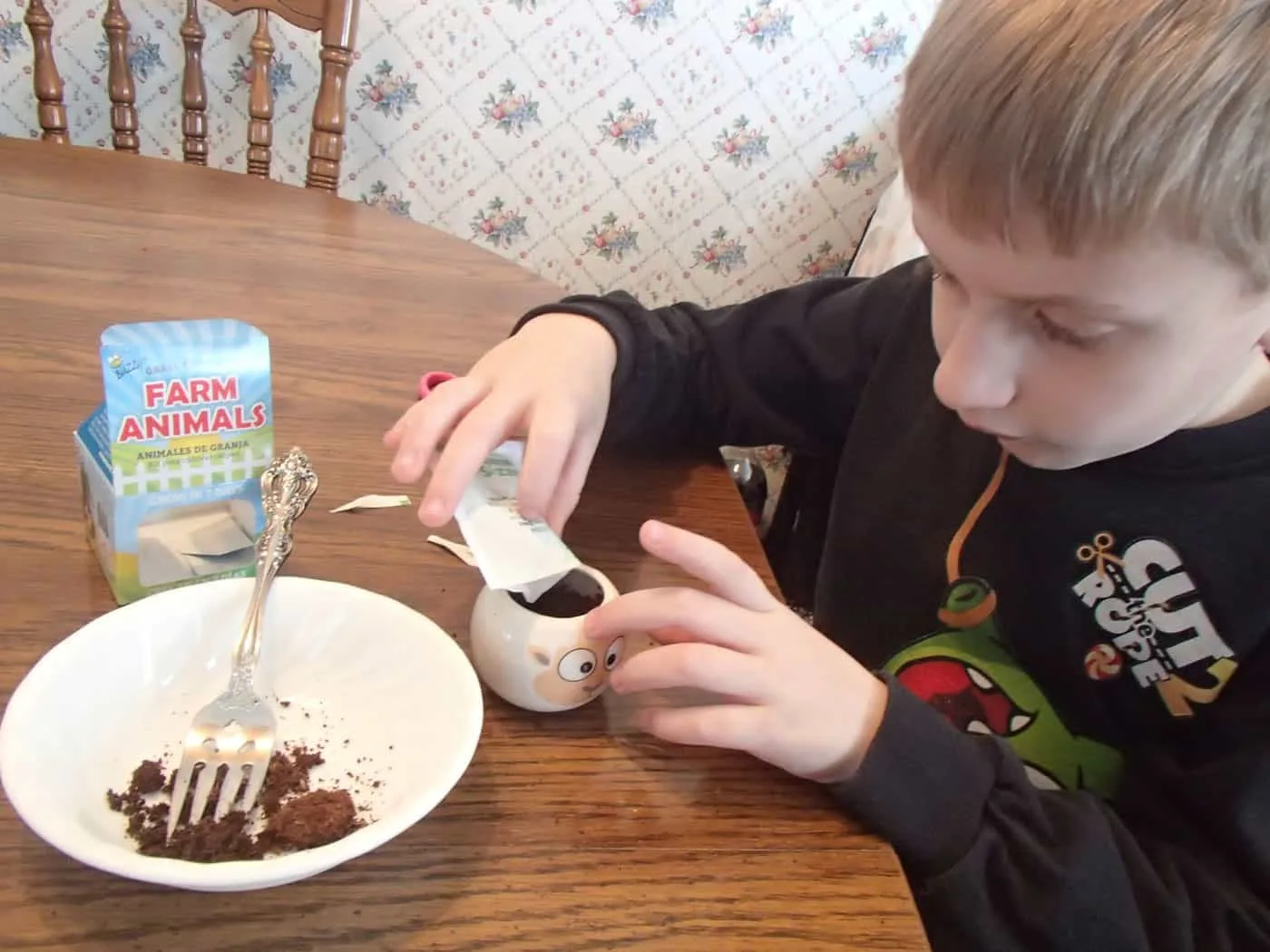 Grow a Potato…from a Potato
Right now Mitch is growing "Jeffry T. Tato" the potato. We found a potato in the back of the pantry that was starting to send out roots and Mitch decided that it NEEDED to grow. And he named it. Of course.
If you want to grow a potato, start with one that's got roots. If you have a messy pantry like mine, it won't be hard to find one that escaped the bag… You'll want to start it in WATER first. Stick the potato with toothpicks or skewers so that only half the potato is in the water. Put it on the window sill and let it go!
When it has a good set of new roots, transfer it to a planter with dirt.
Theoretically, the potato can grow new edible potatoes…but we've never made it that far!
I've heard that Sweet Potato make excellent vines!
Sprouts Seeds in a Bag
You can also experiment with seed sprouting in a plastic bag. All you need is a sunny window, seeds, paper towels, a baggie and tape. You don't even need a shelf or sill. The staples keep the seeds from sliding down the bag so you can watch the roots develop.
This is more science experiment than gardening, but kids can really see what's going on inside those seeds! If you visit the Magic House STEAM Center, your kids can make this experiment with a small bag and a big bean that you can wear around your neck! (And yes, it's called a Beanie Baby.)
Garden in a Soda Bottle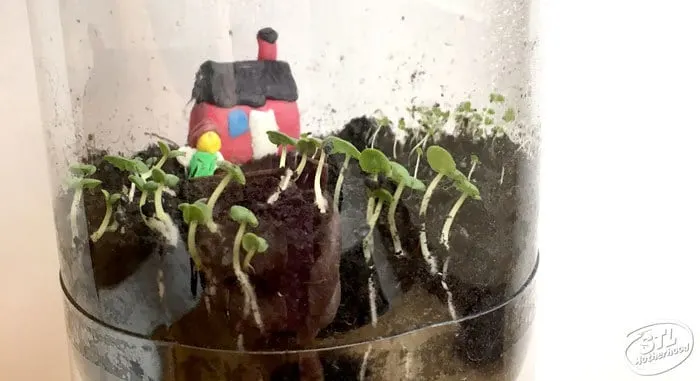 Of course you can take your garden experiments up a notch by planting a whole ecosystem in a soda bottle! This was a really great experiment we did a couple summers ago.
Indoor Garden Kits for Kids
Indoor gardens are a great way to teach kids about plants, being responsible for their care and having a little patience! Here's a few fun kits you can pick up today and have a beautiful window garden in a few weeks.
This is a great kit that includes real flowers to grow in a planter your kid can paint themselves. Comes with a paintable planter and plant markers, paint, brushes, watering bottle, tiny garden tools and 4 packets of seeds. Instead of messy loose dirt, the kit has a soil disk that's water activated.
Mix a little science with your gardening! This kit has 15 experiments that take kitchen leftovers and turn them back into plants! Warning, the kit doesn't include any dirt or seeds. This is ONLY the containers needed to sprout and grow things like carrots, lettuce and tomatoes from actual carrots, lettuce and tomatoes.
Part doll house, part real garden, this kit combines gardening and play. Best for older kids, as a doll house with real dirt could be problematic. Kit includes plants to grow plus a toy fairy to live in the house.