updated 3-5-2020
Spring break weather is always a little dicey in St. Louis—it could be nice enough for a family picnic in Forest Park or you could end up on a sled ride down Art Hill! The smart mom will make a bucket list full of indoor activities, but will be ready to toss those aside for a spontaneous hike through the woods or romp in the park if the sun decides to come out and play.
See that picture below? Both were taken on spring break! Different years of course…but you never know what you'll get around here.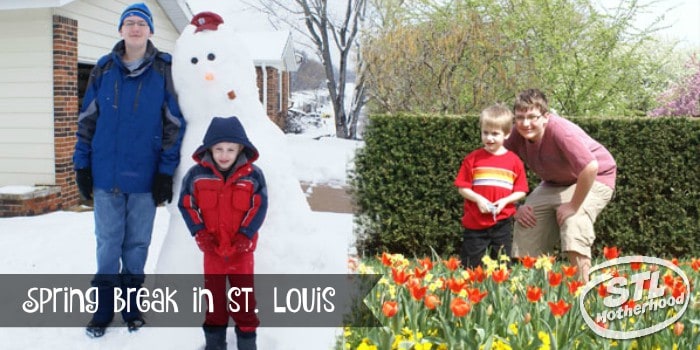 Here's a few ideas for spending Spring Break in St. Louis, no matter what the weather dishes out:
The St. Louis Aquarium at Union Station: Our brand new aquarium just opened up this winter! It's totally indoors and full of a lot of fishy fun. Be sure to check out the Wheel (with temperature controlled gondolas) and grab a Freak Shake at the Soda Shop.
City Museum in Downtown St. Louis: Haven't been? Go. That's all I'm saying—you'll thank me later. They're open every day of the week for Spring & the roof top will open March 13, 2020!
Pole Position Raceway in Sunset Hills: This adventure is for big kids and adults: super fast go karts! Kids have to be over 48 inches to drive and there are NO double cars. This is real racing–youth carts go up to 30 MPH and adult karts hit 45mph.
Myseum or Magic House: Sneak a little learning into your kid's fun! Myseum opened a couple years ago in Chesterfield while the Magic House in Kirkwood has been here for generations. Expect a crowd–they're both perfect indoor fun.
Purina Farms: A perfect place for the tikes and it's free! You'll need to RSVP before treating your kids to down on the farm fun. You'll spend most of your time inside the cozy barn, but the dog show is outside. Don't worry, the pool for the diving dogs is heated! Purina Farms opens March 14, 2018 for the season.
Epic 6 in Fenton: Laser tag, dodge ball and mazes! Epic 6 has plenty of specials (I like the 2 hour Beat the Buzzer for $20) and a great parents lounge away from the noise.
Sky Zone: What's better than a room full of trampolines to wear the kids out? Plan to come early—they only allow a certain number of kids in the arenas at one time. If you come late, you'll need to wait your turn. Even smarter: go online, pay in advance and they let you RSVP your time slot. (Psst. Sky Zone has two locations, Chesterfield AND Fenton.)
Sports Fusion in Chesterfield: An indoor amusement park with laser tag, dodge ball, rock climbing, mini golf and arcade games. $21 will get your kid unlimited play for two hours, so bring a friend (for the kid) and relax in the snack bar.
St. Louis Incredible Pizza in South County: Unlimited Pizza and arcades. Plan this one for lunch or even dinner, because you can nibble on the buffet while the kids play.
Butterfly House in Chesterfield: $8 for adults, $5 for kids, and little ones under 2 are free. This place is especially nice to visit if the weather is crummy because it's always summer time with the butterflies. Bonus: Feb. & March is Morpho Mardi Gras! (They're closed on Mondays.)
Laumeier Sculpture Park in Sunset Hills: totally free (it's a county park) and educational without being boring. This huge park has walking trails and whacked out modern art right in the middle of the woods that will get your kids talking—and maybe thinking, too. Pack a picnic to enjoy while you're here. The indoor museum and gift shop is closed for renovations.
St. Louis Zoo in Forest Park: you can do this one on the cheap if you arrive early enough to park on the street (it will save you $15) and get free admission to the Children's Zoo and the Carousel during the first hour they're open. The zoo is fun rain or shine—there are enough animals to see indoors and the train will run so long as it's over 45 degrees. The Sea Lion shows start up March 14, 2020.
St. Louis Science Center in Forest Park: Park on the old Planetarium side for free parking and skip the Omnimax to save even more. Many exhibits are free and eat before you go or after–avoid the snack bar which is way over priced.
Missouri Botanical Garden in St. Louis: If it's nice enough to walk around, plan to go on Saturday or Wednesday before noon when St. Louis County and City residents get in free–any other day and locals are half off.) Be warned, the big koi fish are probably not warmed up yet, and the Children's Garden isn't open until March 28, 2020. The spring flowers might be popping around spring break: daffodils, tulips and flowering trees. If you want to be sure, check the website to get up to date info on what's in bloom.
Parks & Playgrounds: Of course there's always the park if the weather DOES turn nice! Here's our top 6 St. Louis area playgrounds (as rated by the kid).