World Bird Sanctuary in Valley Park is a non-profit organization that promotes the conservation of wild birds of prey. Ok, that sounds a bit dull. Tell your kids you're taking them to the Bird Zoo. Much better.
—- Summer 2020 Update —-
The World Bird Sanctuary has announced its opening schedule for this summer! Starting May 22 they will be open for the Amazing Animal Show. You will need to BUY A TICKET IN ADVANCE online. No tickets will be sold at the door at this time.
The bird exhibits will NOT be open at this time, however the restrooms will be open and cleaned frequently. Water fountains will NOT be available. You will be directed to park and head immediately to the amphitheater.
Limited tickets will be sold so they can keep the audience properly spread out. Paths are marked one way.
Guests are REQUIRED to wear masks according to county guidelines. This will be enforced. If you don't have a mask, they can sell you one.
Starting June 15 the facility will open their outdoor exhibits (but not the playground). Indoor areas, including the gift shop, will stay closed.
There's some really nice walking paths to see the outdoor habits, so this partial opening will still be worth the visit! On June 15 they will ASK you to wear a mask to see the exhibits, but REQUIRE them to see the shows.
They have not decided when it will be safe to fully open, but this will certainly get us through the summer!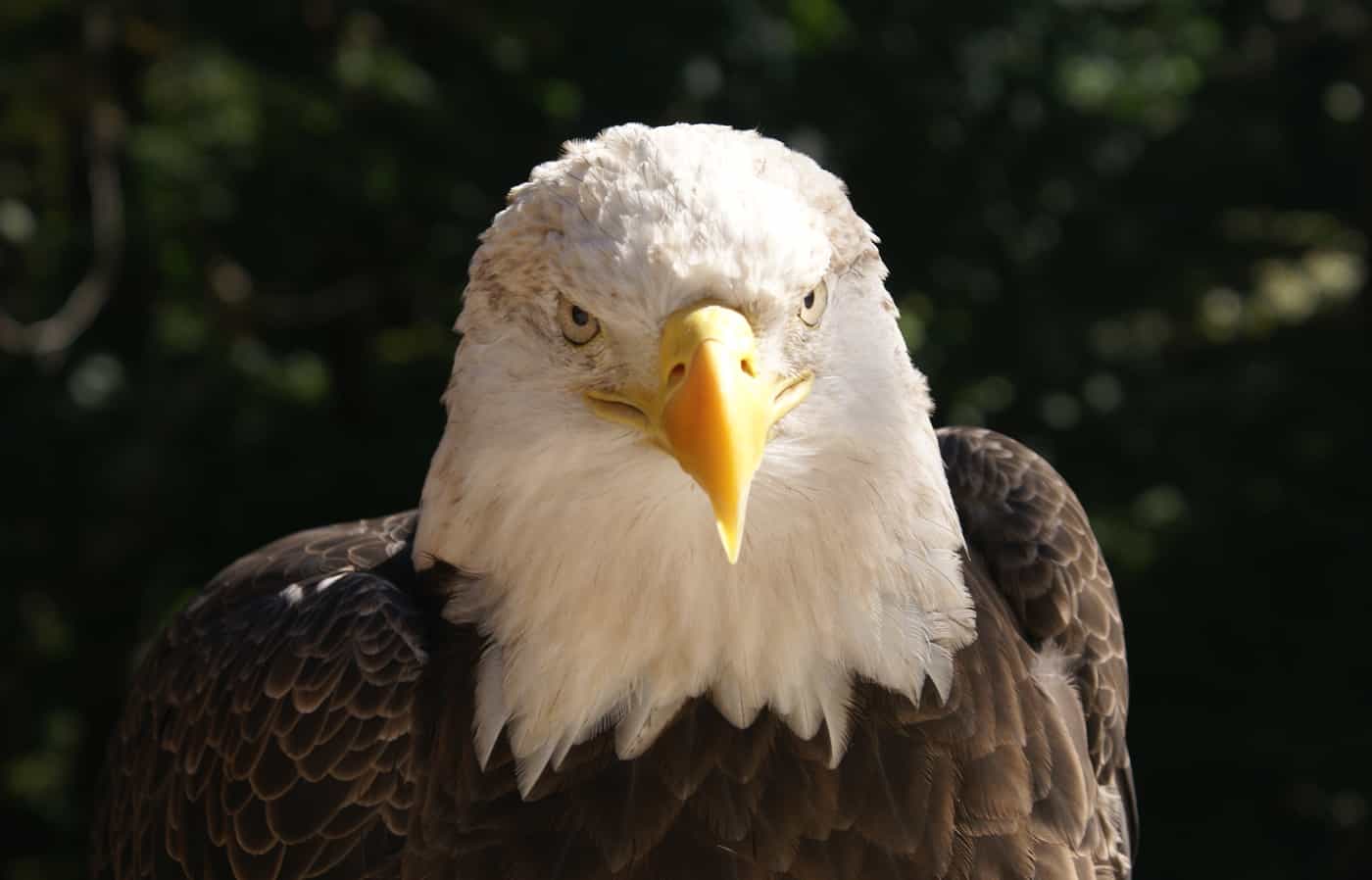 The sanctuary is tucked next to Lone Elk Park, another cool spot for the kids. Even if you haven't been to the sanctuary you may have seen their birds–they care for the eagles and other birds of prey at Grant's Farm and bring their birds out for educational shows.
How Much are Tickets to the World Bird Sanctuary?
World Bird Sanctuary is open to the public and free of charge–but donations are encouraged! They're a non-profit, after all. There are donation boxes located at the entrance and inside the gift shop, so please drop a buck or two and help feed a bird.
What Kind of Birds live at the Sanctuary?
Dozens of eagles, owls, hawks and vultures call the World Bird Sanctuary home.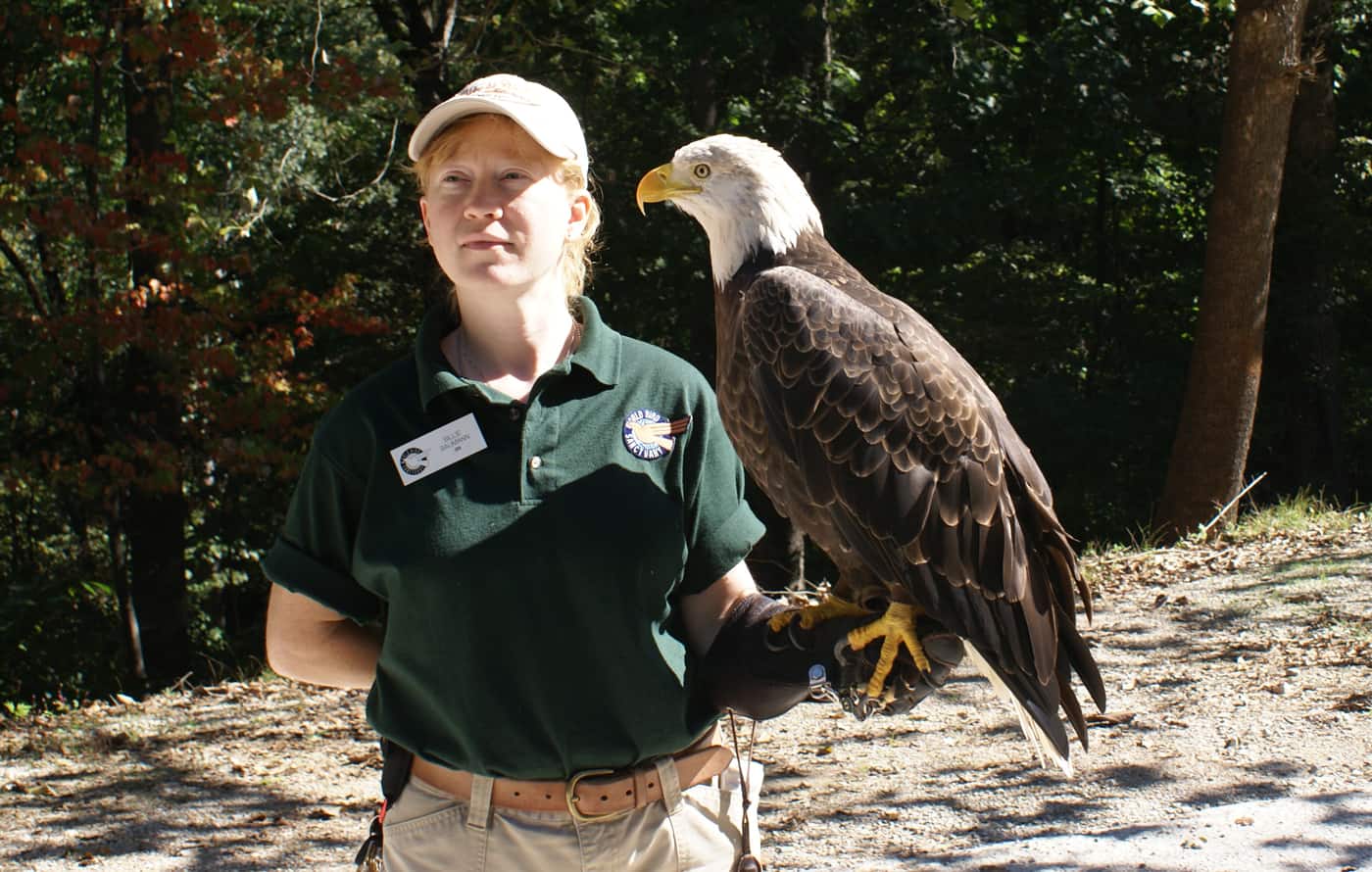 Ok, they have a coop full of chickens too, but I'm pretty sure it's because it's cool to let your kids feed the chicken's corn. Not so cool to let your baby feed dead mice to the hawks.
Each Bird has a Story to Tell
It's important to tell your kids that the Sanctuary is a place of refuge for injured birds and not just a zoo. The birds who live here couldn't make it in the wild.
For example, Patriot, the magnificent eagle pictured in this post, was knocked from her nest as a chick during a storm. She suffered pneumonia which weakened her lungs. Because she wouldn't survive on her own she was brought to WBS and trained as an educational bird.
Other birds have permanent injuries–like bad eyes or wings–that prevent them from returning to the wild. Some were just mishandled as chicks, like Norbert who was found hanging around a golf course and stealing the balls!
Bird Hospital
The World Bird Sanctuary has a wildlife hospital on the property! Obviously it's not open the the public–sick birds need their rest–but you can schedule a tour.
WBS goal is always to help a bird recover and return to the wild. You might remember a story where they helped an owl hit by a fire truck in Wentzville.
What Can I See at the World Bird Sanctuary?
Bring a good pair of walking shoes to the sanctuary, you'll do some walking to see everything!
WBS has birds on view–many are located along a short trail.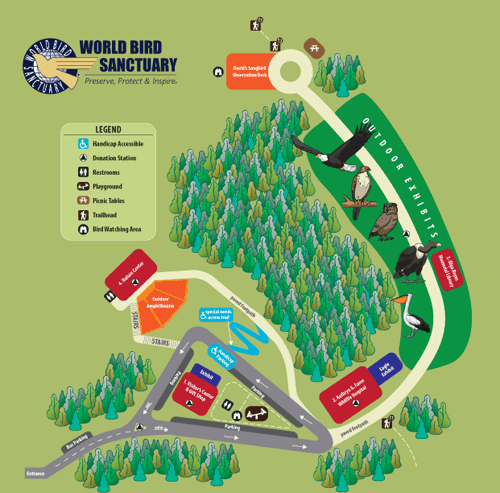 Plan a visit around one of their free shows for the best visit. "Amazing Animal Encounters" are offered every Saturday and Sunday from Memorial Day to Labor Day at 11am and 3pm.
Check their event's calendar for more interesting things to do, like song bird banding, OWLoween, Members only camera days, Eagle Days and Owl Prowls!
Interactive Displays
One of my favorite newer displays at the WBS is the "human display" located on the outdoor bird exhibits. Keep your eyes open for a empty habitat that you can walk into! It helps kids understand how the WBS takes care of birds and is also pretty fun for photo ops.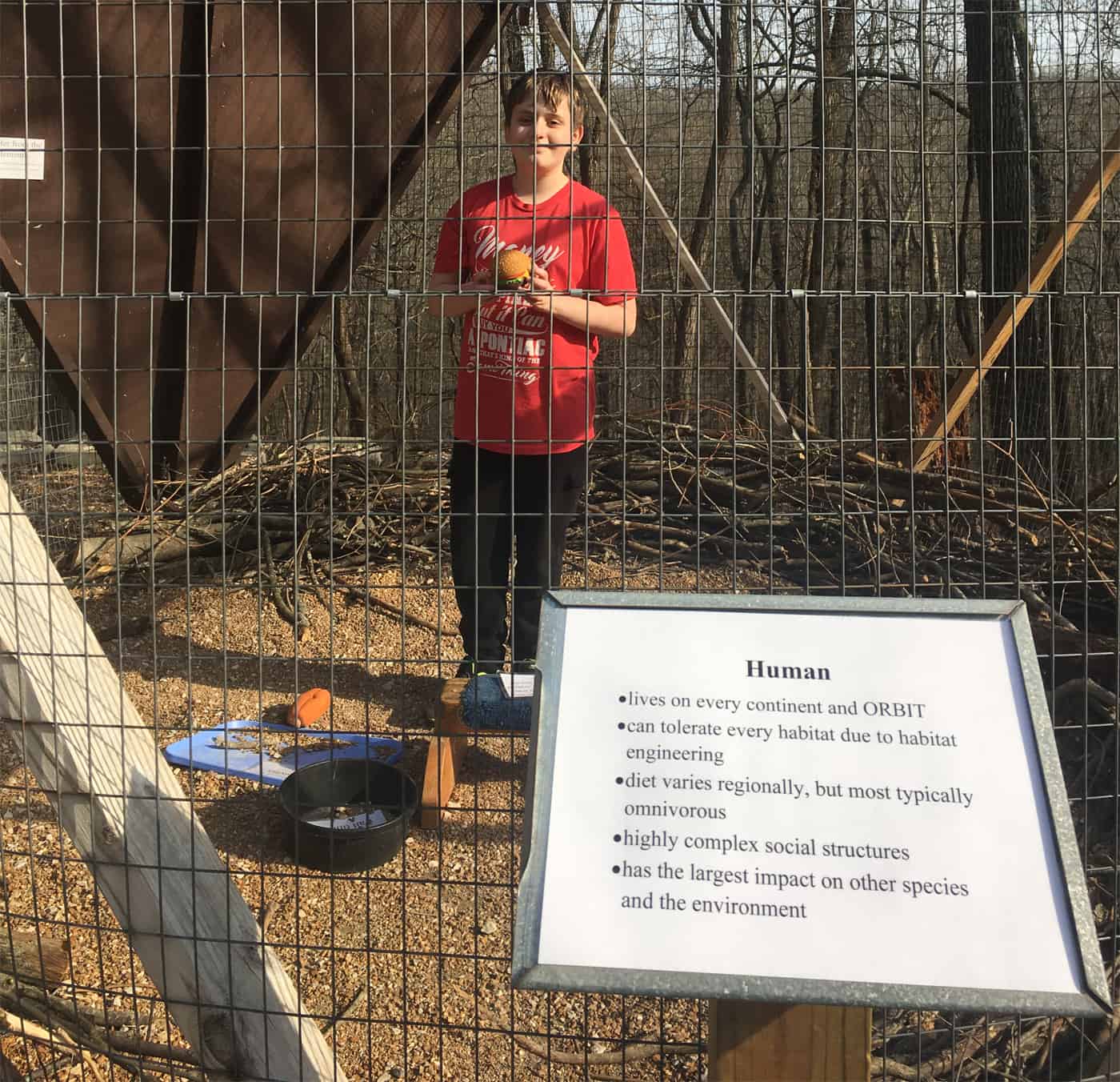 There's also chickens you feed, a place to compare your own "wing span" to that of really big birds and a touch table inside the gift shop/nature center.
Playground, Trails and Gift Shop
Families will want to stop by the gift shop for a cool souvenir, and if your kids are small, check out the playground!
There's also a couple short trails that start on the WBS property. The Hickory Trail and Tunnel Trail are only a quarter mile, while the Turtle Bob Trail is one mile.
You can also access the Chubb Trail–a rigorous 7 mile hike–from a trailhead located outside the WBS entrance.
Bring a Picnic, Leave the Dog
The WBS has picnic tables you can use, so feel free to bring a picnic lunch. But pets are not allowed in the park, so please leave them at home.