Summer fun and dirt really go hand in hand around here. And why not? Getting messy is SO. MUCH. FUN!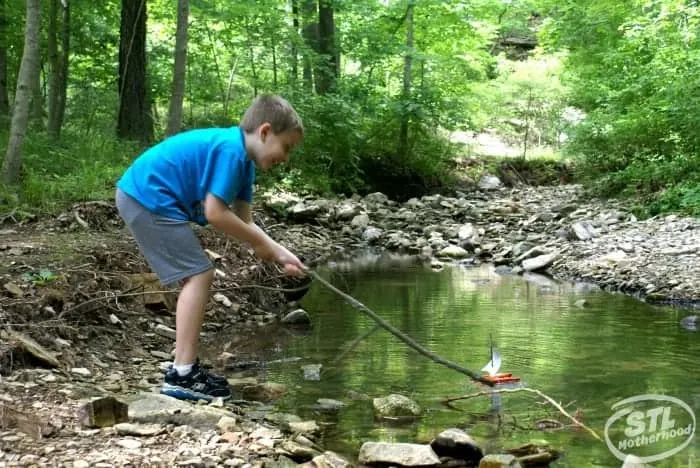 Mitch recently made a boat for his Cub Pack raingutter regatta, and he really, really wanted to keep playing with it. I suggested he use it as a bath toy, but oh no, that wasn't good enough. He wanted to have a sailing adventure–but somewhere safe because he didn't want to lose it either!
So I thought of all the parks where we've discovered creeks and picked the Powder Valley Nature Center for our boating adventure. It has a beautiful trail leading down to a rocky creek. We sat at the edge of the creek–right in the dirt–and sailed the SS Creeper one more time. Ok, the creek didn't have much of a current, so the boys splashed the water with their hands, made waves by tossing rocks and even got a big stick to push the boat around. It was pretty fun! And a little messy.
Which got me thinking. How else can we have summer fun that's messy and dirty and maybe a bit off the wall? I turned to my friends at the Kid Bloggers Network and found 10 more glorious ways to have sloppy summer fun with the kids. Which one do you want to try first?
10 Ways to Have Messy Fun with Your Kids
Mud Paint! Yes, paint with oozy goozy colorful MUD!
Play with WORMS! They're dirty and slimey and oooooo, so much fun to examine!
SAND SLIME! I love making sand castles, but what about slime!
Paint with WATER PISTOLS! I can see this one getting way out of hand.
Rainbow Chalk HAND PRINTS! Let the kids really get into their art!
Or why not have a whole MESSY PARTY complete with pasta noodles in a pool?
Here's a twist on a old favorite: SPARKLY FINGER PAINT!
Magnificently messy BALLOON ART uses paint and balloons for the brushes!
Or heck, just fill the WATER BALLOONS with PAINT and go to town! Don't worry, it will wash off.
How about OUTSIDE BINGO where you have to find things like bugs and sticks to fill up your card!