The Chesterfield Valley Pumpkin Patch is the newest addition to the metro area's fall festival line up. The patch is trying to fill a hole in our hearts left by the unfortunate closing of Rombach's 100 year old family farm, just a few hundred feet down the road. But can it fill the void? Mitch and I visited on Opening Weekend and here's what we found out.
Patch vs Farm
First, this "patch"is not to be confused with a farm. Rombach's was one of several family farms in the area that ran a fall festival/pumpkin patch. The Rombach farm was in Chesterfield Valley long before the malls, restaurants and the Spirit of St. Louis Airport. They even kept going after the St. Louis Premium Outlet mall sprouted up next door. It was refreshing to find a working farm–with 75 acres just for pumpkins–mere minutes from a 14 screen theater megaplex.
The new Chesterfield Pumpkin Patch is on 10 acres of undeveloped land squeezed between the outlet mall and Olive Street Road.
The shot above is a mall access road that has been closed so that pumpkin patch visitors can park in one vacant lot and walk to the Chesterfield Valley Pumpkin Patch.
There's no buffer to speak of between the busy road and not even a privacy fence to block your view of the nearby mall. It wraps around Pecan Legacy Park, a small pocket park with a tree and a statue. If you bring a toddler with quick feet you should be especially diligent at this pumpkin patch. Though the patch tries to keep all activities away from the road, the only thing separating your family from Olive Street is a string of pennants and a ditch.
Because of the location I can not recommend this patch for camera happy moms trying to capture a beautiful family photo. I tried getting some nice shots of Mitch and most had a power line, road, mall or work truck in the background no matter how hard I tried.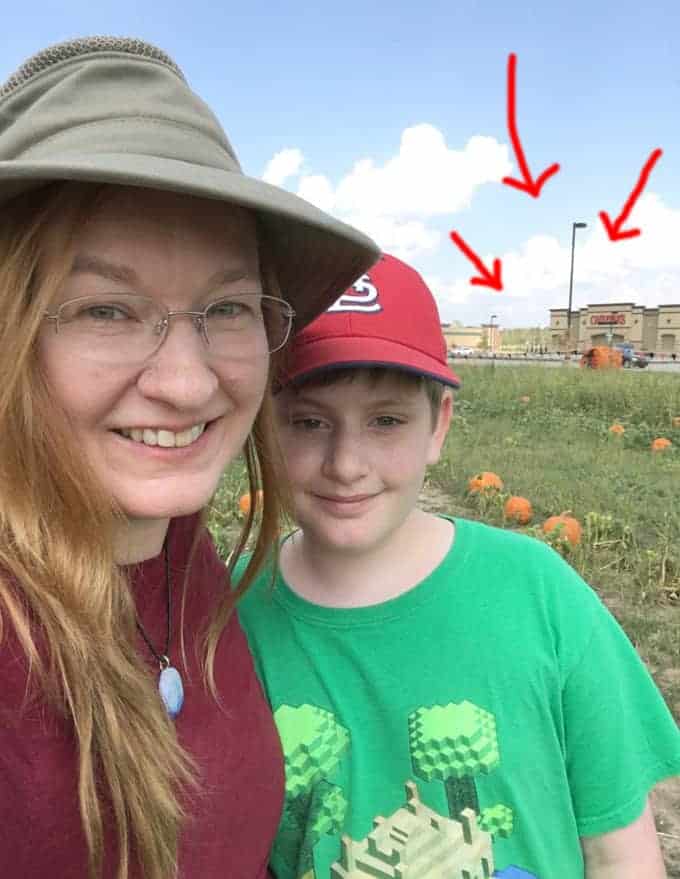 Now don't get me wrong. I'm not here to trash a new business–it's hard to compete with the ambiance of a old family farm.
But what I do take offense to is the Chesterfield Valley Pumpkin Patch's website, which clearly uses photos from previous years at Rombach's Farm. Photos show large lush fields, woods in the background, attractions unavailable at the new patch and a wagon ride with a real John Deer farm tractor pulling a big wagon full of hay. You're not going to get that "down on the farm" vibe here. It's more like a pumpkin carnival that popped up on the edge of a mall.
So How's the Pricing?
When Chesterfield Valley Pumpkin Patch announced it's pricing on Facebook you could practically hear the eyeballs roll. St. Louis families are spoiled by all of our free attractions, and we hate to part ways with our hard earned cash. As they say, this is the Show Me state, so let me show you.
Entry to the pumpkin patch is actually free. The $18 wrist ban is only for children who want to do the activities. And there's an extra $7 fee if your bigger kid wants to ride the zipline and a bungee trampoline.
Parent's don't pay admission and you don't have to pay for your stroller baby, so long as they don't do any of the fun stuff. Same goes for an unfortunate teenager who might be bought along with the promise of funnel cake. If you want to stop by to select a pumpkin then have a brat and a beer in the food tent, you do not need a wrist band.
You also can't buy tickets for just one ride. It's all or nothing–but your kid has unlimited access to the attractions. So if your kid just wants to run around the inflatable shark all day, he can. Want to ride the wagon three times? Knock your socks off. 
You ARE limited to one item at the craft table. Mitch made some sand art and we skipped the pumpkin painting since we hadn't picked up his pumpkin yet.
The "haunted house" was similar to what Rombach's used to do, except they decorated the inside of a few shipping containers. It was strictly pre-school scary, so no big deal there. The Pony rides have a height limit too, so Mitch (he's 10) skipped that.
Each kid with a wrist band walks out with a pie pumpkin, which are the cute grapefruit sized pumpkins. This is a nice touch if you just want to play on the inflatables and visit the petting zoo–no need to actually get a pumpkin when you drop by.
Shop Local
The Chesterfield Valley Pumpkin Patch may not be on a family farm, but it IS a local business, and if you like to support local you'll feel good plunking down your $18 a kid to support the local high schoolers working the attractions, as well as other local businesses who provide the services for the patch. Kenrick's Meats run the BBQ stand, there's local brews at the beer garden, and snacking on pumpkin donuts from Show Me Donuts was a real treat. 
The Pumpkins
There's a small pumpkin patch growing on the far side of the inflatables if you want to show the kids what a pumpkin looks like in the wild. It's doubtful that many of the pumpkins for sale were grown here–even veteran farms in our area bring in backup pumpkins from up north where growing conditions are more favorable. 
The pumpkins are pre-priced by size, and laid out in neat sections, similar to the set up at old Rombach's. This is an easy way to sell pumpkins since you can direct your child to one zone and let them select the perfect pumpkin–without having to check the price on each one or having to calculate a price per pound. 
Pumpkins ranged from $6 to $28 dollars. There were also a lot of crazy gourds if you like unusual fall decorations.
Hours and Location
The Chesterfield Valley Pumpkin Patch is open 9 am to 6 pm, seven days a week from now until October 31. The activities are only open on Saturday and Sunday, or by private booking. Seeing as the activities are what makes a pumpkin patch fun, I would advise you to only visit on the weekends.
The Chesterfield Valley Pumpkin Patch is located at 18575 Olive Street Rd, Chesterfield, MO 63005.