I have the weirdest Christmas memory. When I was about 13, all my grandmother wanted for Christmas was a grey blouse. Mom and I combed the mall looking for the perfect grey blouse–our final purchase looked a lot like Barb's ruffly shirt from Stranger Things, but in grey. Hey, it was the 80's. People actually wore that stuff.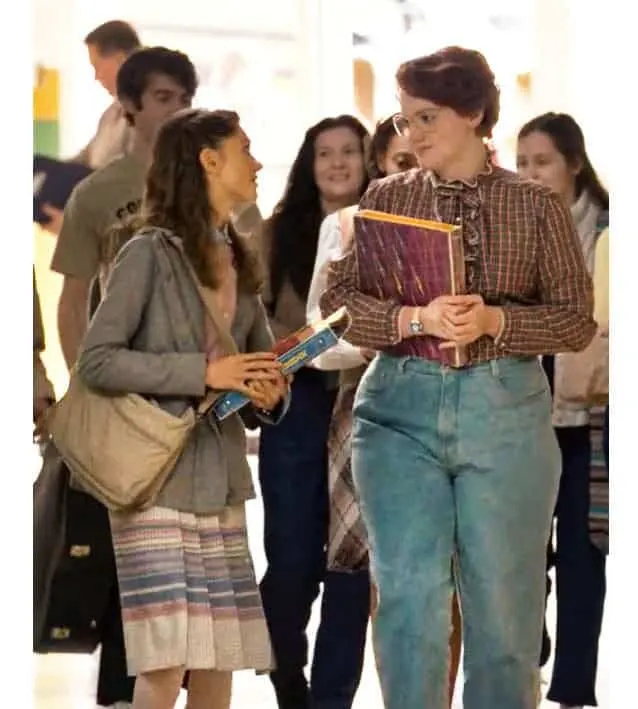 Anyway, I couldn't figure out why finding this grey blouse was so important to my mom, but I was a kid with a Christmas list as long as my arm. I get it now. Grandmother's can be stinking hard to shop for, and when they finally ask for something, you turn that mall inside out looking for it!
Psst: This post is sponsored by Canvas On Demand. I was given a free canvas to put their service to the test and let you know how everything worked!
Photo Gifts for Moms and Grandmothers
Some of the best gifts you can give to your kid's grandparents are photo gifts. Pretty much anything with your child's cheesy grin on it will light up their heart. And unlike a new waffle iron, you know that your gift has sentimental value. I've done wall calendars and photo books for my kid's grandparents and they've always been a big hit. They've also been a huge pain to make–unless you plan ahead and put photos aside each month, assembling 12, 24 or 36 awesome photos from the past year is a daunting task.
So this year I'm giving one photo.
One BIG photo.
16×20 Premium Canvas
I decided to give my folks a premium canvas photo of the boys for this Christmas from Canvas on Demand. The hardest part was deciding on a photo! Should I take a new photo? An old photo? Or that family photo from a professional photographer from this summer? (Hint: always ask if you have the rights to reprint professional photos–some photographers want you to purchase a package from them.)
I ended up using a photo I took myself–with my iPhone no less! Remember this one?
Ok, I didn't use THAT photo, but one of them where they both look serious. This one.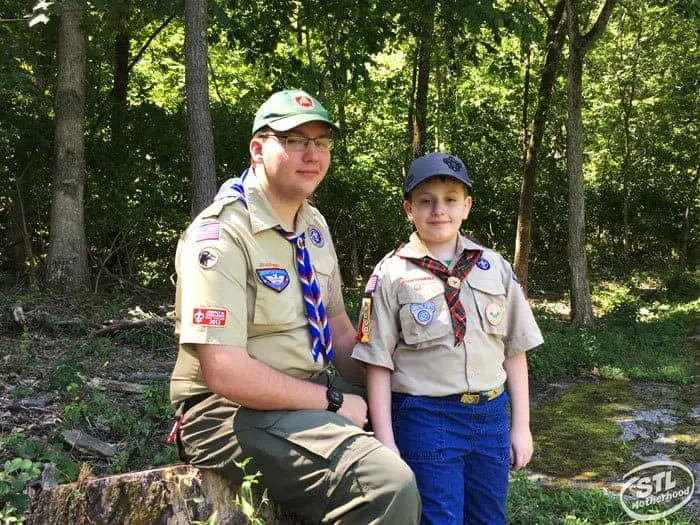 Ordering was easy. Just go to CanvasonDemand.com, click Create your Own and follow the simple steps.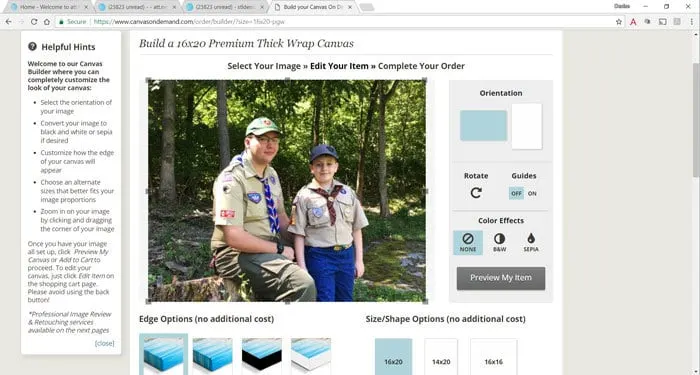 After you upload your photo you can choose the orientation and if you want it in Color, Black and White or Sepia tone. Square photo? No biggie, you can do that too!
A wrapped canvas print doesn't need a frame (though you can put it in one if want) so you'll want to think how the edges look. You can have the photo totally wrap around the sides, bleed off the edges or just make it a solid white or black. Wrapping the photo image will require more cropping–I chose to bleed the colors over the edge, which makes the edges match the colors of the print.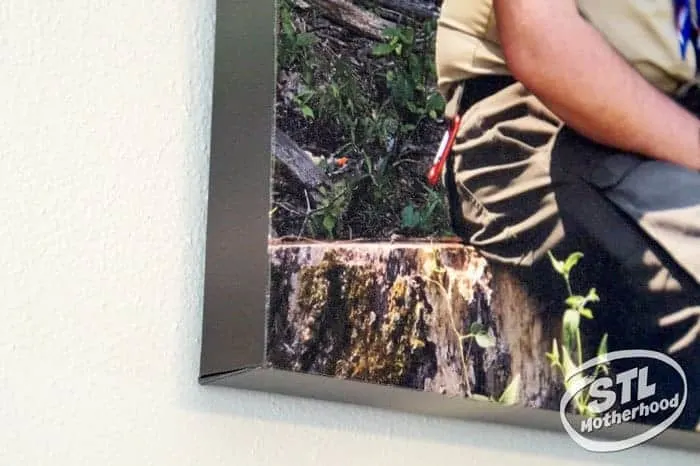 If your photo needs little help, you can ask Canvas on Demand to retouch your image for an extra fee. Otherwise you'll need to take care of color correction and blemish removal BEFORE uploading your photo.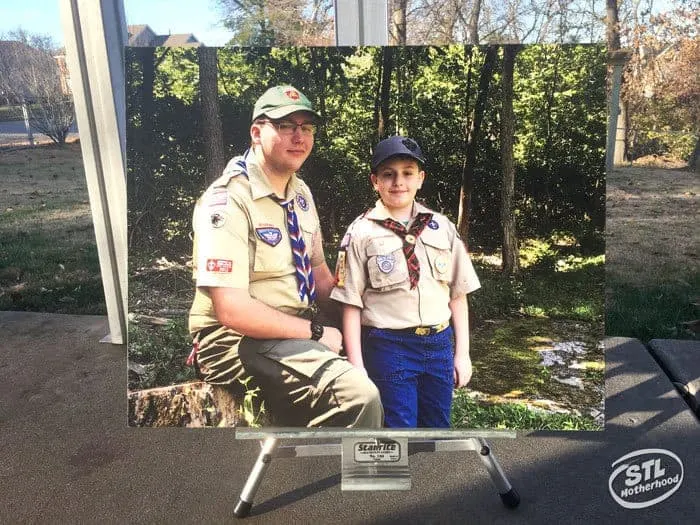 Here's my canvas print! I know it's hard to judge a photo by taking a photo of it, which is why I took it outside for some nice natural light. Now remember this is a picture that I took MYSELF at a local park with an iPhone 6s and natural light…then blew up to 16×20. That's freaking awesome.
Not Just Sofa Prints
Canvas on Demand has a LOT of sizes and styles to choose from 8×10 to 55 x100! I picked out a 16×20 Premium Canvas, a super sturdy canvas with a enclosed back and mounting hardware already installed. The print is ready to hang right out of the box. You can also get a tradition canvas if you like.
On a tight budget or lack the wall space? You can order smaller table top prints! Want to make a HUGE impression? Order up a whole wall display of 3 to 7 prints!
Coloring Canvas
When I was asked to review Canvas on Demand I was also offered a "coloring canvas." Say what?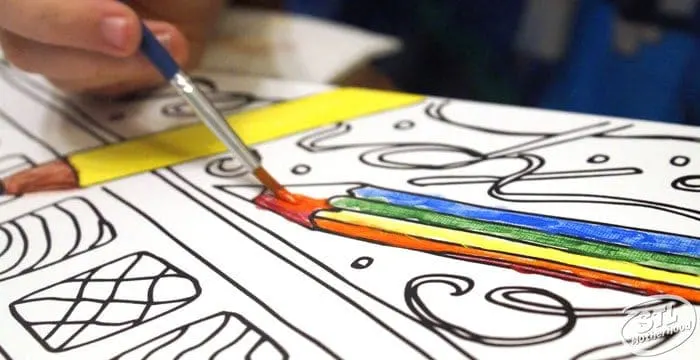 Yep. The adult coloring book fad has spread to CANVAS. These fun prints are on the same awesome canvas, but instead of your photo are pre-printed with line art you can color! They are super fun to do with the kids and you'll have a master piece that you can hang on the wall or wrap up and for Grandma's Christmas gift.
Or if your grandmother is the artsy type, just give HER the canvas with a nice set of permanent markers. The Canvas on Demand folks recommend BIC Mark-It permanent markers.
You can get an 8×10 for under $10 bucks so they're an inexpensive gift or just a fun activity to do on a cold winter day.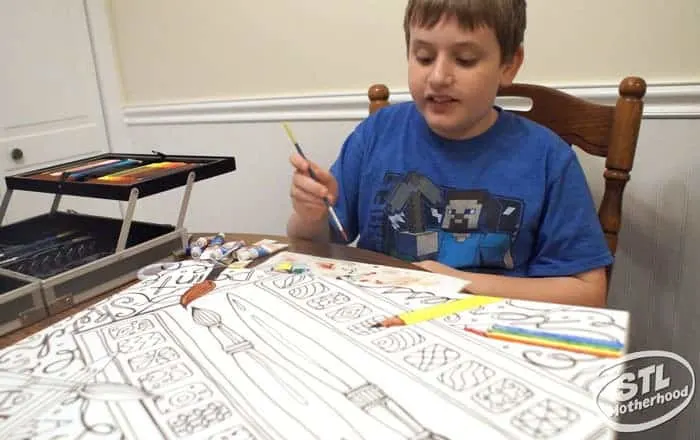 Mitch and I picked out a simple pattern to do together. He wanted to use paint, so we're coloring it with acrylics and water color pencils. We're rebels like that, but it's turning out pretty nice so far!